By Rashim Nabanja
Bridal veils have been in existence for a long time as a part of the bridal attire.
That said, the wrong veil will be the undoing of any bride's dream wedding dress. This is why My Wedding contacted some bridal designers in the fashion industry to enlighten us on types of veils, and how to rock them.
According to Dyna Vence Ruvuza, a fashion designer and CEO of Dyna Vence Couture, bridal veils come in different types and designs which are key aspects when choosing one to wear.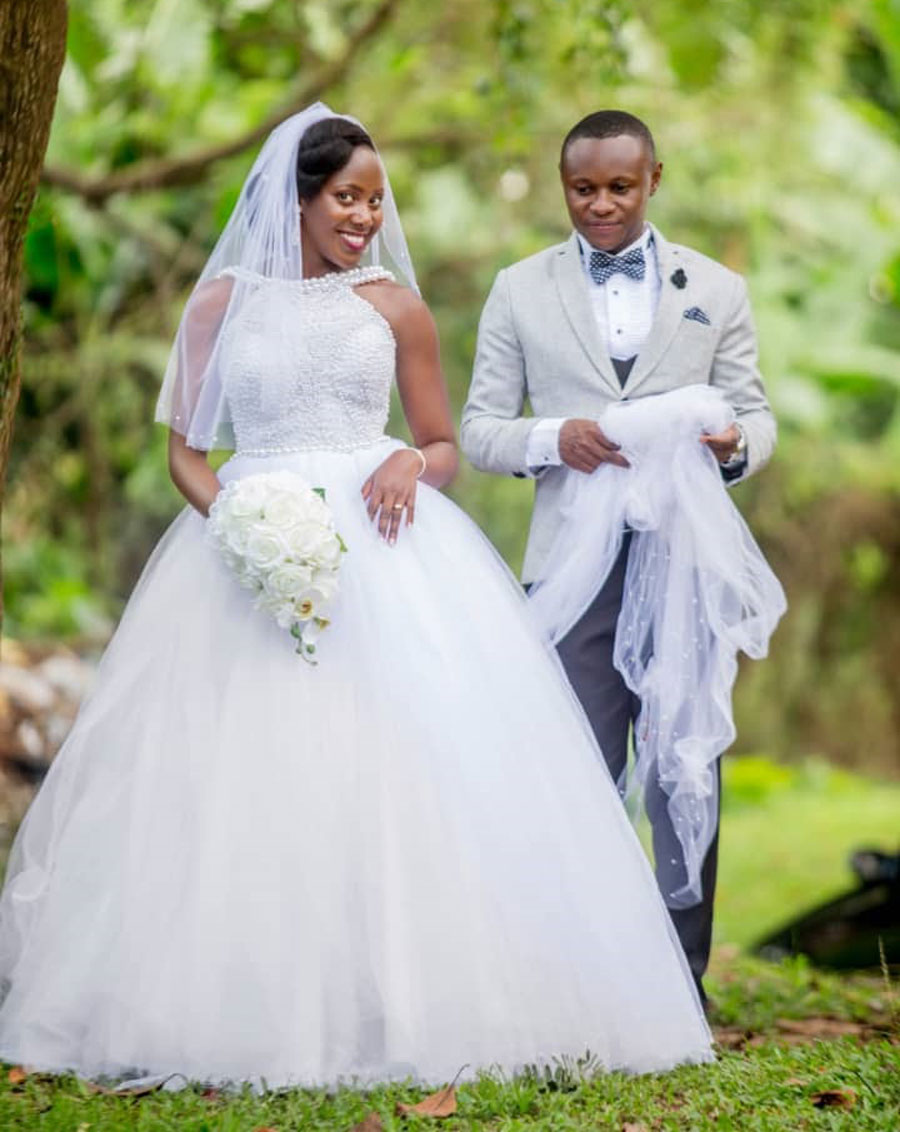 "Veils have different lengths and suit different gowns, however, considering the bride's tastes and preferences should be the first priority to designers. It is always good for the bride to opt for something that makes her feel real and comfortable," Ruvuza commented.
Ruvuza further explains that different veils make different statements and the most commonly used veils include the elbow-length veil, the chapel veil, the cathedral veil, and the royal veil.
Veil Length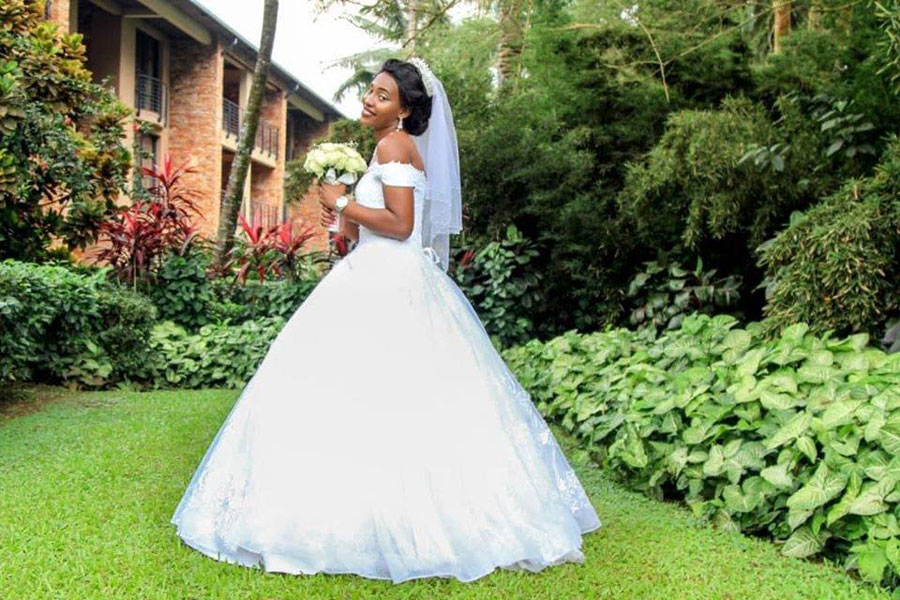 According to Ruvuza, the elbow-length veil like its name suggests is the kind that reaches the elbows while the chapel veil is about two meters long and touches the ground a little. These are the simplest veils mostly used by brides who prefer neutral unexaggerated looks.
The case is totally different for the cathedral and royal veil as they are better suited for the brides that want to stand out more. These veils flow all the way to the ground. The cathedral veil is three meters long and spreads to floor well as the royal veil exceeds beyond the cathedral veil and is five meters in length.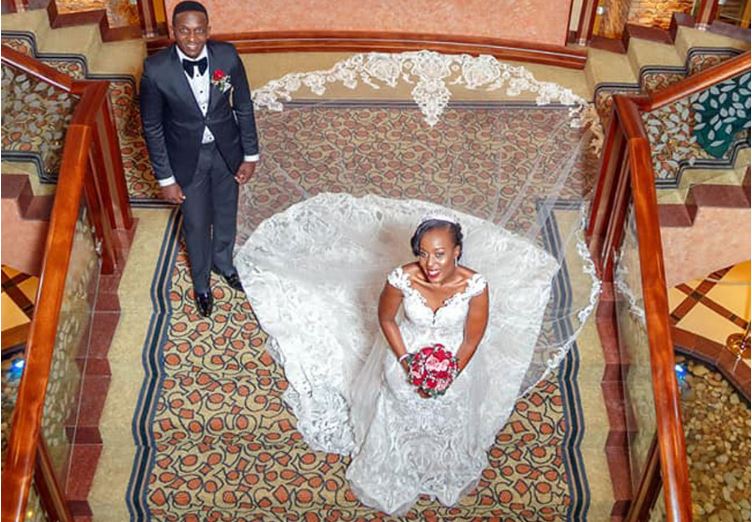 Diana Namutebi says on her wedding day, she coupled her wedding gown with a cathedral veil because she considered it outstanding and beautiful;
"I used to see pictures of brides that looked beautiful while walking down the aisle with a veil trailing behind them. I wanted to achieve that look too"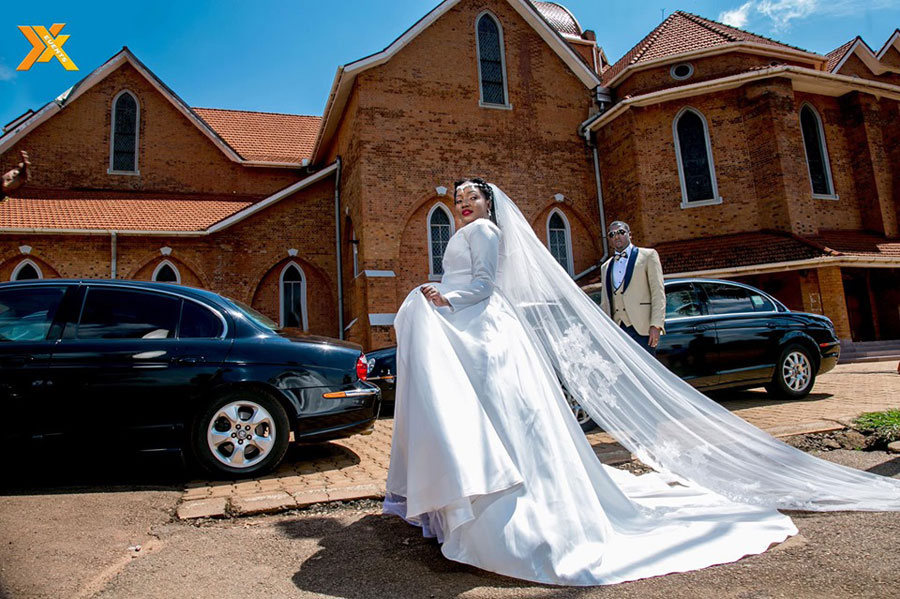 Ruvuza adds that the cathedral and royal veil work best for wedding gowns that are plain at the front but more designed at the back.  Ruvuza explains that unlike shorter veils that fall on the bride, the longer ones leave space as they trail so that the designs are more visible.
She however cautions that these veils can be a bit disturbing and uncomfortable for the bride which is why they are usually worn while walking down the aisle and later removed when it comes to reception time.
Colours
In most cases, a wedding gown does not come along with a veil unless it is being custom made. According to Doreen Namatovu, a fashion designer and CEO of Sisters Bridals Boutique, if one decides on wearing a veil, they need to try as hard as they can to get the colour shade right.
" Because white has different shades, it is easy for a bride to get a veil that doesn't match the gown. Some whites are too snowy while others are not too bright. If the veil doesn't match the gown, then a bride may look like one attire is dirty."
However, it may not be easy for a bride to get the exact shade of color as that of the gown therefore, you are advised to move along with a piece of cloth that has the same shade as the gown to avoid any kind of mix up.
The hair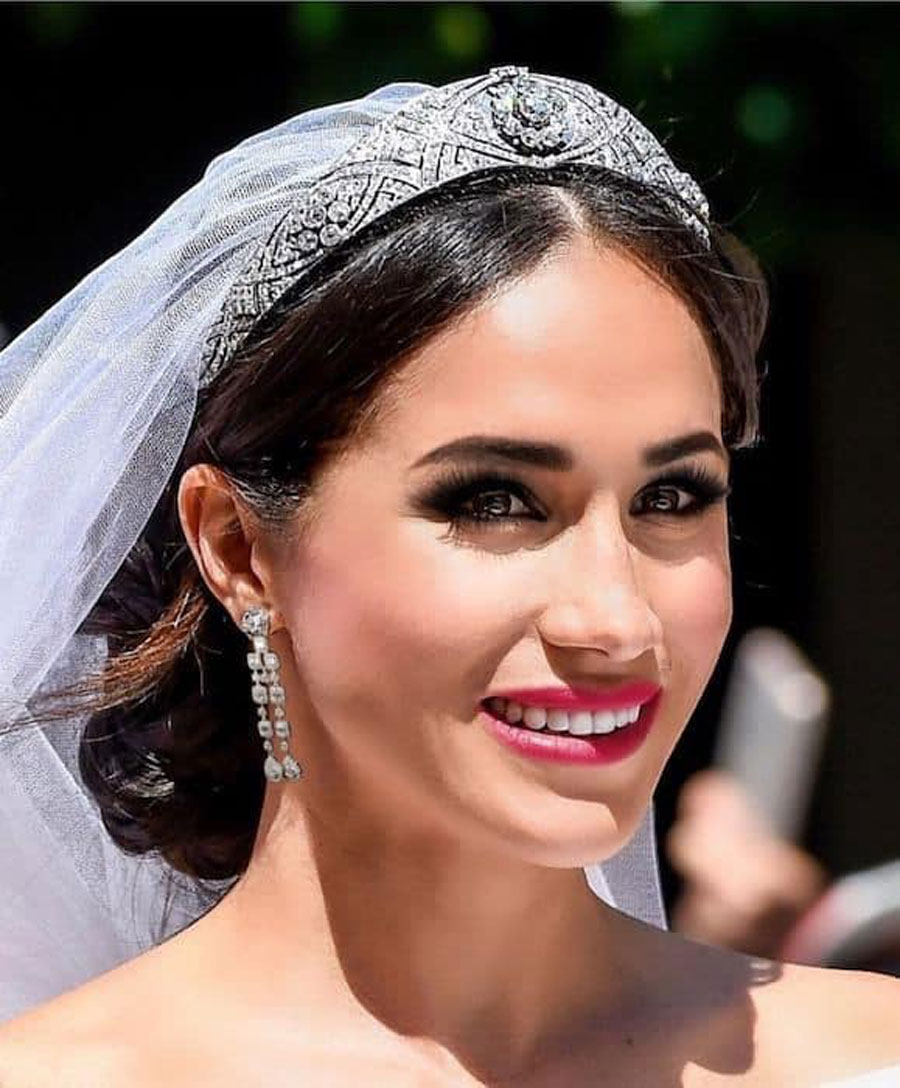 A bride's hairstyle doesn't necessarily affect the type of veil they wear but rather the way they wear it.  According to Ruvuza, it is always better to seek advise from a salon specialist about the hairstyle that will be favorable for the way you want to wear your veil.
Annet Katulinze, a hairstylist on Kamu Kamu Plaza says before coming to conclusion on how to design a bride's hair, hairstylists should first request to take a look at the veil in order to determine the hairstyle that will favour it, and the bride's face;
"Most brides prefer hairstyles with a bun at the top or back because they are perfect when it comes to holding the veil firmly to the hair."
However, Katulinze adds that for the brides that prefer keeping their hair short or left loose, it is the accessories you choose that will help keep the veil intact and beautifully placed at the same time.
Accessories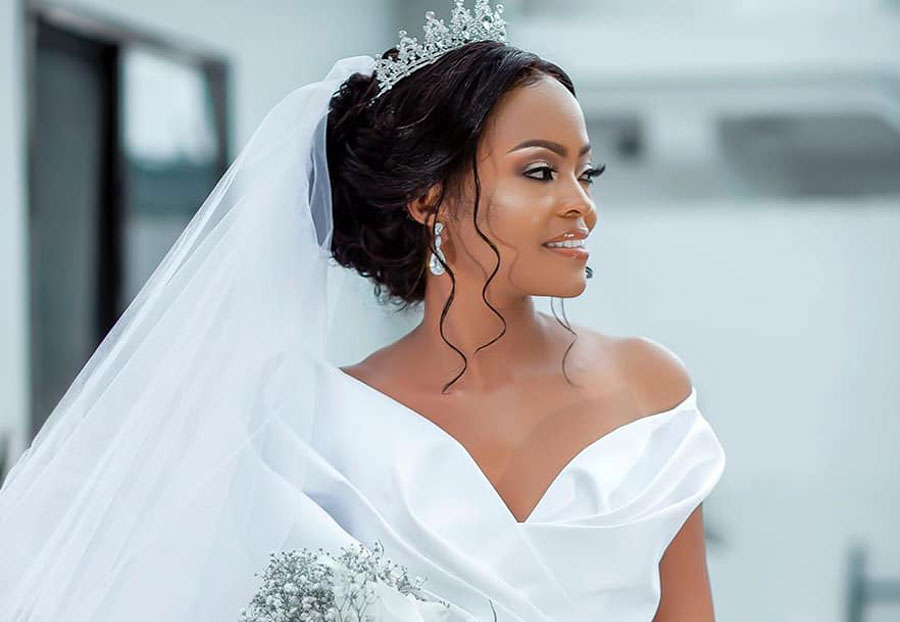 For a bride that wants a neutral look, some veils usually come with well-designed combs for easy attachment to the hair. This can be enough. Ange Kagame opted for a plain bun with just a veil at her wedding. She later removed the veil as well.
However, some brides prefer spicing up things a little bit more by opting for more hair accessories. Tiaras, crowns and bun rings are usually an option for brides that prefer keeping their hair tied up in a bun, whereas for brides that like keeping their hair loose or short, the best option is usually a headband since it helps to keep the veil in place.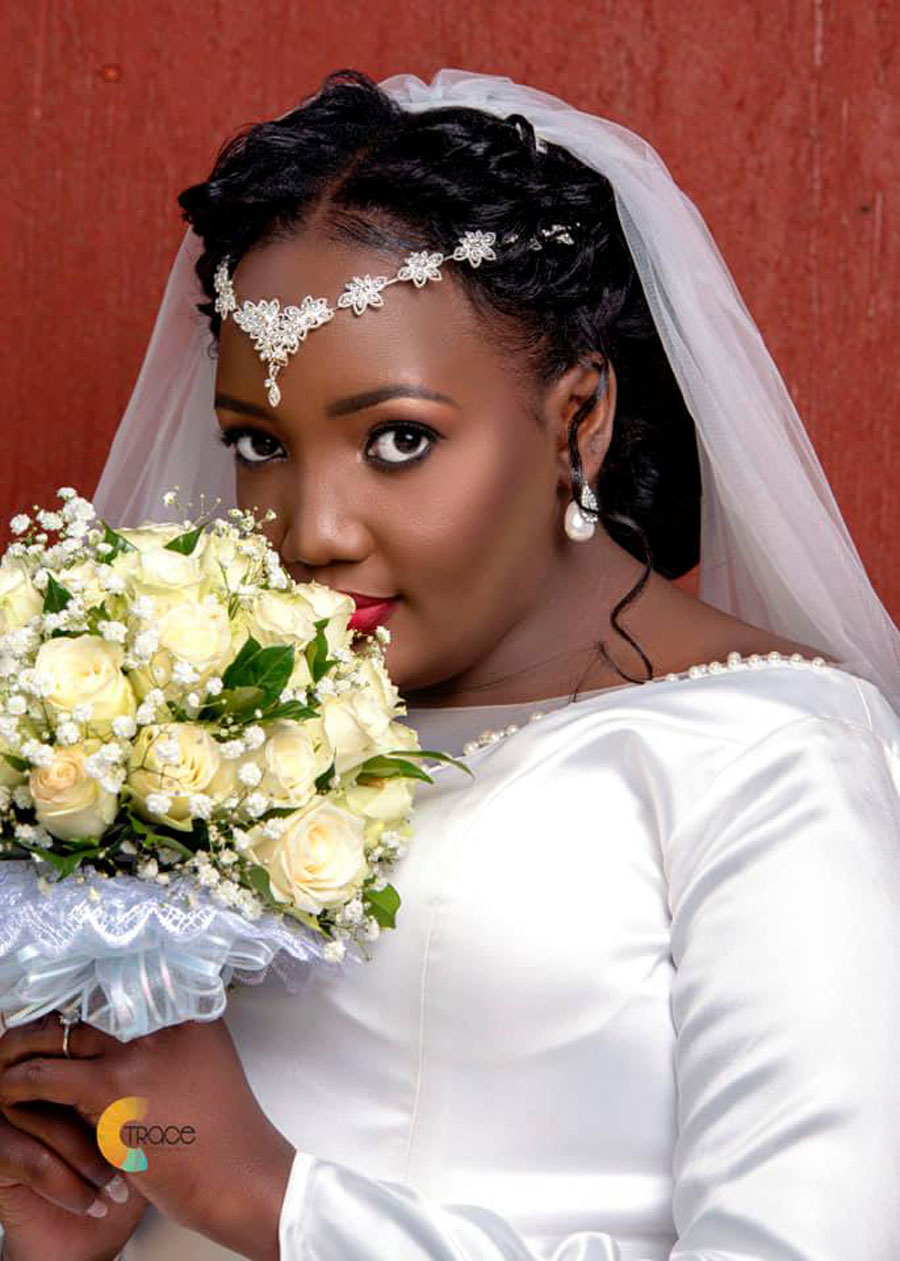 Ruvuza says that although hair accessories can be used to compliment the look, it is always better to keep it simple and not too much detailed.
"Having hair accessories that are too decorated may end up looking exaggerated, it is better for a bride to tone it down a little bit if they are to use them."
Veil embellishment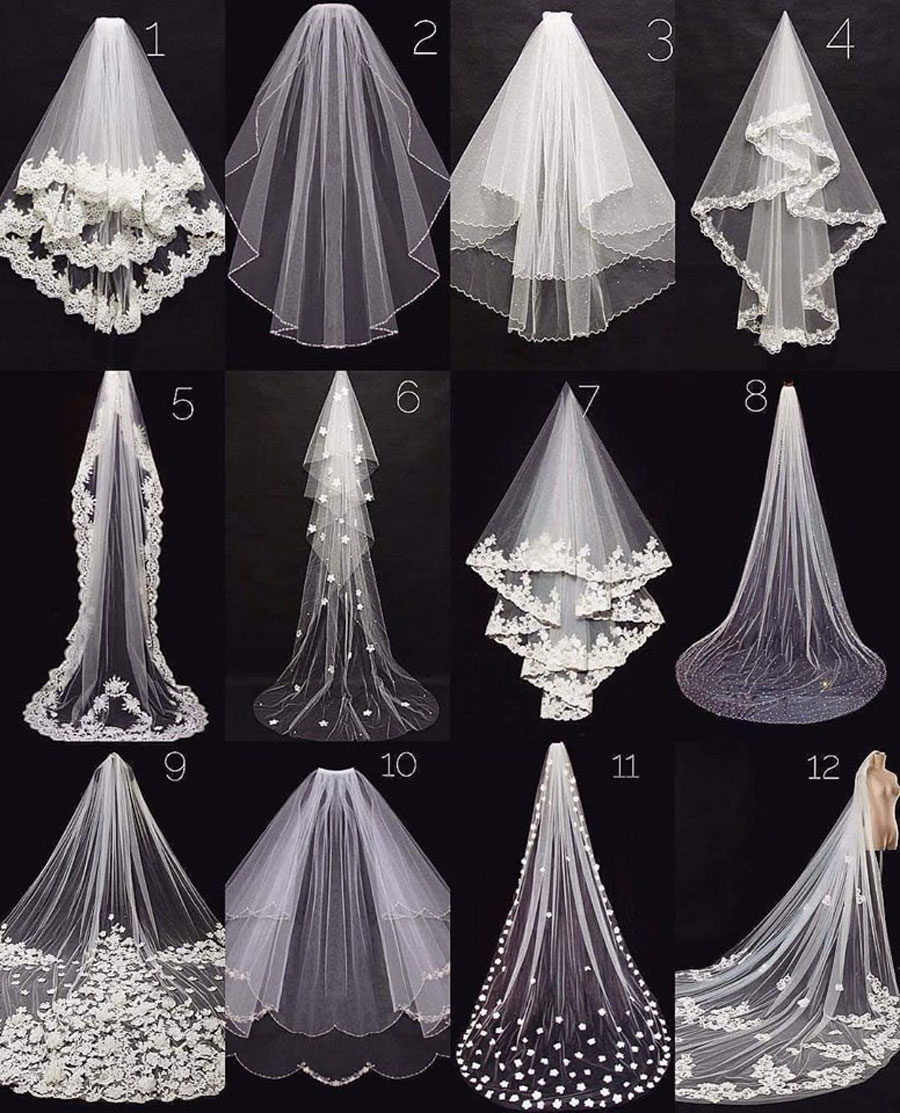 Bridal veils come with different designs. Some are plain. Some have playful patterns well as others are decorated with beads, crystals or diamonds. The trick however is to keep your gown balanced. If your gown is heavily embellished, it is then better to keep it simple with a plain or less decorated veil.
Ruvuza however cautions brides to always match the embellishments of the veil with those of the wedding gown.
"Finding a veil that has the exact matching patterns with the gown may not be a simple task however, if you find one that is close enough, don't hesitate to make it an option."
Ruvuza goes on to advise brides to always think about what they want to be whenever it comes to choosing their outfits.
"A veil is part of your wedding dress therefore you need to be yourself, don't choose something that is going to stop you from enjoying your day because you want to make people happy. Choose what your heart is comfortable with," she says.