By Rashim Nabanja
Wearing a short bridal dress is one of the boldest moves a bride could ever take. This comes with the fact that people have grown accustomed to the culture of wedding dresses being long.
However, if one decides to put such a rare fashion trend into consideration, she needs to be very careful about how she puts her entire look  together because one simple mistake may turn everything into a mess.
My wedding brings you some tips on how rock that short wedding dress the right way;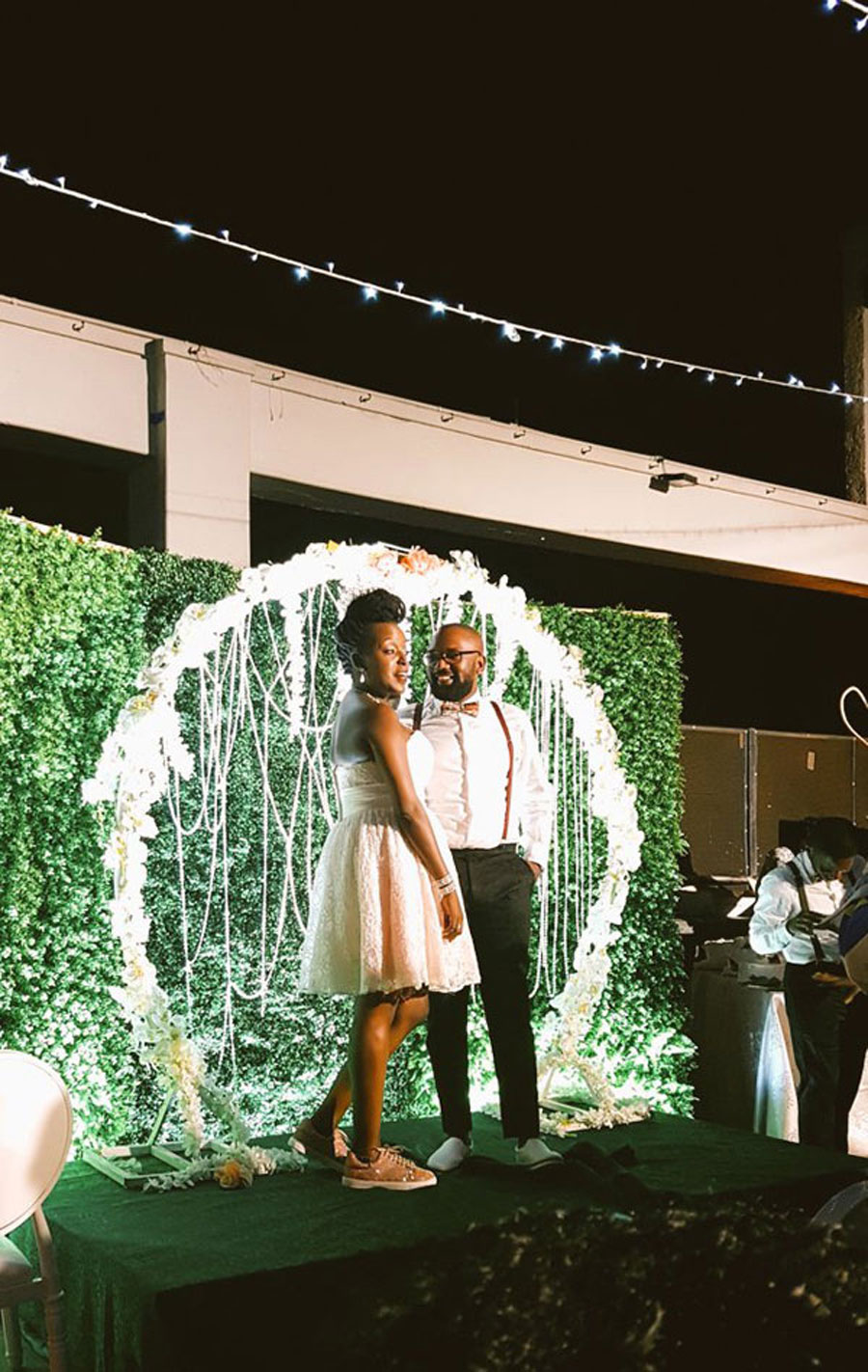 One of the first concerns when you decide to put on a short dress is church etiquette. According to Reverend Geoffrey Byarugaba of Resurrection Church of Uganda, Bugolobi, decency is a key consideration for to wed in church;
"As long as the gown covers the bride's private parts (reproductive related) and doesn't confuse gender, then the ceremony can peacefully take place."
However, Reverend Byarugaba adds that since church service involves a lot of kneeling, standing and sitting, the bride should make sure that her thighs are not exposed during all these activities.
Keep your body type in mind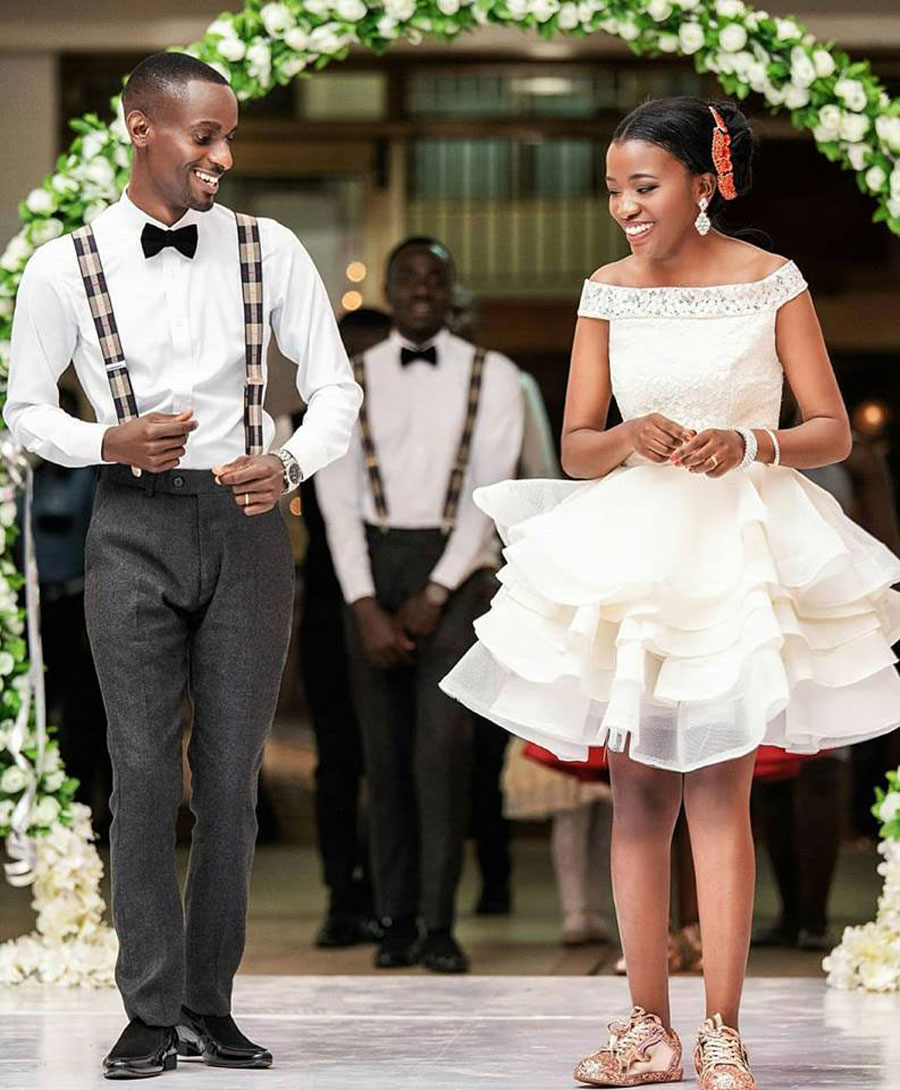 All body types are beautiful, however much some may differ from others. The trick is always hidden in knowing how to dress a particular kind of body. According to Indra Nimusiima, a bridal designer at Exquisite Bridals in Kamwokya, the kind of dress that looks good on a slimmer person may not work for a plus sized;
"Knowing your body type and taking advise from a professional will prevent you from messing up your entire look," she advises.
Nimusiima also adds that for plus-sized brides or those that are not comfortable with their body shape, they can decide to go for a ballroom kind of gown since it doesn't reveal the entire body.
However, those that are not afraid to show off their silhouette may go for a mermaid shaped kind of gown or one that hugs the entire body.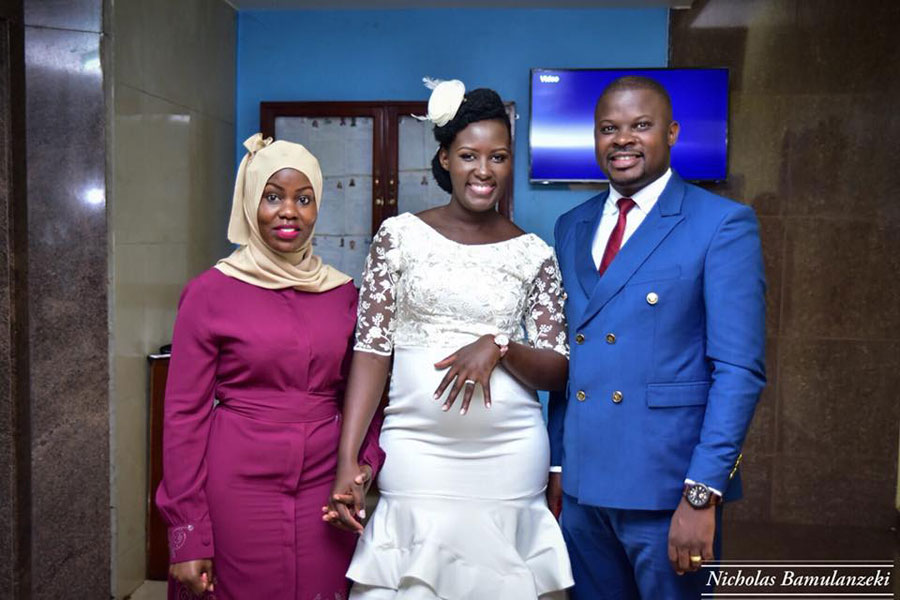 The Veil
The wedding veil is basically part of the gown. If a bride decides on wearing one, then she has to put in effort to make sure it doesn't mess up the output of the gown. Considering a professional's advise, Nimusiima says short wedding dresses always go hand in hand with shorter veils;
"Matching a long veil with a short dress may turn out to be weird."
Although some people may choose to go for the longer veil, it is usually a risky option. Nimusiima adds that many people wear short bridal dresses with no veils.
Shoes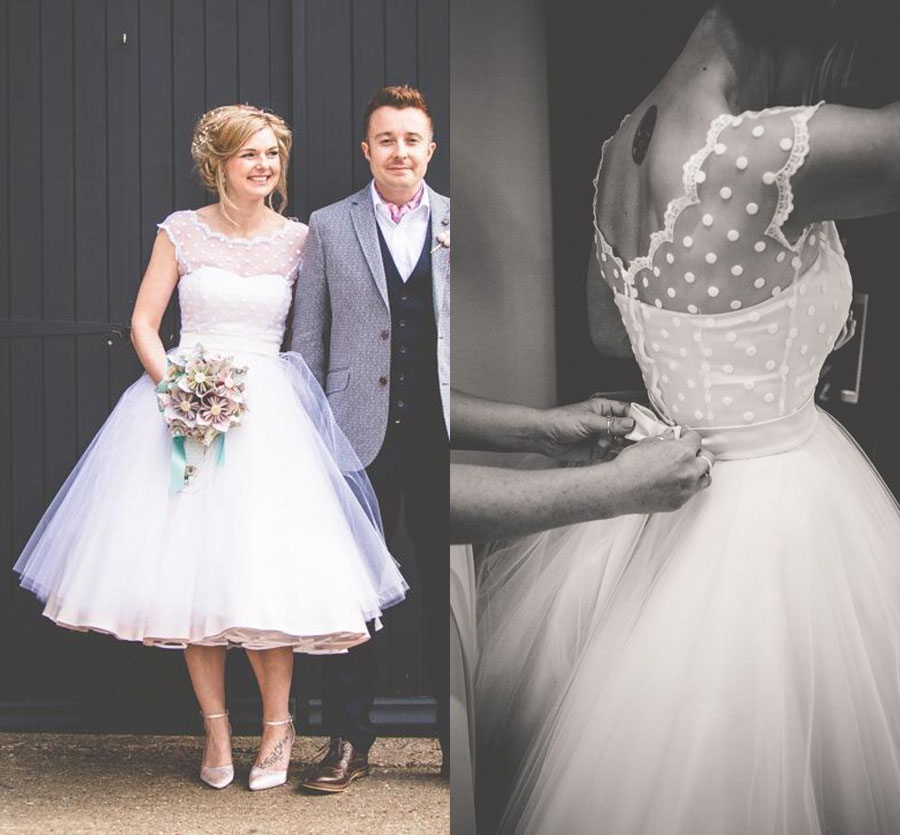 According to Doreen Namatovu, the CEO of Sister's Bridals Boutique, no matter the type of dress, a bride needs to go for shoes that compiment her look and make her comfortable. Some brides may want to be a little bit playful and opt for sneakers.
Nimusiima says short dresses usually make room for people to put more focus on one's shoes, therefore, a bride needs to be very careful when it comes to selecting them;
"Short gowns need shoes that are a bit raised. If a bride is not comfortable in heels that are so high, they can go for a smaller heel or opt for a wedge."
Accessories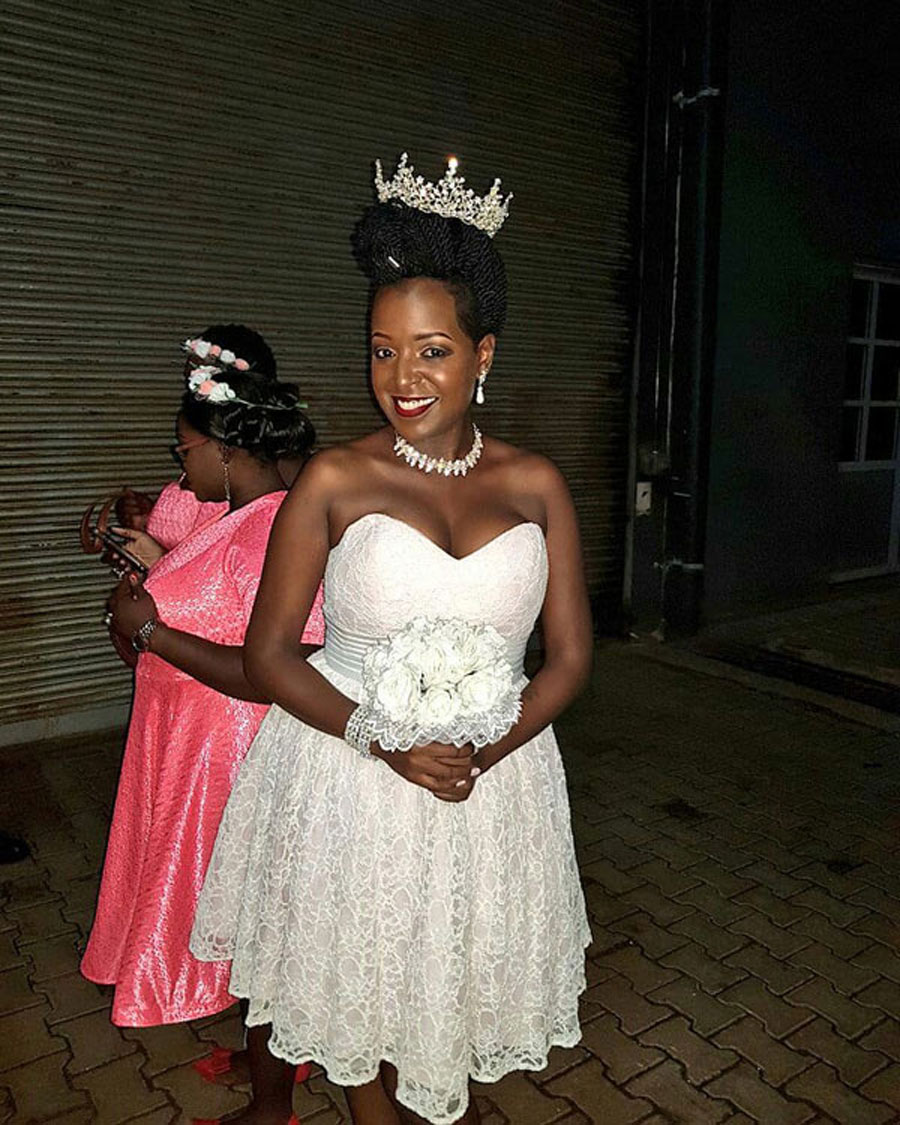 One of the things that bring out the beauty of an outfit are the accessories you accompany it with.
According to Namatovu, a bride should always consider the neckline of the gown, it is usually what determines the kind of jewelry that one is to put on;
"Some gowns have necklines that cover up most of the chest therefore one may not need that much jewelry."
However, although some brides choose to wear necklaces on a strapless gown or gowns with a heart shaped neckline, it wouldn't hurt if you traded the necklace for an elegant pair of earrings. If one feels this is too limited, they may decide to add some accessories to the hair and arm so as to balance up the entire look.
The maids
The fashion trend of a bride to matching her attire with her maids is no more. These days, whether you match your maids or not, it doesn't really matter as long as you all rock the look in the best way possible.
"If a bride decides to wear a short dress, it doesn't necessarily affect the length of the maid's dresses. They can choose to match the bride by also dressing up in short ones or differ by wearing long ones. Either way, it all depends on what the bride and her maids agree to," says Nimusiima.
Like all outfits, short bridal dresses have their pros and cons;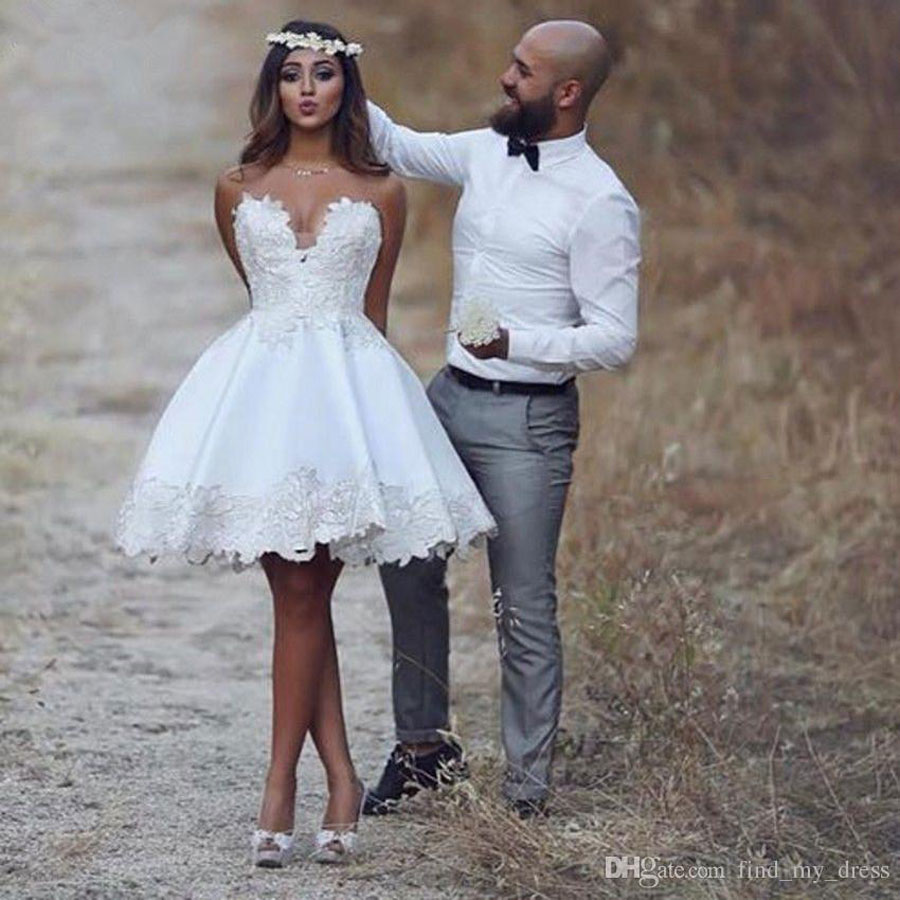 Mobility
Nimusiima says one of the best things about short bridal dresses is the level of comfort they come with;
"Short dresses are always more flexible for a person that would really like to dance her feet off at the reception. Long gowns at times may limit the level at which a bride needs to be free and express herself. It may be difficult for a bride to make sudden turns or have a comfortable walk down the aisle without help from her maids, " she explains.
Less expensive
Come to think of it, the lesser the material of a cloth, the lower the prices. It is no surprise that a longer wedding gown will be of a higher price compared to a shorter one. Basing on the bride's wedding budget, one may choose to opt for a shorter dress so that they can use the rest of the money to cater for other services.
 You can wear it again
Depending on the kind of simplicity of the dress you have chosen, one can easily wear her short wedding gown again for formal event, birthday party or even to dinner.
"All one has to do is play around with the accessories. One may go to the extreme when accessorizing the dress for her wedding but tone it down a little when it comes to wearing the same dress for any other event," Nimusiima shares.
Cons
 Societal expectations
 Depending on the kind of family that one comes from, a bride needs to put into consideration if her guests will be okay with her exchanging vows in a short gown or not. 
 According to Hardy Muyirima, she wouldn't mind her daughter wearing a short gown as long as it is covering up well and will not showcase her thighs when she bends.
Muyirima also adds that however much she may be okay with it, it may not give a good picture to the in-laws.
"A wedding is a very sensitive ceremony. It wouldn't be good for the bride to create an unfriendly start with her in-laws so it would be better if they just wore a long gown," she concludes.
Namatovu however advises brides that in case you cannot wear a short dress as your wedding gown for fear of mixed reactions; you can choose to put it on as a changing dress during the reception.
Aside from this, it would be unique to turn up for your vow exchange in a short elegant gown.