It is most certain that as a new year begins, new things sweep in. People like to try out something new and different every time they get into a new year. When it comes to fashion, brains in the fashion industry never stop cooking new ideas; all it takes is a tiny change in a little detail on an outfit and boom, a new fashion trend is set.
According to Indra Nimusiima, a bridal designer at Exquisite Bridals in Kamwokya, 2021 has started with a bang of some very stylish weddings gracing our screens. Brides now are going in for something unique, out of the ordinary but elegant.
We have seen brides go for dramatic colours like gold and silver gowns, very simple sheath dresses with elaborate jewelry and other elaborate styles.
Nimusiima and Sharon Natukunda, a bridal designer working at Namaganda Plaza, list some of the fashion trends that a 2021 bride should look out for.
1. The convertible dress
A convertible dress is more like a two in one or three in one dress. In simple terms, this is a dress that is tailored in a way that in can be worn in different ways for example, it can be tailored with arms that are detachable.
According to Nimusiima, brides want versatility and to have different looks for the cost of one. This is where the convertible dress comes in. She adds that there has now been a shift from huge Cinderella gowns that hide simple mermaid dresses underneath, to mermaid gowns with detachable bottoms or trains.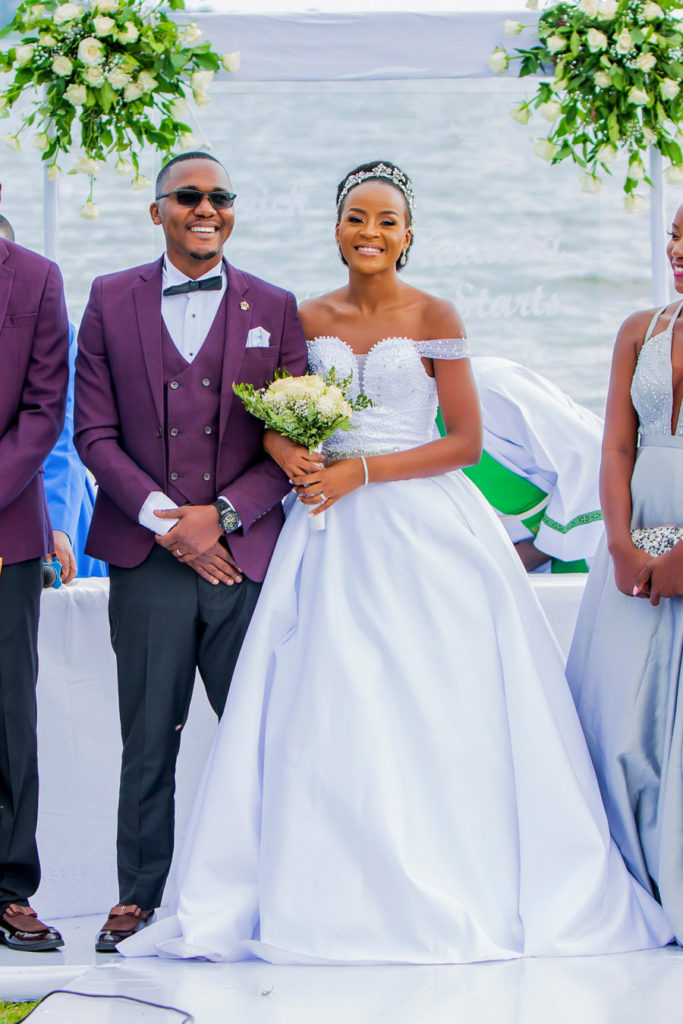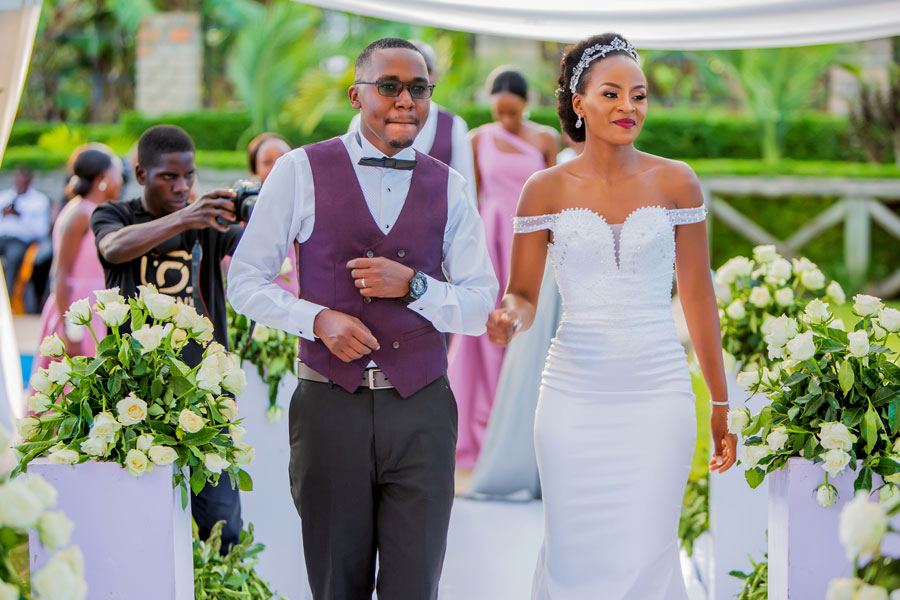 This kind of fashion is not only cost-friendly but easy and can save a bride time because one can choose to just detach the gown's arms and train, and have themselves a changing dress within a couple of minutes.
2. Coloured gowns and playful prints
For a long time now, society has embraced and grown accustomed to wearing white gowns. However, there has been a twist of things. Even if coloured gowns have existed for a while, from the looks of it, they might pick up more this year due to the level of uniqueness and creativity that fashion designers have added to them.
Nimusiima says brides now choose to walk down the aisle wearing their favorite colours like gold, silver, red and even black.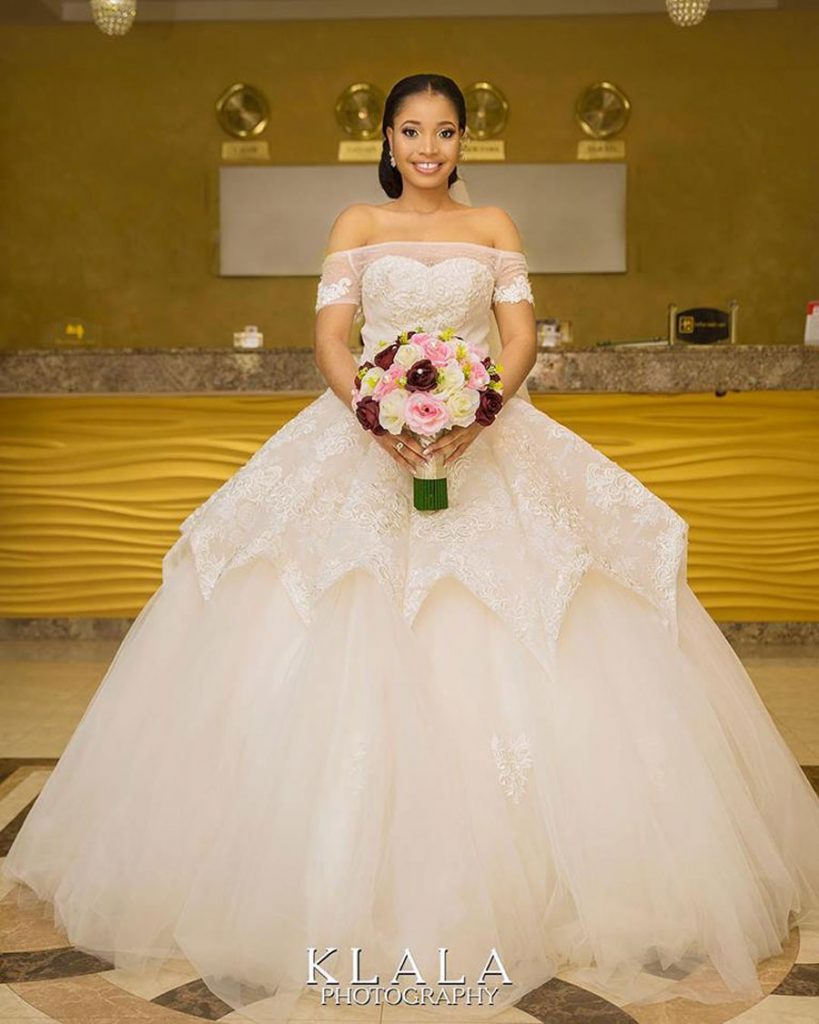 Juliet Nabukeera, an accountant by profession, chose to wear a peach coloured gown for her wedding later changing into a royal blue evening gown for her reception party.
"At first people didn't like me wearing peach as my wedding gown, they looked at it as a weird choice. My mother completely disagreed with it but after seeing me in the gown, she finally understood the concept. To me, white is fine but it is too expected and traditional, I would advise a bride to twist up things in a unique and fancy way."
When it comes to prints, Nimusiima says the trend is now lace patterns or mixed print fabrics that stand out for example, we see brides trending with gowns that have a playful touch of African print in them.
According to Natukunda, the best way to play around with African print in your wedding gown is to couple it with some white, "I always advise brides to keep it simple but unique. Have some African print in the train and the gown's sleeves or chest area and that is enough."
Natukunda also adds that you can choose to have an African printed material running through just the sides of a white gown and you are good to go, "Don't do too much because it may turn out exaggerated, remember you still have to keep the bridal concept, you don't want to lose it completely."
3. Unique gown cuts and material
According Nimusiima trends are leaning more towards uniqueness. Every bride is trying to stand out. Instead of the now normal sweetheart necklines, off shoulder gowns and lined sleeves, Nimusiima says that one can go for a geometric neckline like triangular cut and big bold shoulders/ sleeves.
According to Natukunda, puffy sleeves and stripped off shoulder gowns are turning out to be the new normal, brides are now going in for simple mermaid gowns with either puffy sleeves or off shoulder strips, "I like how brides are twisting up things and bringing in other fashion tastes that end up fitting in the bridal dress section. The trend of cram work and consistent fashion trends doesn't work anymore. I personally prefer a bride coming to me with her idea so as we work together and make it fit the bridal sector of fashion."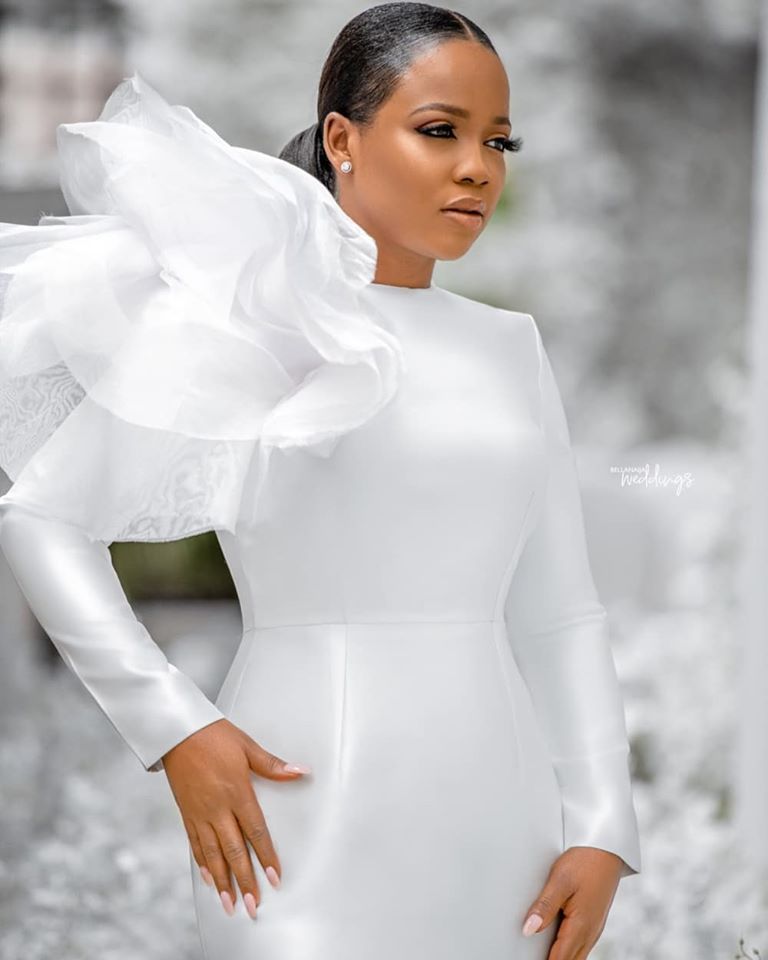 Natukunda also adds that when it comes to material, brides should now go in for satin made gowns, "The best thing about these gowns is that they have a sense of elegance and classiness they add to your look." She however says that netted gowns embedded with small pearls/crystals are a great choice too.
Nimusiima adds that subtle shine in the wedding gown that catches the light and dazzles as you move is also the rage now.
4. Accessories to glam it up
When choosing accessories, it is always wise to keep it simple but different. Too much accessorizing will ruin the look of the outfit. Natukunda says hair accessories like hair clips, crowns and nets are still a trend, all you have to do is play around differently with them and choose a unique hairstyle.
Natukunda also adds that the Nigerian head Gelle is now a beautiful thing that turns most brides into princesses. "No one can regret going African, the detail of African fashion alone will make everyone fall in love with you as a bride. Although the Nigerian head Gelle has been on scene for a while, it is still a yes from me," Natukunda says.
She however says that another accessory that brides should look out for is the heavy and detailed bridal bouquet, "Take a look at Mrs. Sadiyya Mulangwa and Judithiana, the perfect 2021 brides with detailed bouquets that turned out beautiful. Limited roses are now a common trend that we are so used to, fill your bouquet and design it with some pearl draping and you will be good to go."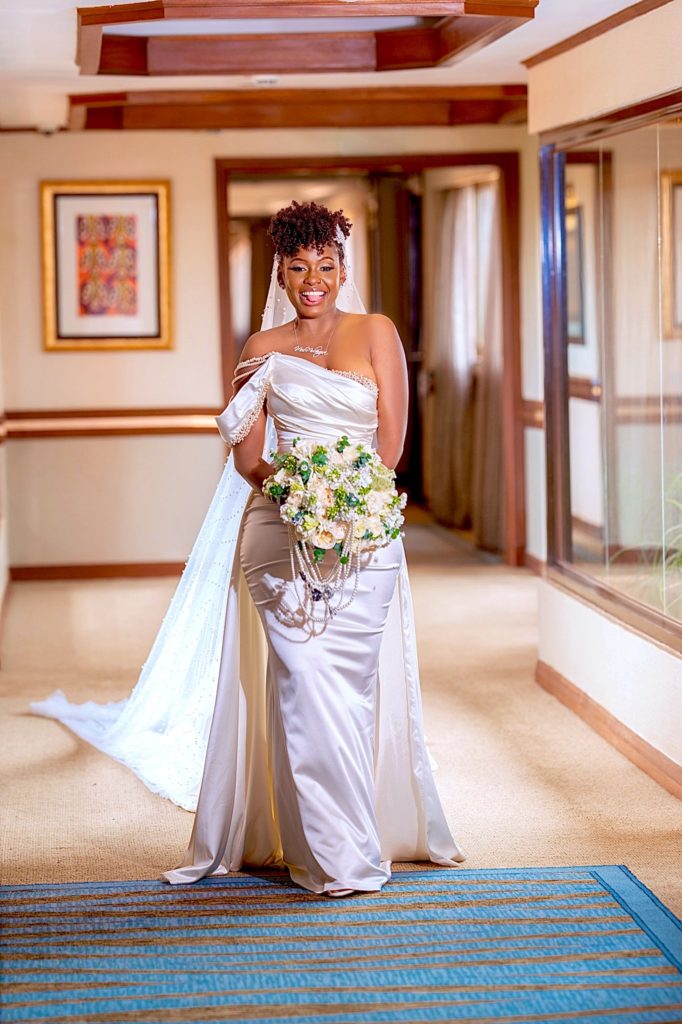 5. Your changing dress doesn't have to be a dress
As a bride, try setting the trend instead of following one. People are used to evening gowns being a bride's changing dress. Twist it up. Ditch the dress for a unique and tasty bridal jump suit.
The trend of the Nigerian/African wear is also something that brides have adopted to and have ended up rocking it.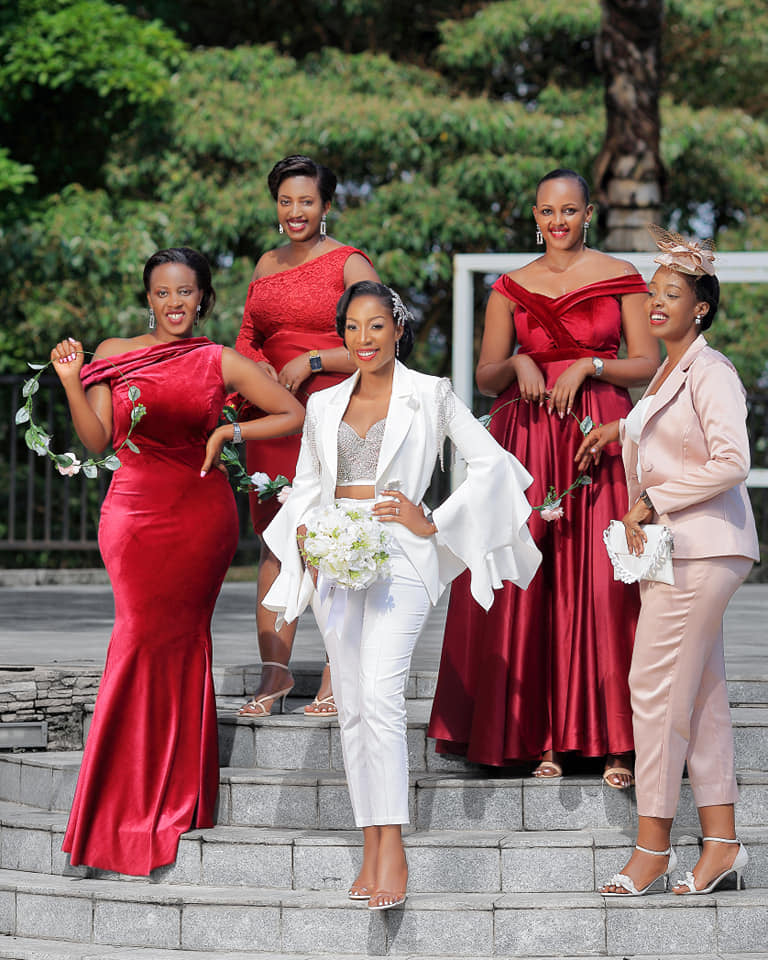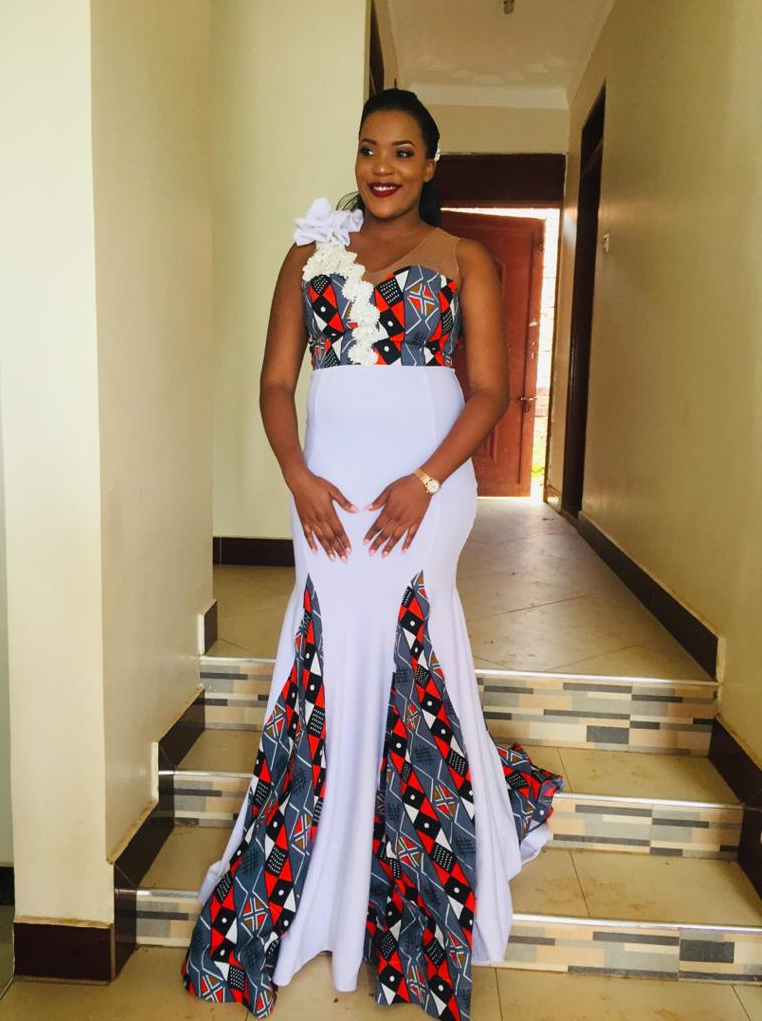 Trends come and go year in, year out, the best trick is to keep track and not be left behind. A better option would be to try and be creative as a bride, come up with your own idea so that you can be a trend setter instead of a follower, which is the basic to being unique.