By Jane Justine Mirembe
Angella Kirunda's gown is still the talk of her wedding guests, close to a year after the ceremony. Till date, many brides-to-be camp on her Facebook timeline looking at her outfits to pick a leaf. Not so long ago, Angella Kirunda was just a young woman with dreams of becoming a designer. Together with her best friend Marjorie Nabbona, they started Mangie fashions, a fashion line. Although they made some money out of their designs, it was not until Angella had to walk down the aisle with the love of her life, William Kirunda, that they finally got the chance to showcase their creativity for all to see.
Her clothes selection showed that it is possible to be a unique-looking bride, groom or bride's maid. She shared her story and tips on how a bride can stand out from the ordinary.
Design your own gown for that personal touch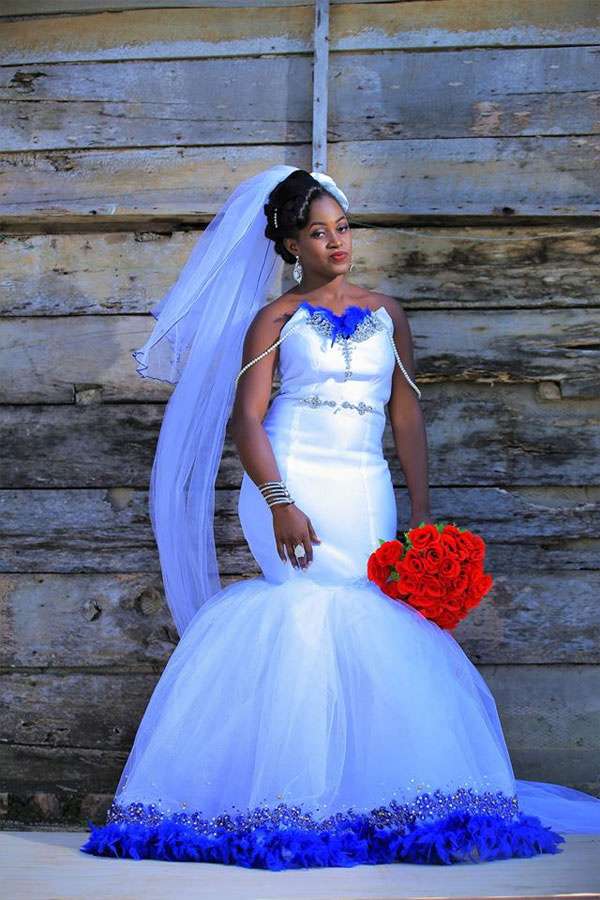 Angella advises that brides could design their own gowns but if they can't, they need to research about new wedding gown designs to avoid looking like everybody else.
"The whole overly-netted dress thing is outdated. And if a bride wants something unique, she should work closely with the designer or tailor," Angella advises, adding that, "I am a perfectionist and I love unique things. And since am a designer myself, I wanted to do it my own way so I made my own gown."
Indeed Angela's off-shoulder mermaid gown was quite unlike most wedding gowns. It was accentuated with beads and blue feathers at the bottom of the skirt which broke the monotony of the usual all-white gowns.
Although she had drawn a different design initially, Angella added the feathers and a blue lining to her veil in tribute to her husband.
"My husband's best colour is blue and white and since we were going to get married on his birthday, I decided to add a touch of blue and that is how the feathers' idea came up," she says.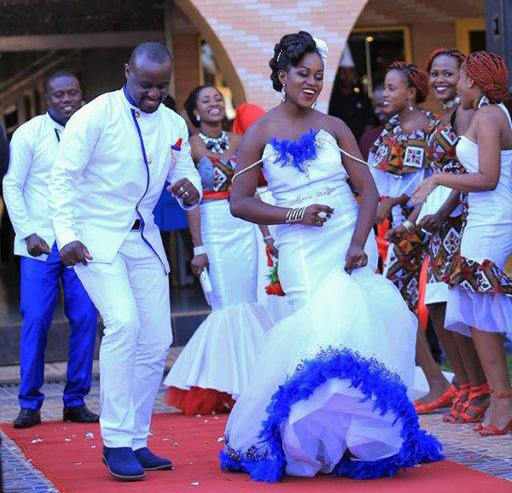 She had planned to further decorate the upper part of the gown with authentic silver but failed to find it.
"I wanted something authentic that won't rust so that I can keep the dress for years but since I failed, I got my close friend's silver wedding necklace and broke it into pieces and lined them onto the dress. All my friends thought I was crazy," she recalls
Have the bridesmaids wear differently designed outfits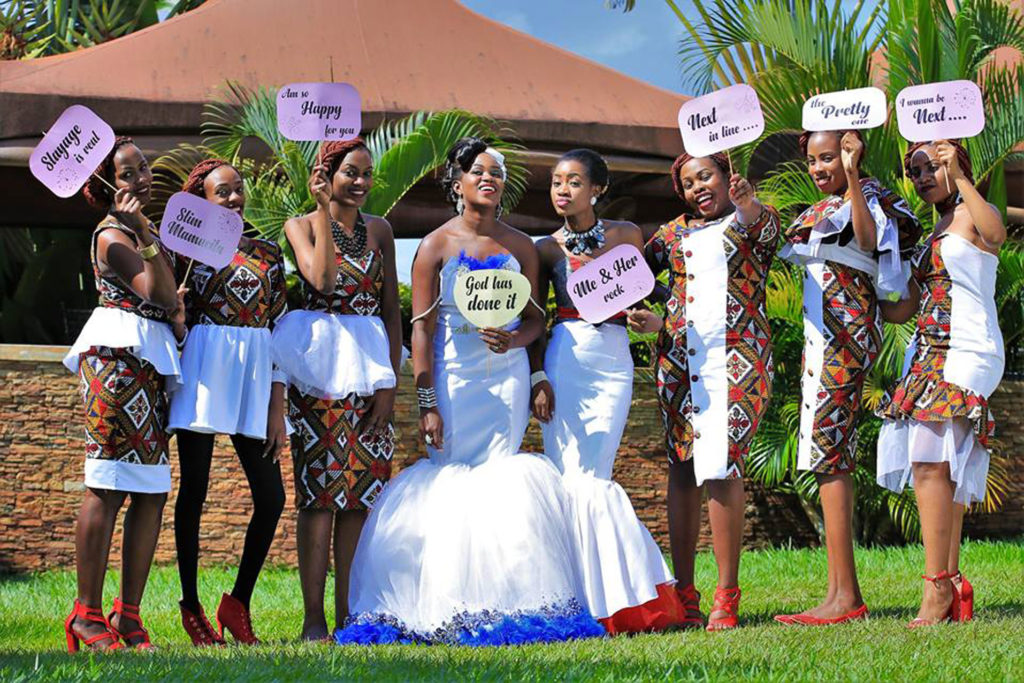 Angella who had selected six of her best friends to be her bridesmaids was hit with a dilemma since they all had different body types and sizes. They therefore would not look good in the same design. Consequently, Angella asked each of her maids to find a design she wanted. She later made all the designs including her gown and the groom's outfits within a month.
"I wanted each one to wear what made her comfortable. I wanted them to be able to wear their dresses even after the wedding, without thinking it's a boring uniform. So I asked each one to send a design they want," she says.
Indeed all her maids and flower girl wore differently designed outfits that brought out their individual strengths and character. One wore a body hugging dress, another leggings, another a free dress, some even got to wear pumps. They were stunning, and most importantly comfortable.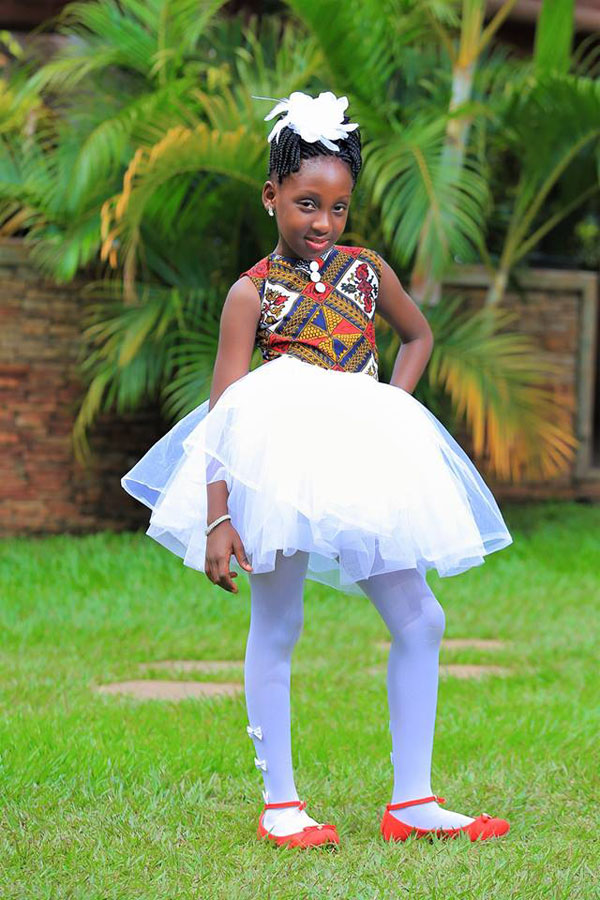 Still, Angella cautions brides not to go overboard in a bid for uniqueness. Although Angella's maids wore different designs, the same kitenge fabric and lace material were used to make them thereby keeping the beautiful African theme.
It's actually cheaper
Unlike most brides who hire dresses at Shs2million or buy at Shs5 million, Angella's amazing gown only cost her Shs400,000.
Be on the ground
So as to make sure that your wedding stands out you have to be on ground. This will ensure that it has your personality and not someone else's for example your wedding planner's.
Angella, together with Marjorie, organized everything on her wedding including the décor, music selection and finding the cake baker. Angella individually made the wedding invitation cards which were made of African fabric and banana fibers.
Be the source of entertainment
Guests were surprised to see the bride and her entire entourage changed into damaged jeans, t-shirts and sweaters wrapped around their waists. Many thought that they had probably suffered a wardrobe malfunction but it was an elaborate plan by Angella to entertain her guests.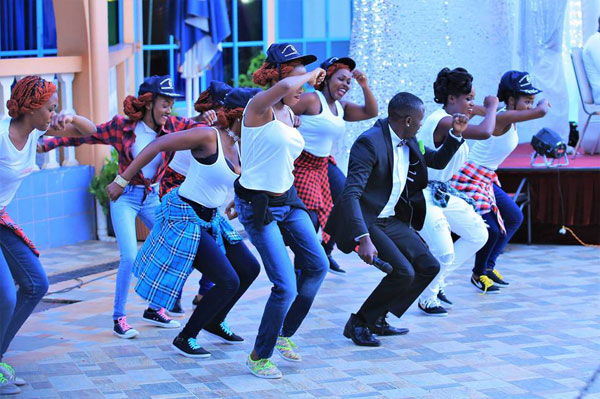 Soon Robinsan's Nanyini Kampala was blaring from the speakers and the bride and her girls broke into an energetic choreographed dance routine that got the guests off their seats and cheering on.
"My guests and in laws loved the fact that I did not bore them with those dance troupes that do the same dance on each function. They said it was unique and were very cool with it. They were so excited to see me dance," she recalls.
But Angella had been so close to hiring a dance troupe and was only set back by their high charges. Most troupes charged from Shs1.5 million to Shs3 million. She wondered why she should spend all this money when it could have taken something else off the budget before deciding that she and her entourage would be all the entertainment her guests would need since she wasn't a bad dancer herself.
"I love dancing and my maids also sort of had a dance group. So we thought it would be nice to actually dance for the guests and I also wanted to surprise my husband because I saw him work so hard to see that the wedding is great and worth it so I had to do something for him too. He loved it and we saved some money," she says.
She, however, warns that when choosing to dance on their weddings, bride should be careful not to choose songs or a dance routine that might offend people and that could be considered undignified.
"I chose a gospel song with a nice beat and a good message. For a bride to pull off that, you have to know which kind of people will be attending your wedding, especially the in-laws. If they are the conservative kind then its best you hire a dance group," she advises.
More tips
"Brides should look out for perfection when choosing clothes and photographers because the outstanding memory after the wedding is not food or audience but the photos taken. A bride therefore look her best, her whole entourage must look their best and a good photographer is a must have to capture that beauty." She explains.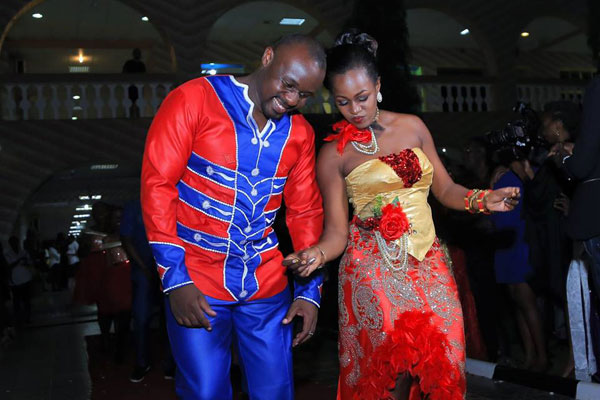 "Do what you feel is best for your day. Many will advise you but at the end of it all, it all comes back to you. Other people will be fine,"
"I went overboard in trying to have a perfect wedding and at some point I and my maid of honour almost broke down. No Bride should try that. You need to have a strong support system."
She still maintains that the approval of others on the uniqueness of her wedding was a fulfilling experience that still brings her joy to-date.