By Maria Immaculate Owechi
Last year in November, a video of Patrick Segawa, the founder of Public Health Ambassadors Uganda circulated on social media as he proposed to his girlfriend Patience Kyebitondo, an advocate of Sexual Reproductive Health for women at an International Conference on Family Planning (ICFP) in Rwanda.
Segawa proposed during a flash mob at the conference, which Kyebitondo had also practiced for. The crowd went wild when the young lady, in the middle of her performance turned around, only to find her boyfriend down on his knees with a ring in his hand.
The couple decided to hold their traditional marriage ceremony this month and My Wedding caught up with them to share their love journey.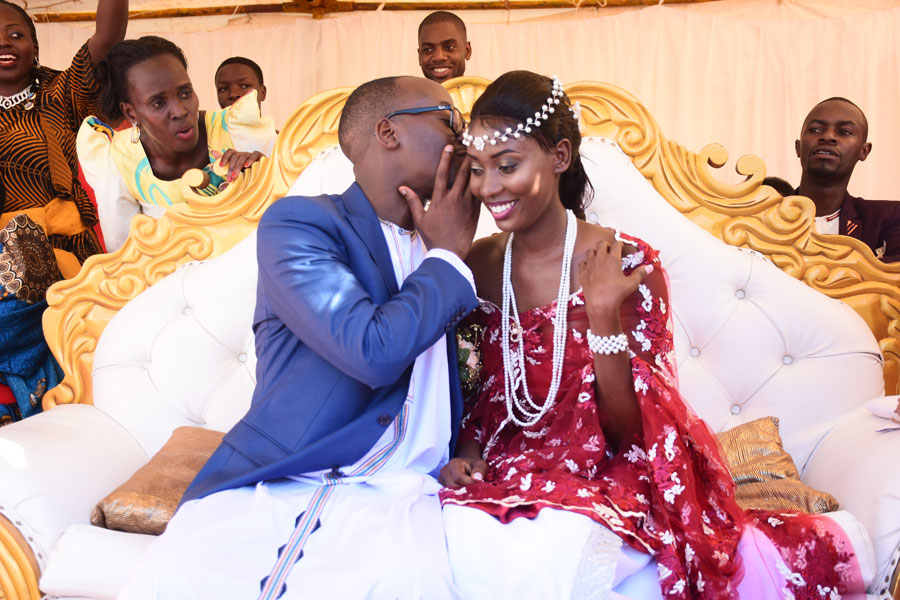 How did you meet?
Kyebitondo: It was in 2016, we both were set to carry out some health advocacy work in Luweero District and that's how we got to know each other.
Segawa: I got attracted to her on that day immediately and found all ways to get in touch with her. I would pass by her office pretending I am looking for someone yet I wanted to see her until a second or third time when I finally got her phone number.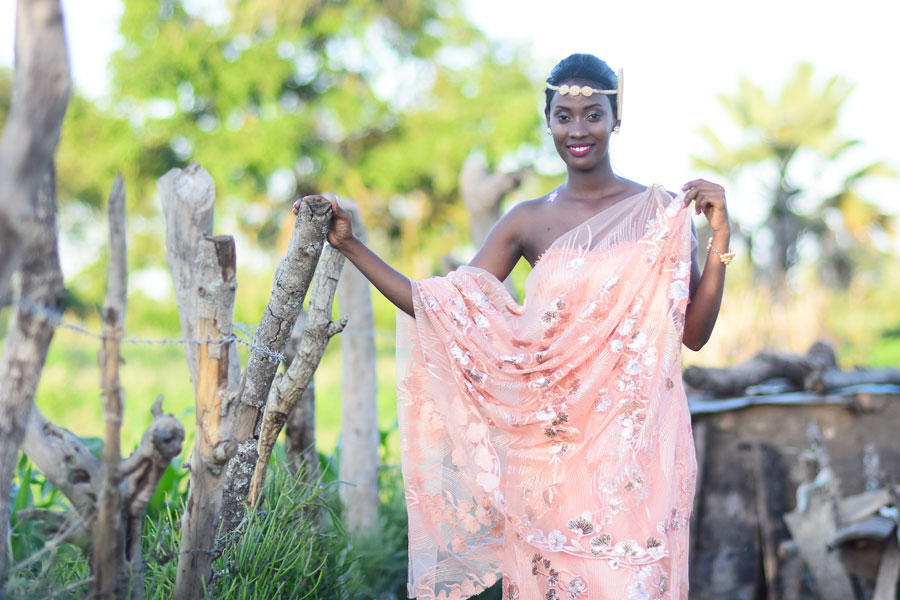 What attracted you to one another?
Segawa:  She has a powerful smile with the perfect denture. That's why at the wedding ceremony I kept on telling her to flash her smile so that the pictures turn out marvelous.
I also took time to observe that Kyebitondo is hardworking, energetic and self-driven as she challenged me in the aspect of being able to juggle formal employment while also running her own boutique business.
Kyebitondo: It took me time to eventually take him seriously because I actually first friend-zoned him.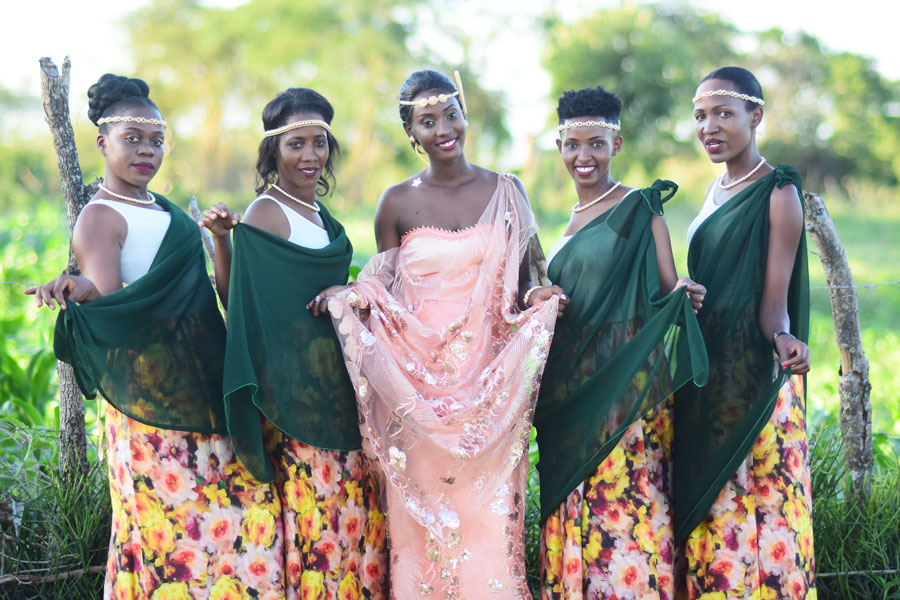 When where you convinced that he was actually serious about having a relationship with you?
Kyebitondo:  It was in March 2018, when he took me out to a certain place and bought for me my favourite velvet cake. As we were enjoying while chatting, he opened up about his true feelings towards me.
I told him, "Patu (the name she calls him) you are lying," but when I looked into his eyes, I could see right then that he was serious.
Since, I was speechless, I said I would give him an answer later that night but never did. I just kept on diverting his attention to the advocacy programs we run. It was in July, after I had put hard conditions for him like going formally to introduce himself to my parents which he agreed to, that I realized he was a man with noble intentions.
Segawa: We then set the kukyala date on November 28th, 2018. So, In September, I planned to propose to her during a trip we were to take to Kalangala, Victoria Forest Resort. All plans had been made with the resort management for a very romantic evening but I forgot the ring so the proposal never took place.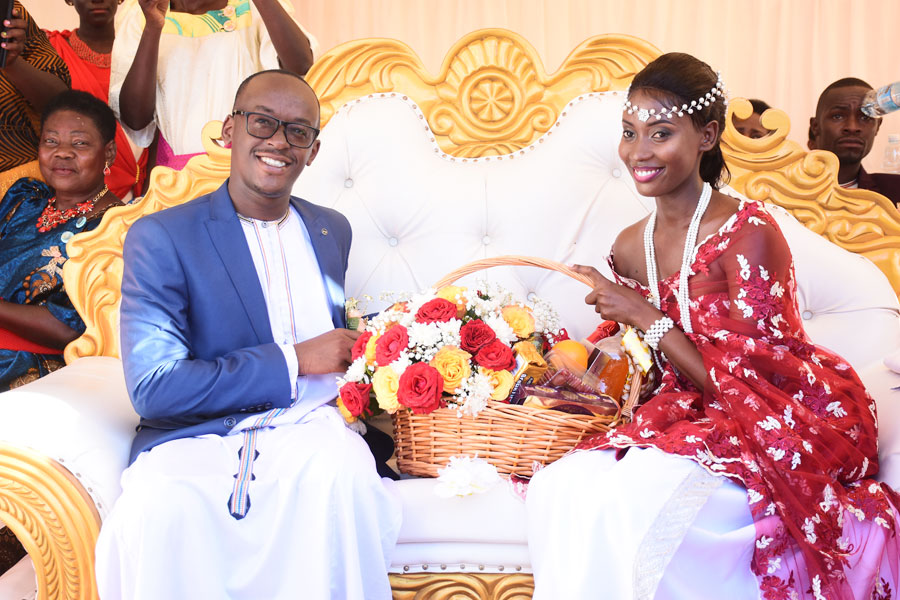 Did you know her ring size?
Segawa: Yes, I knew her ring size because some time back as we were hanging out in town, we decided to pass by an Indian ring shop where we got to find out our ring sizes beforehand so that was sorted out for me.
Why did you choose the International Conference on Family Planning (ICFP), in Rwanda, of all places to propose to her?
Segawa: Since I wanted the proposal to take place before the kukyala at the end of the month, I just got the idea that the conference will be the perfect place, so I invited her and went ahead to secure an invite, transport to Rwanda and hotel reservations.
Kyebitondo: I was actually planning to visit some relatives in Rwanda but when he told me about the conference. I decided to first attend it and proceed with my visitation plans.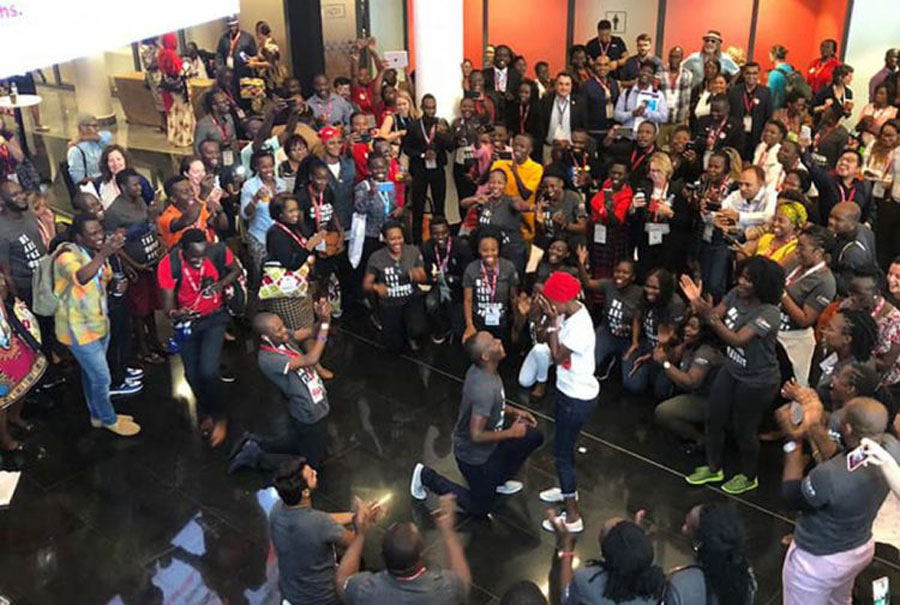 Segawa: So, I opted for the second last day of the conference where we had  have a free PA system, media and 100 young people to perform a flash mob dance . I told my friend about the plans and he sent the ring via bus from Kampala.
I also tipped off the rest of the dancers about the plans so they knew what to do.
In an interview last year with My Wedding Magazine, Kyebitondo shared how she felt after being surprised with an engagement proposal.
"My heart was pumping so hard; I was confused, people were screaming too hard. I didn't know what to do," she said.
Segawa also revealed what he felt ," My heart was papapapapapa. And I had to kneel three times. The first time, she just cried. I stood up to comfort her but remember, she hadn't said yes, so I went down again, this time on two knees, begging. I was happy when she accepted, I went to hug her, and then had to kneel again to say put the ring on.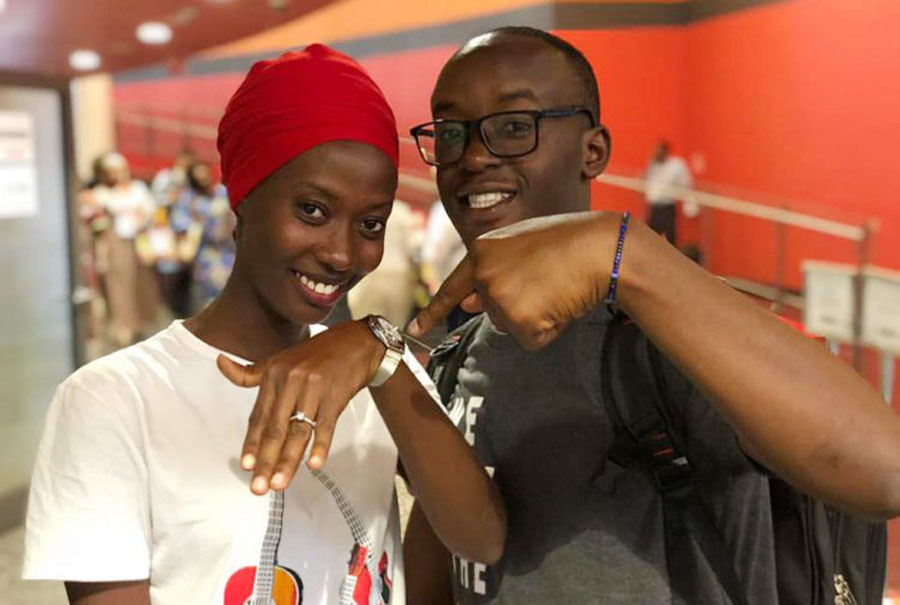 How many people escorted you for the kukyala and how did it go?
Segawa: 10 people were part of my entourage to my fiancée's home in Masindi where we discussed the bride price and gave them the date for the ceremony as 18th May, 2019 with an entourage of 50 people, but we ended up being 65 in number.
Where you able handle the extra number of guests?
Kyebitondo: Yes, we were able because I knew he would carry extra people so we adjusted our budget as a family beforehand.
What was the budget for the Introduction Ceremony?
Segawa: The budget was Shs20 million with 70% from my own savings and the rest from relatives and friends.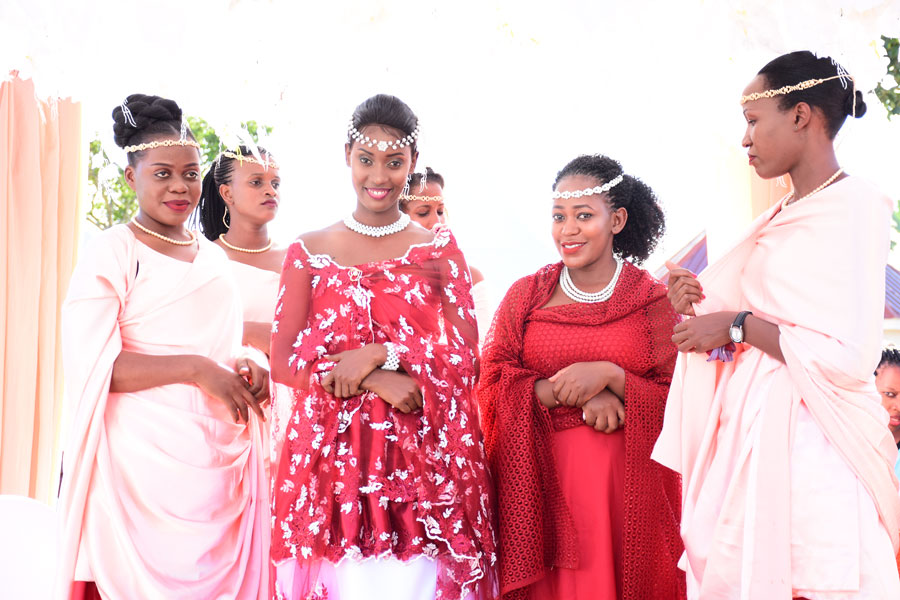 What did you enjoy on your special day?
Segawa: I enjoyed the food especially the special chicken her family had prepared for me and eshabwe. Then also seeing my wife looking beautiful as she was escorted to meet me. I kept on stretching my head to catch a glimpse of her since the people carrying their traditional omugamba led the way followed by a long line of her bridesmaids and aunties while Kyebitondo was placed right behind them.
Kyebitondo: The person who did my décor did an excellent job, the gazebo was well set up and the music system had clear sound.
How did you manage to organize an upcountry ceremony at your home village?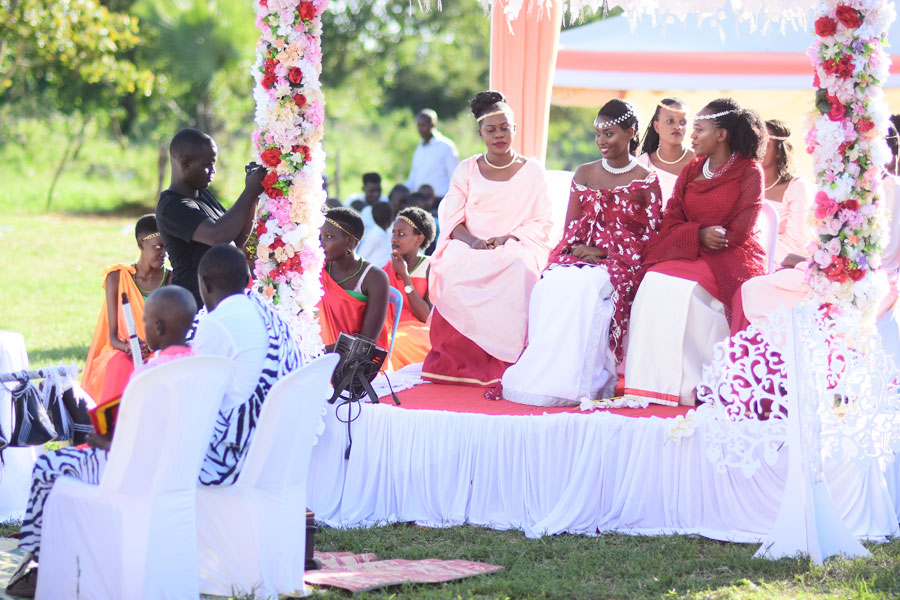 Kyebitondo: It was not hard since I am conversant with my home village so for things like the tents, chairs, music and food, all service providers were from Masindi except the special meal which we personally prepared for the groom and a few members of the entourage.
I only invested in footing transport bills for Ebenezer Events from Kampala to come and do my decoration and also the make-up artiste.
Actually, a week before the ceremony, I entered this make-up studio in the city for just a sample and then passed by my fiancé's office to find out his reaction. And when Segawa actually loved it, I decided to settle with that make-up artiste.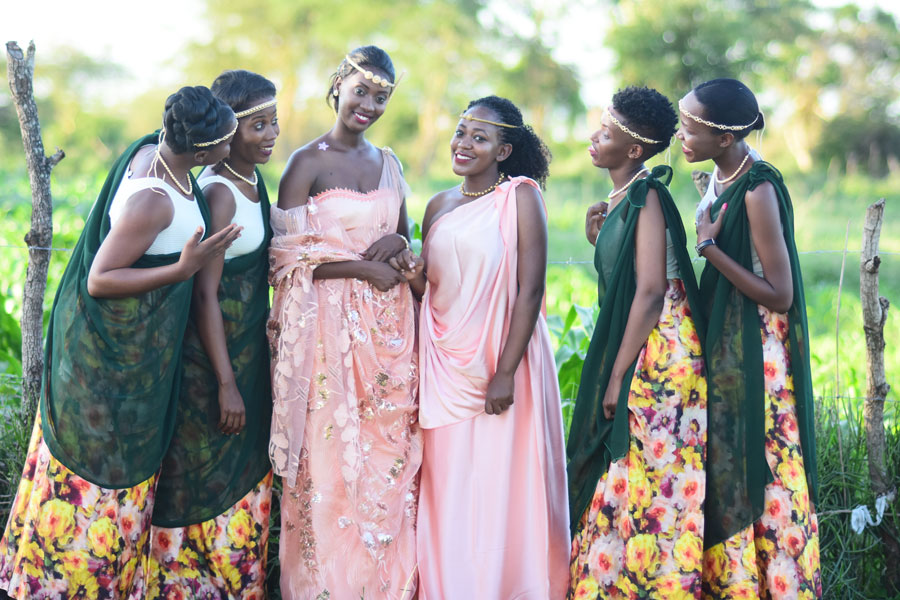 What challenges did you face during the ceremony?
Segawa: As we were travelling we had mechanical problems which delayed the entourage yet we were expected at the venue by midday but we arrived at 1pm instead.
Kyebitondo: I did not experience any major challenge.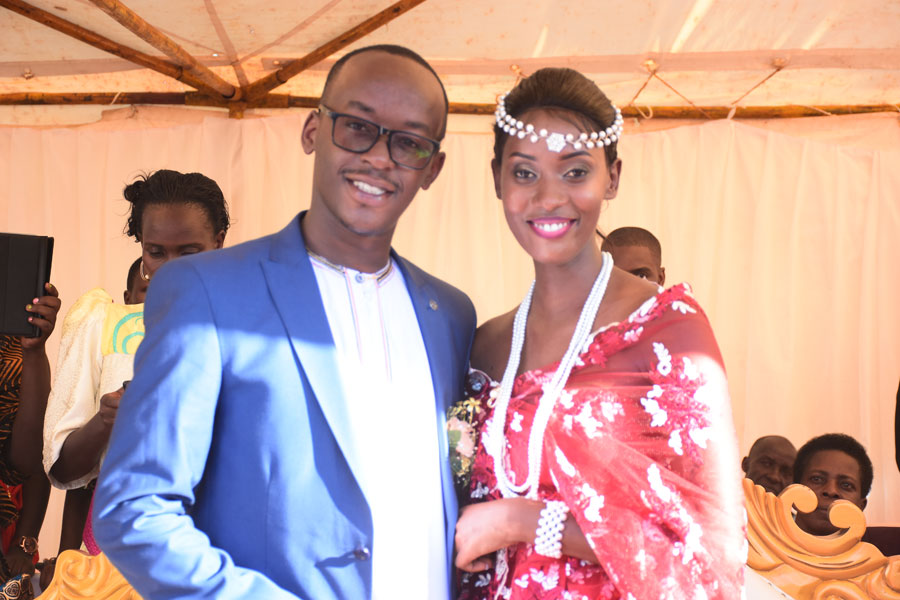 What was the cultural diversity at the ceremony?
Segawa: Since I am a  Muganda marrying a Munyoro, it was surprising that we were not required to take a cock for the muko, kanzus or traditional outfits for uncles and aunties as long as the requested 20 herds of cattle were brought.
Kyebitondo: In our culture such is not necessary and it is only done if the groom wishes.
Segawa and Kyebitondo are set to have their church wedding in October. My Wedding will bring you that story as well so do look out for it.