While we still grapple with taking in the reality of a 32 year old Ugandan woman who 'married herself' to silence marriage pressure from her parents, another woman has yet broken the internet with her fake wedding on Facebook.
Arlène Agneroh, a 33 year old from Congo faked her marriage after a mutual friend posted a picture of her sited with a male friend during a wedding which went viral on Facebook.
Ms. Agneroh coaches entrepreneurs and offers personal development training for a living. Considering Agneroh's  friends and family consider her a woman who has it all; the career, education and beauty-but a man.  They all concluded that the last  piece to  completing  perfect life for Agneroh had arrived; a man.
Agneroh explains that it is common in Congolese weddings for guests invited by the bride to wear clothes with matching patterns, while those invited by the groom wear  a different style. That is how Ms. Agneroh who had sat next to her good friend, Jean-Félix Mwema Ngandu took a photo in matching outfits.
In a few minutes, the friend who had taken their photo and posted it on Facebook had his phone buzzing non-stop. When he looked at it, he started laughing.
"What's happening?" Ms Agneroh remembers inquiring.
"Everyone thinks you two got married!" the friend answered.
"It was completely crazy. In a matter of minutes, dozens of people had commented on the picture and sent me messages of congratulations," Ms Agneroh told the BBC.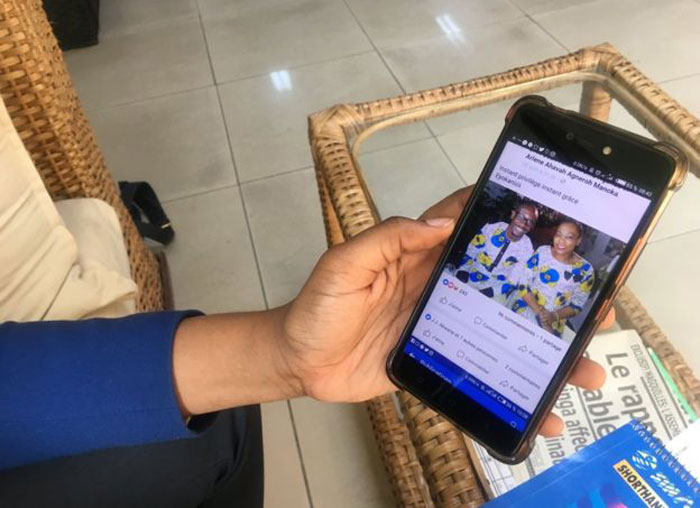 Finding it amusing, the two friends decided to keep the story going. They posed for a second picture, this time sitting in the "thrones" reserved for the married couple.
Mr Mwema Ngandu, 32, acknowledges they knew would they would "create a buzz" and that it was carefully planned. This time, they waited a few hours after sharing the photo on another friend's Facebook page before checking the reaction.
"When I woke up the next morning, I had, without exaggerating, several hundred missed calls, WhatsApp and Facebook messages," Ms Agneroh said.
"Some were from people I haven't spoken to in 10, even 15 years. I don't know how these people even got my number."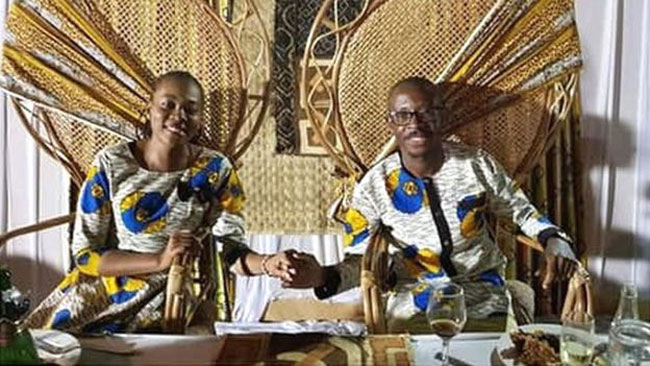 The friends intentionally pose holding hands to give an illusion of a relationshipI am still up for grabs
Once the pair started getting messages from friends abroad saying they were planning to fly back to Kinshasa for the "wedding", Ms Agneroh decided enough was enough and revealed the truth on her Facebook page.
She posted;
"These picture show two young people photographed by their friends, with no comment or allusion to marriage but that's what you all chose to interpret.
"Without even asking any questions, you've shared the picture, creating your own little story. Thanks to you, I've started compiling a list of guests for my wedding!
"But for now, those who've wanted to seduce me and but were always afraid, here's my message: I'm still on the market but not focused on finding a husband.
"So be patient… The lesson to learn is think before you act and look for context. A picture itself is never the full story."
Where are we going wrong as a society?
Ms. Agneroh says it's a normal part of life to be single yet a lot people find it very difficult and suffer from social pressure.
According to Mr Mwema Ngandu, many preachers talk about the "single spirit" as though people inhabited by an evil spirit of celibacy needed to "see the light" and get married.
Ms Agneroh says she is not against marriage and would like to get married when the time is right.
Mr Mwema Ngandu, 32 on the other hand has now met someone.
Should  young people of marriageable age  be pressured to commit or should people turn a blind eye and wait for them to decide that its the right time to commit?  Tell us what you think in the comments section