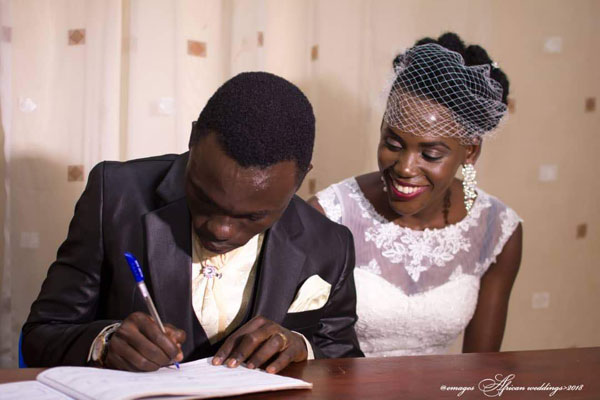 MY LOVE DON'T COST A THING. Francis Osikei, a fitness instructor and Diana, a church choir member, met at a gym and they fell for each. Francis proposed after choir practise and the rest is history, writes OLIVIER MUKAAYA.
How and when did you meet?
Francis: I was a fitness instructor at Mbale Resort Hotel in 2014 where Diana showed up asking to join aerobics classes. I okayed it because at the time I was looking for clients and friends as well. She came at the opportune time and that is where our friendship started. Later on, she offered me a room at her mother's house to rent. I gladly accepted the offer and moved in as soon as possible. I used to call her my landlady because I would give her my rent to pass on to her mother.
When did you become close?
Francis: When I discovered that our mothers were friends and attended fellowship at the same church. In three years, our friendship solidified: We challenged each other to take it to the next level through a church marriage. We consulted several people and wedded on July 7, 2018.
What attracted you to each other?
Diana: We enjoyed each other's conversations, loved going to gym and participating in outdoor activities. Francis is loving, caring and he has a good sense of humour.
Francis: Diana always takes care of me before herself, she was caring and sharing sparked the idea of marrying her.
When did you come up with the wedding date?
Francis: At first we thought of April 14, 2018 but early December as I was moving out of my house, God gave me the words seven, but I had no clue. So, I checked the calendar and seventh was a Saturday of the seventh month of the year 2018. God told me it was the perfect date for us to get married.
What was your budget?
Francis: We started planning for the wedding with Shs300,000 in hand, we thought of how we could multiply it. We opened a small juice bar with the help of a close friend who gave us a loan for start-up capital for the shop. We started selling juice and snacks which my wife bakes. We saved money earned from the shop and with contributions from friends, and some relatives, our budget reached Shs16m in three months.
What was the most costly item?
Diana: The venue and food because we wanted to have an indoor wedding and we budgeted for 150 people. We had to book Wash and Wills Hotel which also provided the food and drinks.
Where did you shop for the rings?
Francis: Gold and silver, were bought from Empra Beauty Parlour in Ntinda. It belongs to Diana's sister who also handled the bride's makeup and jewellery.
Did you involve a planner?
Francis: Yes, my best man was our wedding planner because he gave us insights basing on his experience. He started with Shs1m yet he had to cater for an introduction and wedding within the same week.
How did you make the guest list?
Diana: We first made calls and sent messages to friends and families to confirm their attendance before printing the invitation cards. We printed invitation cards for only those who confirmed their presence, thus the 150 guests.
What were you doing on your wedding eve?
Diana: I had a wedding pre-visit to organise and after we had a wedding rehearsal and then hair styling plus nail care.
Francis: We paid a visit to my wife's family on Friday morning and there we asked everyone with a task to complete it. It was time to check and tick off different items.
Were you disappointed in anyway during the function?
Diana: The cake did not come out the way we had envisioned it but it tasted great that everyone enjoyed it.
How did you propose to Diana?
Francis: It was on Easter after our church production in evening, as she was leaving to go home, I dropped my surprise.
Diana how did you feel when Francis proposed?
Diana: I was surprised when he proposed in front of our church team and yes, it felt so good.
How long did it take to prepare for the wedding?
Francis: Six months. We drafted two budgets; the proposed budget and the actual budget which we kept updating every month. We managed to raise funds for the proposed budget in the last week.
How much did the wedding cost?
Francis: Shs16m.
What did you enjoy most on that day?
Diana: My husband and the manifestation of God's glory over our wedding. It was evident with how everything fell in place.
Francis: Photography was awesome, we had a lot of time to take pictures, the cameramen were on point, and my wife fed me cake like she had been anticipating. Everything was on point from church to wedding night!
What was going through your mind during the ceremony?
Francis: I was encouraged and motivated by the fact that we planned a wedding from Shs300,000 to Shs16m without holding wedding meetings, I could not stop thanking God for what he had shown us. My faith increased.
Did you go for premarital counselling?
Diana: Yes, we met more often with Pastor Peter Wamono, Founder and lead pastor Musaale Church Ministries. I learnt that you cannot copy what is working for other couples into your marriage. We are creating our story and I pray it influences many young couples who are joining this journey for the glory of God.
Francis: Working together and helping each other at home, were some of the most important aspects the pastor emphasised. Also, always put God first.
What is your advice to those planning to wed?
Diana: It takes faith, courage, planning, trust and hard work to make that day successful. Do your part and wait expectantly for God to do His part. God surprises at the hour you least expect him.
Francis: Take a step of faith and know what you want because a wedding does not require billions to pull off.
Tit bits
Date: July 7, 2018
Groom: Francis Osikei
Bride: Diana Adong
Church: City Victory Church, Mbale
Officiants: Pastor John wandela and Pastor Peter Wamono
Reception: Wash and Wills Hotel, Mbale
Budget: Shs16m
Guests: 150