Malachi Kabale Mubiru Muyinza, a records manager at UBC and Miriam Lwantale an administrator, walked down the aisle after five years of friendship on July 8, 2017. Christine Katende writes about what their wedding day was like.
How did you get know each other?
Malachi: I met Miriam at campus five years ago, we happened to be pursuing the same course (information technology) and attending the class. One time, my classmates requested to use my laptop to project their work but they left the projector running which gave Miriam a chance to see my parents' picture when she entered the lecture room, this impressed her a lot. On that same day, we held a discussion and being the lead discussant, I requested that we open and close the discussion with a prayer, this too amazed her. She could not believe a young man put God first even in studies. I remember her posing a question, "Are you a born again, which church do you go to?" and it's then that our friendship started.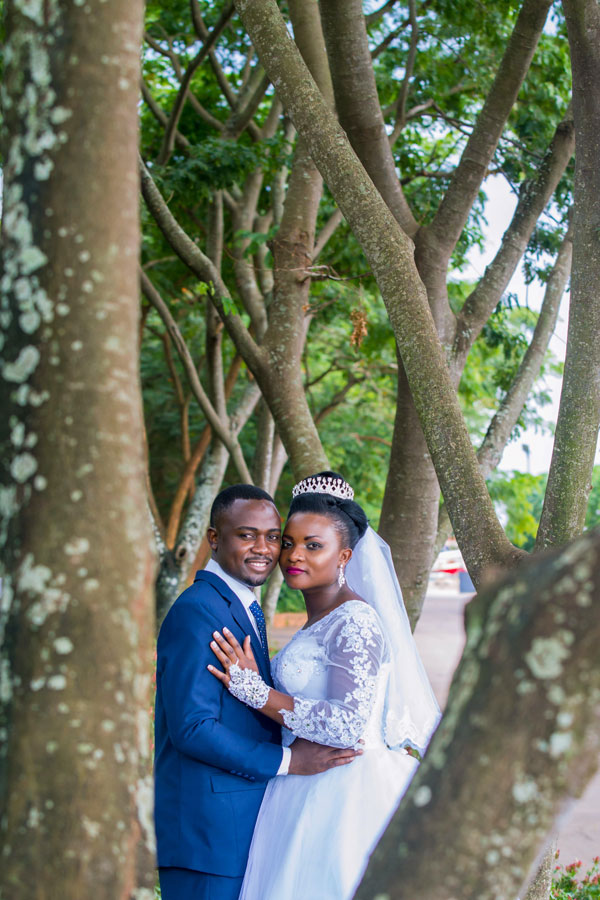 Miriam: I met Malachi at the university in 2012. It was my first day at the university, we attended the same lecture and actually ended up in the same discussion group. I liked Malachi from the very first time I saw him given his love for Christ. I wondered how such a young man could madly be in love with Christ. We created rapport on the very first day.  
When did the friendship later turn into love?
Malachi: She really had a striking beauty. And the more we stayed and pursued studies together gave me time to know her. We were in the same discussion group. I used to play soccer but over time, she made me leave my passion. Although we remained as friends, my feelings for her were growing stronger by the day. One day I proposed a date where I used Shs5,000, we had soda and chapatti but I used this chance to tell her more about myself and she also revealed that I was her best friend.
When did you then reveal your intentions?
Malachi: It was during the second semester when I told her that I loved her though requested her to listen to God for the answer. Although I loved her, I was ready to go with whichever answer God was to bring. I also asked her to keep it a secret to avoid interruptions from outsiders.
What was your reaction when he said I love you?
Miriam: I got confused because after he revealed it for he asked me not to respond then but let God provide an answer to me. Sincerely, it silenced my heart. Before that, he had called me at night and asked me to wake up for prayers. As I was still in confusion, though in prayer, a certain pastor amidst a fellowship prophesied a big wedding and a happy life ahead. She was literally seconding me to go ahead with Malachi. All in all, I prayed over everything and God revealed that Malachi was the man for me.
For how long did you date?
Malachi: We dated for five years and later held an introduction on June 27, 2017.
What did like about each other?
Malachi: I started praying for the woman I would marry way back in primary six and when Miriam came into my life, I realised she had the qualities I wanted. She has great love for God. Miriam could call me and remind me to pray, she became my prayer partner. She is also a good advisor, hardworking, beautiful, kind, loving, caring, among others. The list is endless.
Miriam: He is a friend not worth missing. He is never negative, God-fearing, caring, humble, kind, loving, encouraging, among other good things.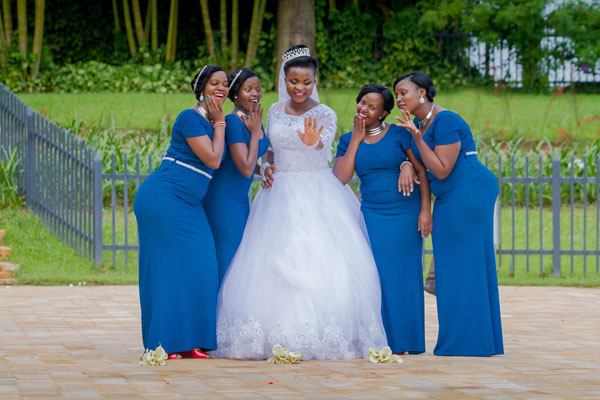 What challenged you most while you're dating?
Malachi: The fact that she was working and I was just a soccer player where I wasn't earning anything was so much challenging. I had to drop soccer for the better of our relationship.
Miriam: The challenge was not being with him, not staying together just as other people in love. I would most of the time want to be near him, laugh or smile while seeing him but I couldn't.
When and where was the wedding?
Malachi: We wedded on July 8, 2017 at Ggaba Community Church and it was officiated by Ps Peter Kasirivu.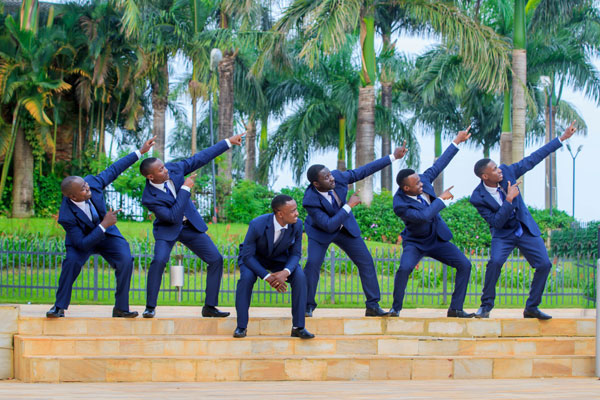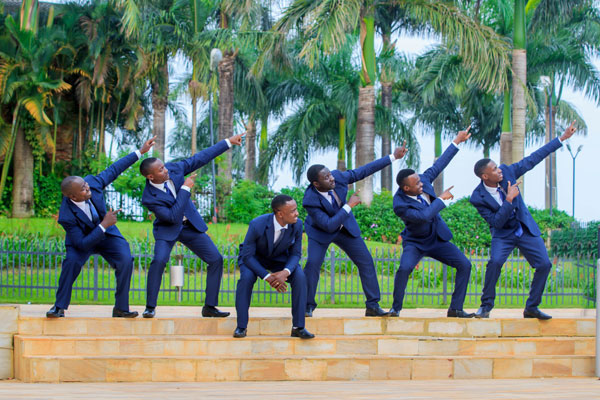 How many guests did plan for?
Malachi: We hosted more than 400 guests at Bbunga Leisure Gardens. I thank God we were able to cater for the extra numbers.
What did you like about the venue?
Miriam: I liked the green cover and the beautiful flowers. This made it easy for the decorator. The place was also spacious.
What is the most memorable thing that happened on your wedding?
Malachi: When Miriam said 'I do. My heart was at peace, I really felt heavenly.
Miriam: The time of exchanging the vows, I couldn't believe, I was really overwhelmed with joy.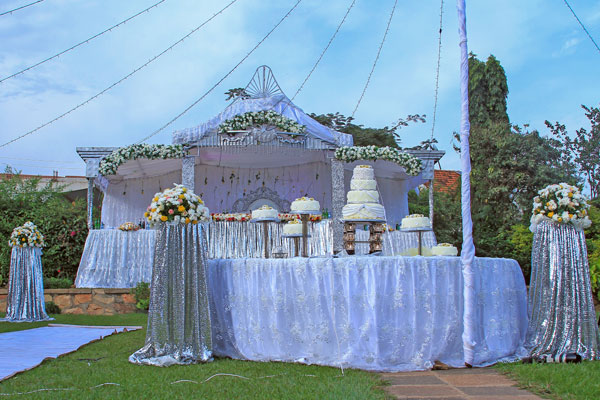 How much did your gown cost?
Miriam: My gown and changing dress were tailored. However, before buying the material, I made use of the internet, searched for the best trending gowns then. I downloaded the pictures and shared them with the tailor. She guided me on which material to buy and how much plus where to buy it. I just paid for labour. Both dresses cost Shs1m.
Why did you choose to have a ball gown?
Miriam: It is the Holy Spirit that guided me because there were so many trends on the market. This gown was so comfortable and beautiful that people are now hiring it. I chose pure white because I was also pure. I know white represents purity.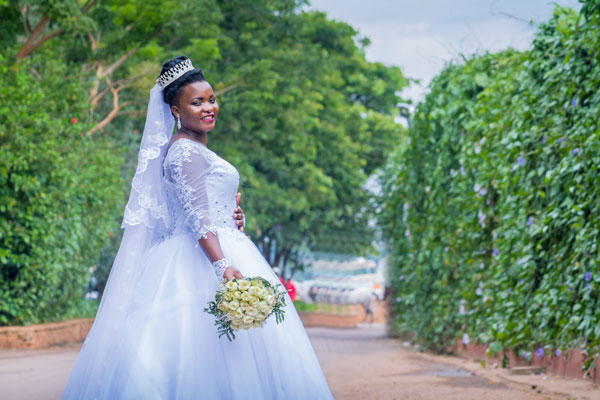 Why did you choose to tailor?
Miriam: I wanted to have something original. I found it uncomfortable trying out gowns that I wasn't going to use. I also wanted something that would glorify God.
Which cars did you use?
Malachi: We used jaguars, three grey and a black one. We hired them at Shs1.4m. The black was used as the lead car.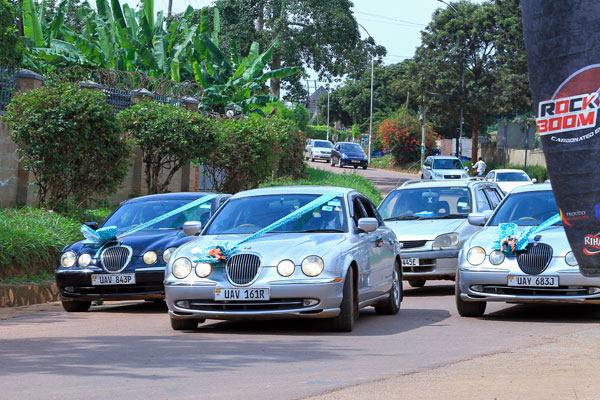 What was your theme colour?
Miriam: I used peach and turquoise green. I wanted something that would look nice and indeed the decorator did a great job.
How much did the deco cost?
Miriam: It cost Shs3.5m by Maggie Sero.
Which type of suit did you use?
Malachi: I can't recall the type, I focused more on the design. A friend helped me choose the right colour and design. I had a navy blue suit at Shs400,000.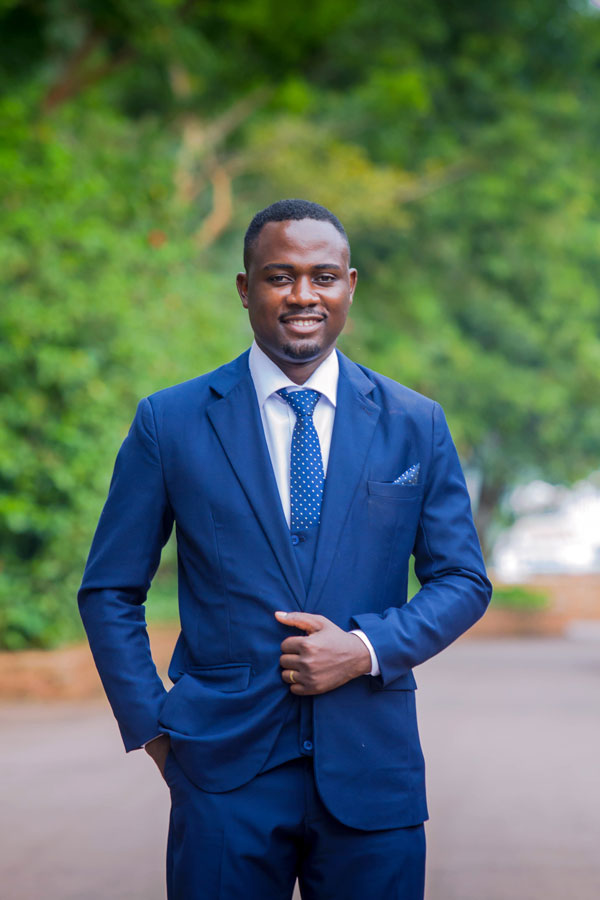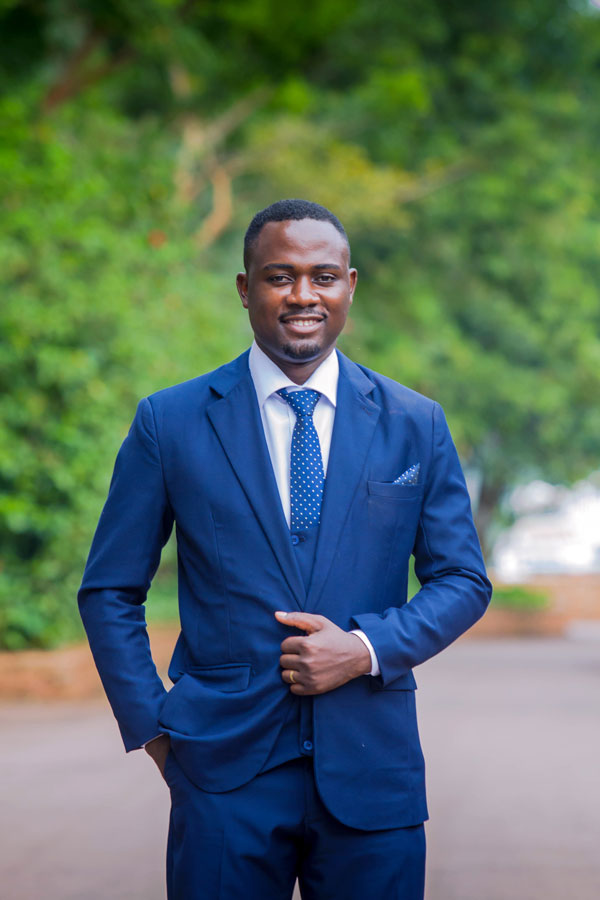 Which criteria did you use when selecting the other people in the entourage?
Malachi: I had four boys, I focused on the relationship I had with each of them. And given the fact that they weren't married, I wanted to be an inspiration.
Miriam: I had four maids. These were friends and a sister. They were so cooperative, they easily bonded which saved me the stress.
Why did you go for gold rings?
Malachi: The bible talks of gold as something pure. Gold has been of great significance. To me, gold represents purity. Both rings cost Shs1.4m.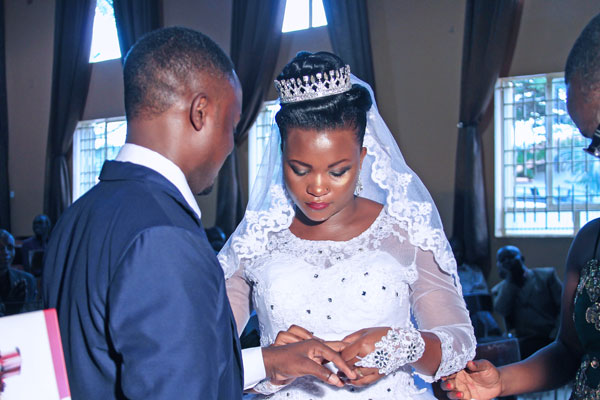 Did you have any fears?
Malachi: I was worried of the bride and her team reaching church late but thank God they made it on time.
Miriam: It was hours to the wedding when my husband forgot to buy the Kasuuze Katya items, he left late in the night to buy the items. This was on the wedding eve.
Any disappointment?
Malachi: I don't remember having any, may be they were there but the best men was in great control. He took the phone away from me and all the phone calls that would have pissed me off were answered by him
Miriam: Nothing, everything went on well.
How long did it take you to organize the wedding?
Malachi: It was one month and five days just after the introduction.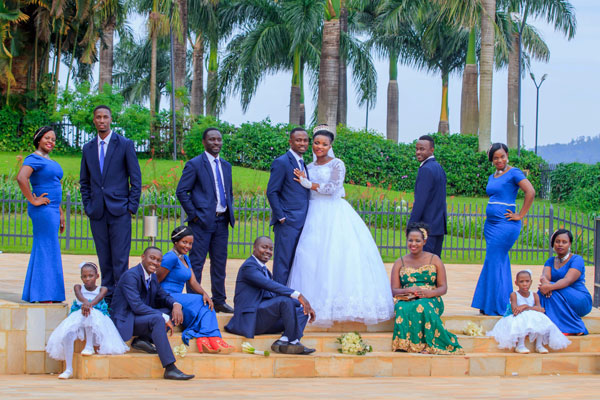 How much did the wedding cost?
Malachi: It was Shs19m
How much did you pay for church?
Malachi: I was charged Shs550, 000
Which cake flavour did you go with, how many tiers were they?
Miriam: Although I chose a picture of how my cake would look like, my maid of honour took over the responsibility. But I think, it was a fruit flavoured cake. They were 10 tiers at Shs1.7m.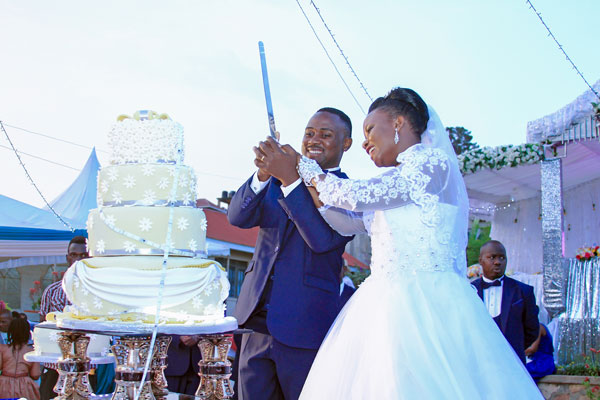 What challenged you most during the preparations?
Malachi: I got a lot of discouragement from people. Many were asking whether I was ready, where and how I was to get the money to fund the wedding. They kept telling me to cut the budget. Also, people did not turn up for the meetings yet I would pay for the meeting venue every meeting day. I want to thank God for we were able to get the 40 per cent that was remaining on the budget by the time of the wedding. I had even forgotten kasuze katya but thankfully my uncle helped me out on the night of the wedding.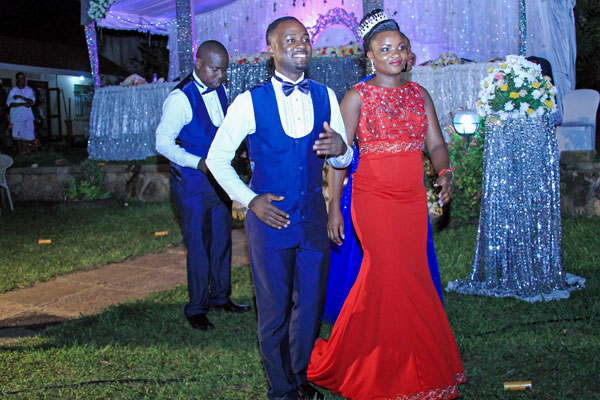 Did you go for premarital counselling, how beneficial was it?
Malachi: I would advise all men who are planning to get married or wed to go for premarital counselling because most men assume they know it all yet they do not. I personally learnt a lot, right from how I should treat my wife and behave as a man. To be patient and how to drive my marriage as the man and head of the home.
Where did you go for honeymoon?
Malachi: We stayed at my friend's house for three days after the wedding as we prepared for honeymoon.
Meanwhile, the money for honeymoon along with the other stuff was at our new home. Unfortunately, by the time we went to pick them, the house had been swept clean by thieves and that's how we ended up not going for honeymoon.
It's the neighbours that called us wondering whether we had shifted because the house was left open and empty.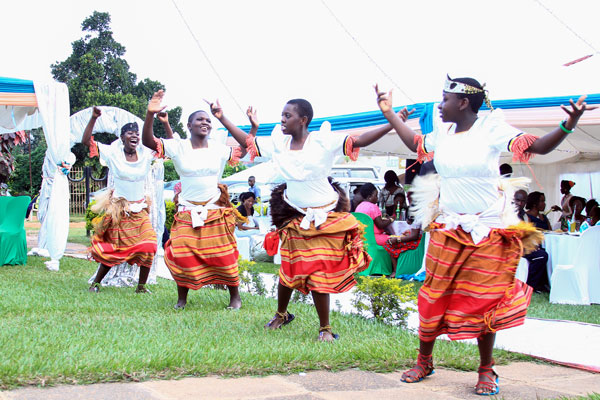 What would you do better, if given a chance to re-wed?
Malachi: Nothing, I had the best wedding, I had no disappointment, it didn't rain and everything went on well.
Miriam: Nothing, I believe I got the best on my day.