By Phiona Nassanga
In 2019, as a way of celebrating 40 years of service in Uganda and appreciating its employees, the executive director of Joint Medical Store Dr Bildard Baguma together with his team decided to organize a joint wedding for employees who had dreams of making their marriages official.  Five couples said I do at St. Luke's Church Kisugu and seven at Rubaga Cathedral, making a total of 12.
The newlyweds later had a joint reception at Nsambya gardens. We spoke to some couples their wedding.
Joseph Ssunna and Joan Mary Nabawanda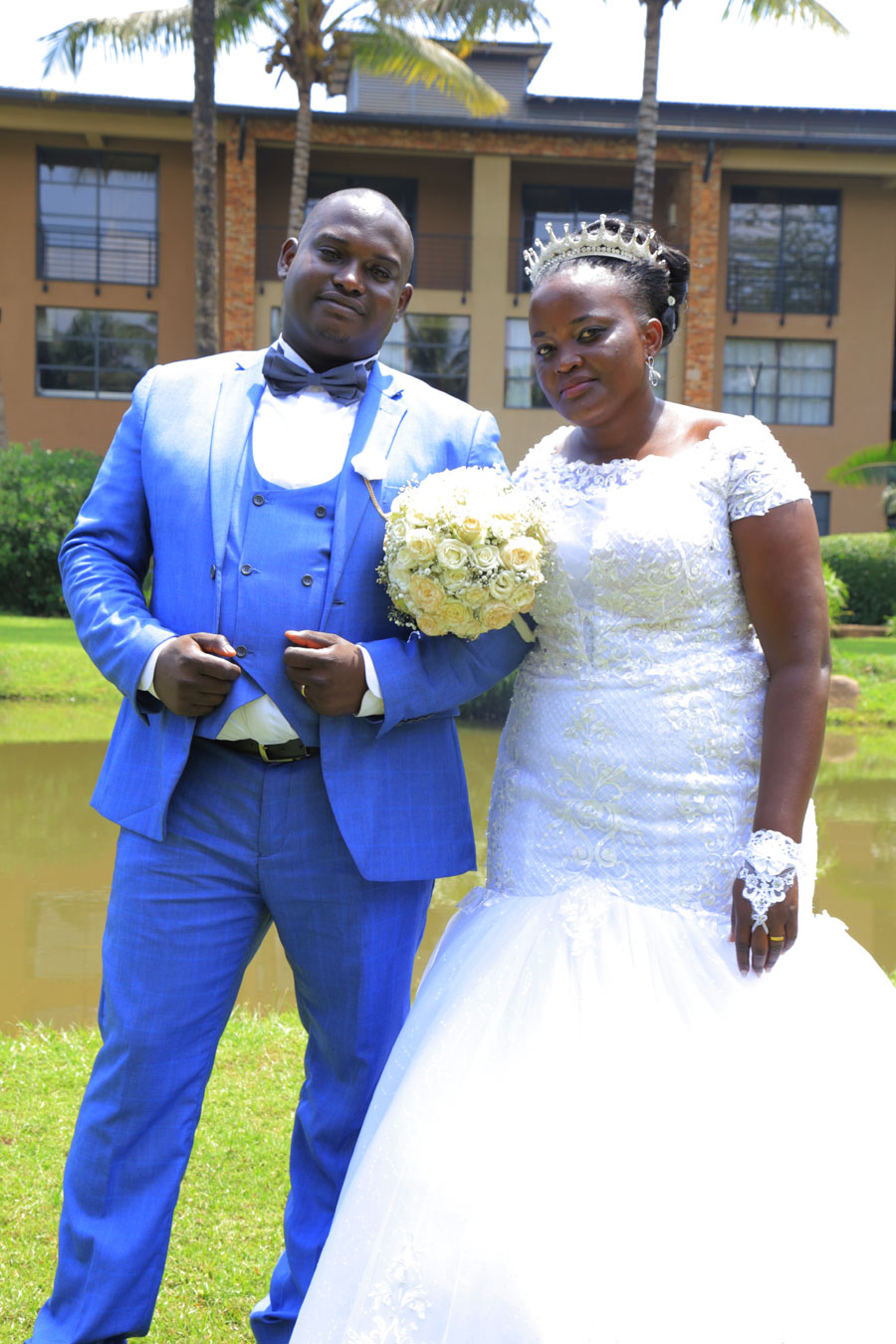 Ssuuna 29, who works as a house officer in the Directorate of customer services made it official with Nabwanda 28, a business woman.
When and how did you meet?
Joseph: We met at Makerere Business School, we were in the same faculty and doing the same course. First, it was just friendship but along the way, I realized she was my source of comfort.
Joan Mary: We first met in August 2010, during the first semester, trying to make new friends Ssuuna came along the way and the different course work   discussion often bought us together
What attracted you to each other?
Joseph:  We connected very first and apart from that, I realized she is hardworking and a beautiful lady.
Joan Mary: He is faithful, understanding, and hardworking and stood by my side all through university to ensure that I passed with flying colours.
Why did you opt for a mass wedding?
Joseph:  In the real sense, I think it was not a mass wedding, what the organization arranged was a corporate wedding for its employees catering for almost everything thus saving us from the too much stress that comes with organizing weddings.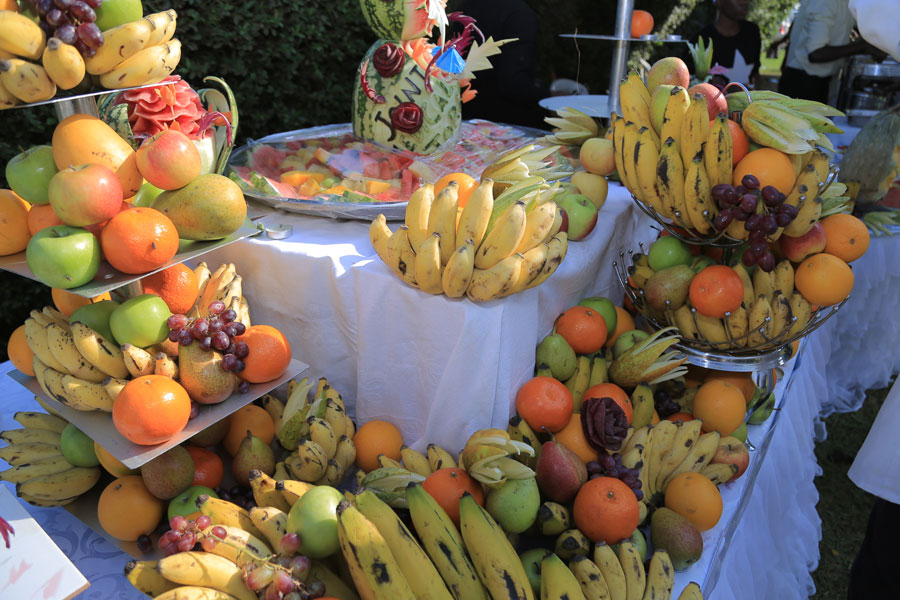 Knowing, it was a mass wedding, what was the feeling like?
Joan Mary:  The issue was not about a mass wedding, the dream was for my marriage to be blessed and knowing I was going to be walked down the aisle in holy matrimony was just enough.
In case the organisation had not arranged a mass wedding for its employees, when were you planning to walk her down the aisle?
Joseph:  I was planning to make it official in 2020.
In terms of money, how much did you contribute to the wedding?
Joseph:   A part from dressing, transporting our guests, buying our rings and the honeymoon, my wife and I did not make any contributions nor did we hold any meetings.
On that day, what excited you the most?
Joan Mary:  For quite long I had not been able to get to the Lord's table, but on that day I received the Holy Communion and drunk from the chalice.
Theo Phil Tuyishimire and Pamela Natweta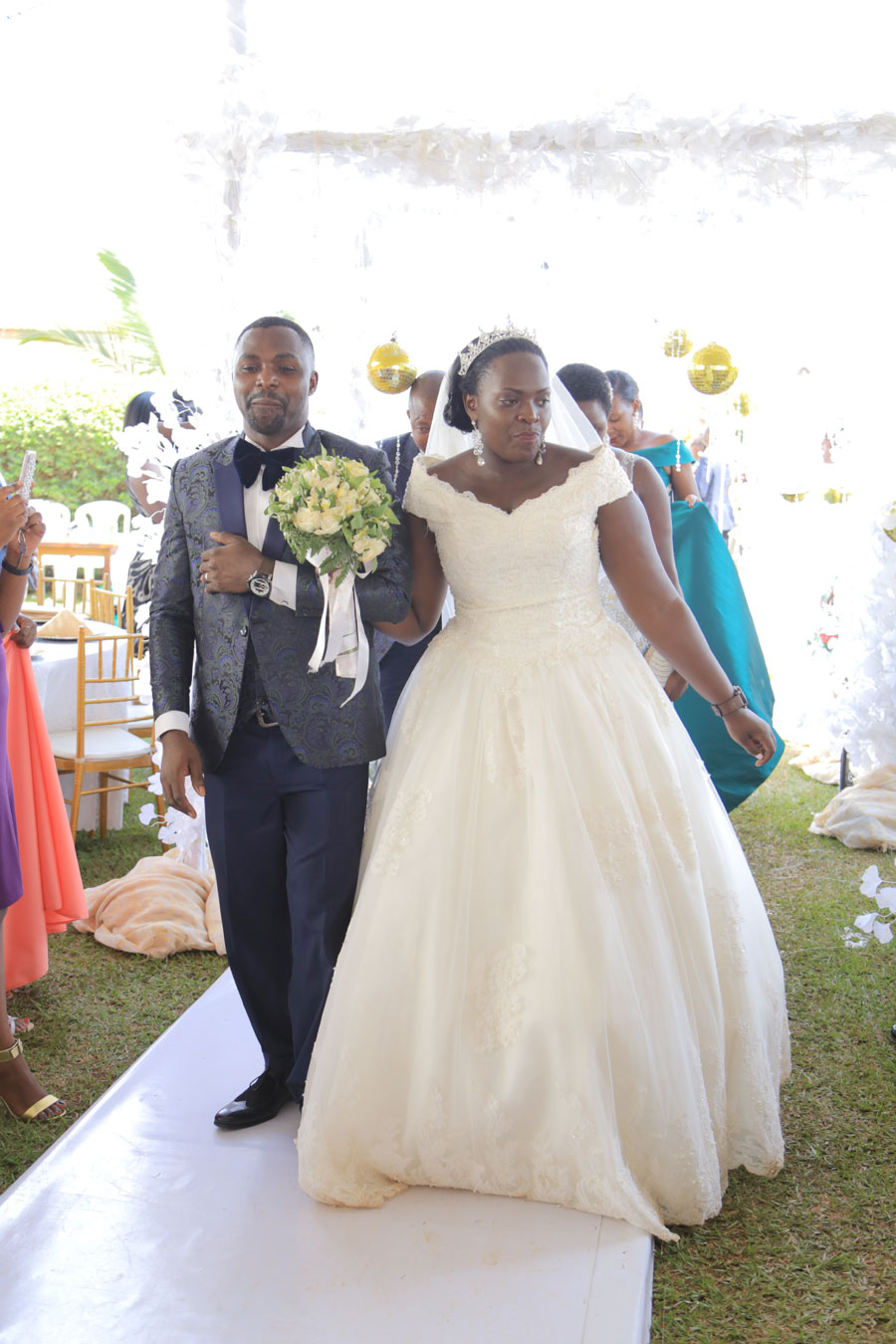 Tuyishimire, 33 is a Customer Relations Officer at Joint Medical Store Mbarara Branch tied the knot with Natweta 29, a business woman.
When and how did you meet?
Theo Phil:  We met in 2008 at Mountains of the Moon University, she was an IT student and I was pursuing pharmacy.
Pamela: It was on August 14, 2008, while at campus, I bumped into him on the first day I reported, we introduced ourselves to each other and later talked about the courses we were pursuing.
What was her reaction like when you told her it was a mass wedding?
Theo Phil:  She was excited because it was long overdue.  She agreed in excitement and whether it was a mass wedding or not, that did not matter.
For how long have the two of you been together?
Pamela:  We have been together for nine years with two children.
Apart from being an employee of Joint Medical Store, what were the other requirements
Theo Phil: Letter from parents, a letter from one's parish, baptism cards and signed and stamped marriage bans from the church parishes.
Did he ever propose to you?
Pamela: He is not the romantic type. All he did was to tell me to ask my father how much he needed for the bride price.
What was your dream wedding?
Pamela:  All I ever dreamt about was to at least get wedded in church and with the man I love.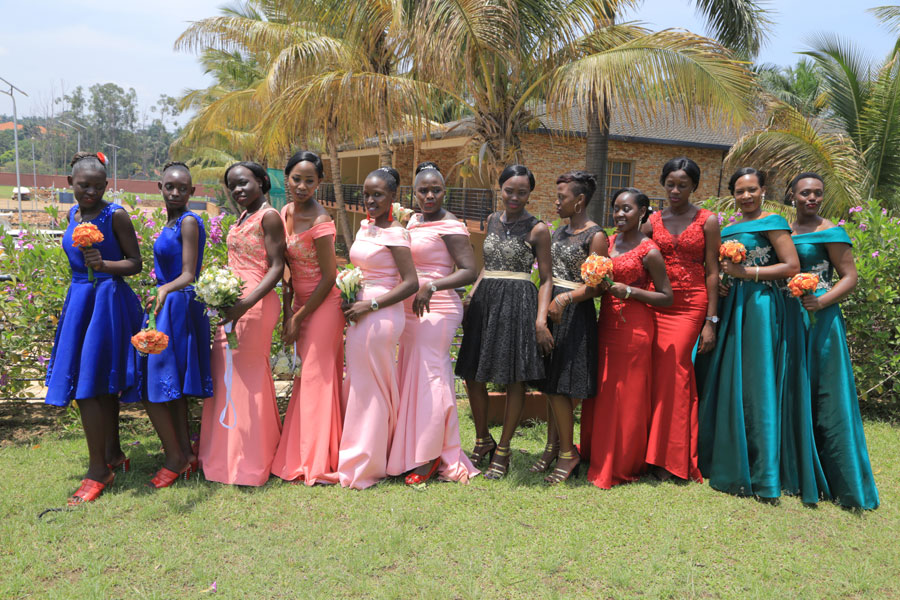 How did you come up with your guest list?
Theo Phil:  The organizing team agreed on an optimal number for each couple to invite, settling for 80 invitees for each couple.  My wife invited 40 from her side and I too invited 40 people.
Did you go for premarital counseling?
Pamela: Yes we did,   it was every Tuesday at Rubaga Cathedral. During the counseling sessions, we were told to be patient with each other, to be obedient and trust each other.
Where did you go for your honeymoon?
Theo Phil: Soon after our wedding, we went to the source of the Nile hotel where we spent three days. Visited the Nile and enjoyed sports like bourbon.
What did you enjoy the most about your honeymoon?
Pamela: I enjoyed us being together away from anyone else.
Jacob Kasula and Edith Nakalega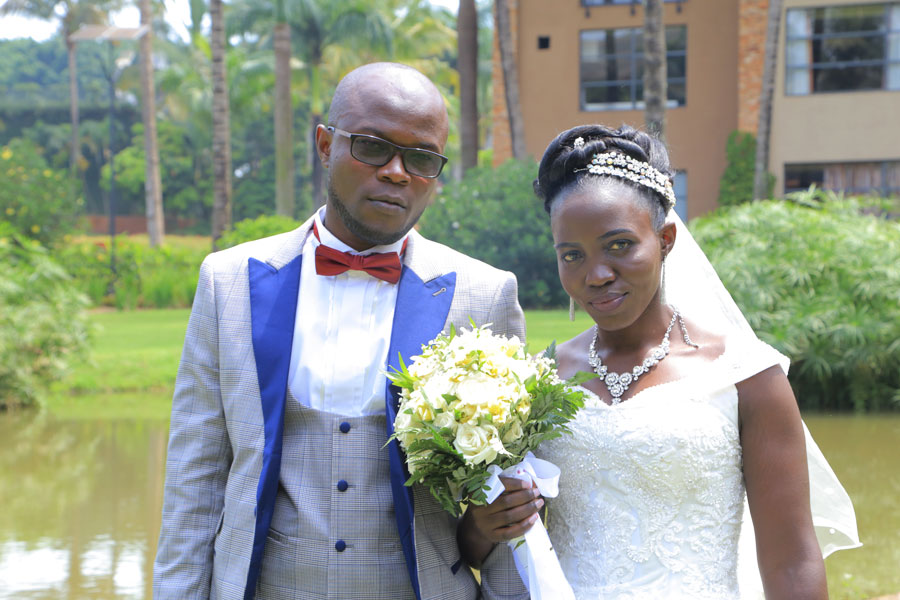 Kasula 31, an accountant at Joint Medical Store said I do with Nakalega 28 also an accountant at Performance Furnishing Uganda Limited.
When and how did you meet?
Edith: I met Jacob in 2011 in the library at Makerere University. He was doing research and I was revising.
What attracted you to each other?
Jacob:  I found Edith challenging, brilliant with a good sense of humor.  She is down to earth yet assertive
Edith: Jacob is funny, awesome and above it all he is respectful.
Where did you take her for the first date?
Jacob:  It was at the senior staff canteen Makerere. I had intended a much cozier place which I did not manage but I had to improvise.
Why did you opt for a mass wedding?
Jacob: I did not look at it as a mass wedding because the decision was intimate and I thought it was time I confirmed my commitment to her.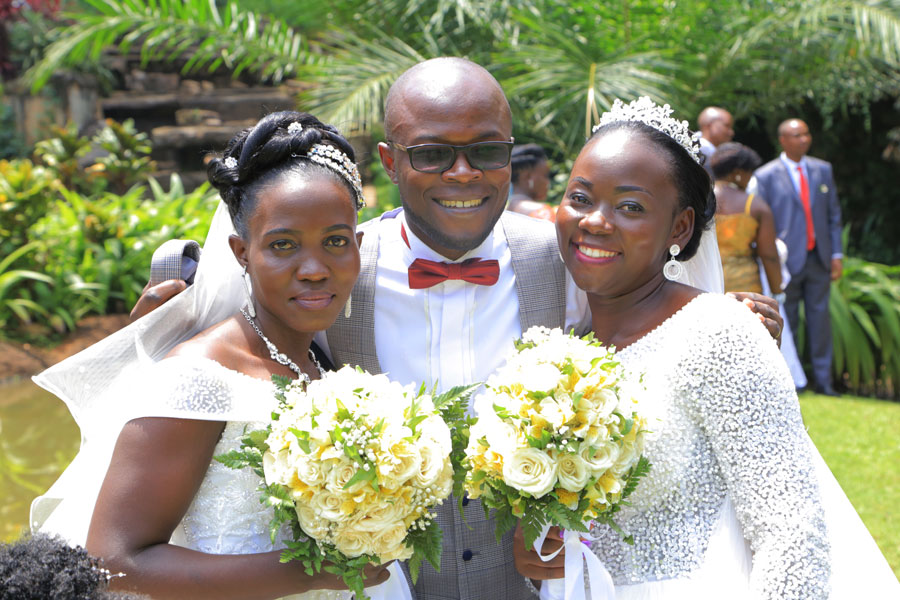 What was the feeling like when he told you it was a mass wedding?
Edith: Honestly speaking, at first I thought it was a little bit odd but because of the too much love I have for him and for the holy sacrament I was later on convinced and gave in.
At what moment were you convinced she was the right woman for you?
Jacob: The moments were many, but what convinced me the most was the time I was stuck with my research report yet I was remaining with only two days to hand in.  Edith did all she could in those two days to see my report compete.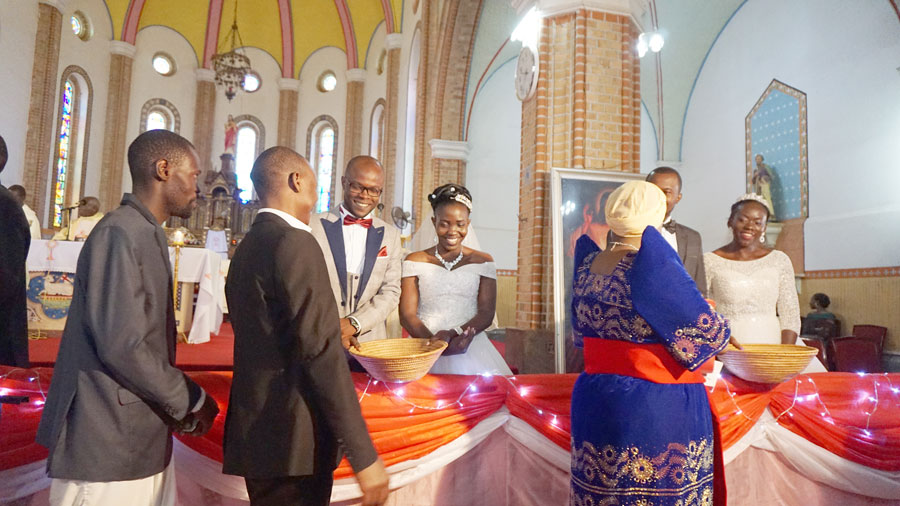 What is your take for mass weddings?
Edith: I think mass weddings are cost-effective and good when properly organized and well managed.
Ronald Sekiziyivu and Miriam Nnababi
Sekiziyivu 29 is a truck operator at Joint Medical Store and Nnababi 26 is a fashion designer, the two first meet in 2013 at YMCA.
Restricted to 80 guests, how did you come up with your guest list?
Ronald: It was hard but we sat with parents and a few mutual friends to help us come up with the list.  We first made a whole list of whoever we knew, later we selected them according to who really has been there for us in all times.
When you told your parents it was a mass wedding, what was their reaction?
Miriam:  At first they did not welcome the idea but after a lot of convincing, they were fine with the idea and supportive.
What did you like about the mass wedding?
Ronald:   it helped us minimize the costs we would incur as individuals.
What is your advice to those planning to wed?
Miriam:  They should plan within their means, the issue is not to have the most expensive wedding but to have your marriage blessed by God.
Titbits
Date: February
Couples: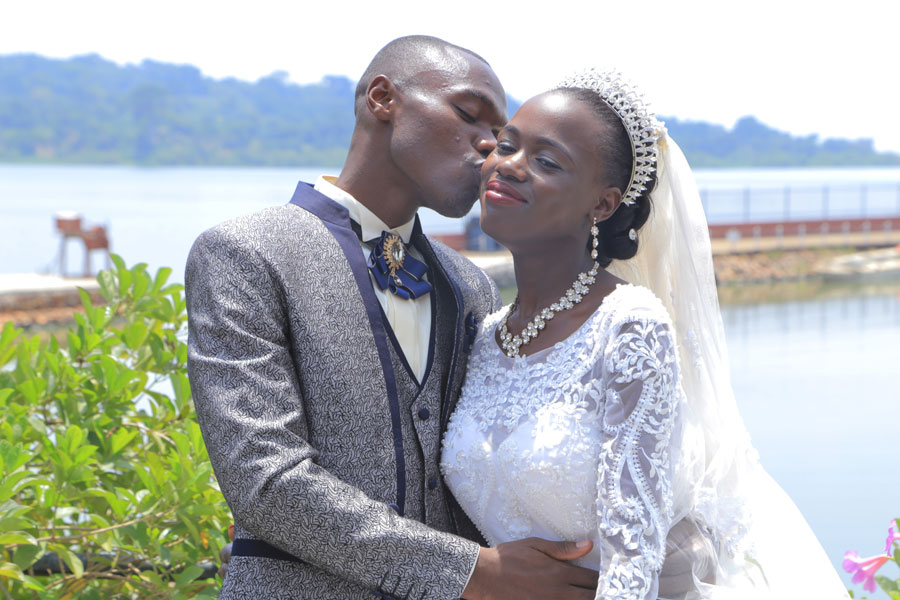 John Zagenda and Diana Jessica Takuwa
Allan Buwembo and Florence Namale
Jacob Kasule and Edith Nakalega
Zabroni Muhwezi and Proscovia Nambooze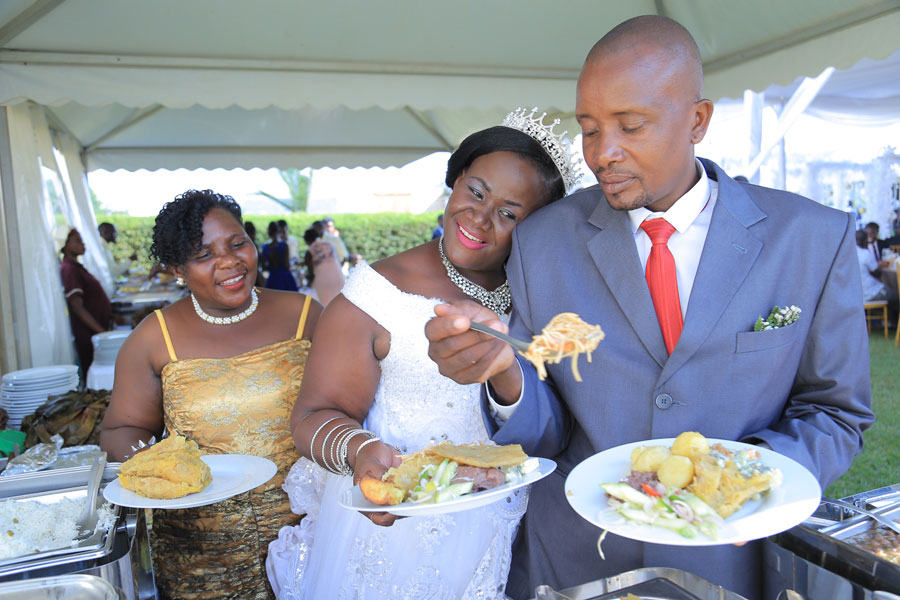 Ronald Sekiyivu and Miriam Nnababi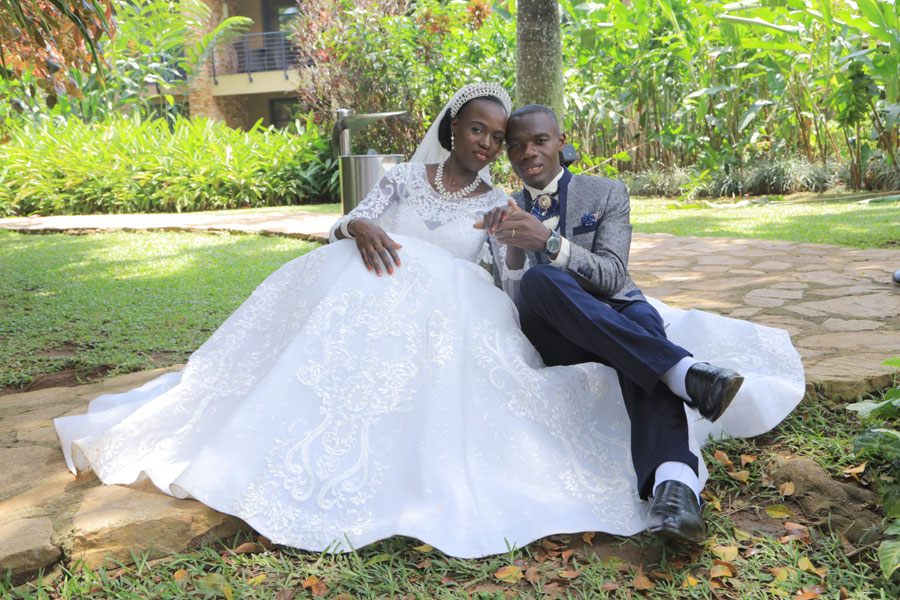 Theo Phil Tuyishimire and Pamela Natweta
Joseph Ssuuna and Joan Mary Nabawanda
Main Celebrant:  His Lordship Albert Edward Baharagata