By Charlotte Ninsima
Joel Billionaire, director at Honey Badger, a printing and publishing agency, and Gloria Uwimbabazi, an administrator at Women of Purpose International, had an introduction and wedding ceremony on the same day. Simplicity describes that memorable day.
When and how did you meet?
Joel: In 2009, I volunteered at Scripture Union Uganda annual Students Camp at Gayaza High School. That is where I first saw Gloria. She was doing sign language for deaf students and I thought she had a hearing impairment. I liked her and told a friend about it promising to even learn sign language if that was what it would take.
At that camp, with a couple of other guys, we gave out flyers for a beach outing at Kisubi that we were organising for January 9, 2010. Among those who attended was Gloria, a beauty like no other. When I saw her at the gate, I ran to welcome her.
Gloria: I did not see him the first time but we met at the beach bash.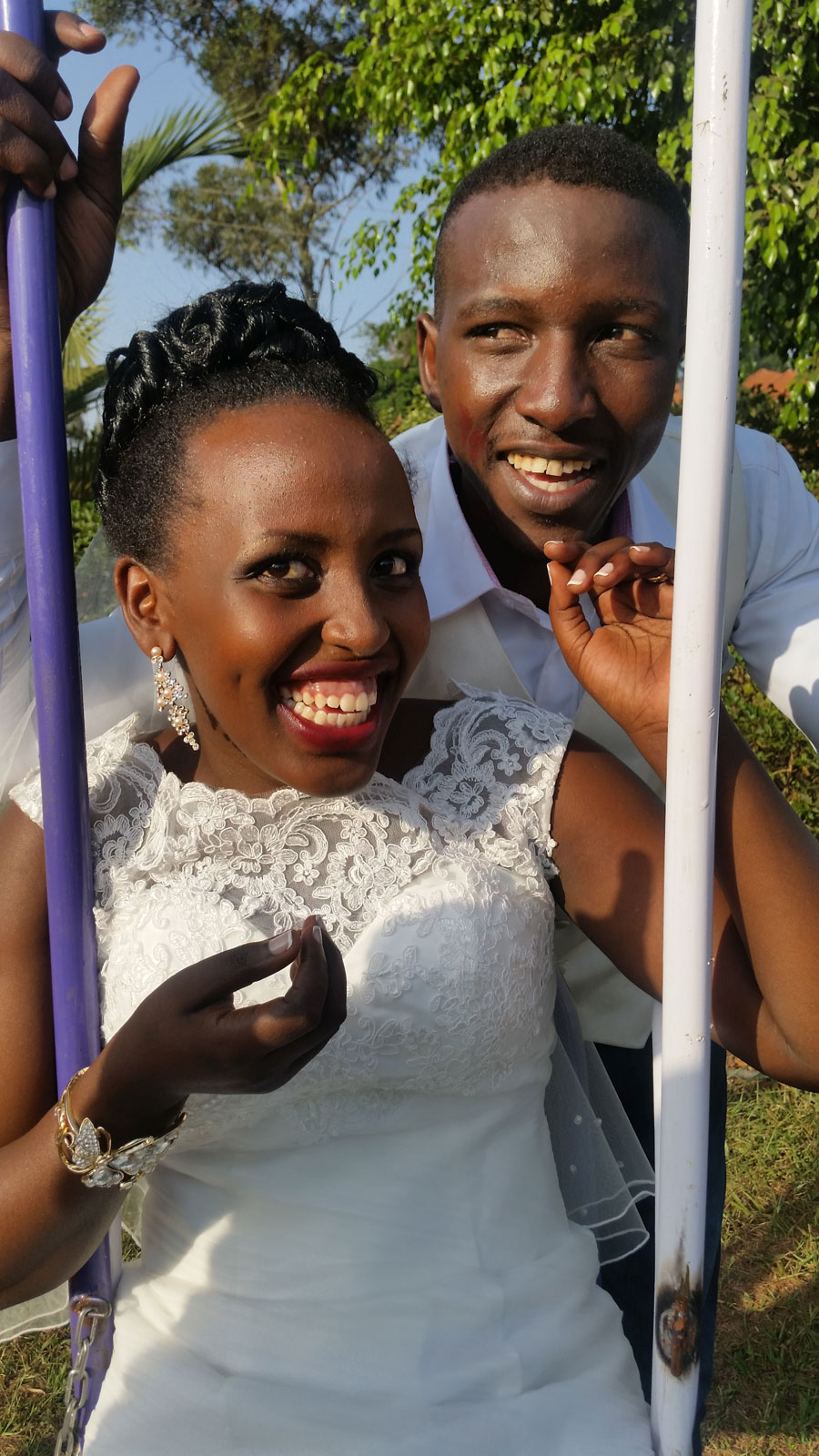 What attracted you to each other?
Joel: Gloria's beauty. She has big beautiful eyes and a dimple. And, her smile is breathtaking, the way the lines around her mouth form perfect parentheses.
Gloria: He is very optimistic, always painted an irresistible image of the future and speaks life about it.
So, when did the two of you eventually become close?
Joel: A week or so after our beach bash.
Gloria: We did not take long since he was always positive about the future.
How long were you dating?
Joel: We dated for six years.
Were you abstaining?
Joel: Yes, we desired to do it the way that pleases God, but the "how" was not easy. We met at least once a week. And, there were moments I wished I had an 'easier' girl. She would calmly tell me, "I know, you also want to abstain and everything comes to pass, we will get married and get tired of sex, etc."
Gloria: It is the grace of God and having personal values that enabled us stay on the same page.
What was the proposal like?
Joel: My wife thinks I never proposed. I feel like I proposed a week after the outing. Because I told her that, all things I ever needed in a woman seem to have been compacted in her 'small' body!
Gloria: He did not propose formally, but from the start, everything he said was pointing to marriage.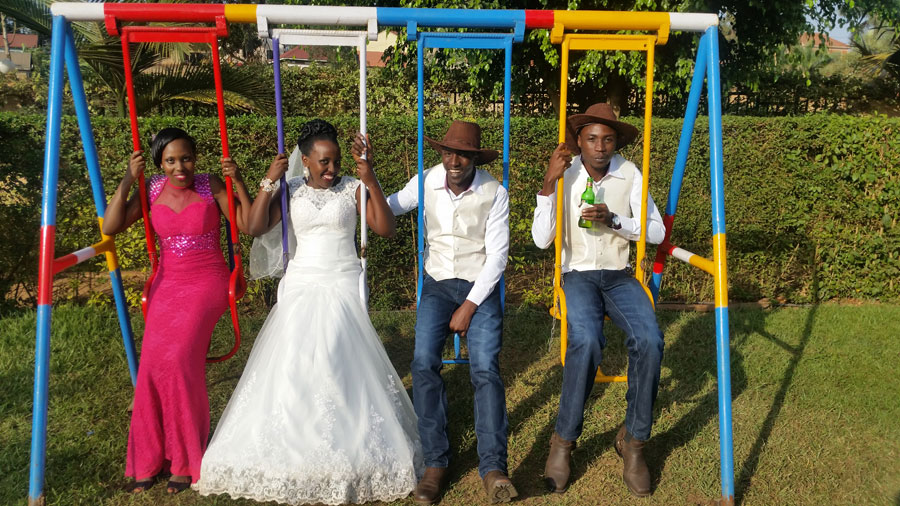 What were you doing on your wedding eve?
Joel: I was at work on Nasser Road. I had an assignment of printing books which were to be delivered in my absence.
Gloria: I was preparing for the next day since we were to do our introduction in the first half of the day and then the wedding afterwards. At night, I went to have my hair done at the salon.
How did you pull off having a wedding and introduction on the same day?
Gloria: We had our introduction in the morning hours at my parent's home in, which is not so far from Makerere where the church ceremony was. I changed into my wedding dress at home and met Joel again at church by 12:00pm. After that, we went to our reception at Arirang Hotel, Nakasero by 3:00pm.
What cars did you use during the wedding?
Joel: I drove the truck because I got disappointed at the last minute by two friends who were supposed to do the needful.It was perfect. My best man and I wore jeans, cowboy boots and hats. It made us feel like we were in Alpine Texas or Mexico.
Gloria: That is what was available at the time and it did not bother me at all.
What did the entourage use as transport means?
Joel: We had no bridal party. It was just my best-man and I in the pick-up truck. And my bride and her matron arrived in an Opel.
Why didn't you have a bridal party?
Joel: We did not think they were important.
Gloria: We did not want to be stressed.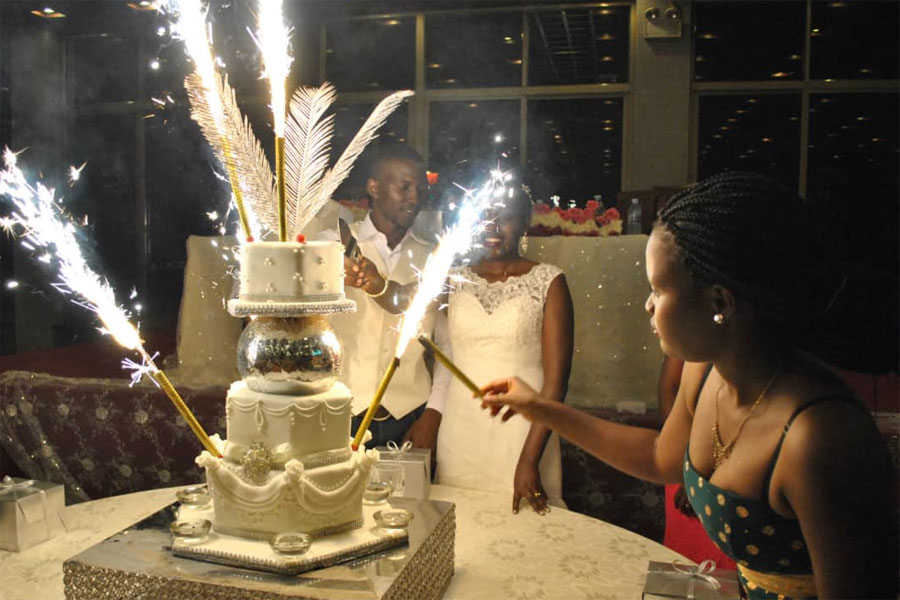 What was the most memorable moment on your wedding day?
Joel: When I saw my father-in-law walking beside my bride in church, as I eagerly waited for her.
Gloria: When my parents walked me down the aisle, especially after my mother recovered from breast cancer. Another memorable moment, was being wedded by our two favourite pastors:  Gerald Mwebe from Streams of Life Church and Moses Mukisa of Worship Harvest Church.
What was going through your mind during the wedding ceremony?
Joel: It became real to me that I had the responsibility of another person to take care of.
Gloria: It felt like all the time put to preparing for the D-day was finally coming to an end.  There was nothing more to fuss about.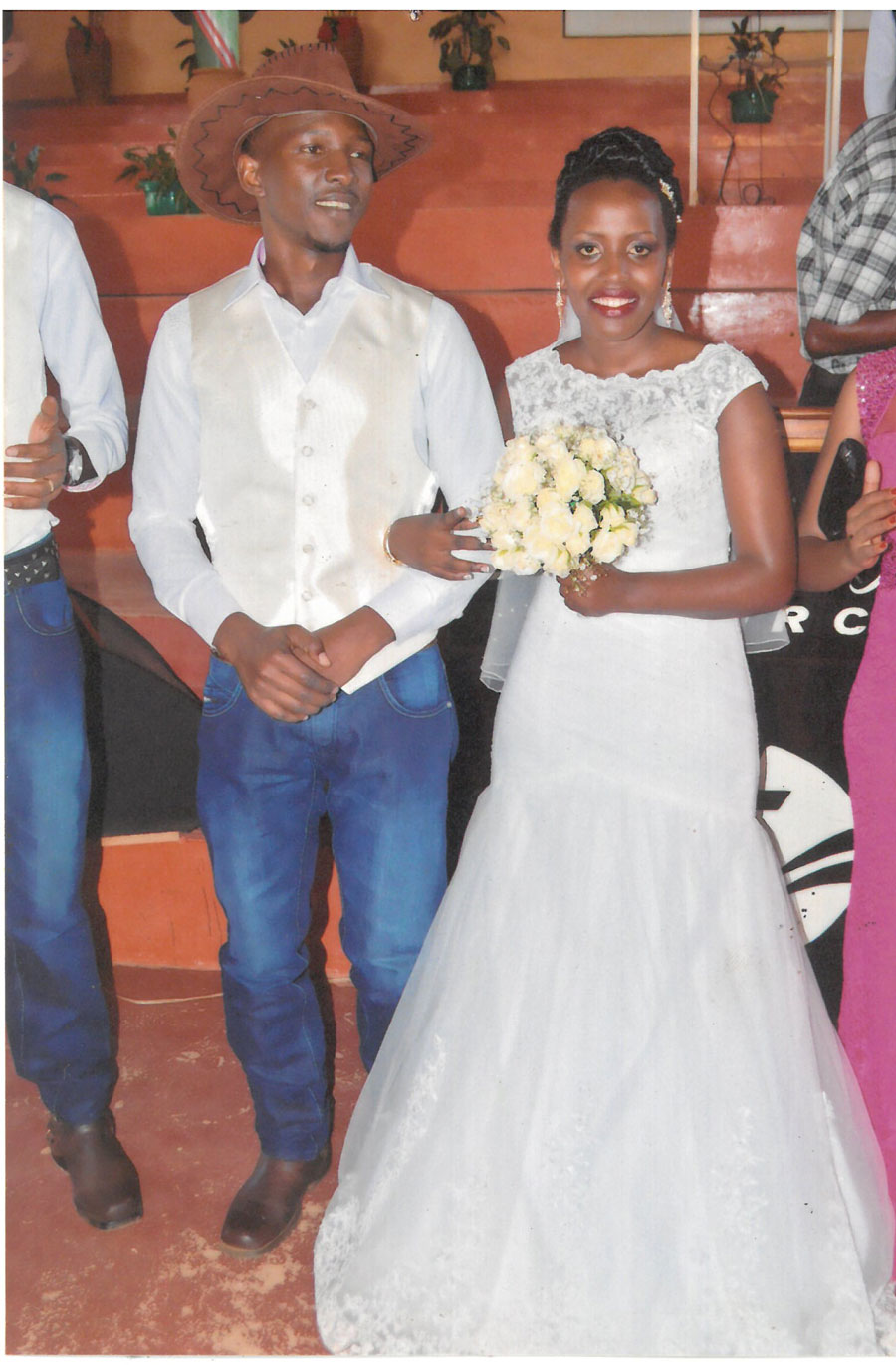 What was your colour theme?
Joel: It was simple décor.
Gloria: There was no colour theme.
Were you disappointed in any way on your wedding?
Joel: Yes, we intended to have 100 guests, however some relatives forced their way to the reception, breaching the agreed agenda of having food at home. Besides, there were guest who had paid but did not have seats. But, my friends mobilised themselves and contributed to the extra 35 guests.
Gloria: I was at peace.
Did you go for premarital counselling?
Joel: Yes, we went to Streams of Life and Worship Harvest churches; I had fears that I would not perform due to the public hullabaloo on taking concoctions to boost male sexual performance. After counselling, I learnt how to be confident about myself.
Gloria: I panicked before but counselling helped demystify the subject about sex.
Did you think of going for honeymoon as vital?
Joel: No, I did not think it was important but my wife thought the opposite. We went to Brovad Hotel in Ssesse Islands.
Gloria: Yes, it was vital for any newlyweds to relax.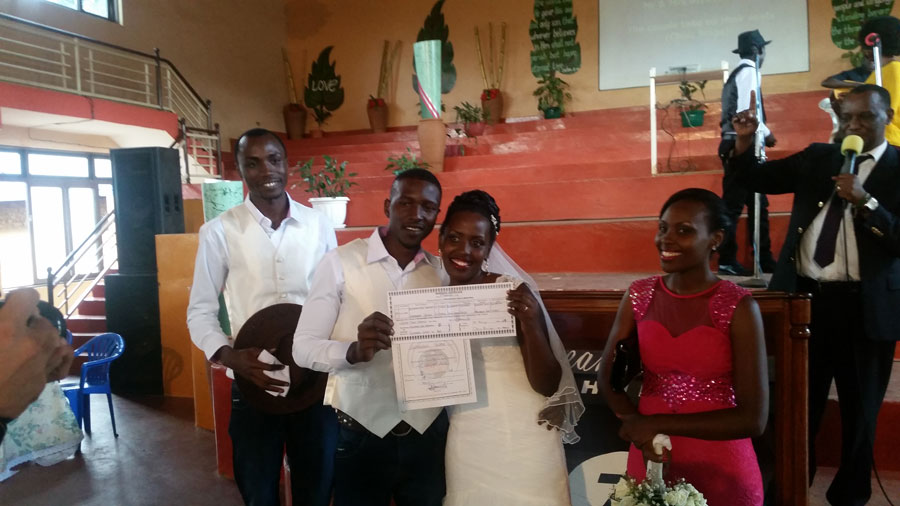 What did you enjoy the most on that day?
Joel: I loved the simplicity of the ceremony.
Gloria: I loved the band and my favourite gospel artiste, Price Love sang during the reception.
What was your budget? 
Joel: We printed pledge cards from which each person was supposed to pay Shs60,000 as a contribution towards food. We estimated around Shs8m. Arirang Hotel management had agreed to offer two drinks and plate of food, so that we could top up 25,000 on other things.
What was the most expensive item?
Joel: Food
Gloria: The package comprising; food, venue and public address system offered by Arirang Hotel, Nakasero. It cost Shs3m.
Did you involve a wedding planner?
Gloria: No.
What is your advice to those planning to wed?
Joel: Marriage is beyond a wedding. I was focused on things that will help us move forward after the ceremony. Keep it simple and within your means.
Gloria: Have your dream wedding since it is done once in a life time. It does not have to be complex.