By Maria Immaculate Owechi
Civil weddings of recent have become trendy especially among Ugandan celebrities. Last month, the media was awash with NTV's Andrew Kyamagero's wedding and soon after, Sanyu FMs radio presenter Daudi Ogutu also tied the knot at Uganda Registration Service Bureau (URSB) offices.
Like them, on June 19th, 2019, Charmant Mushaga Buhendwa, 36,  a talented Congolese guitarist and performing musician with Charmant Kivu Jazz band wedded his fiancee, Sandra Klonka, 28, a Hungarian at URSB. Mushaga is one of the judges on Bukedde TV show, Akasengejja alongside Priscilla Namayanja and Joseph Batte in which they sieve out good new songs. He also features in Keko's Mutima hit.
Mushaga shared his love story and how he organised a simple yet fun wedding ceremony with his wife Klonka.
Meeting the love of his life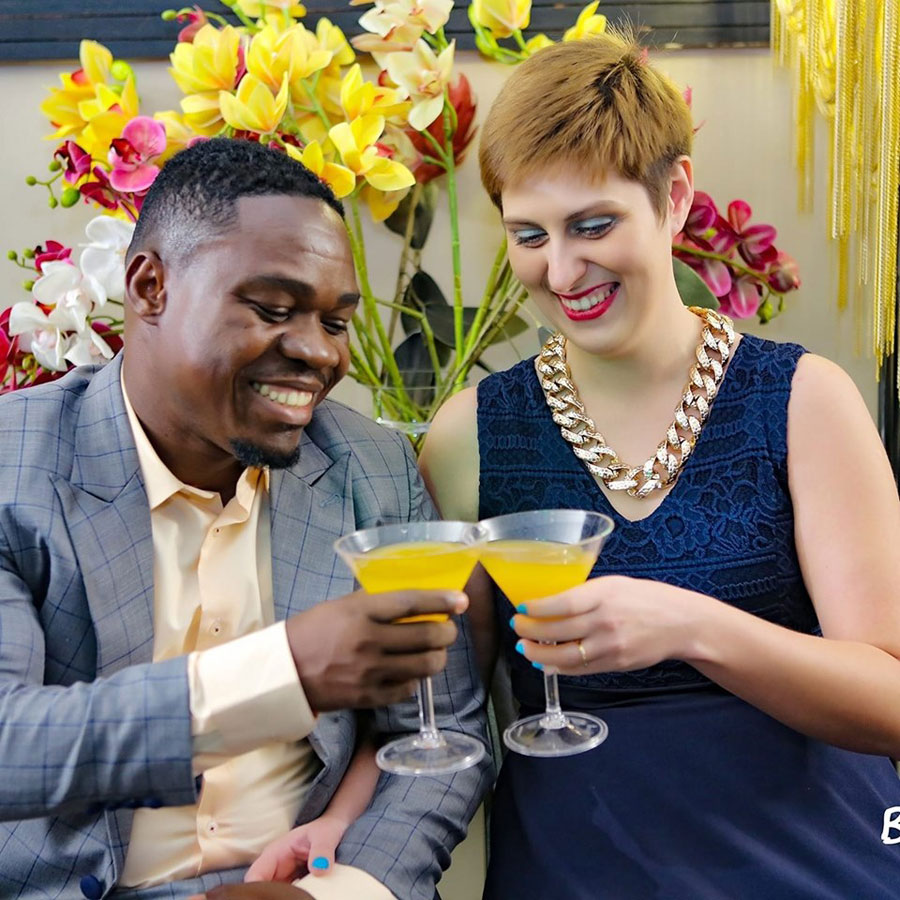 The couple met in September 2018 in Kampala where a friend from Brussels introduced them to each other.
"We first became friends and I know you do not connect with all your friends but with Klonka, we connected instantly," he reveals.
Three months into the relationship, the couple was free enough to share their deepest life stories. When Klonka revealed her trauma as a child who did not feel loved growing up and her passions like writing and music, this resonated deeply with Mushaga, who had also experienced something similar and had grown up feeling rejected all his life. At 21 years of age, the youthful singer was forced to seek refuge in Uganda because of the war in the Democratic Republic of Congo (DRC).
Their friendship grew and in January 2019, Mushaga finally opened up about his feelings for Klonka. Klonka was not surprised about his confession as she had seen it coming and was just waiting for him to make the first move.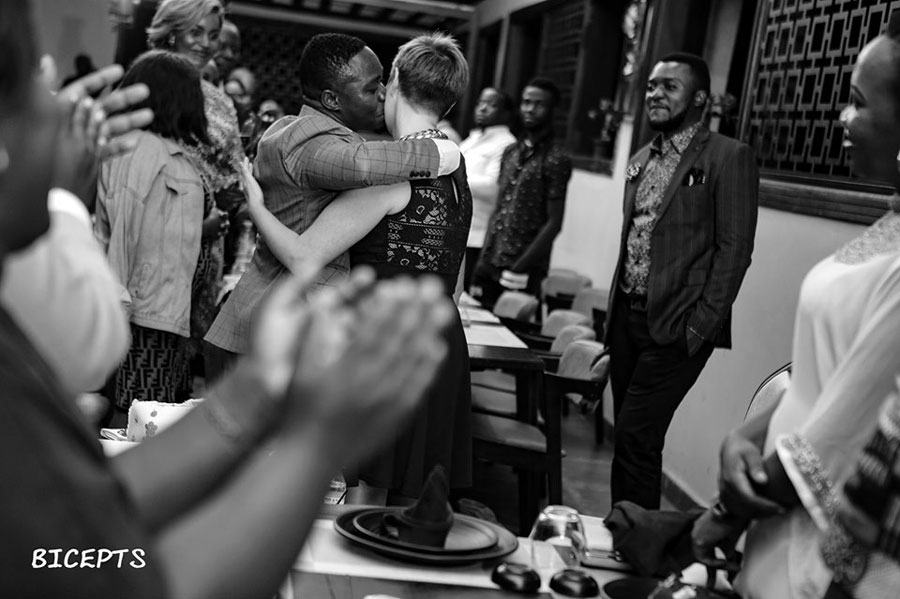 Mentors
Mushaga credits famous Saxophonist Isaiah Katumwa for showing him a good example about family.
"Isaiah Katumwa and his family nurtured me. He played a father figure role in my life for 12 years since we started working together and has always inspired and advised me about the importance of settling with one woman and being a family man," the jolly artiste reveals.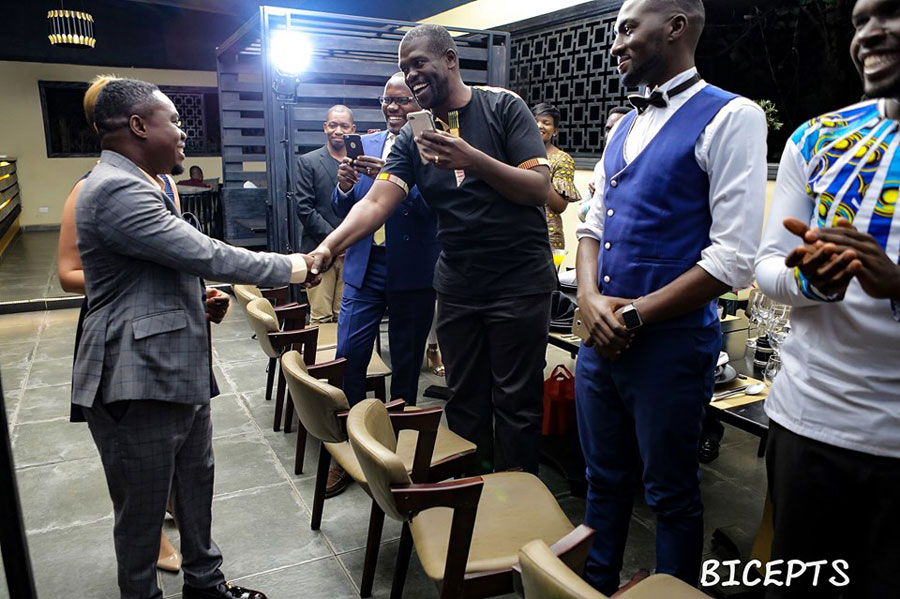 First, Mushaga made sure to reveal to Klonka what his financial situation was.
"I made sure my better half knows I am not a rich man. Likewise, Klonka told me she came from a humble family background," he adds.
After a long distance relationship, in early April 2019, Klonka finally came to Uganda where the performer took her to his house. He had no chairs or fridge and they would seat on a mattress.
"She saw where I was staying and didn't mind the state. She was happy that I was honest about it. When I suggested we go out to shop for the chairs and a fridge, she declined saying that she didn't want me doing anything just to impress her."
The proposal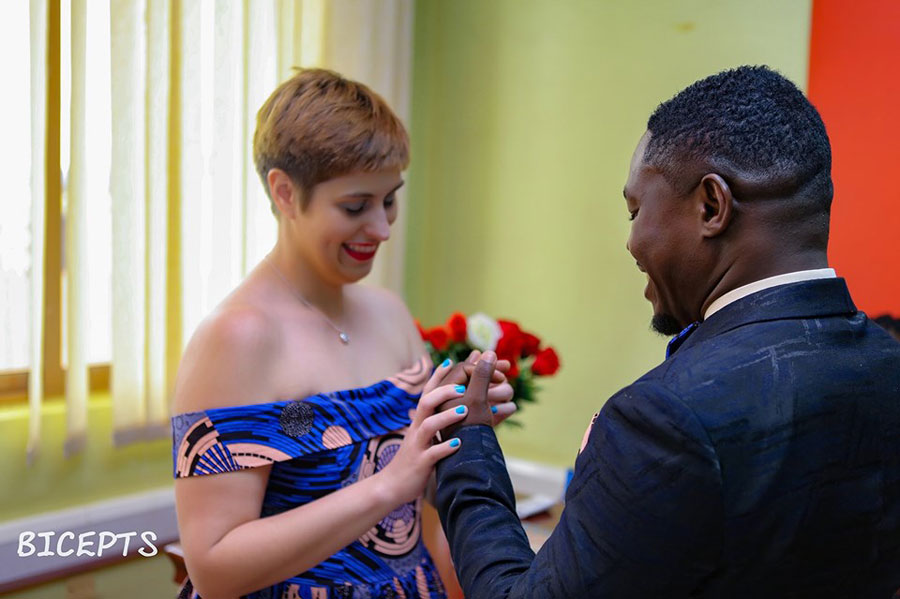 Mushaga reveals that a week after she arrived in the country, he took her out to some gardens in Kanyanya and got on one knee to pop the big question which was gladly accepted. Thereafter, they travelled to Hungary to be introduced to Klonka's family who do not speak English or French so Klonka acted as the translator between them.
"They were convinced that I was the right man for their daughter and even told her they sensed the deep love in my speech," he romantically reminisces.
Having a civil wedding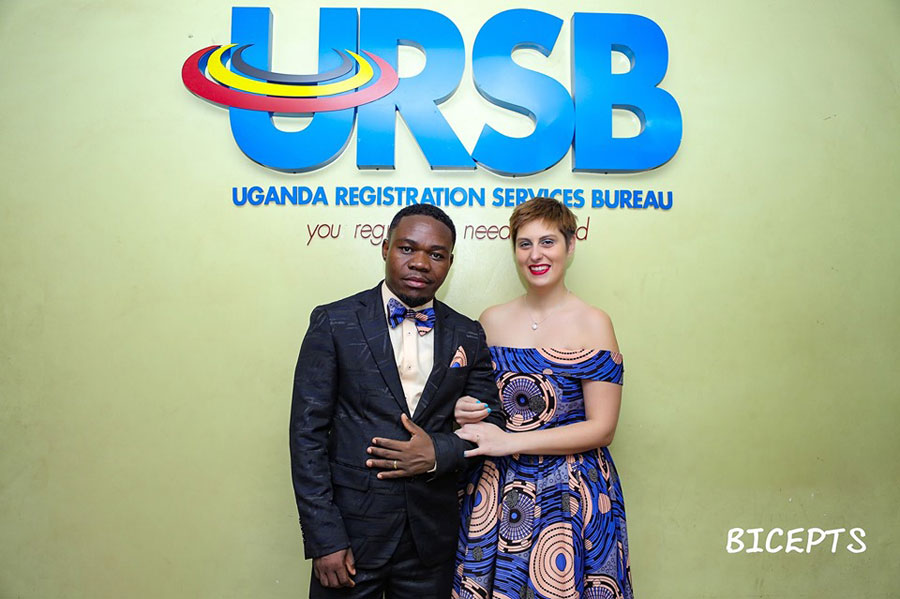 When it came to preparing for the wedding at URSB, Mushaga explains that certain documents were needed. "We were required to present our passport photos, an LC 1 letter from where I stayed, a lawyer's letter and since I am a refugee, I was required to go to the Ugandan Prime Minister's office for a letter to be emailed to URSB showing my status in the country," the groom explains. He paid the same fee as a Ugandan national for the wedding which is Shs260,000.
Because Klonka is a foreigner, she was asked to get a letter from the Hungarian Embassy to prove that she was not married, had never divorced or had children elsewhere. This became a challenge since Uganda does not have a Hungarian embassy. They therefore had to find money for Klonka to travel to and from Nairobi to get the letter, in addition to paying $210 (about Shs777,000), the fee a foreigner pays to have a civil wedding in Uganda.
After fulfilling the necessary requirements, they filed in the notice of marriage forms which were posted on the registrar of marriages' notice board for 21 days before they were granted permission to say their vows.
The couple spent a total of Shs3.5m on the civil wedding inclusive of his wife's travel expenses.
Dresscode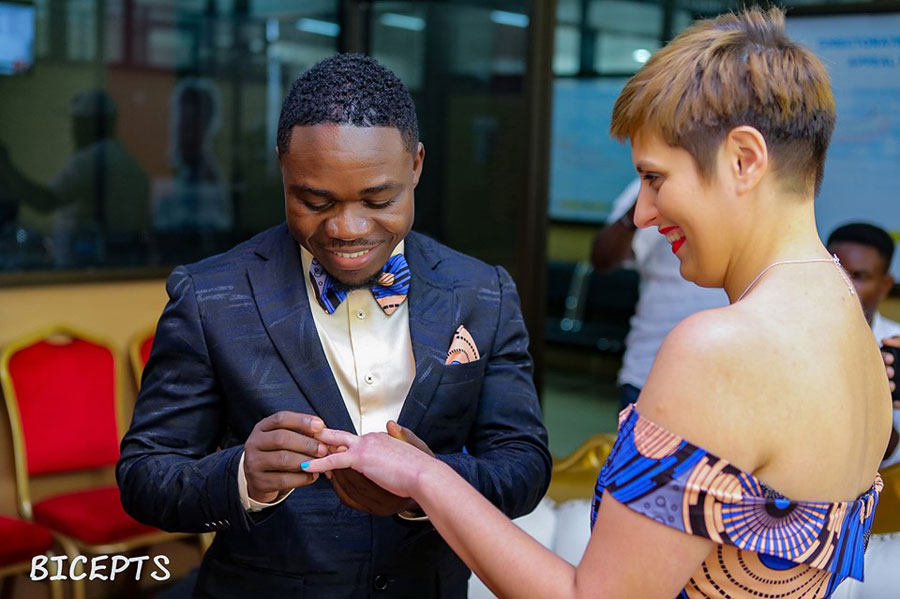 The two looked stylish in blue matching kitenge outfits. The bride wore an off-shoulder dress while the groom had a kitenge bow tie with a dark blue suit.
They bought the African material at Shs60,000 and chose the design of the dress she was to put on. Later, they went to Shifah Musisi, a musician who also owns Marish Designs, a fashion house who tailored Klonka's dress and his bowtie at Shs90,000.
The groom shares that his wife made the African choice of dress because she believes she is an African and has been praying to marry an African man since 2009.
Reception Dinner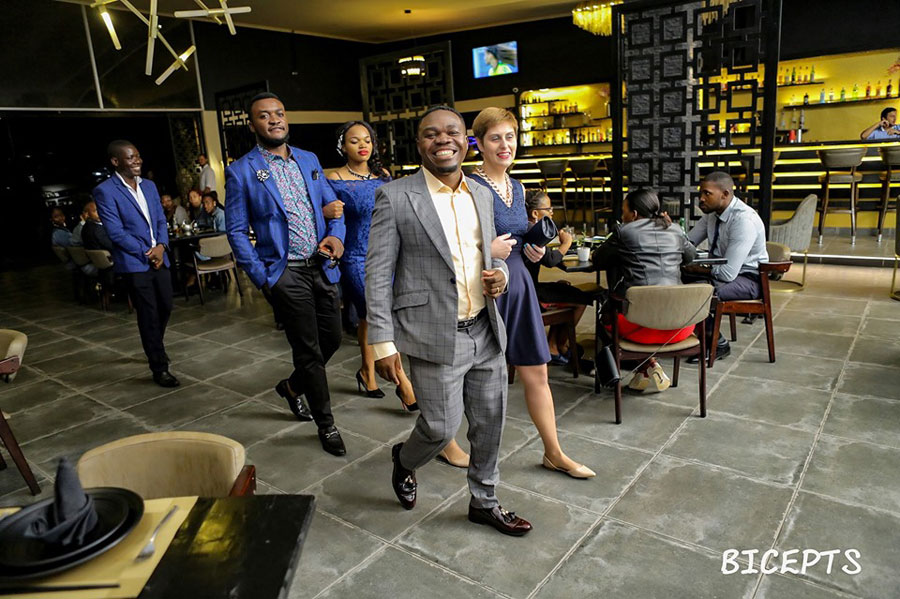 After the civil ceremony, the couple had a small family dinner with 48 guests at Izumi Restaurant in Kololo. It cost them Shs2 million.
"We had a low budget ceremony because my wife is not extravagant and has taught me how to save and handle my finances wisely," Mushaga reveals.
To fundraise for the ceremony, Mushaga approached people in person to tell them about his wedding dinner. Many were willing to offer their support.
"They would contribute generously like Shs 300,000," he says.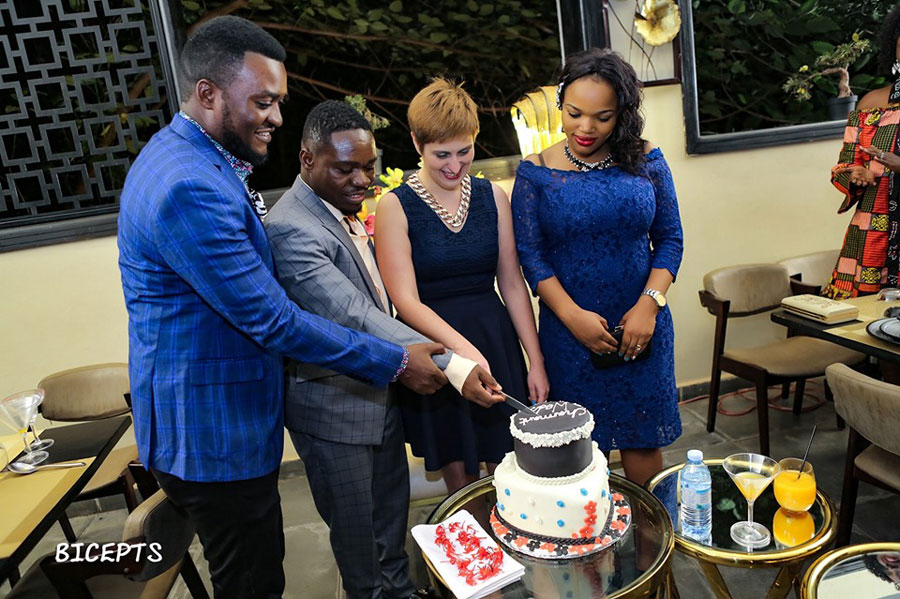 The couple had two red velvet cakes at the ceremony – one for the wedding and another for Afrigo Band's Moses Matovu to celebrate his birthday which was on the same day and thank him for supporting them during preparations of their function.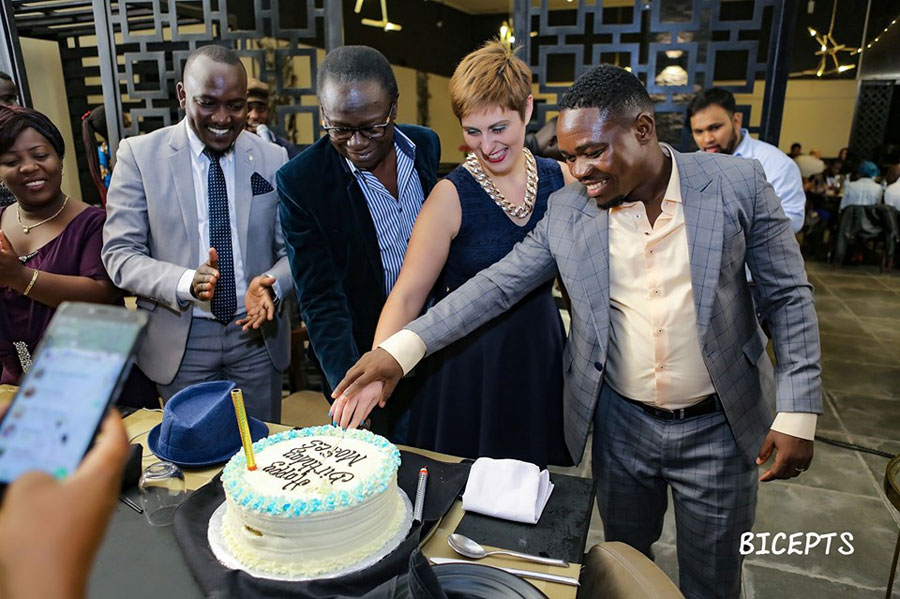 Klonka changed into a dark blue dinner dress, while Mushanga wore a grey suit. The couple didn't spend on these attires as they already had them in their wardrobe.
Mushaga also shares that during the ceremony, he was emotional. It was a great joy for him to see his Ugandan family but he was overwhelmed to see that he had had a wedding and was married, something he never thought would happen to him.
"Even the day after my wedding, I kept looking at the wedding ring in excitement."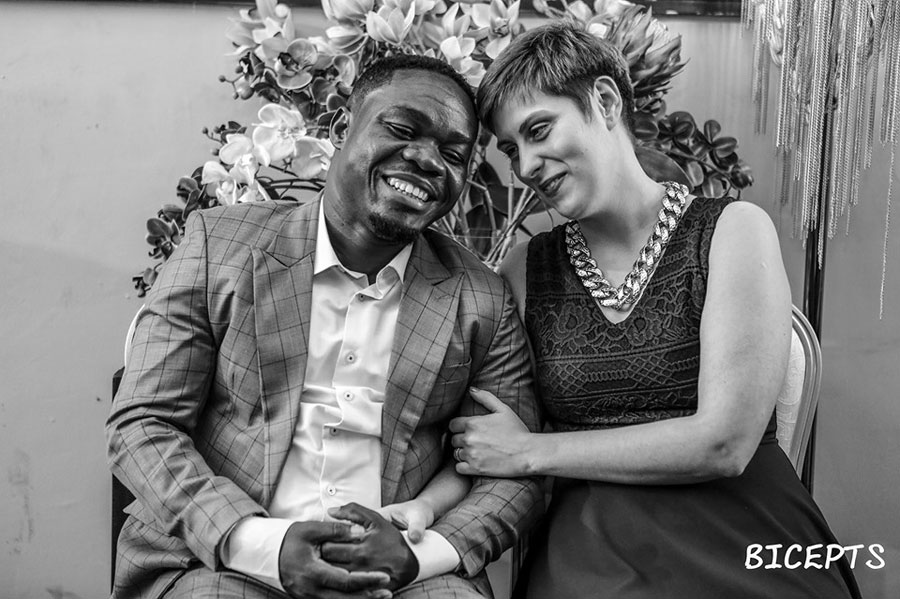 The newlyweds advise intending couples to organise weddings within their budget and take their time when choosing a partner.
"People think the words "don't rush" means that you have to take 10 years of dating to know the right one. To me, it means choosing right even before you date because then, even two months can be enough," Mushaga explains.
He is grateful to the family of Raoul Mugosa who stood as witnesses, the family of Isaiah Katumwa, the family of Pastor Fidel Sharala, Mr Stephen Ochola of Blue Cruise, Mr Andrew Kasirye,  Mr Richard Mukisa,  Mr David Arinaitwe popularly known as Di King, Christine Kansiima and Prof Ritah.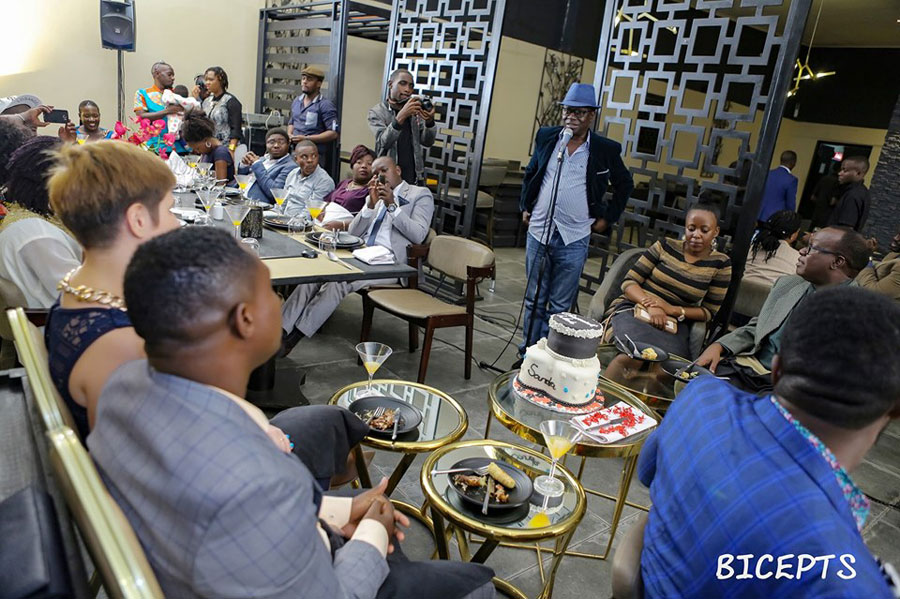 Mushaga says they plan to have a church wedding in a year's time when they have enough finances but for now, having a civil wedding was the option since it was less expensive and they could not wait to stay together as husband and wife.
They also didn't have enough finances to bring their different families into the country which they hope to do with the church ceremony.