By Rashim Nabanja
The Covid-19 outbreak affected almost everyone's life in different ways. Many people had to put a pause on their plans and even reschedule most of their events, since public gatherings had been banned to avoid the spread of the virus.
As people continue to share their experiences and how the situation has affected them, a couple from England came out and shared how they had to reschedule their wedding ceremony four times, as a result of the virus's outbreak.
Rob Stewart, 30 and Beth Griffin, 25 from Malvern, Worcestershire in England told The Independent, a UK based news website that they had to cancel their ceremony over four times because of the pandemic.
Originally the couple had planned to have their wedding on March, 25, 2020 but before they could have their moment, UK went into a lockdown.
The couple then decided to reschedule their event for the same date in 2021, but changed that too for fear that the restrictions that forbade them from having a large event might not have been eased yet.
Bringing the date closer
To avoid waiting for something they were not sure of, the couple decided to bring the event closer and settle for a small ceremony on November, 28, 2020.
However, more lockdown restrictions interrupted their plans, so they again moved it closer to November, 4 to try and get married a few hours before the restrictions were put into place.
This time round, the couple was notified by officials that they had not given enough legal notice to the council so they had to once again choose another date.
The couple finally said I do at Worcester Guildhall on December, 27, 2020, just a few days after Christmas, in the presence of a group of 15 friends and family.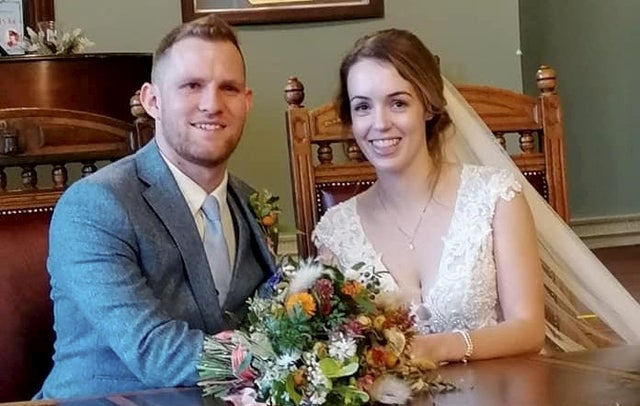 Fairytale wedding
The couple however shared that even on the day of their wedding, they experienced some snow. Rob shares that for a second, he lost hope and thought that they would have to cancel again if the guests didn't make it to the venue because of the weather but fortunately, it just made the day more special.
Beth on the other hand told The Independent that it felt good to socialise with people normally and although it wasn't their dream big wedding, she says the snow made it look like a fairytale.
The couple that works for West Midlands Ambulance Service only had one day off after their wedding and immediately returned to work however, they are planning to have their honeymoon once the international traveling is allowed again.