By Desire Mbabaali
Whereas there is a lot we all can say about love, one thing is certain. Love can find you anywhere!
For Natasha Mariam Oduka, it just popped up in her face – out of the blue – at a trade show in Mbarara.
When she seats back to recount the incident, it is evident in her cheerful and energetic voice that she cherishes every minute of the moment.
"It was in 2012. I was in my senior six vacation and he had just started working at the time. Do you know the Trade Fairs/ Shows that happen in Lugogo?  This one was in Mbarara – where I was born and my husband had come to work at the show," she details.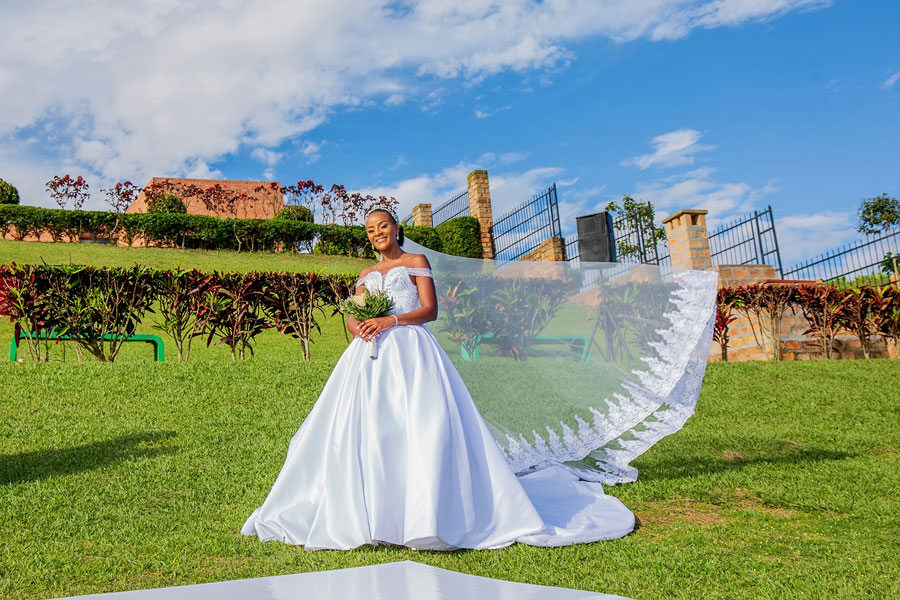 Though she had seen his face around the first day she had attended the Fair, while with a friend who was also an agent of the company where he (Patrick) worked, she never really noticed him.
It was on the last day of the Trade Show when she went there again with her cousin that they got to really talk.
"As we were walking around, we saw someone coming after us and saying, "Excuse me…" We both turned, only to see some very disorganised and dirty guy. It was the last day of the show and they had been packing to leave the show," Oduka explains, nostalgia in her voice.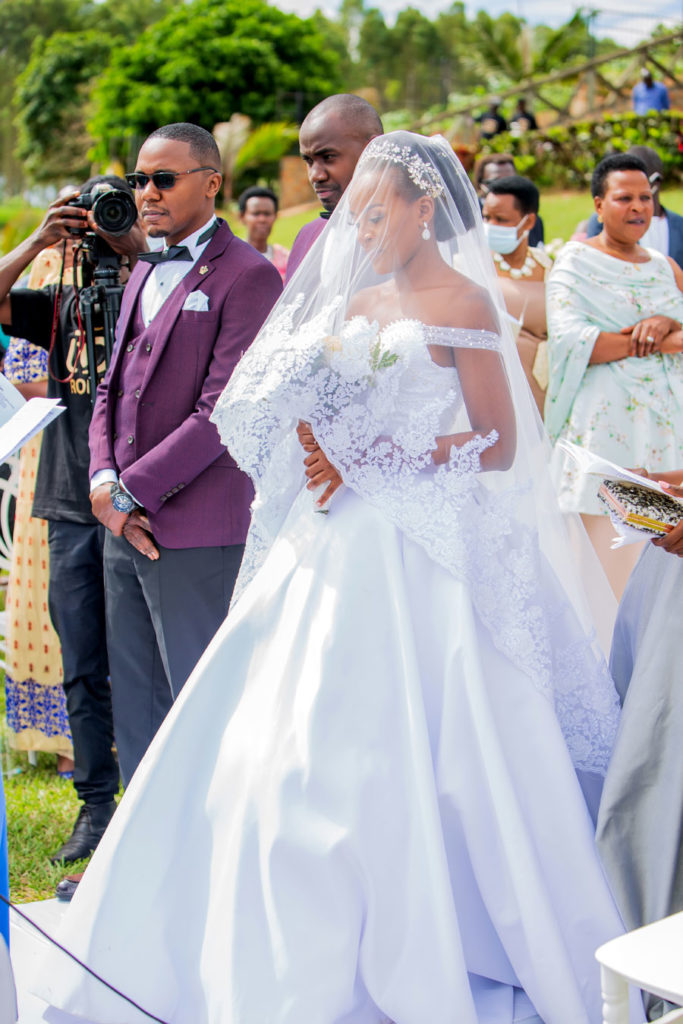 "When I asked him who of the two of us he wanted to talk to, he told me it was me, so I went to him and we talked. He introduced himself and said, "My name is Patrick. It is so sad that I have seen the most beautiful thing when I am leaving the show, but please give me your number, so we can keep in touch when I get back to Kampala," she adds.
For some reason, she did not hesitate to give out the number, but at the back of her mind, she knew that since she lived in Mbarara and he in Kampala, they would never meet again.
However, he called her and they kept in touch, nurturing their friendship. From that first encounter, the two never met again until after five months.
"I was in vacation and he was working. We met again when I finally came to Kampala for my university studies. I was living in a hostel and he would come and see me for those first few weeks. When we officially started dating (six months from when we met) I would go to his place over the weekend or he would come to the hostel. Basically, our weekend plot was meeting each other," she finishes with laughter.
Like Oduka describes him, Patrick Kasule Kisuule is the quiet, calm and collected one and when asked what attracted him to Oduka, he simply says, "First, it was her beauty and later, her brains."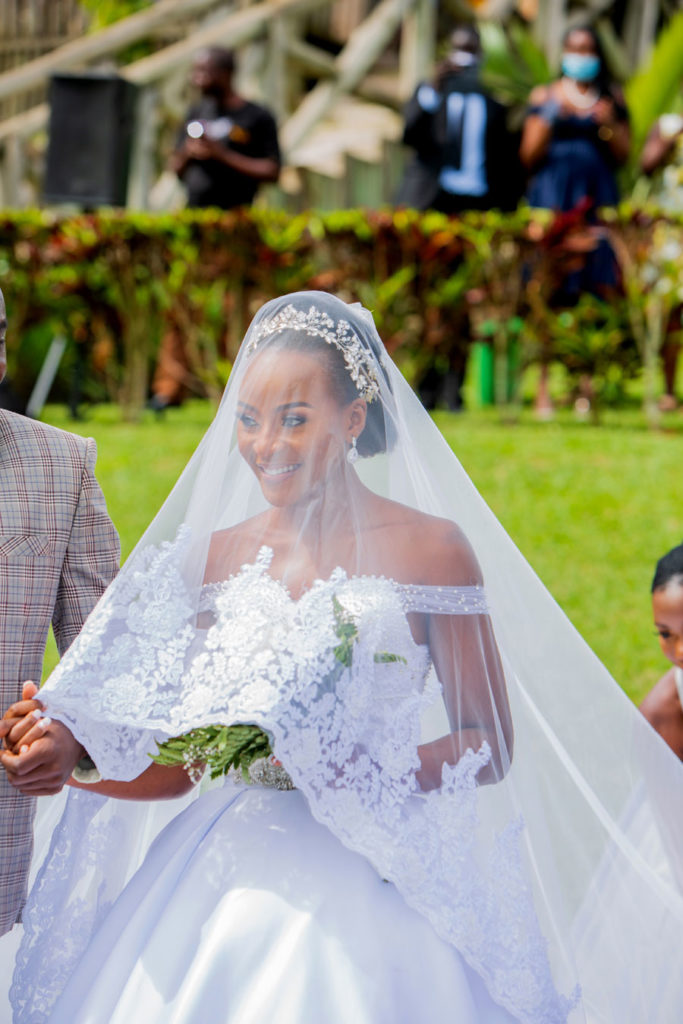 On the other hand, Oduka, who refers to herself as the loud one in the relationship, has a list of reasons why she was attracted to Kasule.
"My husband is a big-hearted person. He is true to his word, and he is the calm to my storm. My character is that I am tough, aggressive and loud. He on the other hand is calm and collected. He is the person who would think through things before he says them, he is very attentive, and from the time we met, todate, he has been consistent. He understands me, he lets me be, he is loving and he is basically a good human being. I always tell him that," she explains.
The proposal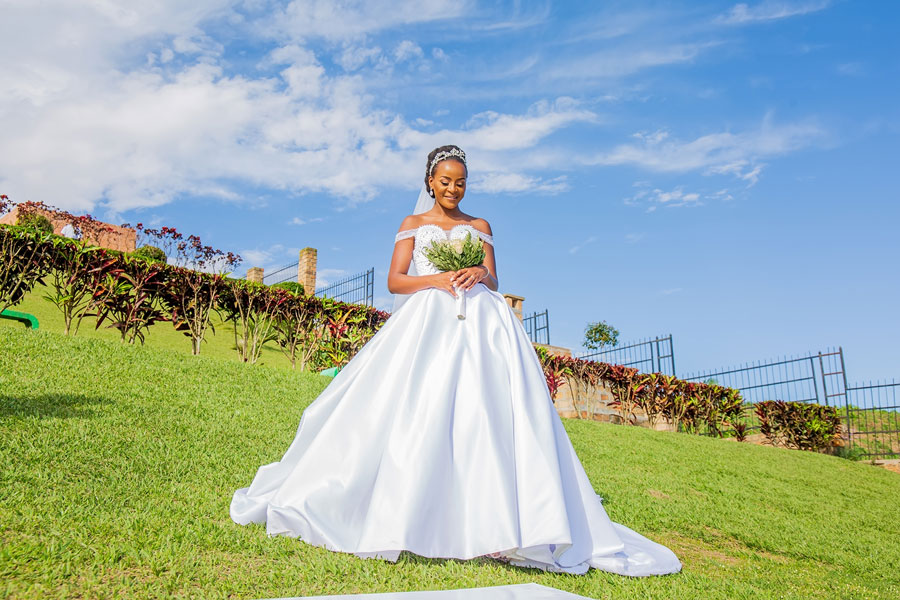 Six years later in 2018, Kasule popped the question.
Normally, the couple would organise trips at the end of the year, if the year was good to just get away for a holiday. That time around, they had travelled for a trip to Nairobi and then Mombasa, Kenya.
"While in Mombasa, there was an option of going on a boat cruise. However, that was shortly after the tragic MV Templar boat wreck, so he was hesitant about going for a cruise.
I however told him that we didn't come to Mombasa to just sit and look, if there was a chance to go tour around on a boat, I was going to go. He told me he couldn't let me go alone, so he came along.
While we took pictures, he asked me to give the phone to some guy with whom we were on the boat to take some pictures of us.
I turned to give the guy the phone and when I turned back, I found him on his knee with a ring. It blew my mind away," she recalls.
On top of being one of the most beautiful things among the many beautiful things he had done for her, Oduka explains that it was a pleasant surprise.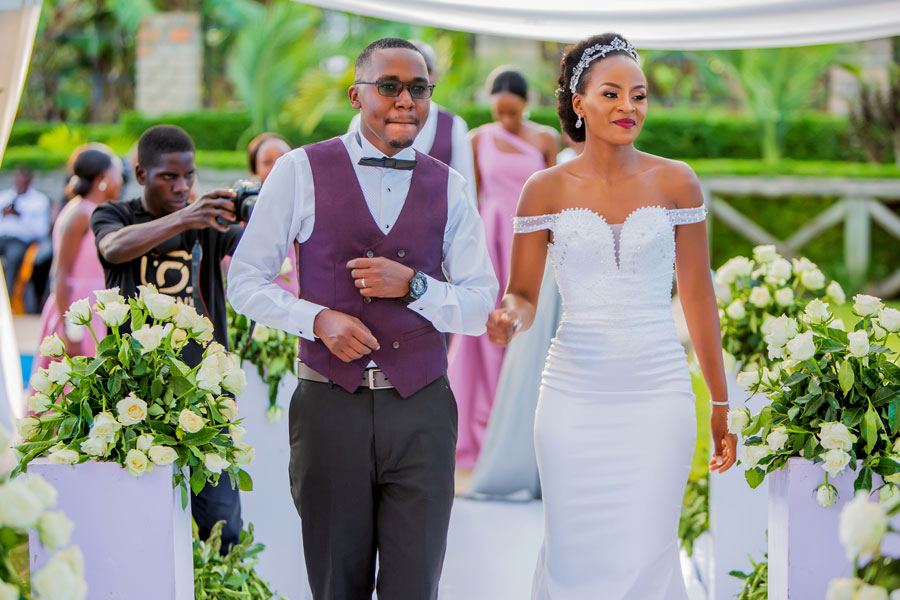 "He is a laid back person and every time I showed him different people proposing, he would brush it off as too much and as something he would never do. So, never in my weirdest dreams did I ever think he would propose the way he did. He had put in a lot of thought!," Oduka says.
Indeed, Kasule also notes that it was because he wanted this to be special, that he had gone to lengths of flying them both out of the country for their first time in their lives.
He also took a long time before proposing because his wife was still in school.
The couple had their introduction on November 23, 2019, in Mbarara and their wedding on 31 0ctober, 2020.
Wedding preparations
One of the things that helped the Kasules to amply prepare for their dream wedding is that from the start, they knew exactly what kind of wedding they wanted so they started saving for it.
What they wanted was a simple but classy destination wedding, by the lake, with few friends and family.
They also held no wedding meetings but involved a few friends and colleagues and anyone else who was interested in financially contributing towards the wedding.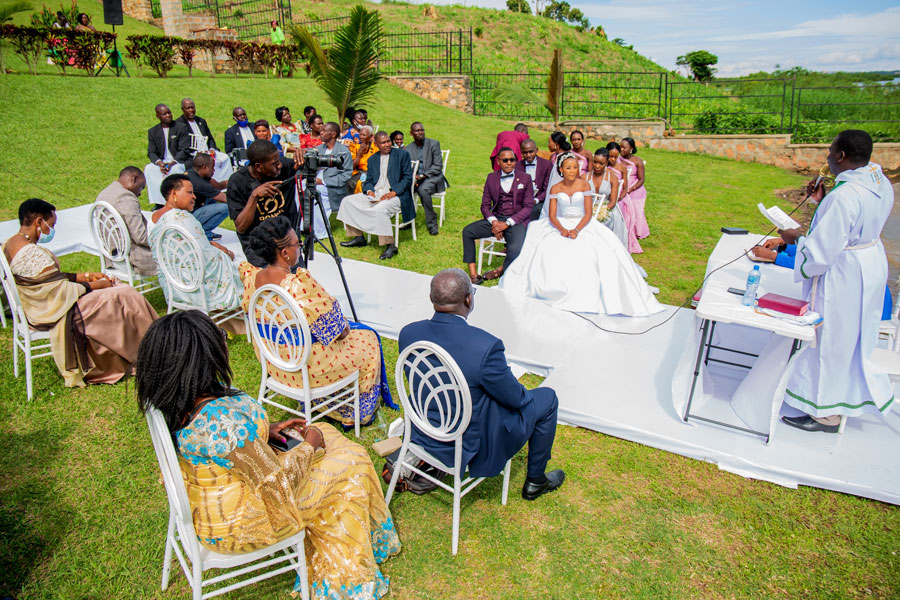 Their budget was between Shs 48-50 Million.
"We financed our wedding from savings, but we also planned it carefully," Kasule says.
Though they had wanted to have only 150 guests, they had an excess of 50 people, making the total 200 people. These were also catered for.
"I can confidently say that I had my dream wedding! The venue was at Buvi Lodge, about 26km off Entebbe road. We chose this venue because we wanted a destination wedding, with few people, not in town and something unique, and it indeed was very unique. Everyone was wowed," she says.
Wedding highlights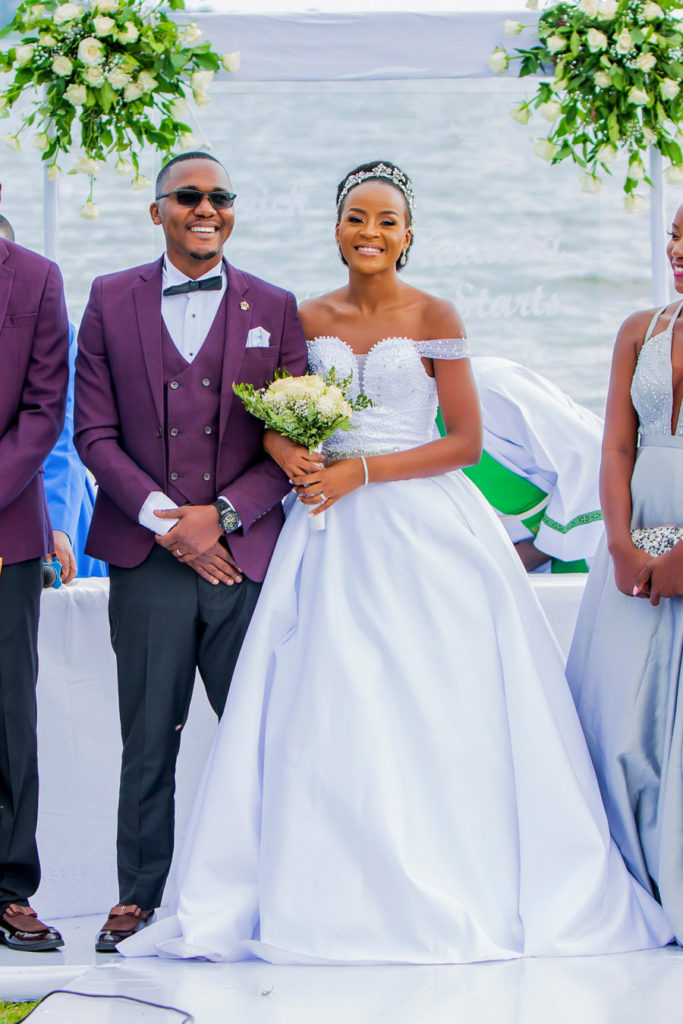 When asked to describe the wedding, Mrs Kasule says that it was simple and classy.
"The wedding ceremony and reception were in the same place. From the beginning, we wanted a civil wedding because we are of different religions. Secondly, most churches or mosques wouldn't wed at the venue unless it is licenced. Third, our venue was far, so we wouldn't make it on time if we had decided to go to church. What we did was talk to the priest who guided us on what to do, so he allowed to wed us at the venue," she says.
The wedding was by the lake side, which was one of the most thrilling things to Kasule.
Oduka also agrees that the sight made the wedding really beautiful. "Me walking down the aisle with my dad, next to the lake, was so unique and beautiful," she adds.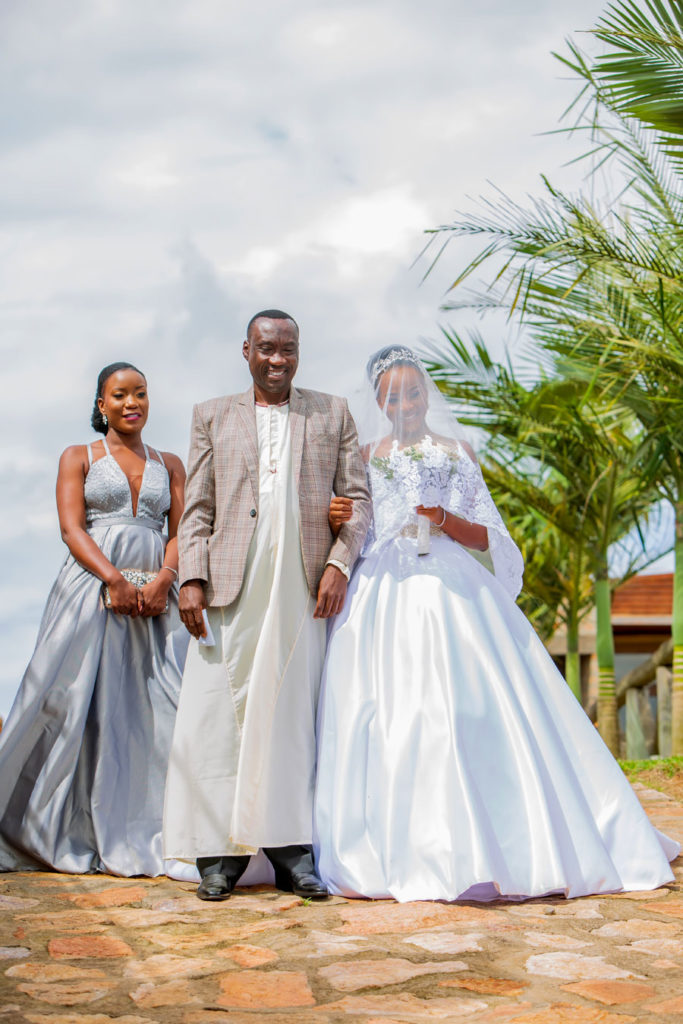 Another of her most memorable things was the dancing which they did at the reception. "My husband and I really danced and enjoyed our day. We also managed to have Afrigo band at the wedding and oh my God! People danced and enjoyed it very much and it was a joy to see my family and close friends together," says Oduka.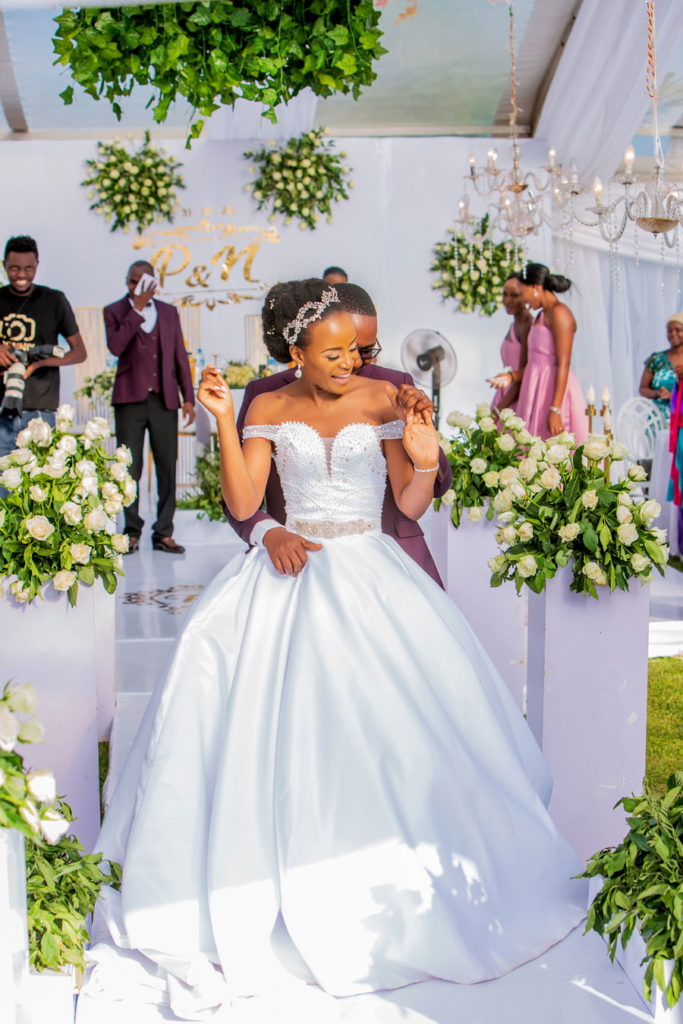 When it came to her entourage, she had a team of four people. Though she was not interested in having them, her sisters who very much wanted to be part of her special day couldn't let her.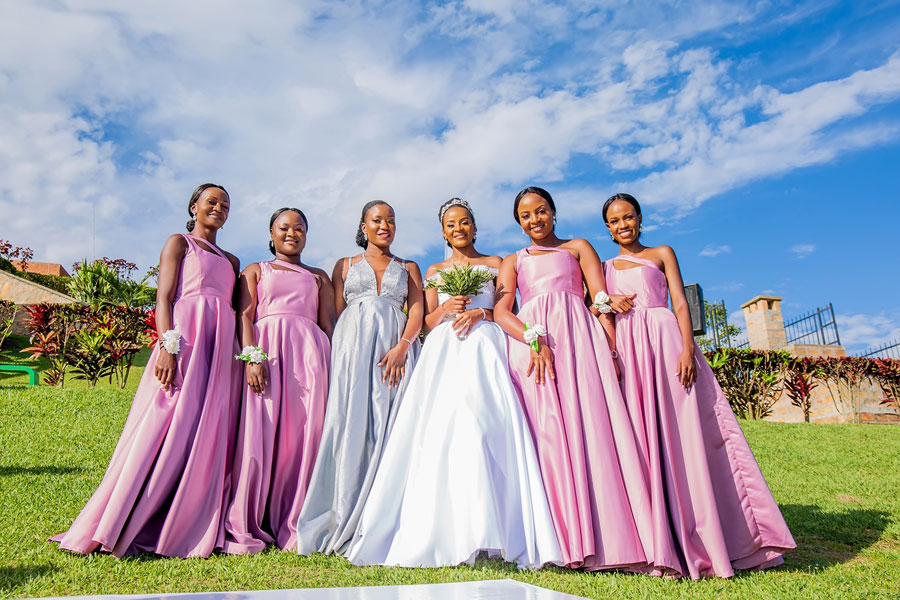 In place of a Pre Wedding photoshoot, they instead decided to have a wedding memory lane.
The attires
"Since I wanted a simple beautiful wedding, I didn't want that hussle of changing into another dress, so I made a two in one gown with a  detachable big skirt, though you would never tell. So, when it came to changing, I just removed the skirt and it didn't take a lot of time before we were back from changing to the dance floor," Oduka says.
They had their honeymoon at Chobe Safari Lodge for five days.
My wedding Website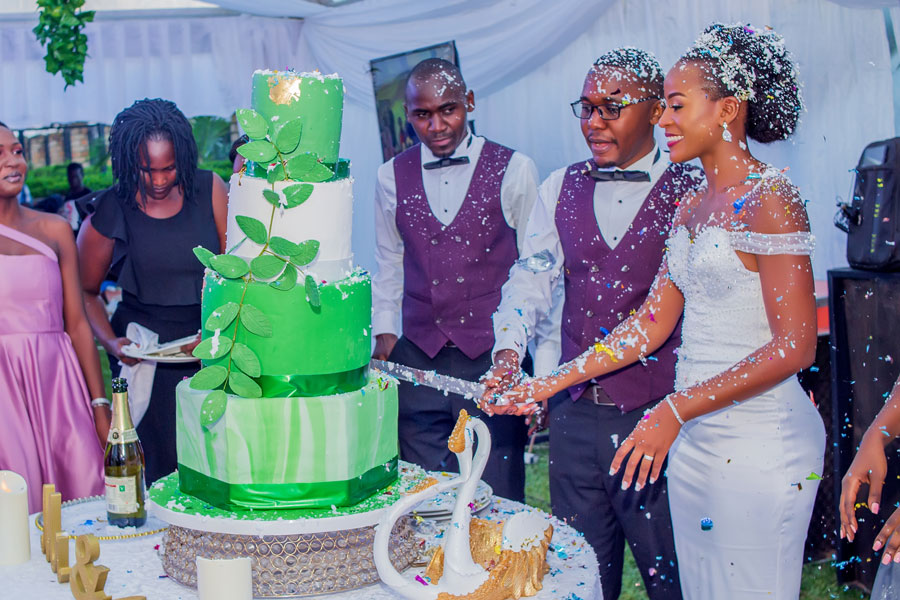 Oduka also shares that when it came to planning and budgeting, 'My Wedding' website was a great help.
"When I searched the website and they brought me stories which helped me about; budgeting, what to expect, what to do and it really helped me in planning. You know when you read people's stories, you get inspired because people have beautiful stories. Every time I read, I would share with my husband and that is how we were able to come up with such a beautiful wedding," she shares.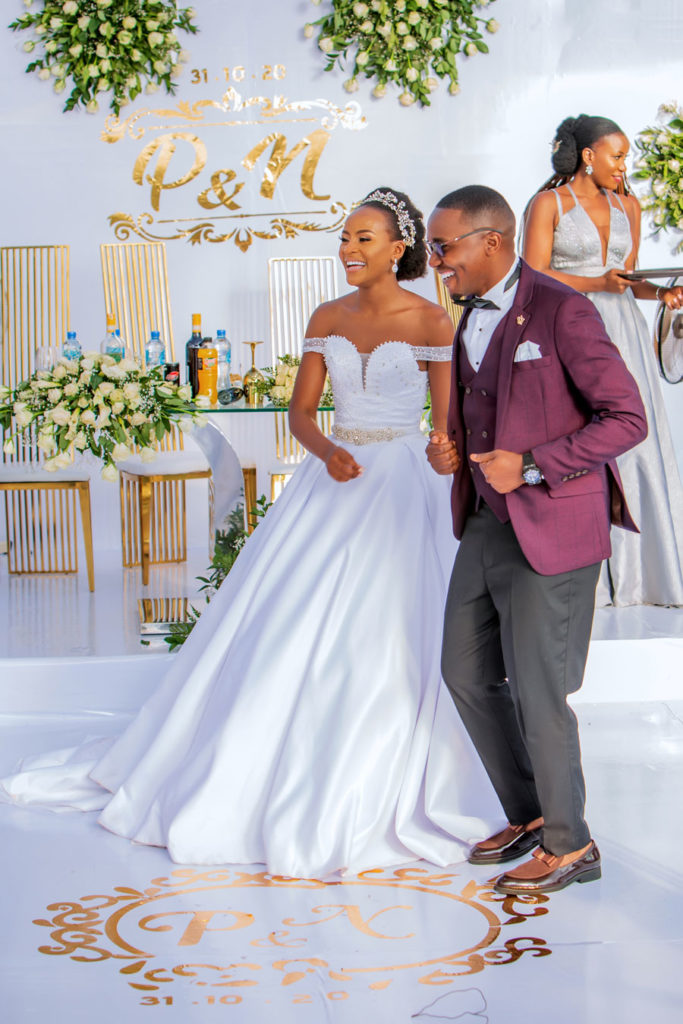 For people planning their wedding, Kasule advises that one shouldn't put their hope on contributions and therefore should do something within their means.
As for marriage, he says, "Once you get married, you get a second boss in your life, but it's beautiful. It brings assuredness in life, companionship and you learn how to deal with challenges better."
On the other hand, Oduka advises couples to take matters into their own hands. "We planned everything about our wedding ourselves, so we did exactly what we wanted. We financed our wedding so we didn't have people coming to tell us what to do, and everything came out perfectly."