By Edgar R Batte
Rachael was first attracted to Paul without knowing that he had also fallen in love with her. A week after meeting for the first time, he asked her on a date and a week later he proposed. Although she was worried about how fast this was all happening, she says after three years, she knows it was meant to.
He was smart, charming, social, handsome and down-to-earth. When Racheal Twebaze met Paul Turyagumanawe in June 2017 at a schools' annual mission, she could not take her eyes off him.
"Unfortunately, he did not show any interest in me during the mission. On the last day, however, when everybody else was going home, Paul said goodbye and offered me a sweet. I remember going home with a big smile. This was a good sign," Rachael recalls.
Without her knowledge, Paul was also observing her, thanks to her gentle demeanour and good manners. He asked her to share her contact, and as he recounts, "I had noticed her humility, kindness towards fellow missioners, and when her wisdom progressively impressed me, I started plotting my way into her heart."
Be my girlfriend?
Rachael is a teller and cashier at the Diocese of Kigezi SACCO. She also runs a grocery shop. Paul is a professional speaker and trainer with Voices of Value Uganda. He is also a lecturer and a safari guide. A week after their initial meeting, Paul called Rachael and requested to meet her. She did not object and when they met, he asked her to be his girlfriend and she said yes.
"I said yes without wasting time and it is the best decision I have ever made.," Rachael says.
The wedding proposal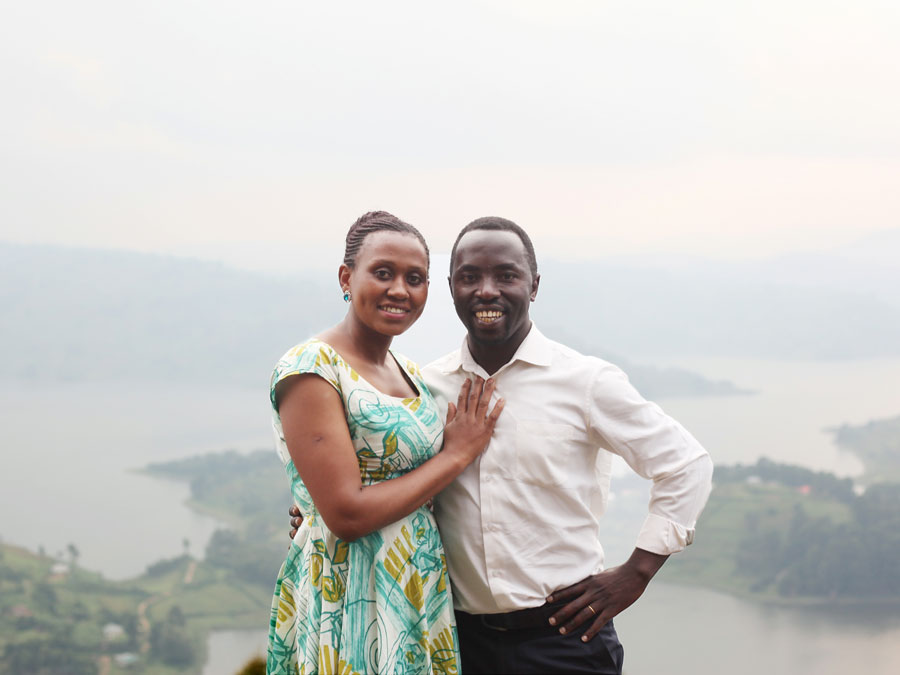 Paul says since he had a 'Child Protection' training across Lake Bunyonyi in Kacerere, he decided to invite Rachael along. His plan was to, if there was time at the end of the training, take her to the most beautiful hilltop and propose. And after the training, they drove up the hill, and went to this prayer mountain with the view of Echuya Forest, Lake Bunyonyi and the Muhabura peak where he proposed to her.
He gave her the ring two weeks later on another prayer mountain closer to Kabale town. On the drive back from the prayer mountain, the two visited her grandfather, Mzei Bakiza, who is a retired church leader.
"He prayed for us, as if to affirm our intentions. For the next 50 kilometres, I drove with one hand and held her hand with the other, thanks to automatic car technology," Paul recalls.
Qualities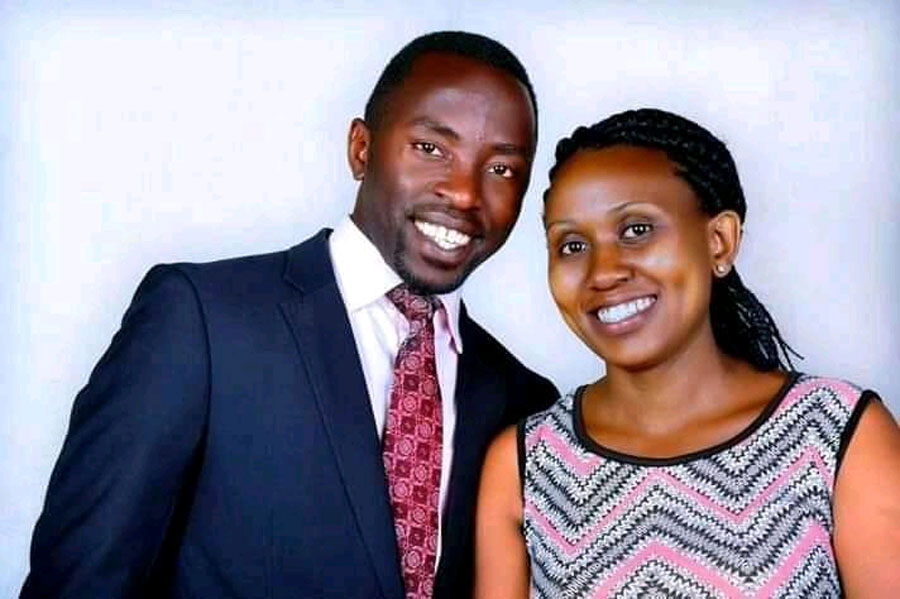 However, although she was happy, it was also too soon, or so she thought. He had asked her to be his girlfriend only a week earlier. Nonetheless, in her heart, she thanked God because it was an answered prayer.
Rachael adds that she was attracted to Paul first because he was a Born Again Christian, and this was very important to her. He was also both good looking and down to earth, which is the best of both worlds.
"He was also the kind of man who knows how to express his love through actions, and not mere feelings. Besides, I knew he is a keeper after noticing the gentle way he loved and cared for his mother," she recounts.
Falling in love with Rachael changed the way he perceived love. Before he met her, Paul thought that love was just a strong feeling. Meeting her made him realise that love is actually more of a choice and a commitment. "When a man is ready to marry, love takes a back seat while commitment takes the front seat," he says.
Rachael says one of the best recollections of their courtship was his visit to her 95-year-old mother and surprising her with a nice chocolate cake on her birthday. Paul had planned this surprise with a few of her friends.
The couple had so much fun with her mother, sister and brother.
Future plans
The couple wedded after five months and has a number of plans such as buying a safari cruiser for his work as a tour guide and going for vacation as a family at least once a year. "We miss him when he is away on trips, but at least going away once a year as a family where we get to have him all to ourselves is a dream we cannot wait to fulfil.
Paul is also passionate about empowering people and we plan to start an institute for leadership, entrepreneurship and skills development. And with God's help, we plan on being married for the rest of our lives," Rachael shares.
What has made their marriage work?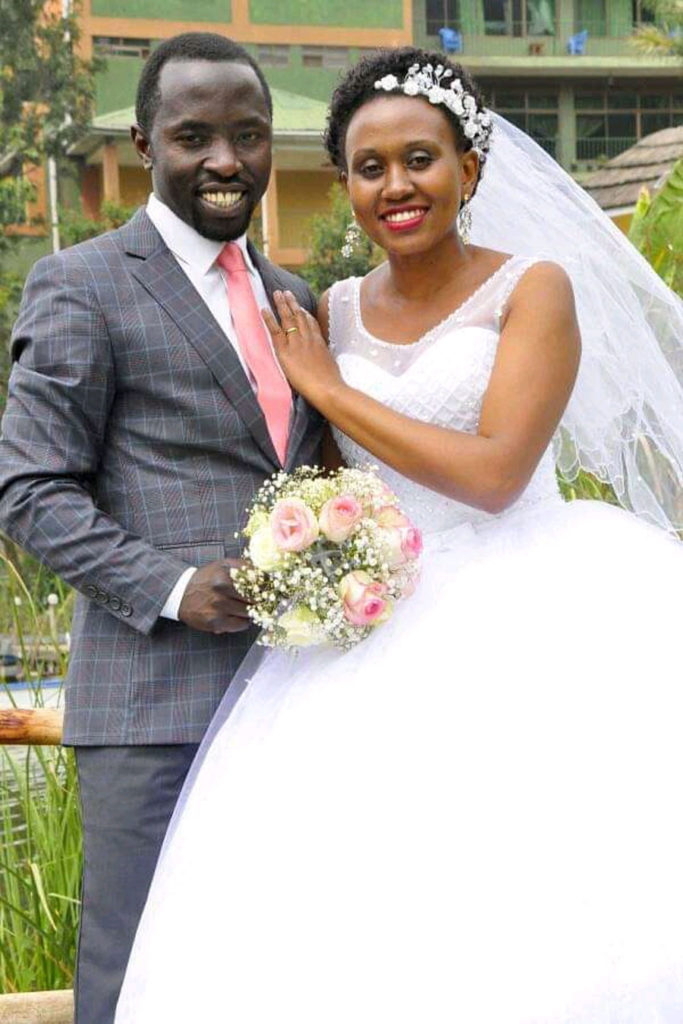 Paul says it is different things that together make a solid chord that holds their marriage together. He made up his mind at the get-go that he was going to do everything possible to honour God with their marriage. Many people witnessed their union, and he is not about to disappoint them. And the biblical standard is for wife and husband to submit to one another and this is what they stand by.
The other element is mutual service. Like many couples, Paul and Racheal face challenges, for example misunderstandings. They handle these by talking to God and talking to each other, which they say has worked like a charm.
"Even challenges with money have been dealt with that way. I do the kind of work that is half ministry and half lucrative but my wife has been extremely understanding in the absence of the things that we would have loved to have but cannot yet," he explains.
Racheal says praying together and being patient with one another and together in all situations has seen them succeed. The couple makes decisions together and shares responsibilities.
"And we have seen God's helping hand, especially during this Covid-19 season. He has given us a lot of good friends, who give us useful advice and this makes our marriage stronger," she adds.
Advice
She tells those who are still single and searching that even if finding the right person may seem hard, do not rush. Keep in prayer, serve God and wait upon Him. One day your waiting will be worth it because there are no regrets on waiting upon the Lord. "I waited upon God and got the love of my life," she adds.
And through sharing, the couple handles their finances. "God has given us the grace to prioritise our family needs over our individual ones. It is not like we have a joint account or something, but when one of us has money, the other has free access to it at all times," Paul says.
He adds, "For other couples, especially during this Covid-19 season, I understand that things are not easy resource-wise. But remember that resourcefulness is more important than resources. There will be better times ahead, but to get there, your commitment to one another must rise above your present physical needs. Whatever you have, make the most of it."