By Desire Mbabaali
Seven years ago in 2014 on his first day at work, Paul Kinene met Maureen B. Kamiza. He had just joined the production department of Darling Uganda and she was his immediate supervisor.
"That first day after I reported to work, I was supposed to take my ID to be registered in the daily roster and she was the one in charge of that. The station where I was, we were working while standing, so when she came and asked for my ID, I told her, "Come pick it from my pocket. If you don't want to, leave it!" Those were days when I was a lost soul and didn't care about anything. She came and picked it from my pocket," Kinene narrates.
After registering his details, she brought his ID back into his pocket and it was only then that he turned to look at her for the first time.
Meanwhile, all his colleagues were in shock with his behavior towards the 'boss'.
"When I looked at her, I saw a beautiful lady! That very day at lunch time, I went to her station to apologise for the bad note we had kicked the day off with and went ahead to ask for her number. A friend next to her asked her, "Kaagalaki ako?" meaning, what does he want?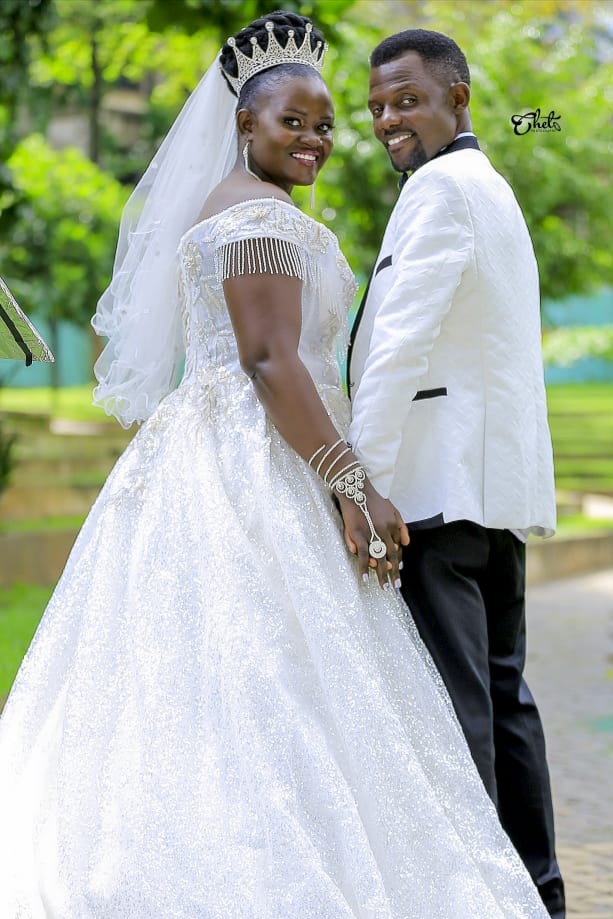 "Mbu kaagala namba yange." she replied, telling the friend that I was asking for her number. The friend told her, "Togikawa…" meaning, don't give it to him," Kinene lightly recalls.
She however told him to come back later and that evening as he left work, he moved away with her number. He didn't talk or call her for the following days up to Friday that week when he called her and they started talking.
Kinene confides that his wife became his adviser and a guide, which is one of the things he loves about her.
"One of the things she told me was that I had come into the company to work and I needed to stick to that; know what I want and go for it.
Those were days I would have about three to four girlfriends but the more we talked, the more she stood out from the rest. She was different and that attracted me to her," Kinene says with a touch of seriousness.
With this friendship that had budded, the two continued talking more often. He could wait on her after work to walk home together for about a year. He was staying in Namugongo and her in Mutungo.
"I keep saying that my wife picked me when I was at my lowest point in life. I was staying in a single room with three other people with no sense of direction, but she believed in me," he proudly says.

0
He recalls a day he invited her to come into their room, in pretense it was actually his. Kinene narrates that,
"When one of us was bringing a girlfriend, the three had to disappear with all their belongings. We had to make sure that nothing shows that other people lived here but just one person. I had never told her that I stay with other people so we made our appointment at 11am.
Unfortunately, by 7am, she had arrived – when everyone was still around and others still asleep," he laughs at the memory adding that he had never felt so embarrassed in his life.
As she sat outside to wait for his roommates to leave, Kinene was apologizing for his sins.
"All my guys told me she would leave me and never come back but surprisingly, she was not touched, neither did she complain. All she told me was that it was fine. "This is where you are, but this is not where you are supposed to be. What I see in you is someone determined and focused not this…"
In 2015, Kinene moved into another room with one of his friends and again, she was around to celebrate his baby steps.
In 2016, Kinene moved into his own place and this time, Baluka also moved in with him.
"We saved that money for over three months to be able to rent a single room near the factory. Soon after, she got pregnant with our first born and we moved into a double roomed house," says Kinene.
In November 2017, the couple had their introduction ceremony and planned to have their wedding in the same year. However, Kamiza got pregnant with their second-born, who later passed on in 2019, postponing the wedding.
In March 2020, she gave birth to another child, and because the lockdown brought in a lot of possibilities, they decided to have their wedding on 28 November, 2020.
Unlike some men who spend sleepless nights planning their proposals, never did it even cross Kinene's mind to plan his proposal. He just woke up one day and told her, "I think we need to go visit your parents."
Wedding preparations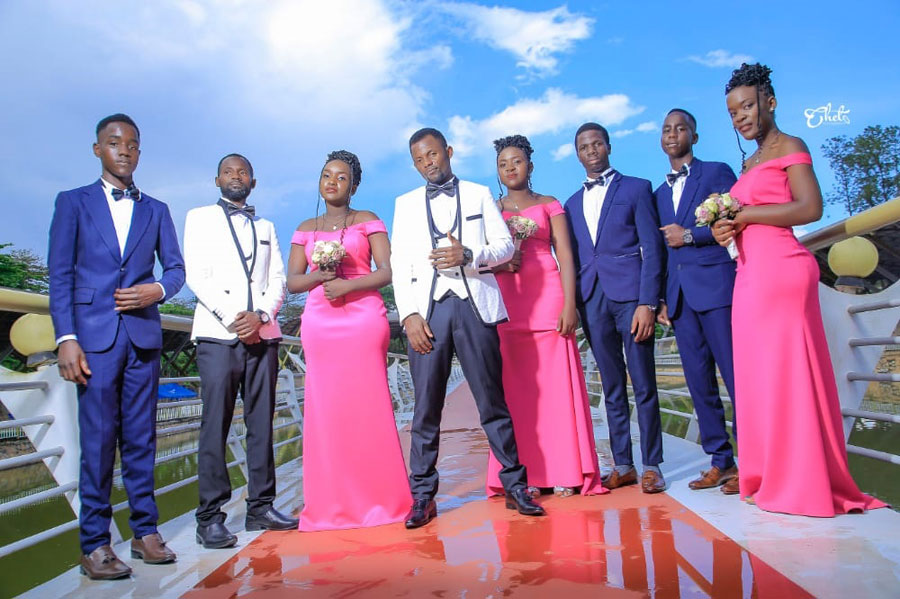 The couple started planning for their wedding in March.
"We had initially budgeted for 60 people and our budget was Shs 10 million but we ended up having 183 people. We had six wedding meetings on my side which were at Heritage Restaurant. She also had meetings on her side and I have my friends and relatives to thank because they were really instrumental in helping us raise money to meet our budget," says Kinene.
At noon, Kinene exchanged his vows with Baluka at Uganda Martyrs Catholic Shrine Namugongo where they also pray from. Thereafter, they had their reception at Tesh Hotel in Namugongo.
Their entourage was made up of six people, three bridesmaids and three groomsmen.
The wedding 
When asked to share how his wedding day was, Kinene tells it as if it were only yesterday.
"Our wedding was at noon and just as we were moving out, it started raining. My mum started praying for it to stop… 30 minutes later, it stopped raining and started shining. The church had allowed us to take photos in the gardens, so we did and after, left for the reception which was a short distance from church. There were about 113 people at church; 100 of them ourselves and the entourage.
At reception, people were full to capacity, considering that we had planned for 60 people.
We arrived there at 3pm and the moment we reached, everyone was expecting us and it was then that I started believing it was my wedding day. All the while, I hadn't got myself in the moment. So, I brought out the jolly Paul even my in-laws didn't know.
People were very excited, jumping up, cheering us on, screaming, dancing,  so we just joined in the fun with dancing and high spirits and that is how it was till the end.
We also had few speeches and by 7pm, everything seemed done and we went into the gifting session.
When my wife's side came to gift us, the DJ played the 'Kadodi'… my wife is from the East… and it was as though the party was just starting.
People danced, families mingled and that was the first day I saw my father-in-law dancing. They played Kadodi for over 40 minutes and the day ended on a higher note than it had started. We were supposed to leave the venue at 8pm, but we left at 11pm, just dancing and no one worrying about curfew," he elaborates.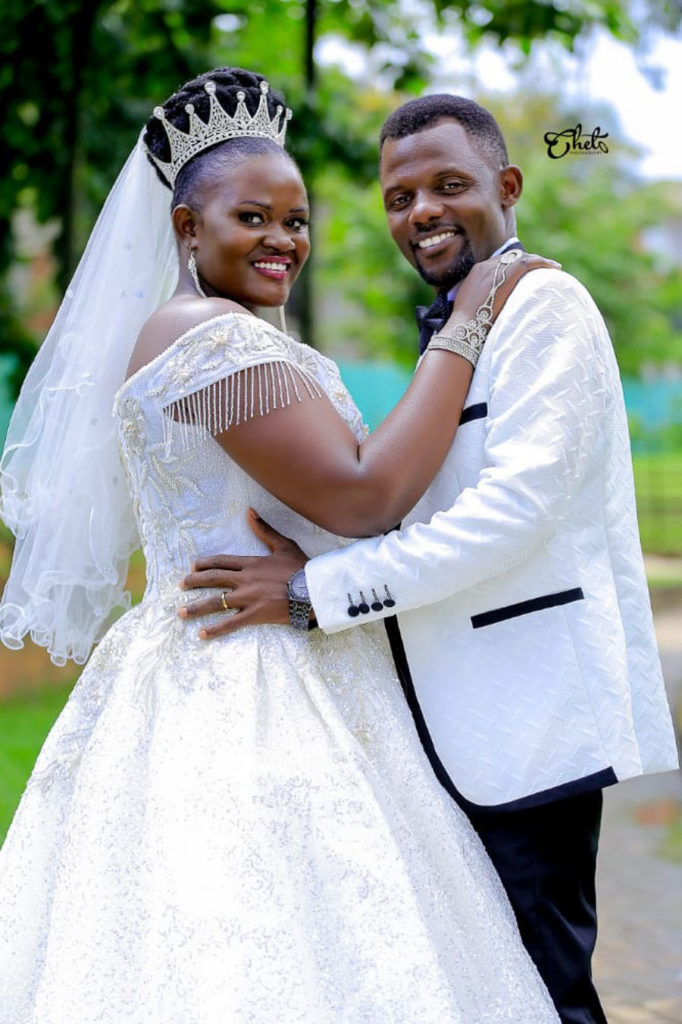 As for Mrs Kinene, the highlight of her day was seeing the look on her husband's face while she walked down the aisle.
"I really got butterflies in my stomach and it makes me shake whenever I remember it. From morning, I was just thinking about Paul and when I saw him I don't know why but, he was the only one I was seeing and the way he looked at me all the way while I walked down the aisle, I just wanted to run to him and kiss him," she says.
She also remembers the priceless smile on her Dad's face and the joy on her two mothers' faces.
"All in all, I thank God for that day and for a loving and very wonderful and understanding husband. It was a day for Paul and Maureen and I thank my husband for that wonderful and unforgettable day of my life," Kamiza says.
Kinene also has his friends on the organising committee and his aunt who worked tirelessly to put his day together.
"I honestly last knew about the expenditure at Shs 5 million. The rest, I didn't know how it happened. My organising committee and my aunt took charge of all things. It reached a point where they weren't telling me things, I think because they didn't want me to be stressed," he says, with gratitude.
He also notes that having the wedding was one way of expressing his gratitude to his wife, who has been with him through thin and thick.
"Usually it is the ladies pushing for the wedding but in my case, it was me. It was my thing because I didn't want to lose this wife of mine. I wanted to do something for her, like a man… she brought meaning and purpose to my life and made me believe that there is someone who can pick you from rugs to something," he says.
The Kinenes had a nine-tier cake of mixed flavors and used white and light purple (his wife's favourite color) as their theme as our theme colors because purple is my wife's favorite colour.
Honeymoon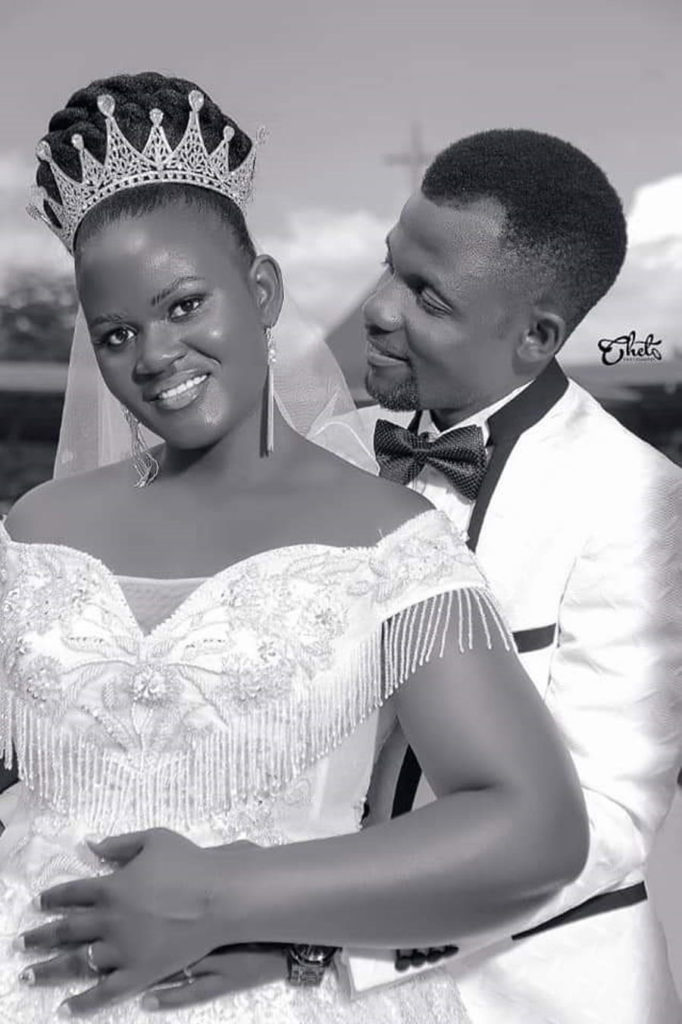 "We didn't go for a honeymoon because we had a baby who was seven months old. We just spent the night of the wedding at the hotel and the following day, went home," he explains.
Tips 
Kinene advises that before one makes a wedding, they should do their research. There are always cheaper options which might even be better. He experienced this with his reception venue, while buying his suit and with photography.
When organising a wedding, especially if working on a budget, first determine what the major items or things are. For him, it was church, food, venue, cake, photos. First work on these and then the extras can  come in later.