By Promise Twinamukye
Although Ann Hope Birabwa turned Benson Seruwagi down several times, he finally won her over and they are now happily married.
Ann Hope Birabwa, media personality and a fashion designer at Annz Collection, met Benson Sseruwagi, IT personnel at American Air Force at a church event.  She was with her friend who knew him but they whom Benson felt the urge to support, however, Hope was rarely online since she only accessed Internet at a café.
In 2015, Hope's father was due for an operation and she posted her frustrations on Facebook. Benson reached out to her and they exchanged phone numbers. Hope got a job on radio and Benson always called in as a fan. She then joined TV alongside doing charity.
They spoke on phone daily, whether he was in or out of the country.
When she would get a problem, be it boyfriend issues (she had got into a relationship), she would tell him (although not divulging details). He was a good listener and she got more comfortable talking to him.
"I would be broken most times but every time I returned home, I looked forward to that midnight call that would relax me," Hope says.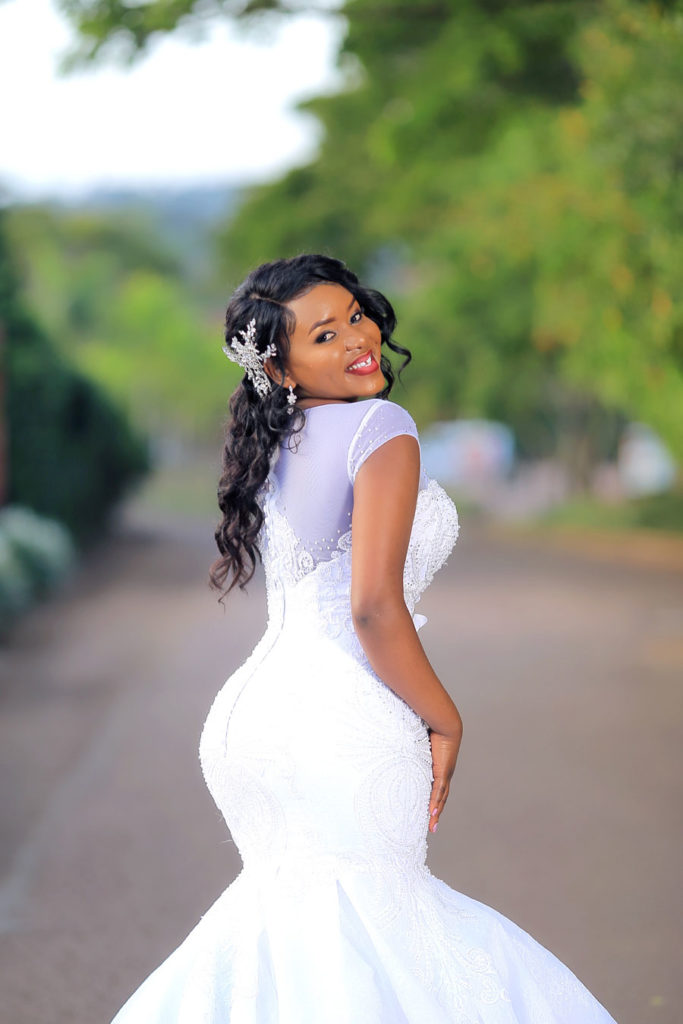 Closeness
By 2017, Benson had started thinking of settling down and he could not find a more perfect partner than Hope.
"I wanted to ask her out. Being traditional, I did not want to do it on phone. Since I was in the US, I could only fly over to talk to her about my intentions," he said.
He flew into the country, took her out and asked if she would be his girlfriend. She declined.
With a heavy heart, he returned to the States thinking that she was seeing someone.
"I knew when Ben went back, he would stop talking to me. But he instead increased his support for my ministry," she recalls.
Ben stalked her on Facebook until a status on Valentine's Day.
"I promise to be true, to give my all to you," with which she was declaring her heart to God and her future husband as well (whom she had not met yet). He lost hope. However, from previous conversations about what she was going through after she was robbed in 2018 it seemed like there was no man in the picture.
She spent nights at different friends' places, even got an excuse of sleeping at 77 days of glory (DOGs) in Rubaga.
Ben offered to pay rent for her. Hope looked for one within her means in case support stopped coming in. Disguising as her fan, he secured for her a smartphone and sent money to buy houseware. Seeing a lump sum, Hope invested much of it in piggery.
One day, Hope was a bridesmaid, she took pictures and sent them to Ben who was mesmerised. He knew if he did not act fast, someone would win over Hope. He called her.
After four years of friendship and turn downs, Ben asked Hope out for probably the last time on June 4, 2018. She confessed how she felt about him and how beautiful his heart was.
"My dad has been my pillar. It seemed like God made a replica of my dad, and that was Ben," she said.
Patient, generous, a great listener and hardworking, traits in her father she always wanted in a husband, convinced Hope that she was making the right choice.
"He supports every dream I have, everything I do and he pushes me to do better," she says.
She, however, told him how broken she was and did not want to put him in her mix, to which he replied, he wanted to walk the healing journey with her. They would talk to their families on phone and had accepted both of them.
The love journey
On December 12, 2019, Benson proposed to Hope during a candlelit dinner at Speke Hotel. They did kukyaala and days after, had their introduction on December 21, 2019. There were many events in a short time, they postponed the wedding to 2020 so that they would enjoy this time.
They learnt some lessons during the introduction. Some service providers disappointed them, so they had enough time to look elsewhere and the venues had been overbooked too ,so they took their time to find the perfect venue.
"It was her first event to plan herself and she got exhausted from kukyaala and introduction," he says.
Wedding
The wedding was set for July 10, 2020 and Covid-19 happened. Unless the airports were open, Ben could not travel. The wedding meetings could also not happen because of the Covid-19 restrictions.
With no hope for July 10, they postponed to December 18, 2020 but they did not want to tell anyone except her best friend.
Since Ben was not in the country, he worked harder to save more, as Hope did the same as well as planned.
The wedding date was confidential and the economy limping, they asked people for support but did not expect much.
"Friends from the US contributed although they do not fundraise money to do weddings as we do while Hope's fans did the same," he explains.
Highlights
Two weeks before the wedding, Hope's parents were involved in an accident and were hospitalised for days. Seeing them walk her down the aisle, was amazing. Her mother wore a Nigerian outfit to conceal her injuries. Her father, who could not stand for a long time managed to walk the aisle stretch.
Seeing her husband and Apostle Grace Lubega waiting for her at the end of the aisle was a dream come true for Hope. Her pastors are busy people but they made it and stayed until the end of the ceremony. Her fans too attended the party.
Apart from the service provider who did not bring the bridesmaids' dresses before church service, everything else was perfect for the couple.
Quick bio
Date: December 18, 2020
Groom: Benson Seruwagi
Bride: Hope Ann Birabwa
Venue: Speke Resort Munyonyo
Suit: Larry casual, at Shs2m
Gown: Anita Beryl, at Shs8m
Cake: Shs2.8m Rumis
Rings: Shs 4.8m
Budget: Shs110m
Photography: Kimera Photography, Myco Angello
Guests: 220
Decoration: Icandy