By Rashim Nabanja
On December 16, 2020, Daniel and Esther Mwesigwa finally became one. On that beautiful Wednesday morning, the couple made their way to Namirembe Cathedral where they exchanged vows and had their ceremony officiated by Archbishop Samuel Kaziimba. They later proceeded to Bulange View Hotel to celebrate their reception party with friends and family.
The couple gladly shared their love story with us;
How they met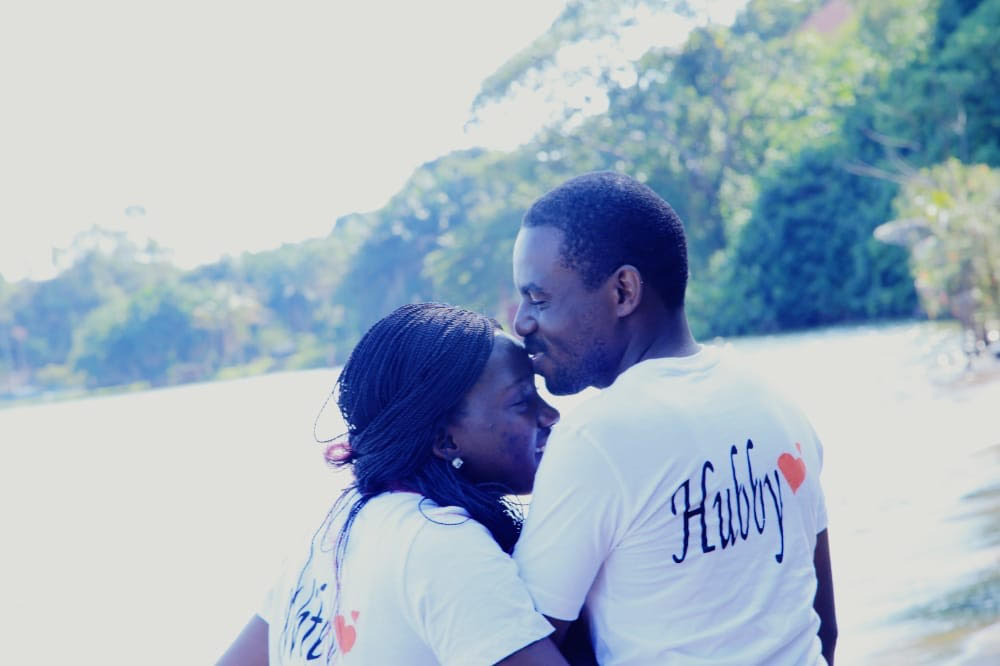 According to Esther, the two met in 2018 during her second year at Nkumba University, "He had come to inquire about a master's program when we crossed paths."
Being new and unfamiliar with the area, Daniel wanted to know where he could start from when he got at the University, and this is when he landed on Esther. After being directed, the two exchanged numbers and this is how their friendship started.
In just a year of friendship and dating, Daniel made his intentions clear. He felt at peace with Esther and wanted to settle down with her.
"He wanted us to take things to the next level, he approached me with the idea and I welcomed it," says Esther.
She however added that Daniel had all the things she wanted in a man, and there is no way she could turn his request down, "He is handsome, God-fearing, caring, understanding and the best of all, we both served in our churches so we really connected well."
Daniel on the other hand found Esther's beauty irresistible, "She is very intelligent, caring, loving, enterprising, God-fearing and speaks with so much gentleness."
Kukyaala and Kwanjula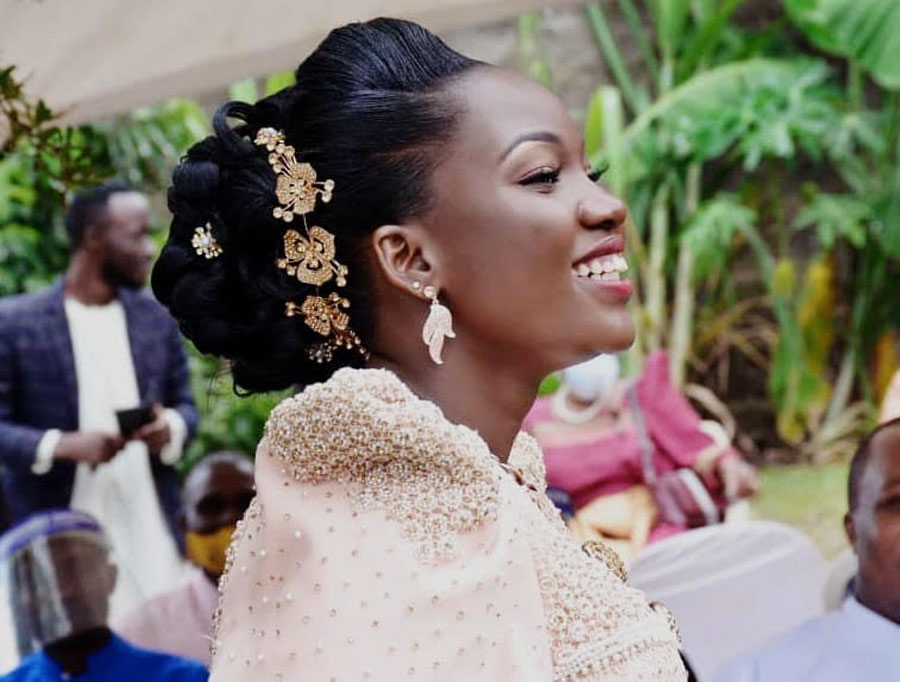 On July 18, 2020, Daniel made his way to Kaboowa to visit Esther's Senga, and on October 17, 2020, he was finally introduced to Esther's family and friends at her parent's home in Entebbe Bugonga.
In presence of over 150 guests, Daniel and Esther made their intentions to become one clear and within less than two months, the two were walking down the aisle.
The wedding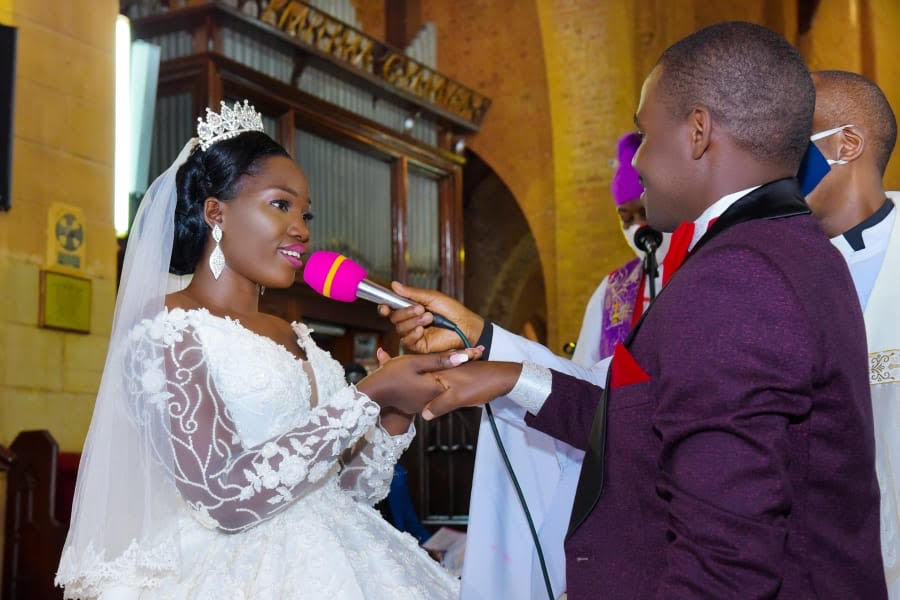 Planning;
While planning for their events, the couple wanted to finish up with everything in 2020, and to make this effective, they had to make sure they minimized their guest numbers. Esther on the other hand wanted to have a larger guest list and was willing to push the wedding to 2021. They however later came to an agreement and had the ceremony in 2020.
The couple started planning for their wedding ceremony around March 2020 and this gave them enough time to come up with the right things.
Lucky enough, they didn't have to hold too many meetings, everything stayed within family. All the funds and contributions were raised by the couple and their family members and everything was fully catered for.
Outfits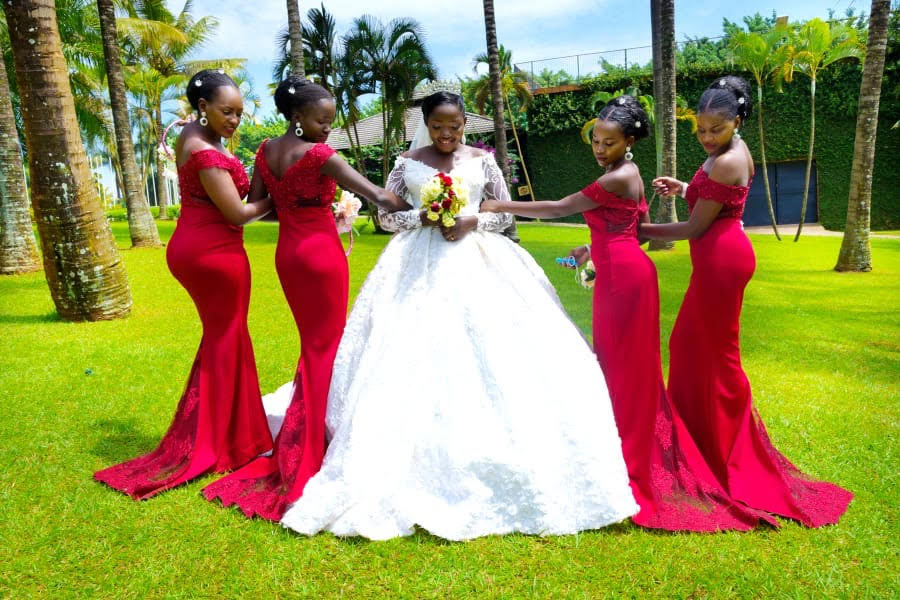 Esther looked amazing in a white ballroom gown that she accessorized with a princess tiara and elbow-length veil. The bridesmaids complimented her well in their red dresses giving the ceremony a sparkle of brightness.
She later changed into a light purple evening gown embedded with pearls and different patterns as her bridesmaids too changed into short peach dresses.
Daniel on the other hand wore a black and purple tuxedo with a white T-shirt and a red bow tie matching some flowers from Esther's bouquet. He later changed into a black and white African attire for their reception.
How many people were part of your entourage?
Esther: 11 people. Two peg boys, three flower girls, four maids, the matron and the best man.
Did you have a honeymoon?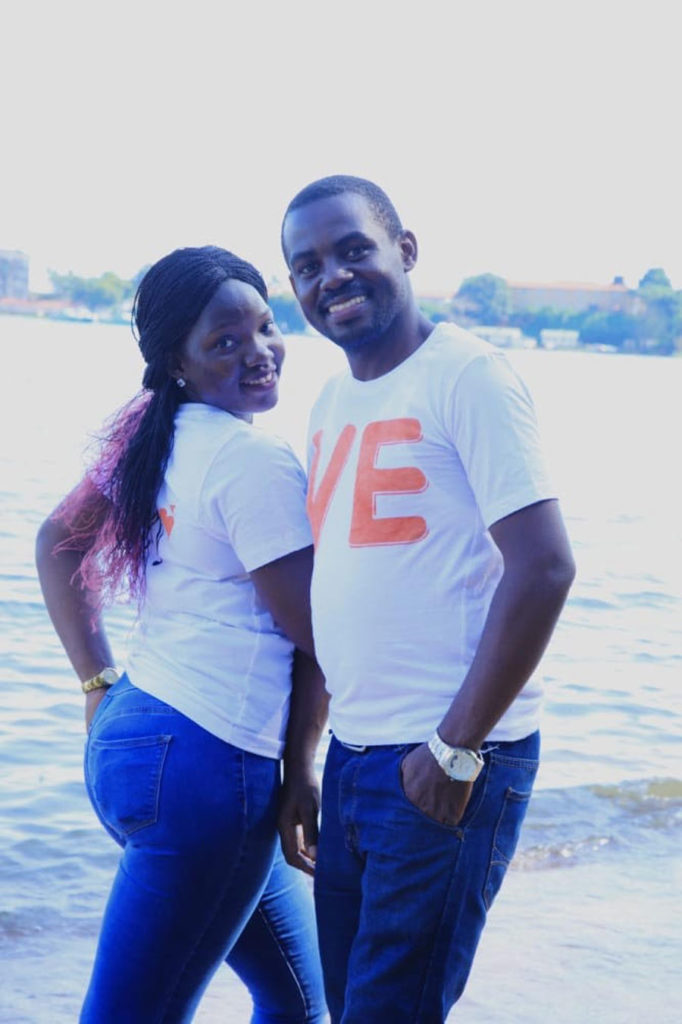 Esther: Yes, we stayed in the hotel for about two days and later proceeded to Kalangala and spent there over a week touring and having fun with each other.
Did you have any regrets about your big day?
Esther: The only regret I have is about décor, the service provider didn't reach my expectations. Also the Deejay arrived quite late but everything later turned out for the best.
Daniel: No regrets at all, it was indeed God's perfect timing. I am blessed to have her as my sweetheart. Indeed love is a good thing.
The couple had very effective planning and the ceremony ended without them having any kind of debt so they enjoyed their ceremony and honeymoon happily and in peace.