By Zadock Amanyisa
Mr Zion Nkwasibwe, a staff member at National Water and Sewerage Corporation and Mrs Joselyn Ketiinisa Nkwasibwe, a school teacher at Bweranyangi Girls Secondary School met as students at Nyabubaare Secondary School, Bushenyi in 2011.
"We met about 10 years ago at school. I was a bit older than her. Initially, we were just friends but our relationship until university and later when we started working," says Nkwasibwe
 Becoming close
Nkwasibwe happened to have friends in his inner circle, who came from the same locality with Ketiinisa. This partly facilitated their friendship to grow as Nkwasibwe's friends kept talking about Ketiinisa and making recommendations that she was a good fit for him.  Nkwasibwe also saw qualities in her that he wanted from a wife, "I always looked at someone's character and composition. Joselyn is very humble. She is receptive, warmhearted, and cool," he states.
For Ketiinisa, they became so close after getting into the working world as they would meet at friends' parties and talk extensively.
"Towards the end of 2017, we were at a friend's party and he revealed that he wanted us to take our friendship to the next level. I thought he was joking and didn't take him seriously," she says.
Marriage proposal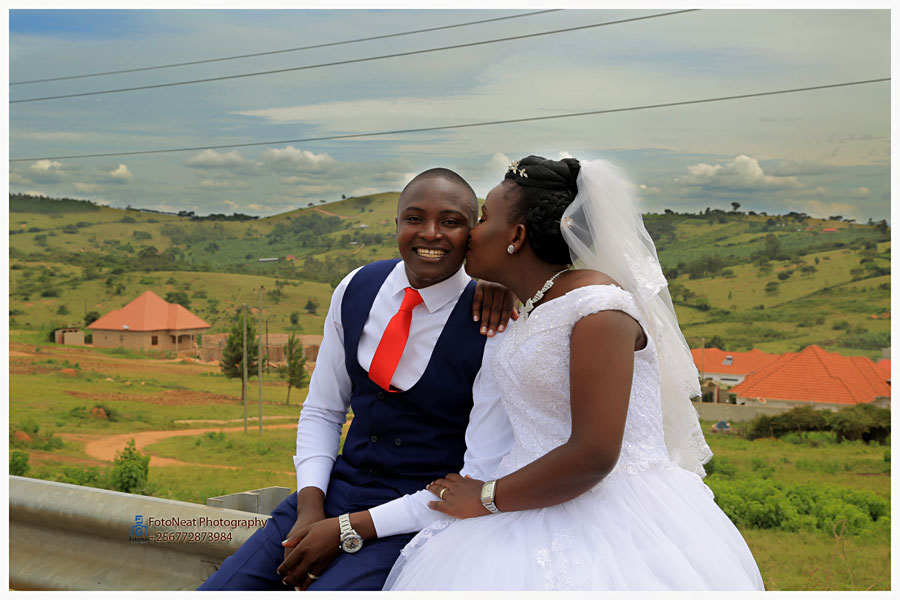 As was their habit meeting at friend's functions, in 2019, Nkwasibwe submitted his marriage proposal again when they were at another party. Still, Ketiinisa never took it seriously because she wanted them to stay platonic friends.
" However, after the function, I went home and kept thinking about his proposal. Since that moment, I could no longer keep in denial. All channels of communication opened up. We would text day and night, send about 50 text messages and I thought I had no reason to turn down his proposal. So, I accepted to be his wife because I had also been searching and praying to God for a good husband.
Throughout 2019, Nkwasibwe worked hard to convince his friend and assure her that he was serious about her. This would see Nkwasibwe visiting Ketiinisa's parents to begin the process of formalizing their relationship.
"I displayed my seriousness about making her my wife. Then in December, I went and visited her parents, talked to them about our intentions and from there, everything unfolded and thereafter we started arranging for our wedding which we wanted to be in 2020," he states.
Wedding preparations
The couple had planned to host 300 people but they only had 29 due to the COVID-19 outbreak.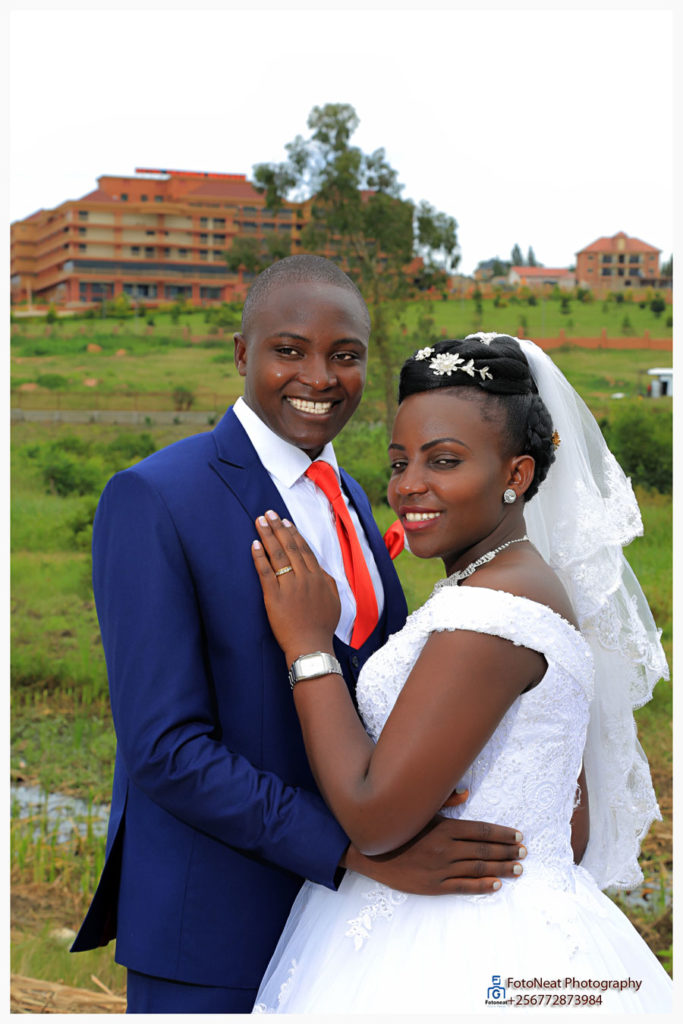 The Nkwasibwe's were wedded at All Saints Greater Mbarara Church of Uganda on 16th May 2020. The priest, Rev Canon Godfrey Bejuura officiated the wedding and also did the singing. The Reverend and his assistant formed the choir.
"He would announce the hymn and start it. I enjoyed this!" he reminisces with laughter.
"I enjoyed seeing my husband put a ring on my finger. He maintained close eye contact with me. That was wonderful. I also enjoyed the sermon of the day, which appealed to us to always put God first in whatever we are doing. At the reception, I was happy to see our guests and parents present. I also liked the speeches and pieces of advice from our guests at Grand Villa Suites, Kakiika in the outskirts of Mbarara," Ketiinisa recalls.
The couple was, however, frustrated by one of the service providers, who did not deliver the bride's bouquet. They ended up improvising with another.
Mixed feelings
Throughout the day, Nkwasibwe says he felt a sense of achievement, accomplishment and maturity immediately after they exchanged vows, and they were pronounced wife and husband.
His mind was at the same time thinking about colleagues who did not attend the function due to COVID-19 restrictions.
Kekitiinisa says it was a moment for her to thank God for the achievement, though her gratitude would later be disturbed by the fact that some people could not make it to their wedding.
"I was thanking God for the day. I was also thinking about my relatives and colleagues that had missed the function. When we were going to Church, most of them were sending me messages expressing their dissatisfaction with what was happening," she says.
The couple did not go to the salon because they were locked. A salon lady was however invited to come home and worked on the bride.
They did not have groomsmen because the law could not allow them.
"We only had the matron and best man. Our cake was made by Siima Decorations in Mbarara. The cake was not very special, but it was delicious. We were at least not disappointed with the service provided," says Kekitiinisa.
"Our budget was also sufficient because the function was modest. We had enough resources to facilitate it. We spent about six million on the party. We only spent extensively on transport.  Our rings were not so special and expensive. We bought them in Bushenyi town," NKwasibwe adds
Because the wedding was scientific in nature, the couple invited twenty-five people and twenty-four turned up. The reception was attended by 29 people including service providers.
Honeymoon at home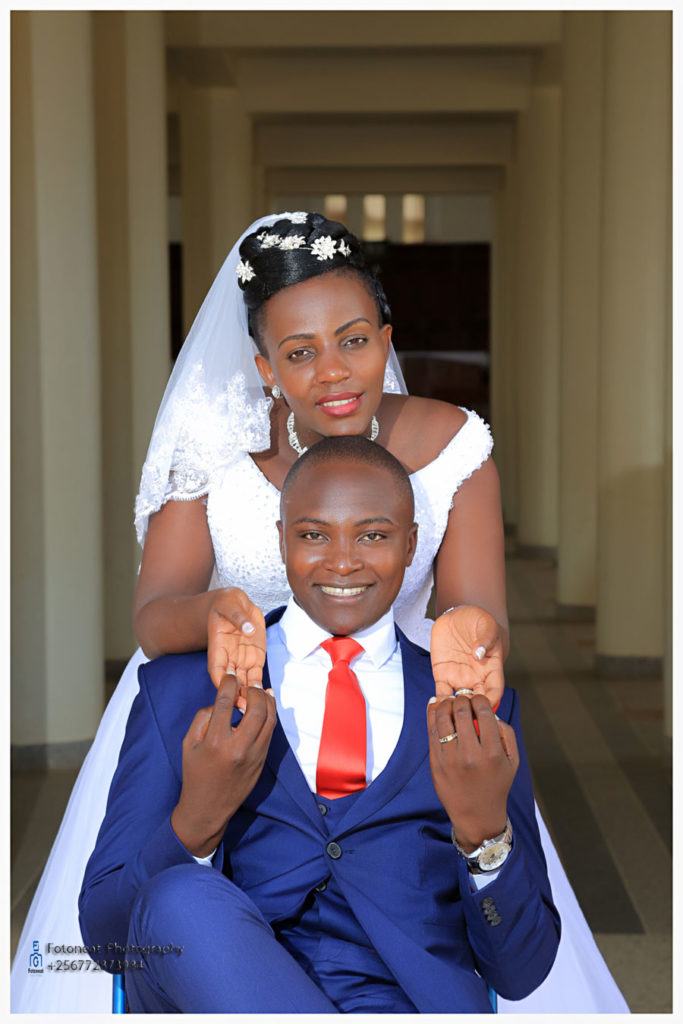 After the wedding, the couple could not go on a honeymoon because of limited movement. Instead, they went back home and spent more time with themselves. Had it not been COVID lockdown, they would have gone for the honeymoon because they had put it into the budget.
Honeymoon at home
The couple does not regret missing the honeymoon, although they would have gone for it if there was an opportunity.
"I don't regret anything because honeymoon means having time together. The only thing we missed I think is a change of place, but we kept home and did everything that we would have done in a different place," Ketiinisa notes.
Advice to newly married couples
 Nkwasibwe: Newly marrieds should be flexible since there are lots of differences between two people coming together. You have to make many adjustments. There are many expectations, but they will not be met because you are different. Some people get easily disappointed and feel like moving out, but I think it is about adjusting and knowing that you are a human being.
Ketiinisa: I advise them to put God first in everything they do because they cannot do much without God.