Godfrey Lugaaju
Donath Eswilu and Lillian Namirimo met in 2012 at work in Kamwenge District where they became friends. Donath was the deputy chief administrative officer (DCAO) while Lillian was a consultant at World Vision.
Two years later, they grew fond of each other and Donath popped the question.
"I lied to her that I was taking her for a tea date but when we got there, I ordered for a Smirnoff Ice to gain courage to propose to her," Donath recalls.
He says Lilian is a home girl but he had to convince her to go for evening tea and to his surprise, Lillian said 'Yes' without hesitation, something he could not believe.
"Donath took me for evening tea and proposed to me after two years and I said 'yes' immediately. What attracted me to him is that he is kindhearted, patient and loving," Lillian explains.
They held their kukyala on July 18, 2020 at the home of Lilian's Senga in Wakiso District and later their introduction on September 26, 2020 in Lillian's home village, in Kitanga, Masaka District.
Wedding
Lillian says she had waited for long and the wedding came at a time when they least expected it. Donath explains that they planned for a simple wedding because they had to solve some issues but needed approval which happened a week prior to the wedding day.
"Lilian surprised me with a message of approval from the bishop, a week to our wedding day. I had to ensure that her dream of Holy Matrimony was fulfilled, so we drew a small budget for our memorable day," Donath shares.
"We drew a budget of not more than Shs10m, planned for our entourage of 15 people and 40 guests."
He came from his workplace in West Nile on a Tuesday and reached Masaka the following day. They had to go through rehearsals and premarital counselling sessions on Thursday and Friday at St Jude Parish Bukoto in Masaka Diocese.
"The parish gave me accommodation from Wednesday to Saturday to enable me to prepare for the wedding. My wife had to do much of the stuff and all preparations to make our day memorable," he recollects.
The entourage comprised the bride and groom, best man, maid of honour, four bridesmaids, five male groomsmen, a page boy and flower girl.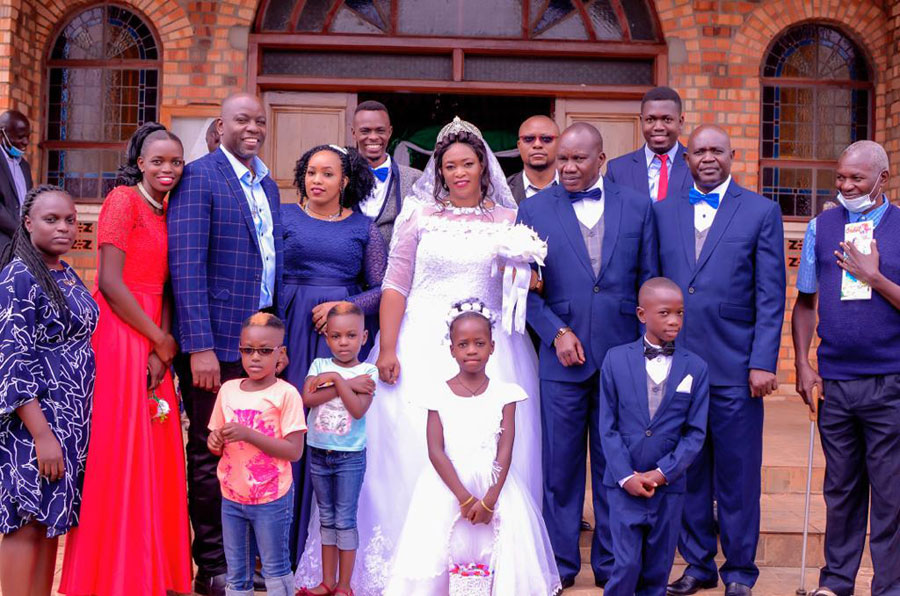 Best Moments 
For Lillian, the moment they said 'I do' and the priest declared them 'husband and wife' was the most memorable part of the wedding.
"We neither had a pre-wedding photo-shoot nor a honeymoon immediately after the wedding because of our busy work schedules. We, however, plan to have our honeymoon in July," she says.
Lillian wore a Cinderella gown to church and later changed into a snow-white gown. She settled for white outfits because Holy Matrimony symbolises a new beginning in her Roman Catholic faith and she felt pure and holy.
"For other services, Shiva Confectioneries baked the cake at Shs1m while Frena Events Management did our décor and they made for me personalised wine and water," she recalls.
Donath says his most memorable moment was when the priest declared Lilian as his wife.
Bottom line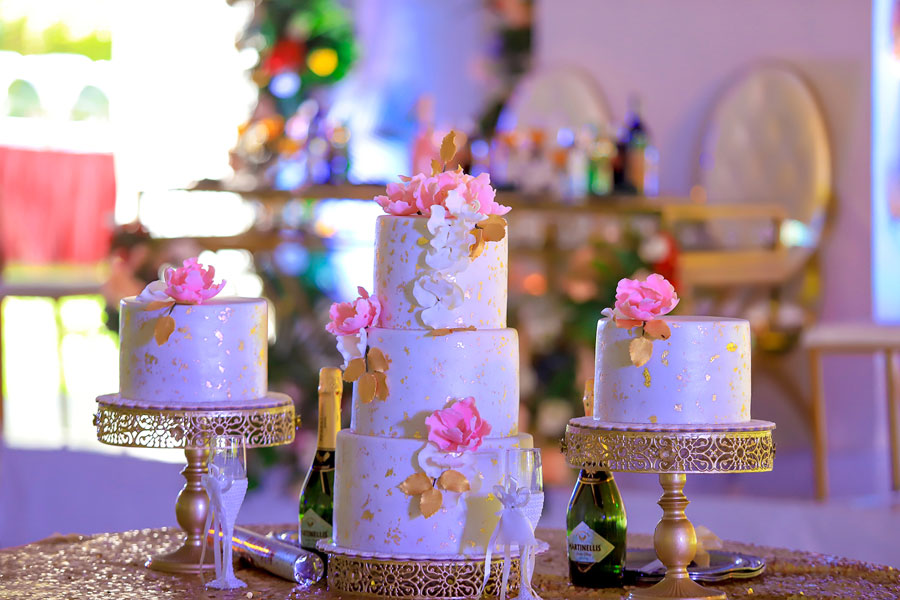 Donath says he is grateful to his siblings and friends for their time and effort that enabled him to have a successful wedding.
He says his uncle John Ejuu Eswilu, friends Sharia, Willis, Kenneth, Mukalazi Ssalongo, Felix Esoku, Jomo and Bernard Ejuu and best man Amos Obokor also helped him a lot to pull off the wedding.
"Our wedding was simple and classy. I thank Lilian for the effort she made to make our day wonderful. When she called me about our approval by the bishop to wed on February 13, I didn't have any money yet she had to book service providers," Donath relates.
The two did not hold any wedding meetings because they could ably manage to finance their wedding.
"Marriage is a wonderful institution and it is an amazing journey finding a stranger, becoming friends and ending up as a family. I advise those intending to marry to get partners they understand. Take time to know each other and pray," Lilian advises.
Quick notes
Groom: Donath Eswilu
Bride: Lillian Namirimo
Venue: Evergreen Gardens, Masaka
Suit: Kizito and Cate Designers, Masaka
Gown: Hajat Sarah Bridal Centre Shs3m, Shs1.5m changing gown
Rings: Shs1.5m
Photography: Paddy Skills
Guests: 60
Decor: Frena Events
Budget: Shs10m