By Claire Balungi
Oceans apart, Christian Wamambe and Joanne Mwebaze tried to make their relationship work. At some point, they had to lose hold, as the long distance couldn't negotiate with their feelings. It is during that relationship break however that they got together once again and talked marriage. This came to life 2021. Mrs Wamambe tells their story…
How did you meet?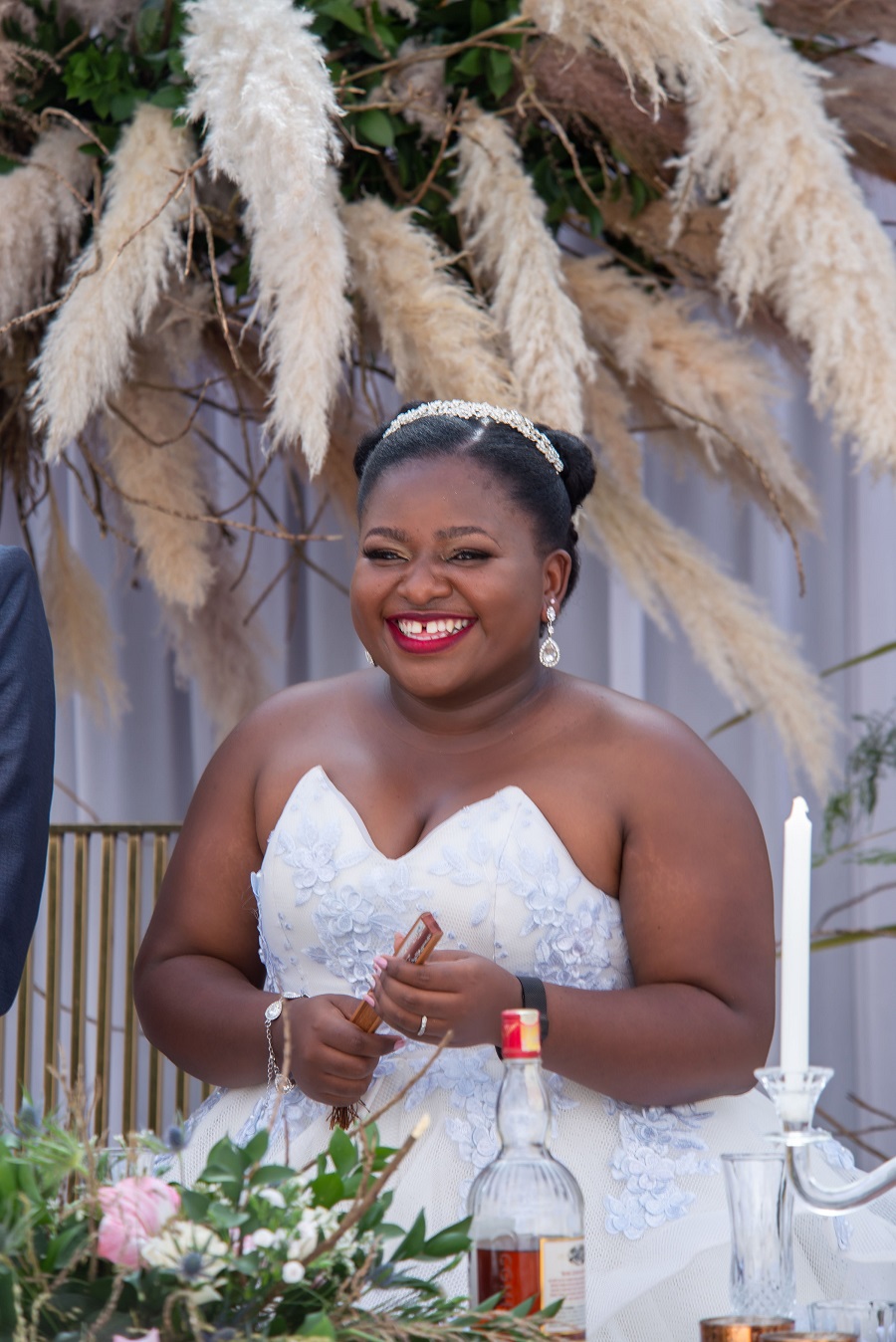 While at Mt St Mary's Namagunga, I had gone home for a doctor's appointment in the middle of the term when I met Christian at my friend's place. He'd also come home from school as he had broken his leg playing rugby. That was 2009, I was in Form 3 and he was in Form 5 at St Mary's College Kisubi. He is a cousin to my friend.
Anything significant you did as friends that would eventually lead to your dating?
After our initial meeting, we never used to talk to each other, even if we would be in the same house during holidays. We went out a few times but it was with the rest of his cousins.
We started talking in my Form 6 vacation, that was late 2012- early 2013. Since then, we've talked every single day even if one's phone gets lost or stolen. In 2013, I went to China for school. The only time we would not talk is when I would be on a flight. We had our first one on one date in 2014 when we started dating.
How did you start dating?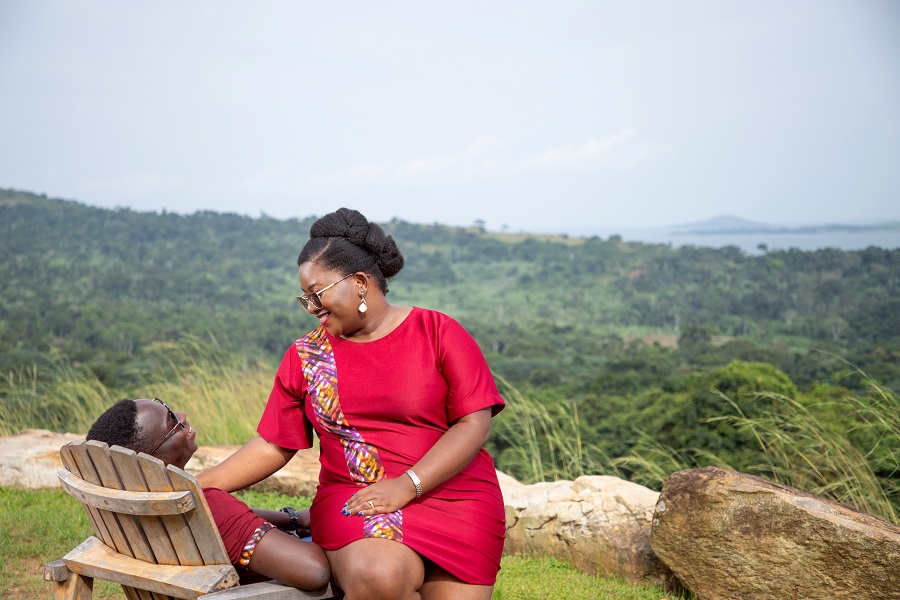 It was just a question of what we were up to with the friendship; one of those things you casually hint at in a conversation and then you're like, oh cool alright then, so we are dating now… It wasn't a whole big thing.
We took a break in 2015, long distance wasn't it… but we'd still talk and hang out every summer holiday. Christian and I decided that we'd revisit the relationship when I returned to Uganda permanently in 2017 after school, so that if we were still up for it, we would pick up where we'd left off. If we were not into it anymore, we'd move on.
While you were on a break, did you see other people?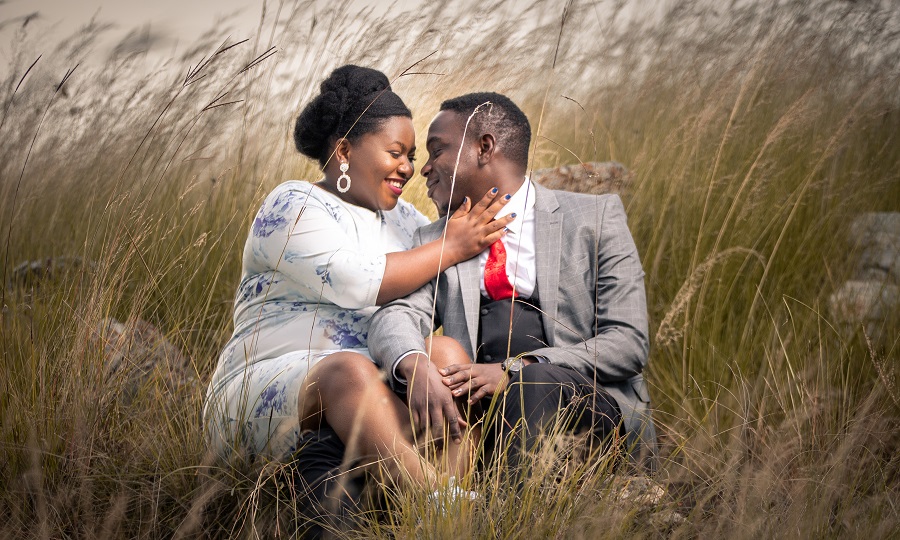 Yes, we did but it was very short-lived and not serious dating. The point wasn't to see if we could be serious with other people, long distance was just too heavy on us at that time.
If you had to do long-distance over again in your marriage, are you certain it would work for you?
I think now, it would. It was harder then because we had never spent much time together in one place. Now that we are even married, it has to work.
The Proposal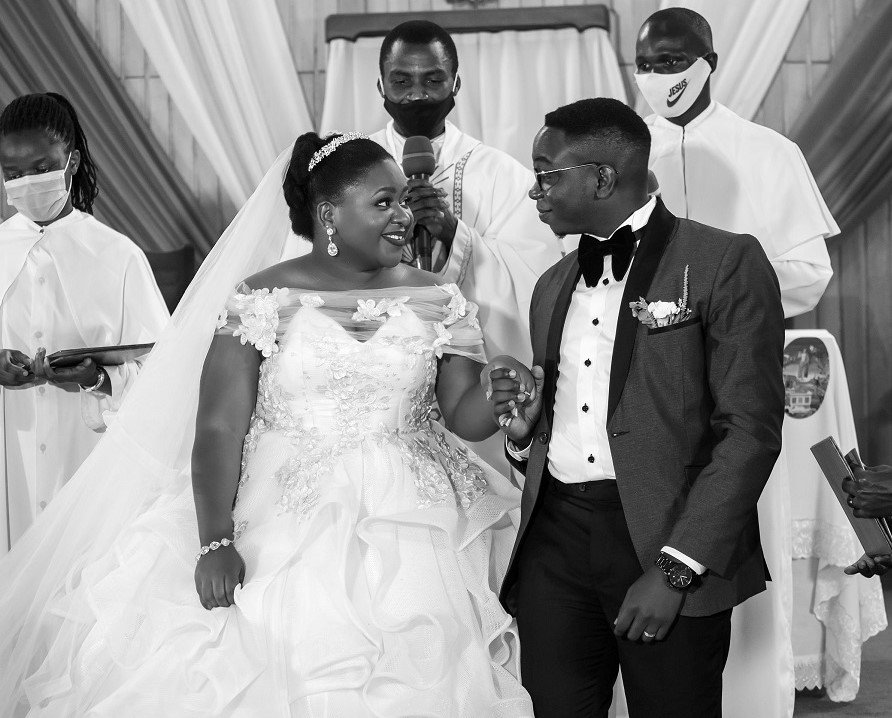 Christian had asked me when I thought it would be appropriate for him to propose. I told him he could propose any time between his first visit to my father's and the kuhingira (introduction ceremony). I didn't want him to come meet my father and God forbid, it doesn't go well yet he's already proposed.
I was clear about how I wanted my proposal to be; not in a public place, no spectators making noise in the background, no people standing around with placards of 'Will you marry me', everybody just dressed the way they wanted. That sort of thing really plays with my mind.
He wasn't going to ambush me while I was wearing some random clothes and shoes, No. I would be dressed up, my hair and nails done, and with an actual photographer. I didn't want random phone pictures.
Are you saying it's possible that he could have gone to see your father and then you'd go ahead and say no to his marriage proposal?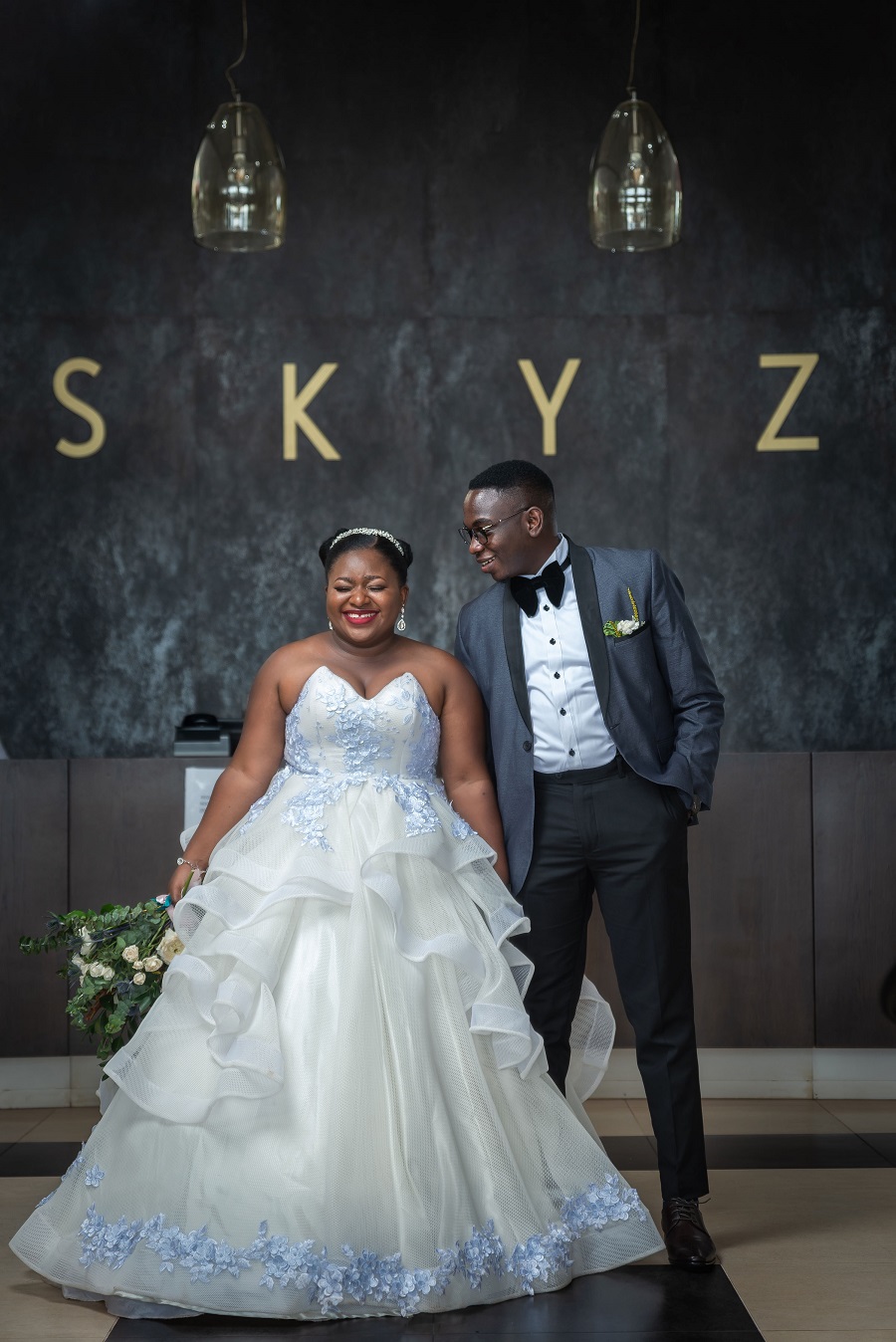 I didn't want to be proposed to when my father hadn't yet met the guy I was going to get married to. On November 8, 2020, Christian met my father, it went well and a fortnight later, he proposed. We went to Hotel Number 5 in Entebbe. A close friend of mine who does décor and owns a company called Vegas Events helped him with the décor and the lay-out. She put things she knew I would like. I was so happy I didn't have spectators screaming or people holding placards. It was beautiful, private and perfect.
What do you love the most about Christian?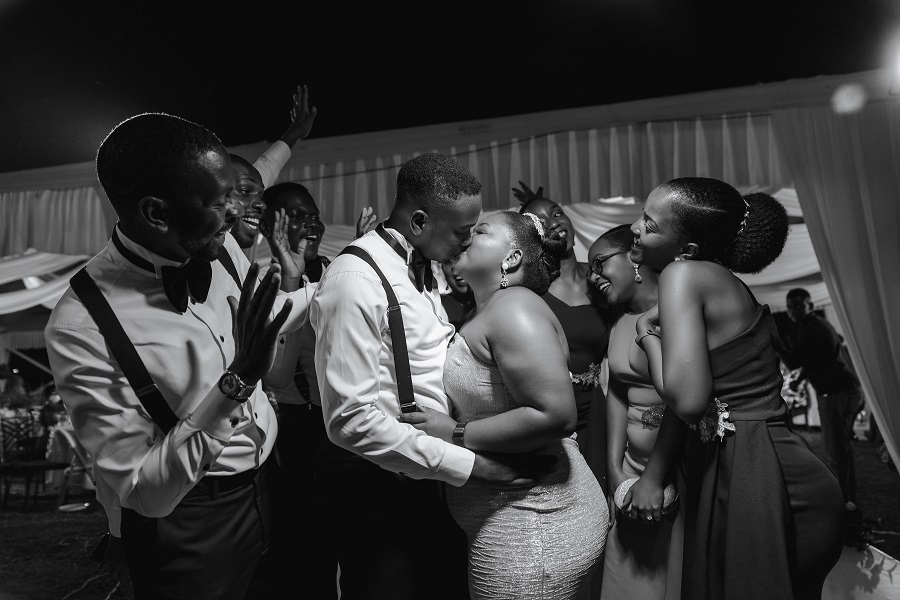 He makes me laugh, and he makes me more patient. At our wedding, a close friend of mine said that I was a very patient person but somehow with Christian, I had the most patience in the world. He'll make me laugh and drive me crazy in the same race, but somehow I would still choose him.
Let's talk about your wedding. How were the preparations leading up to your special day?
In 2015, while we were on a break meanwhile, that summer holiday we went for live band and had a conversation about when we would each want to get married. Christian wanted to get married in 2023 and I, in 2018. We found a middle ground which was 2021. Ever since 2015, I've known that if at all the cards played out and indicated that I'd be getting married to Christian, I would get married in 2021.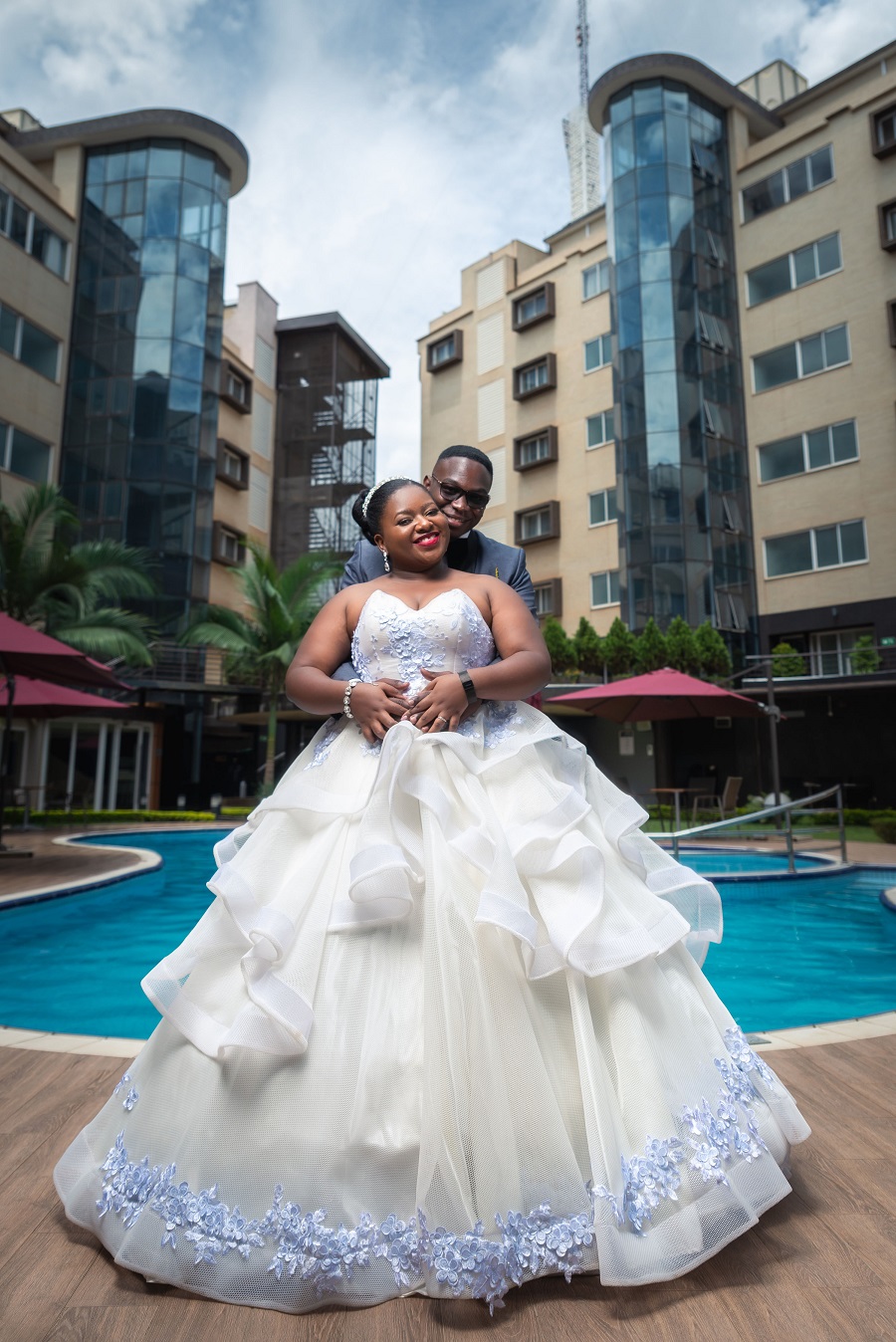 I found my gown in 2018; I saw it on a WhatsApp status and on Pinterest. I had a whole board on Pinterest of different wedding gown options but that one stuck. But It wasn't in Uganda bridal shops. It was tailor-made by Grace of Eloi Graiza of Fashion House.
My entrance song in church was "Beautiful in White" by Westlife. Christian sent it to me when I was still in China. I told him that was going to be my entrance song on the wedding, it was.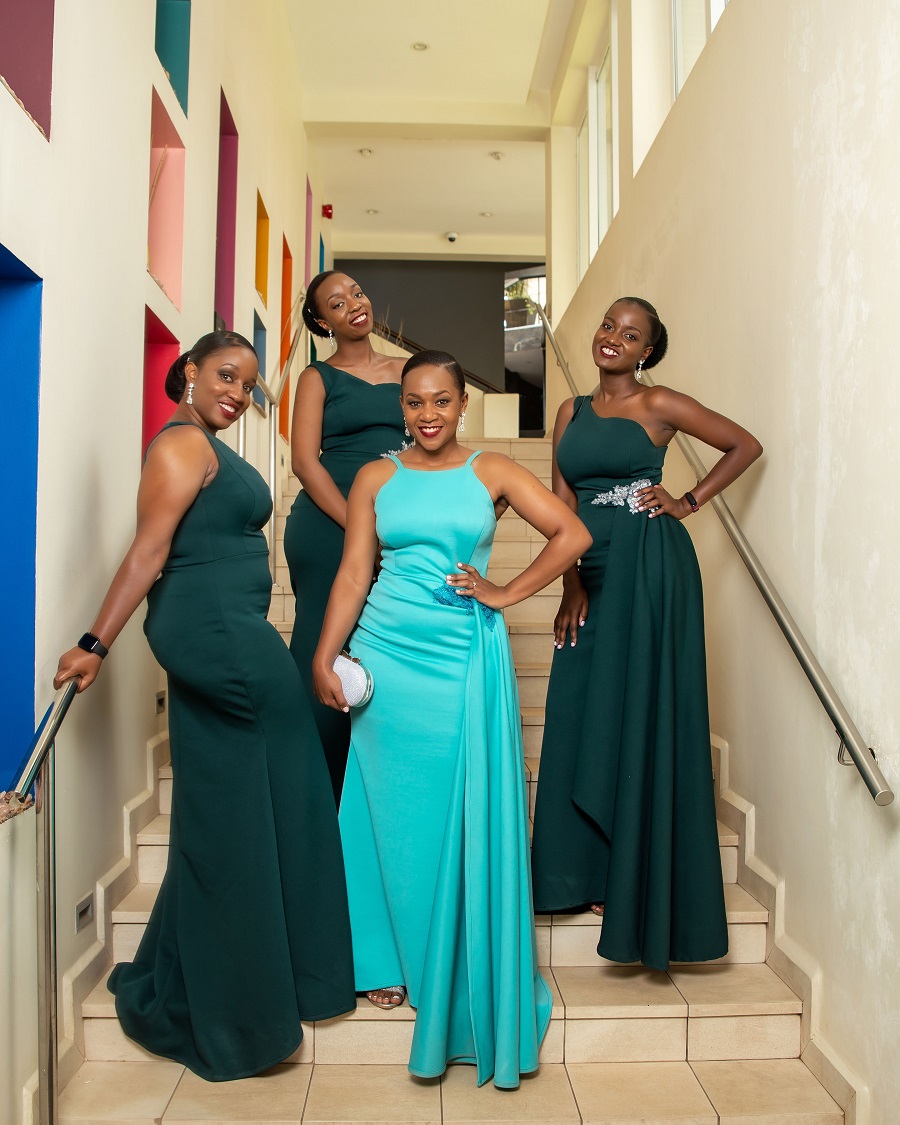 I'm a planner and Christian is very organized so planning wasn't hectic. I had been collecting different things I wanted to include in my wedding prep. By mid-Jan, we had finalized with all service providers. I also have amazing friends I could trust with an element and know that that was covered. I was truly my own wedding planner. I had everything in a folder in my Google docs, the receipts… everything.
Now, here we are. We got married on April 10, 2021.
Where did you say your vows from?
 St Augustine Chapel, Makerere.
What was your favourite church moment?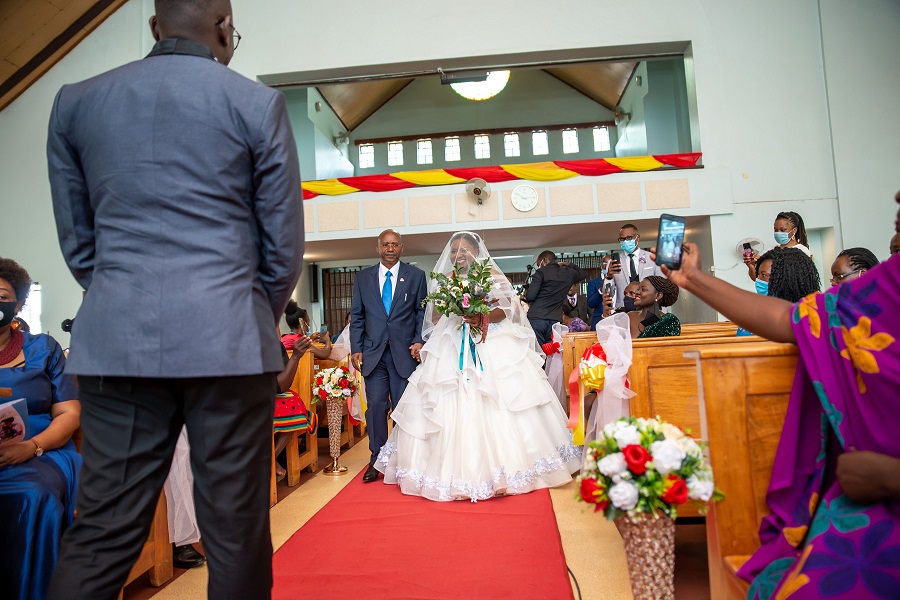 Walking down the aisle. I did not have anxiety. My brother played the violin alongside my entrance song. Father Denis Wanimba, at the start of his homily, asked that it be played all-over. My father and I kept making jokes, cautioning him about taking care not to step on my gown so we would all trip and fall. Moreover, he'd worn a blue tie and my favourite colour is royal blue. Also, Christian said something to me in church and I laughed hard. I could feel my mother judging me from behind my head.
What did it feel like seeing Christian for the first time at church?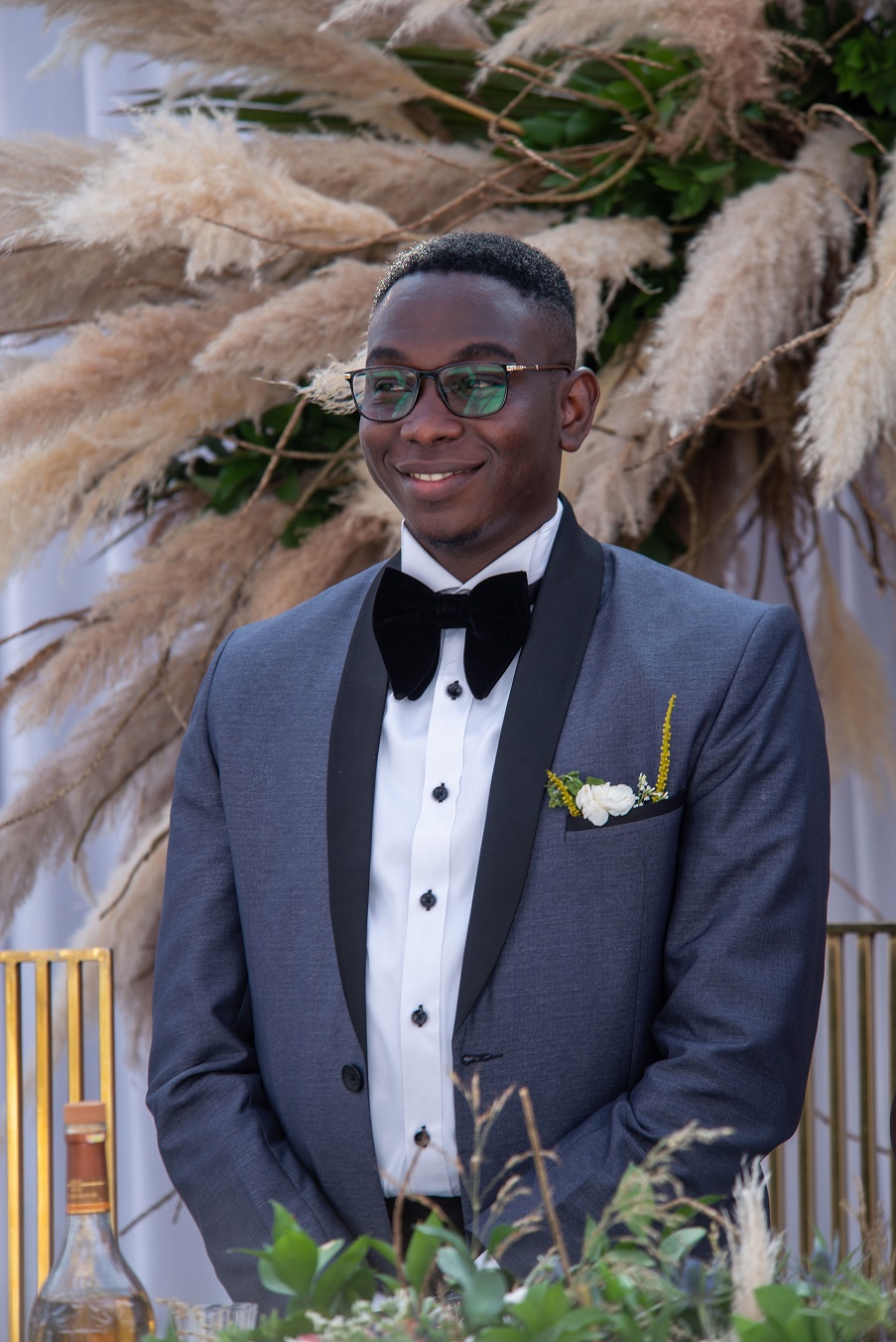 Exciting! I saw him when he got out of the car to walk to church. We'd chosen his suit off Pinterest and I had not seen him in it. When I saw him, I was like, oouuhh I like his suit, oouhh the bowtie, the haircut hahaha, I was just making noise in the car for my maid of honour. In church, I met and I thought, 'Finally we are here, and everything makes sense!'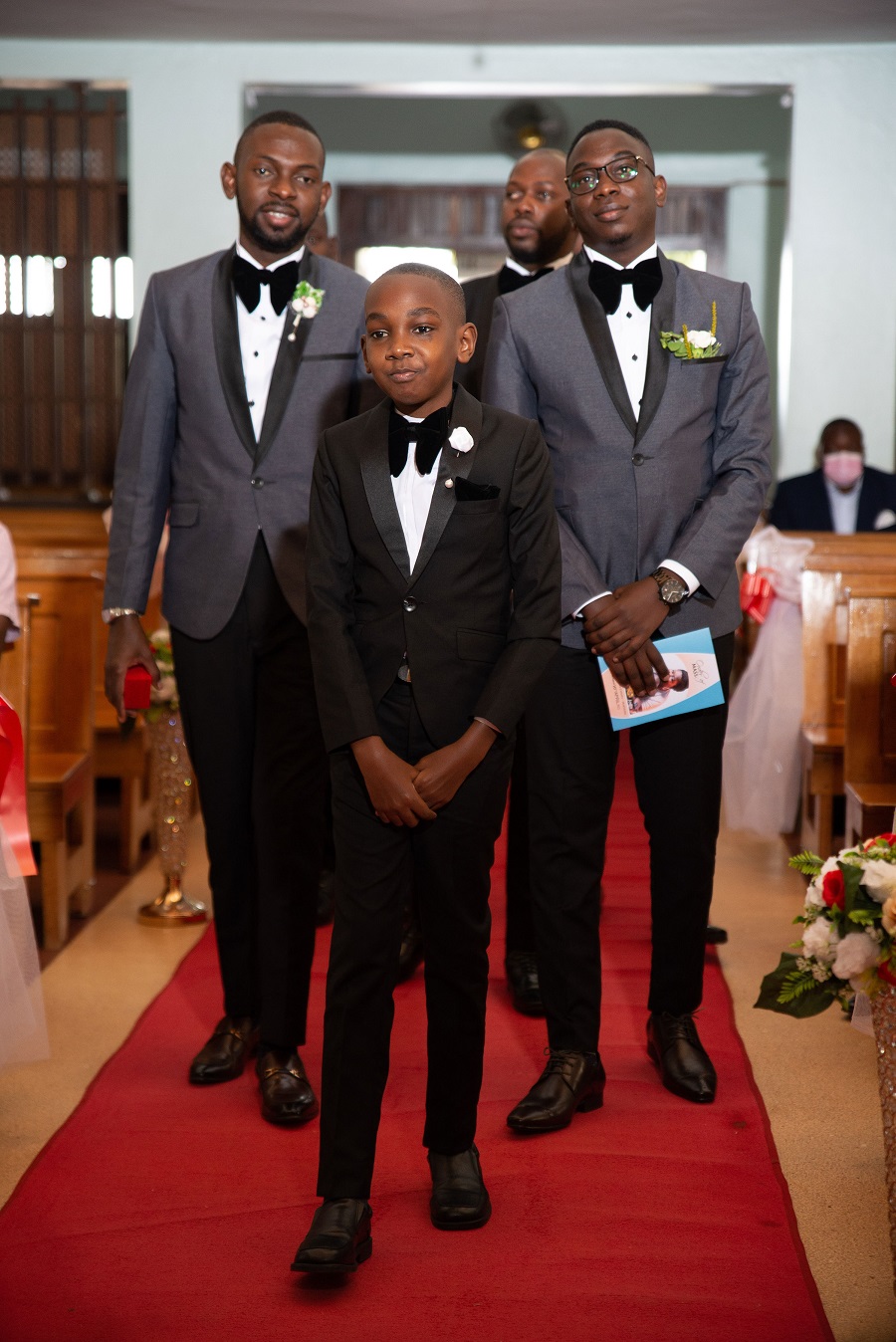 Where was your reception?
 At Ndere Centre; we had planned for about 250 guests but we had about 300 to 400. We had the space, extra seats and Ndere people were so lovely. They managed to give us food for the extra people that came in.
What was your highlight at the wedding reception?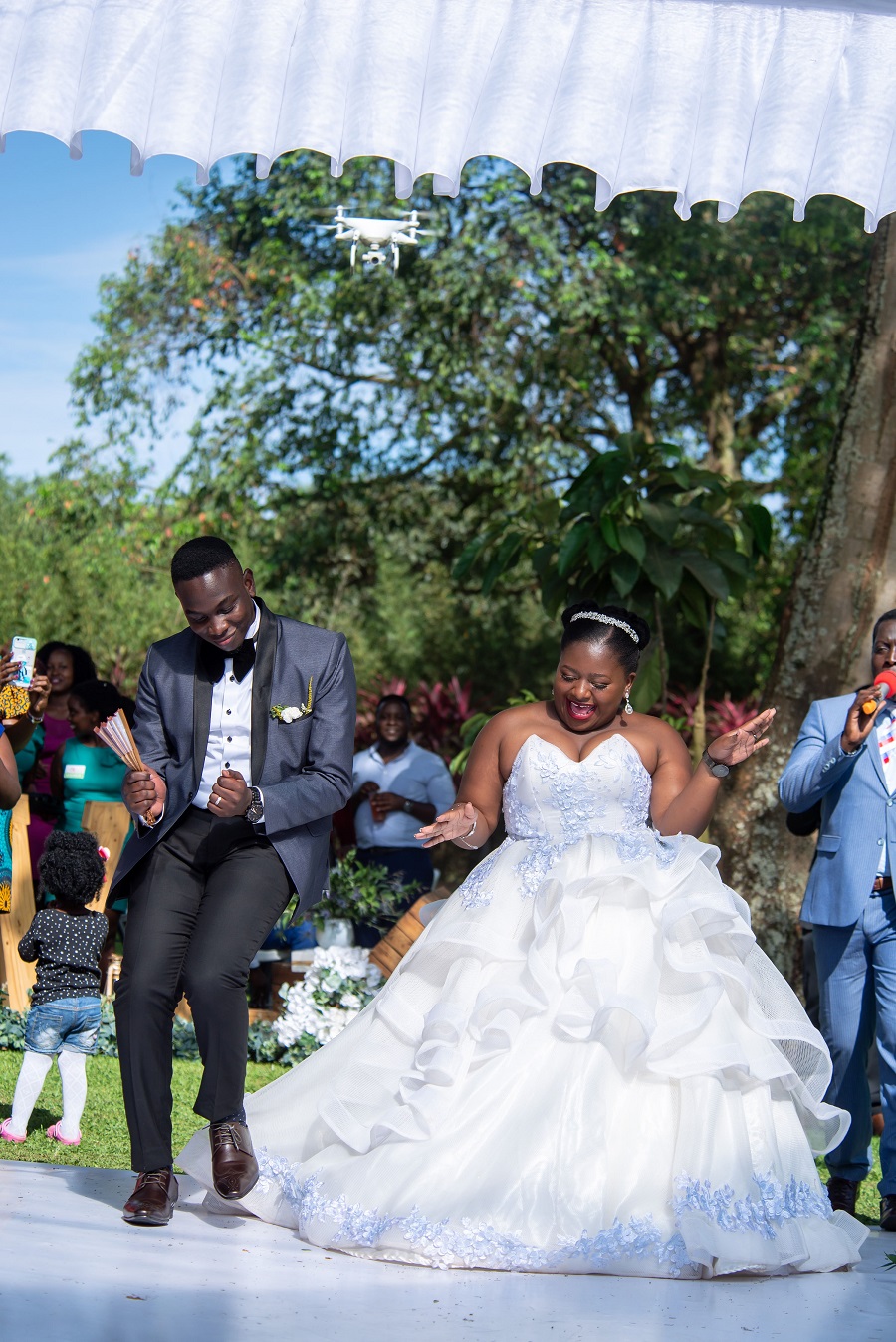 Dancing. Of everything, that was what I really needed to enjoy. My goodness we danced! For specific moments, we selected our own songs.
My next best thing was my friend's speech. In Namagunga, we had a hymn we used to sing called the Franciscan Blessing. My friends sang it at the end of their speech, for me that was amazing.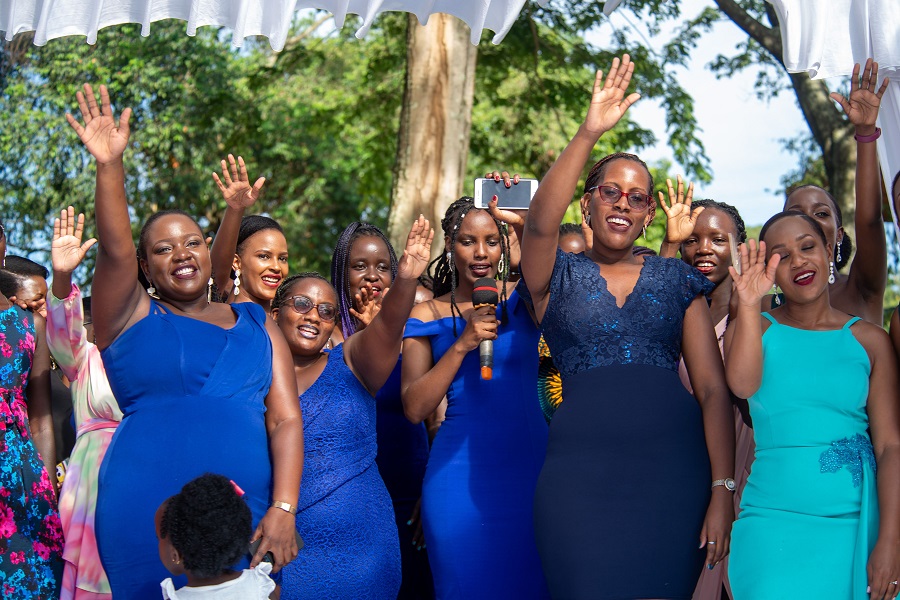 Also, my very close girlfriends wore my favourite colour, royal blue. It was either a dress or shoes or something… I was so excited.
Any moment that could have brought you to tears?
I did not shed a single tear on my wedding day. I did get frustrated early in the morning but I didn't cry. It was just for a couple of minutes. It was about a delay in getting some part of my gown to arrive. Once I was fully dressed, my happy vibes returned and I was like, Let's Go!
How was your first day as a married woman?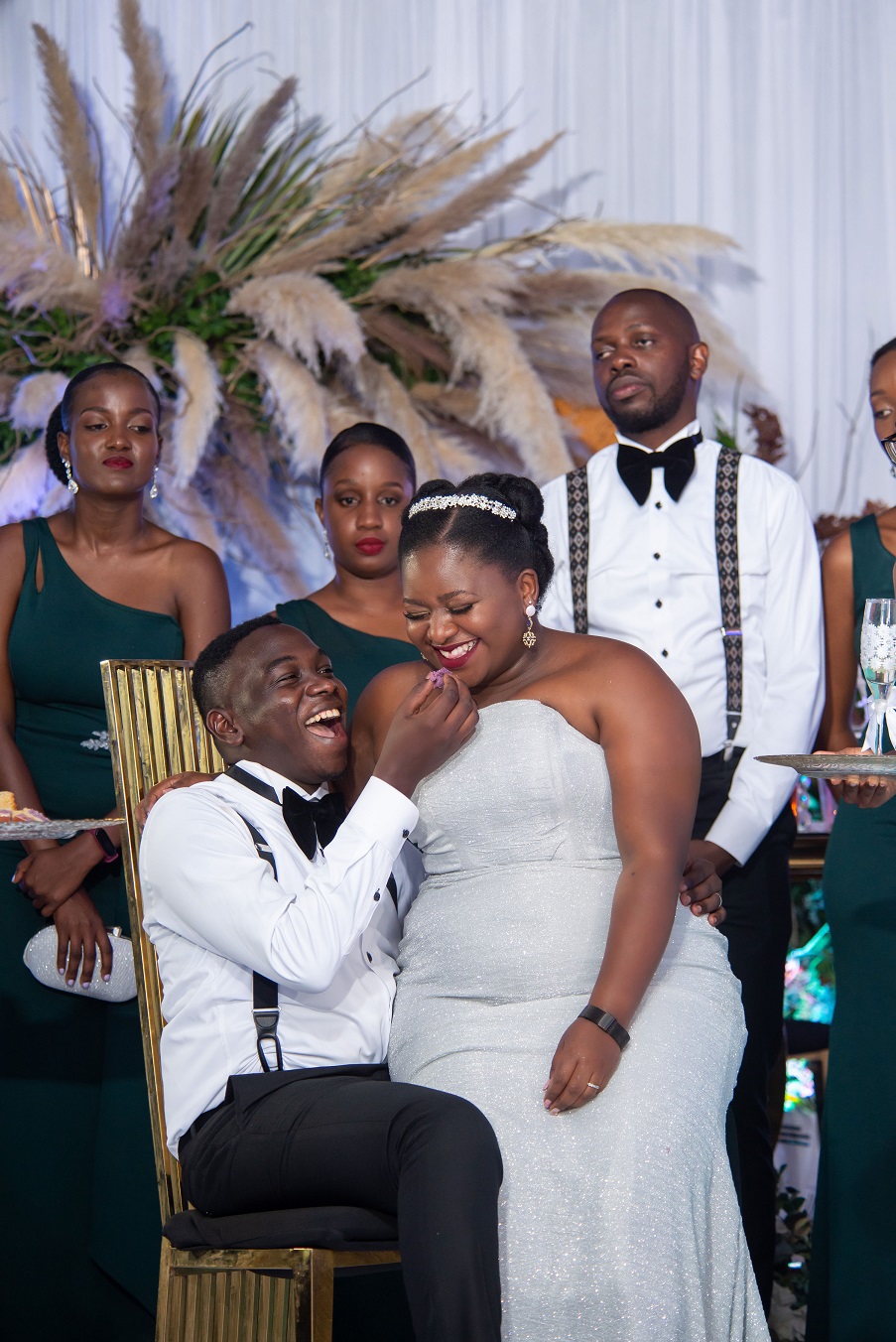 My first day was really cool, it was a Sunday. The morning was just for us to wake up and be like, 'Oh my God, can you believe we just got married yesterday… how much fun we had!' We were just excited because the next day we were going for our honeymoon at Mnana beach in Zanzibar.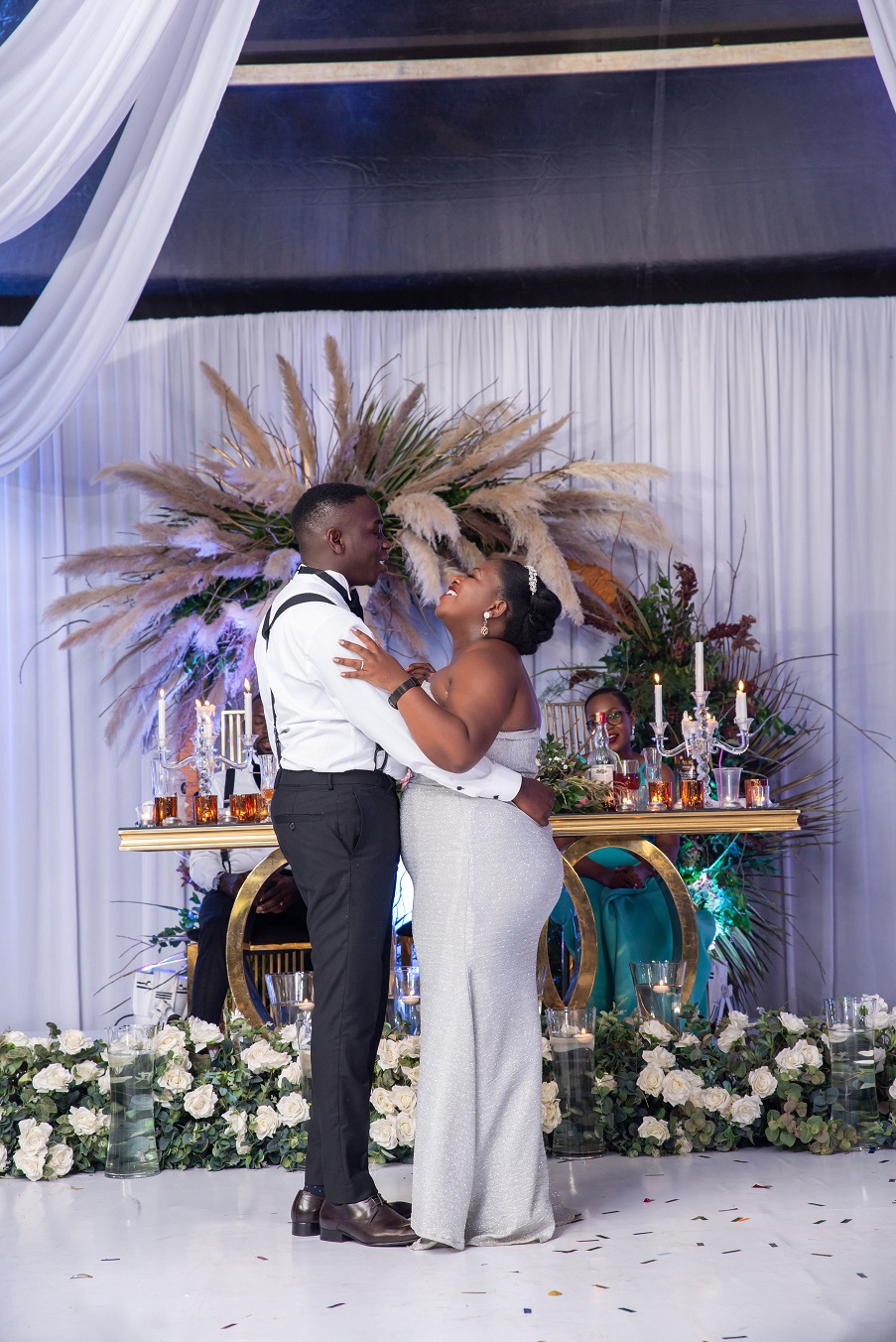 My Wedding congratulate Mr and Mrs Wamambe.