By Claire Balungi
The woman thought her man had both legs functioning well, only to find out, after saying their wedding vows, that all legs had been amputated. However, this did not stop her from loving him.
Rwandan couple, Deborah Muteteri (Also called Borah) and Jean De Dieu Ndayisenga were in a relationship since 2018. They'd met at a singing competition where the man, Jean was singing and Borah had been part of the audience. He had discovered this singing talent after he finished high school, and the first song he had written was about Persons With Disability (PWD's).
"We met when I was in a competition. "From the stage, she congratulated me. We talked but I could see she was curious with lots of questions. She asked, "Don't you feel pain when you stand with crutches and sing? I told her, one has to persevere." recalls Jean.
From there, they shared contacts and later became friends. After 5 months of communication, Jean fell in love with Borah.
When he wanted to propose to Borah, he was afraid of telling her that he had no legs. He feared rejection as he had been told that he'd have to get himself a disabled partner.
Jean says, "She knew I had both legs and thought it was a normal injury, for I had never shown her my legs. As time went by, it started to become a difficult puzzle to me. She knew me and we had been in love for long. I thought of getting married to her as she had always been there for me but I feared to show her how I was. I thought she would leave me," tells Jean.
Borah had thought Jean had an accident and the injury wasn't going to last. To the wedding day, she never knew that he was amputated. They had promised to stay pure until marriage.
The couple legally got married, traditionally and in church. They had a wonderful wedding with happy friends and family in attendance. It was all party and celebration.
After the wedding, the happy couple went home and the man presented a shocking surprise. Borah learnt the truth about his condition.
In a video on website Pulse. com Jean explains his history. He had lost his mother, brother, father and he feared being alone after losing all his people. He explains that he never wanted to lose a lover.
After knowing what had happened, the new bride decided to love her man and protect him more. Jean, on the other side was ready for negative feedback and thought it would end in tears, but Borah proved she loved him beyond the legs.
"After showing me who he was, it gave me a million reasons to love him more. I realized I had to do more for him to be happier than he was in his past, to make him forget his childhood and his past… those who bullied and discouraged him… I said though he had no legs, this would not stop me from loving him." revealed Borah.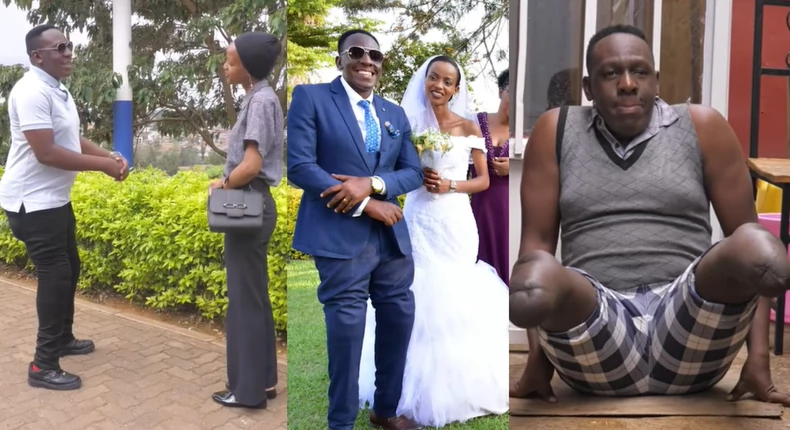 Everyone who had known about Jean's disability wondered why such a beautiful lady would choose to live with him. She received plenty of discouragement from people but she was keen and wanted to stay with him. A couple of times, she'd been told to choose a man with a lot of property but she says her feelings were always for Jean. The couple's says they are now living a happy life.
Jean had been told that Borah would abandon him after one week, but it's been over 8 months and the couple is still madly in love with each other.
Jean's disability story
Jean was born with both his legs. His family fled to Congo from Rwanda due to war causing insecurity in the region. On their return from Congo, a bomb exploded and his legs were seriously damaged and he went into a coma. Upon his wake, Jean was in a hospital bed and the last thing he remembered were the noises and the bomb explosion. He woke and found his one leg removed and they told him he had spent two months in a coma.
After multiple scans and examinations, doctors decided to amputate the second leg for fear it could have caused cancer-related problems. He was seven when he was amputated. Jean says he grew up hating doctors and often regarded them as enemies. He narrates that as a child, he could not understand why people would agree to leave him limbless.
His mother took good care of him but this was not to last as she later for pregnant and when it was time for her to give birth, she had a stillbirth. Worse still, she died a day later. "Problems had begun," reminisces Jean.
Jean remained with his father who fell sick one year later and went to rest.
He was left with his 3-year-old sister. It was difficult for the young orphans to raise themselves. Some of Jean's family members would not let him live with them because of the disability.
Jean says he'd always wanted to join other kids playing football, but when he remembered he had no legs, he grew depressed. He often questioned his existence, hated himself and even thought of committing suicide.
One day, he was taken to a Movement hospital and there, he was given the kinesiotherapy which came with prosthetic legs as the doctors saw that that's what the boy needed. It took longer for him to get used to walking in them but he finally got used to it. When he met other people with physical disabilities, the support he received restored his hope. He started to walk upright and gained a great sense of self-belief.
When he finished high school, Jean discovered a talent hidden in him. He sang so well, and that is how he met Borah.
The couple shared their story with Charity Reporters TV on YouTube.