This far they have come. From elopement to 50 years of true love and support, Appollinari Byaruhanga Karambuzi and Joveline Kabagyenyi tell Esther Bridget Nakalya about their love journey and lessons learnt.
On March 21, 1971, Appollinari Byaruhanga Karambuzi identified a young woman just outside his father's compound in Ruharo Kicwamba Village, Ishaka in Bushenyi Municipality. Joveline Kabagyenyi used to tread a path near Appollinari's home, as she went to church on Sunday.
"I was attracted to her striking figure which is still gorgeous," Appollinari reveals. "Joveline's simplicity and pleasantness," he says was an added advantage.
"Appollinari had a great sense of style which I found very attractive," she recalls. Unfortunately, Joveline's parents disapproved of Appollinari.
"I am a Muhima and he, a 'mwiru' [a Munyankole or person of other tribe] and my parents disapproved of our choice of a relationship," she confirms.It is from this ordeal that Appollinari and Joveline defied their parents.
One Sunday morning, I left home with my brother for Sunday service but I had a cold. Midway, I told my brother that I wanted to buy medicine. Meanwhile, we had only one Bible that we always fought to carry to church. So, the moment I handed the Bible to my brother, he dashed so that I would not get it back from him.
It was a deal done for me . I also rushed to meet Appollinari who was waiting at a coffee factory by the roadside in Bushenyi," Joveline recalls.
"I was excited to see her and we boarded taxis to Mbarara, where we would take another taxi to Kampala, then Entebbe where I was working as assistant meteorological officer," he interjects. However, their parents were against cohabiting, so Appollinari's parents persuaded Joveline's parents to accept their son. They asked for dowry and Appollinari paid.
The wedding
Nine months later, the couple tied the knot at Bugonga Catholic Church in Entebbe. Appollinari recalls a fairly organised event, "We invited a few friends and my workmates to witness our marriage after which we travelled to Ruharo Village in Bushenyi District for the reception."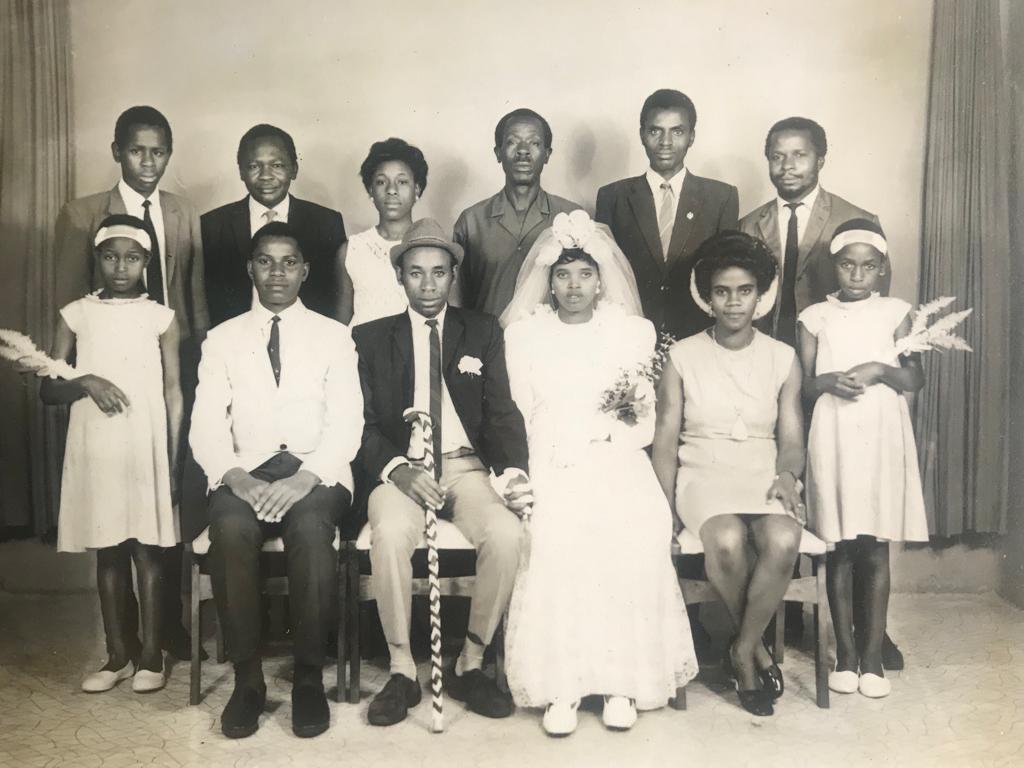 At the time of the wedding, the couple was expecting their first child which made the seven-hour journey tiring for the bride.
"My parents did not attend the wedding not because they never agreed to it but it was traditionally unacceptable to attend your daughter's wedding," she explains.
Her parents gave the couple a cow as a token on their first visit after the wedding.
The marriage
The couple reflects on a happy and long-lasting marriage that has overcome adversity. Joveline's best moment was legalising her marriage to Appollinari after an elopement.
"I felt like a well-deserved wife and I was also blessed with loving parents-in-law," she says.
All has not been rosy. At one point, the couple had to mourn Joveline's parents after which, financial crisis set in. The latter hit them harder.
"We struggled at some point to raise school fees for our children as their peers from the neighbourhood attended school," Joveline says.
They say at some point, one of their children asked, "why did you give birth to us?" The couple says most challenges have been overcome through virtues such as, "Team work, patience, empathy, love and prayers are the secrets to our lasting union," Appollinari says.
The big 50 vs original wedding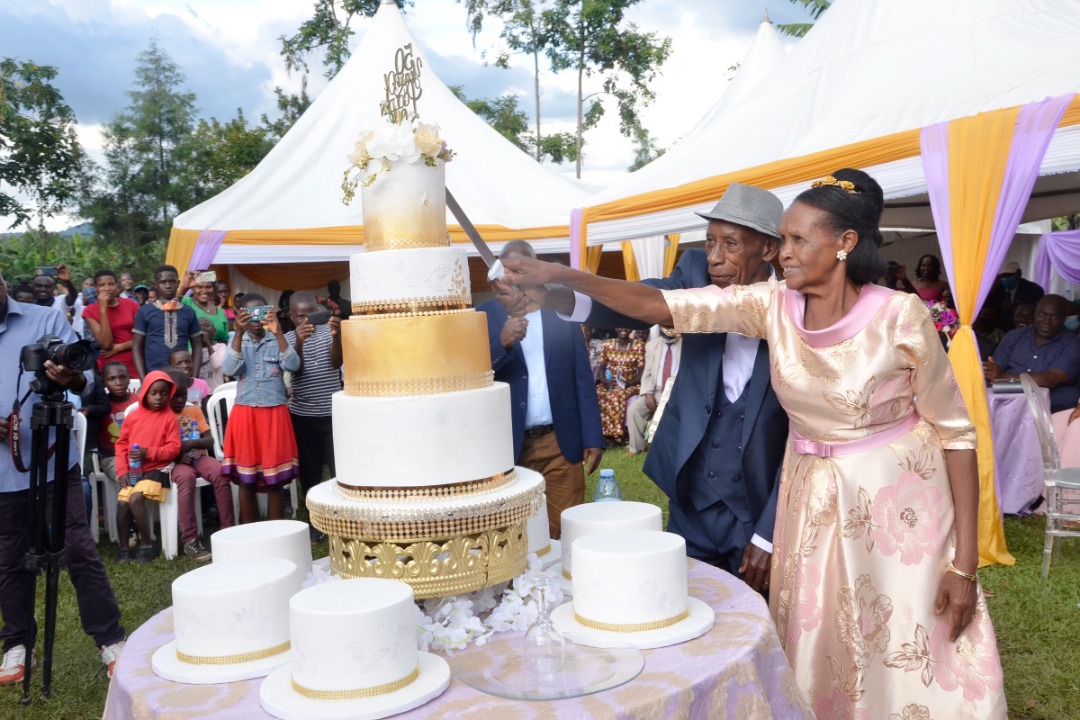 On November 28, 2021, the couple celebrated their golden jubilee. Their children organised a party for them.
"We were blessed to cut a 16-tier well-baked cake unlike at our wedding where we cut millet bread," recalls Joveline.
Unlike the banana leaves and passion fruit vine 'drapery' used as decoration at their wedding, the couple had a better done decoration for their jubilee.
"The colour theme was a blend of yellow and lilac which were embedded in the tent details and table linen," she explains.
Back in time, the couple spent about Shs11, 000 inclusive of the taxi that transported them from Entebbe to Ishaka for their reception. The golden jubilee celebrations cost about Shs 50m.
The couple had a thanksgiving mass for their golden jubilee at their home which was presided over by the Episcopal Vicar Rev Fr John Bosco Turinomujuni.
Detail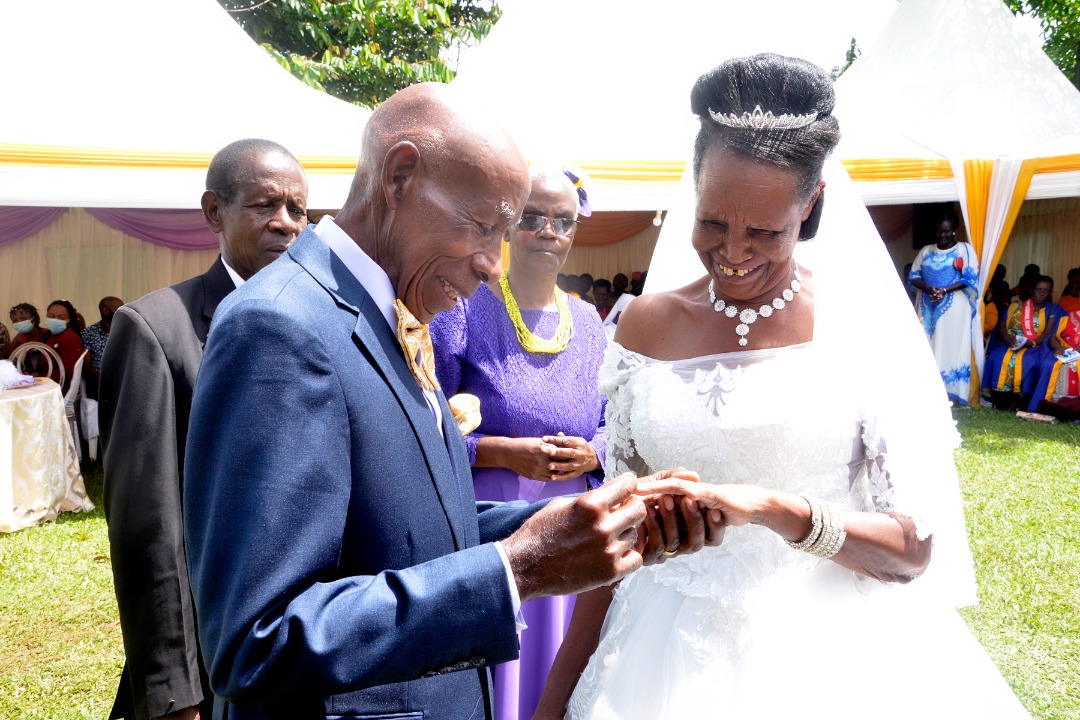 The bride wore a white A-line gown with lacy details on the bust and arm. This had a silver spiky tiara.
"I later changed into a floral round satin peach dress with a pink detail around the neck and waist teamed with a yellow floral tiara," she says.
The groom opted for a navy blue three-piece suit, ivory bow tie and pocket square paired with a grey fedora.
The matron donned a purple satin round dress with lacy sleeves while the rest of the entourage was largely comprised of their seven children and 33 grandchildren. The bridesmaids wore navy blue, round dresses with silver details at the bust whereas the flower girls and page boys wore African design outfits with black and yellow details.
Wisdom nuggets
Appollinari authored a book in English and Runyakitara titled, Life is for living in which he puts across what the younger generation needs to know about how to treat marriage. Appollinari says young people have embraced foreign culture.
"Marriage built on the foundation of money, material wealth and physical beauty will be a nine-days wonder."
Quick notes
Date: November 28, 2021
Groom: Appollinari Byaruhanga Karambuzi
Bride: Joveline Kabagyenyi
Main celebrant: Rev Fr JB Turinomujuni
Colour theme: yellow and lilac
Budget:
Shs 50m