By Phoebe Masongole
Rogers Kibwama is a worker at Multix Company in Mbarara while Sarah Wanyenya is a businesswoman in Mbale City. The two met eight years ago while they worked at Mukwana Restaurant in Mbale.
Meeting
Sarah was in Senior Four vacation when her father got her a job at the restaurant. By then, it was the biggest restaurant in Mbale.
"Rogers worked at the same restaurant and we became friends. Surprisingly, he became my go-to person in case I needed to consult on anything," Sarah recalls.
She treated him as a colleague and friend but never thought they would ever fall in love.
"Sarah was obedient but jumpy, jocular and jolly. And, she always liked associating with others," Kibwama says, continues, "I started getting used to her to the extent that when she was absent, I would feel sick and that day would be as good as dead to me."
He never wanted her to know what he felt because it would maybe affect her or dislike him. So, he kept it secret for close to three years.
The proposal
It was Senior Five, third term when he opened up and made it official to me. One of the evenings after prep when Sarah received a call from Rogers, she was surprised because they had taken some days without hearing from each other.
"I definitely answered the call but he sounded calm and serious. First, he asked where I was and I told him."
He, later on, asked that they start dating.
"I have been waiting patiently for three years since I met you. I now know you are the right person I needed in my life. Please accept me and make this dream come true," Rogers said at the other end of the line.
She could not decline because this is someone she had associated with and knew his ins and outs.
"I said, yes, to his proposal."
The relationship
The two embarked on an affair and that was the beginning of their love life.
"We pushed on slowly but it was more of phone calls than physical conversations because Sarah was a student who wanted to concentrate because she was in a candidate class and I was at university," Rogers recalls.
After high school, Sarah joined Uganda Christian University and they used to meet during the Scripture Union lunch hour service.
"I loved it because we were spiritually strong and I think that is why God said, why not," Sarah relates.
They say they were praying for their relationship.
"We waited until the end of university studies. At our graduation, we introduced each other to our guardians as friends because we did not want to spoil the surprise," Sarah recollects.
Planning for marriage
The two did not think of doing pre-visit (kukyala) however, they decided to organise an introduction and use the little funds available.
"We toyed several times with the idea of doing a pre-visit until we settled for an introduction because of our financial stand," he says.
They never wanted to follow the current trend of three functions that would likely make them go in debt or put the timing far apart. They settled for an introduction and wedding in the same year.
On September 4, 2021 the couple had their introduction held at Bugobelo in Manafwa District and their wedding on December 4, at Pearl Heaven Church in Mbale City.
Preparation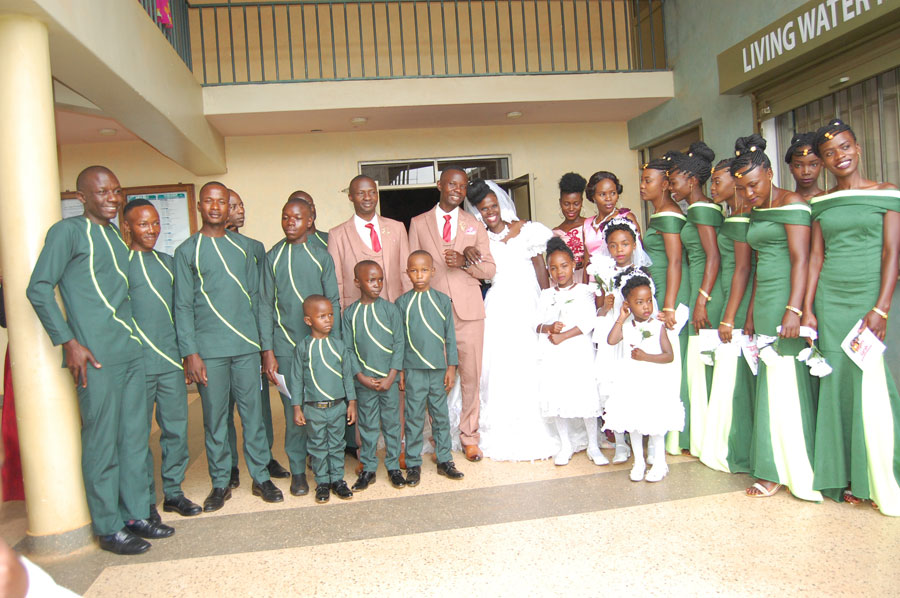 The two say despite the challenges, the preparation was smooth.
"We had a prayerful organising committee whose aim was a successful wedding," Kibwama says.
"They helped us organise meetings at Bugisu High School in Mbale and their mobilisation did us great."
Sarah says their senior pastor Mike Mataya did most of the work.
"Pastor Mike Mataya was our sponsor. He made some things stand out," she says, adding, "My gown, changing dress and shoes were from the US. This made me feel special. Imagine wearing a dress from a country I had never travelled to!"
Challenges
"Our biggest challenge was during preparation, we thought this was too big for us to handle. At some point we had lost hope but our pastors and ministry group encouraged us to carry on," Rogers says.
The couple says some of the onlookers were more of critics than anything else, but "we remembered the devil is liar and no one says no when God has said yes," Sarah says.
Memorable moment
The moment the main celebrant congratulated the couple upon fulfilling their matrimonial vows felt relieving. "The joy of the Lord overtook me and I cried," she says.
For Rogers, seeing many church members witness his wedding blew him away.
"Church members always advised and stood with us in the up and downs," Rogers says.
It is after the ceremony that the two promised to love each other despite the challenges ahead.
"She promised me twins, more care and that she would never be swayed by the winds of change. I promised to continue loving and adoring her as my one and only wife for eternity," he says.
Advice
The couple advises those planning to wed to always save selfishly. Also, involve God in every step they take.
Quick notes
Groom: Rogers Kibwama
Bride: Sarah Wanyenya
Venue: Pearl heaven
Celebrant: Mike Mataya
Rings: Shs50, 000
Photography: Calvary media
Guests: 350
Budget: Shs10m