By Claire Balungi
Esther Musiime could not believe this day was finally here. She was filled with joy and tears as her childhood friend and soon-to-be-husband, Kenneth Sembatya joined the choir to chorus Peter, Paul and Mary's wedding song, "There is Love" while her father walked her down the aisle at United Christian Centre Kasubi. This was her wedding day, the calendar read April 3, 2021 and at 26, both the bride and groom were taking a step to officiate a lifetime of love and friendship.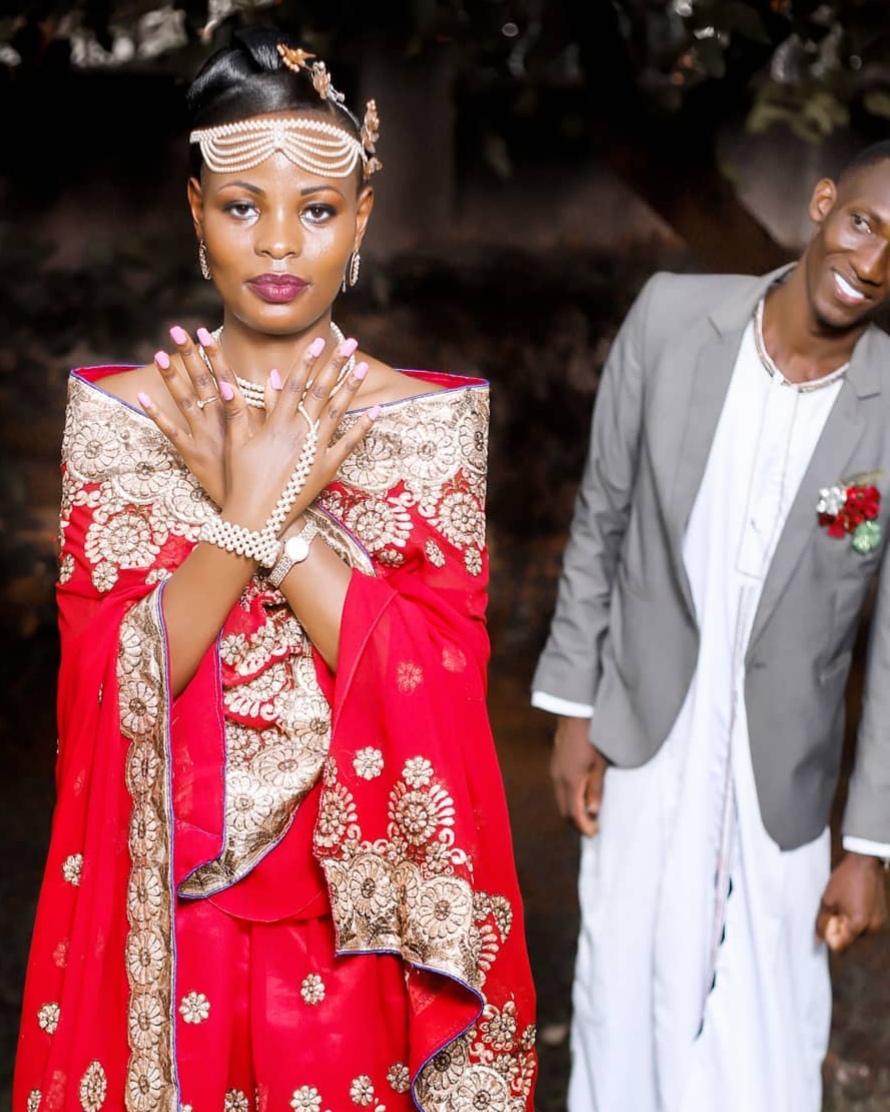 Ten years ago, while they shared a plate back in St Henrys Primary School, Ndikutamadda, the two innocent friends would never have imagined they'd once be joined in Holy Matrimony. They had their fair share of games and acts of service to each other. Young Esther had noticed that her humble friend and classmate Kenneth had no plate, she'd run so fast to get lunch and supper, gobble the food down her throat at lightning speed and wash the plate to catch Kenneth who was then waiting for the plate so have his meal too. This went on for three years; Primary Five through Primary Seven.
Moreover, school Fridays were a day for fellowship and Kenneth happened to be the only boy in the class who subscribed to the born-again religion that Esther was part of. The two young friends were always happy to pray together and bond as friends.
"Are you still the kind girl I knew in Primary?" Kenneth would go ahead and ask ten years later when he discovered Esther's contact in a WhatsApp chat group. He'd in-boxed her to find out if she was the Esther he'd gone to school with, she was.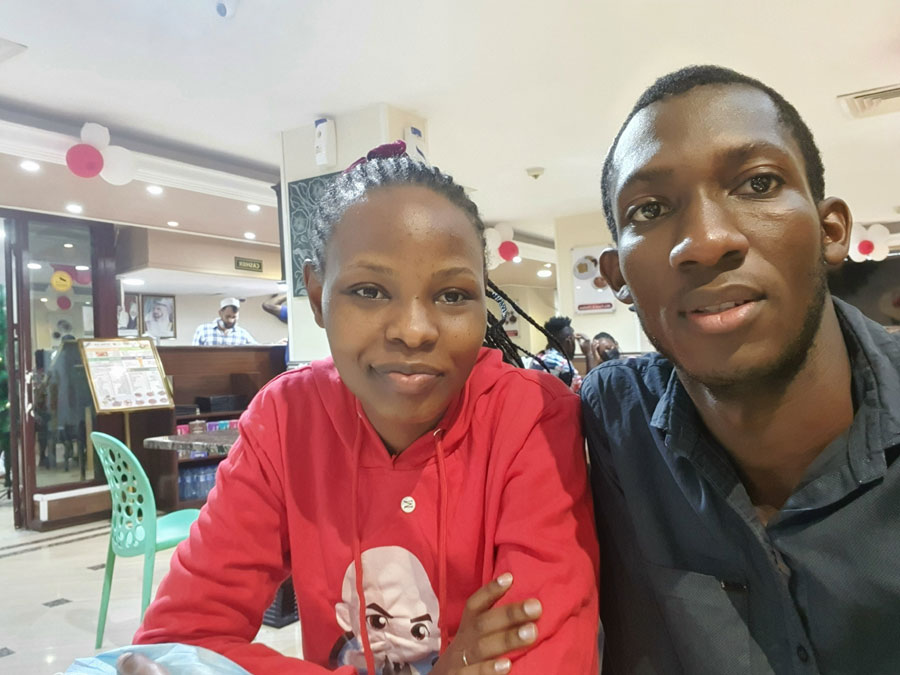 One, two a text led to the third and many more for about a month, this manner of chatting re-established a friendship that got Kenneth saying to Esther, "I want to tell you something." She was eager to hear what Kenneth had to say but both of them were busy and Kenneth took the time to prepare his word. A fortnight later (Esther remembers this day quite fondly), as she recounts, It was May 14, 2018, Kenneth was straightforward with his proposal. He had three sentences to say, " I want you to be my wife. I want you to be the mother of my children. I want you to be in my life forever. Will you?" The proposal happened on a telephone call since the two were in a long-distance relationship. Kenneth was in the United Arab Emirates while Esther was in Uganda.
Esther did not give him a 'Yes' straight away. She needed some time to think and pray about it and so she asked Kenneth to give her some time, which he gladly granted. It took her a month thinking and seeking God's guidance and when she was ready, "I gave him my Yes for many reasons but mostly because of the inner person of him. I was attracted to his character- he loves God and that's the kind of man I had wanted." says Esther, who earlier on had no intention of getting married before 2025 as she thought she'd have a lot to accomplish before she offered herself to someone as a wife. That thought was dispelled when she met Kenneth again.
The couple dated for two years and spent time sharing The Word and talking about their journeys for the time they'd been on different paths.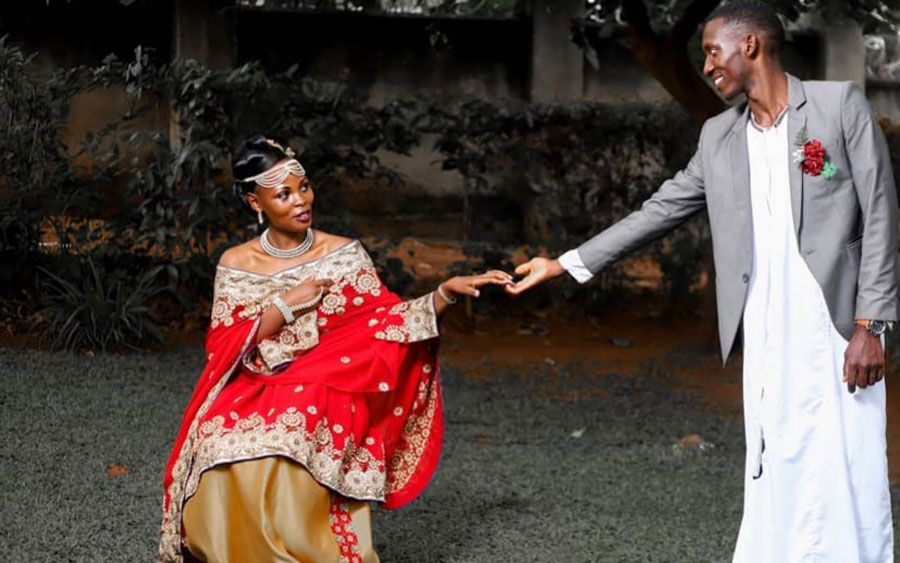 In 2021, Kenneth would wake up one day and give Esther the dates for their union ceremonies. He was going to use his vacation while in Uganda to cover everything necessary and so their wedding was planned for one month.
The pair came to an agreement about everything involving their union. They planned it together with mostly their own resources. They had a simple introduction ceremony on April 2, 2021, in the Kinyankore culture since Esther is from Ankole while the groom is from Buganda.
The following day, April 3 was their wedding day. They were smartly dressed as Kenneth had come with his suit from Dubai while Esther had hired her wedding gown from Avema at 800k. Their two groomsmen and two maids were dressed by a friend of the couple who stays in Abu Dhabi, she covered their dress costs and travelled specifically to attend the couple's wedding.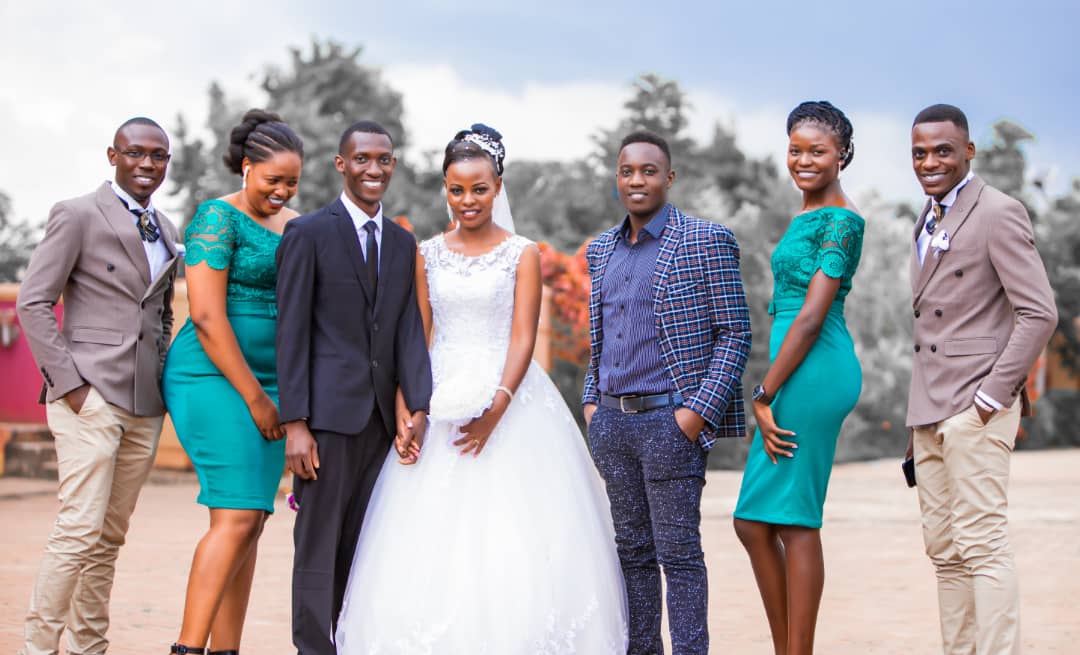 The couple pulled together a wedding budget close to Shs10m and as they note, they did their best to be economical so they would get out of the wedding debt-free and this, they accomplished.
The couple's reception was a few metres away from Church, at Nyumbani Hotel Kasubi, they received up to 90 guests although their initial plan was a guest list of 50.
So far, the Sembatyas are enjoying their marriage and something Esther had to note was that time is necessary to study and learn who one's partner really is. "My husband had grown and changed a little bit. He is now so quiet, I often have to first understand him, be his friend in order to hear from him about how he feels about things. Understanding him was difficult because he didn't open up but we are now learning and working out things," says Esther, noting "Most times we want to be understood by our spouses and bosses but it's so much better if we offered to understand them first rather than always expecting them to understand us."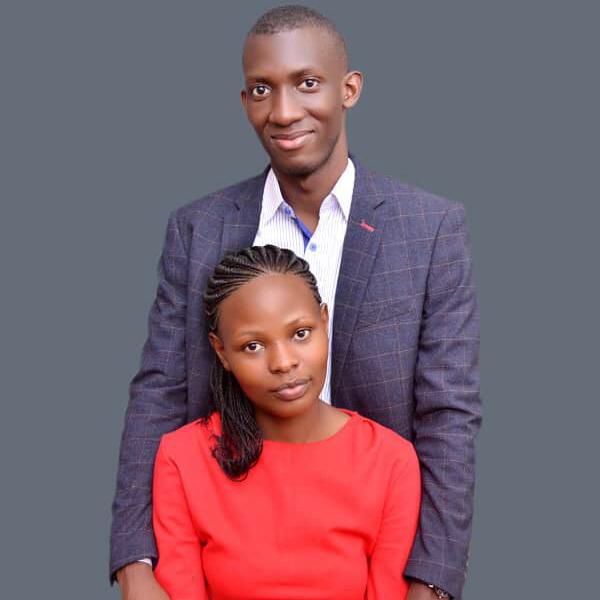 She also points out the sensitivity of some situations in marriage. "Not everything you see or hear has to be commented on. Choose to overlook and pray about some things. Resist from always talking about the situations that might have been hurtful especially to your partner because you never know that you could be causing more harm"
The couple says that the best part about being married to each other is that they have held hands, sought God together and grown spiritually.