By Alex Ashaba
Felix Tugume and Rhonous Niwampeire tied the knot on November 20, 2021 at Ntungamo Sacred Heart Church.
Their love all started in 2014 when Felix, a photo editor in Ntungamo District received a picture from a colleague for editing. Felix says at that time, he did not know that the picture he was editing was for Rhonous, even then, he was in a relationship.
"After editing her picture, I made many copies of the photo with different designs," he recalls.
Felix had liked the person in the photo, he engaged his colleague a few days later to know her whereabouts which he revealed.
"My colleague then, invited me to his home in Kiyoora Trading Centre to do some computer software installation but I did not know that Rhonous had also been invited because they are relatives. When I saw her face, I recognised her," he says.
Rhonous was in Senior Five.
"She was a schoolgirl and I was working and I had to convince her to accept my proposal, which she later did," he says.
Felix says it was hard to keep communication because Rhonous had no phone and Felix had to call her through a friend's phone.
She says she accepted Felix because he lived up to his word.
"When I first met him, he was lovely and smart and I moved on from other prospective suitors and accepted his proposal," she says adding, "He promised me many things, which he has fulfilled."
Rhonous says she had no money to buy airtime, only that she managed to keep in touch every two days.
Felix says one day he arranged for her visit in his rented house in Ntungamo town and the main purpose was to make a proposal.
"I had to look for money, buy some drinks, and other foodstuffs to create a great first impression," she recalls.
Planning
The duo had scheduled to hold their wedding on July 3, 2021, but a few days to the wedding President Museveni announced a total lockdown.
Felix says his initial plan was not to have a wedding; instead, he had planned to make a baptism party for his second-born in April 2021.
"I had planned to baptise our second-born, make a party with 200 guests. When I told my parents, they advised me to consider a wedding which I first rejected," he says. He had inadequate funds to hold a wedding.
"It took me a week to make the final decision because at that time I had only about Shs7m," he says.
Felix says he accepted to wed because he had promised Rhonous that if she had a second-born that is a boy, he would wed her. With support from his family and relatives, he started the arrangements for the wedding.
He says Alex Bahikirirwa, a friend with five committee members planned and executed their roles.
Initially, they wanted to invite 500 people but says they revised it to 600.
However, as the planning was underway, it was later halted after the President announced total lockdown and suspended parties.
"I was home with my wife, and I was about to break my screen because my wedding plans had been cancelled. We had no option but to postpone it," he says.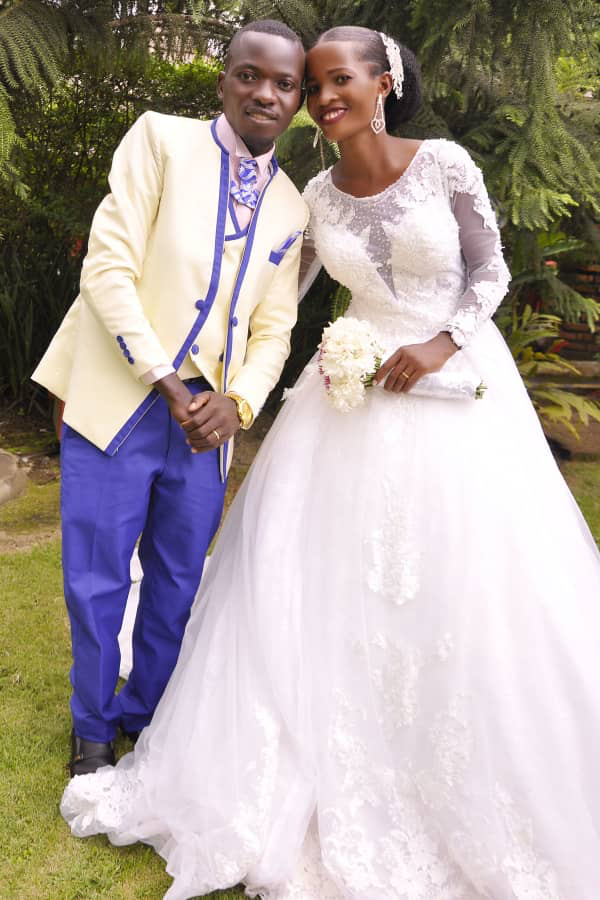 The lows
Apart from lockdown the death of his father, who was a strong pillar in the wedding arrangements, occurred during lockdown.
"We were about to give up wedding because when the President partially lifted lockdown, it was hard to again to mobilise people for wedding meetings, especially in town. The first meeting after lockdown attracted 15 people but my fundraising team encouraged and in the second meeting over 50 came," he says.
The couple arranged parallel meetings both in the village and in town and the meeting helped to raise more money. The village meetings raised Shs 3.5m while town meetings raised Shs4m. The initial budget for the wedding was Shs16m but it was later revised to Shs20m.
"Because we had earlier planned to wed in July, people had contributed money, about Shs 2m and later went into lockdown; we kept our money but some people started spreading false information that the money was misused."
Wedding
Rhonous says her best moment was the time when they exchanged vows and she loved the decoration at their reception.
"For our reception the service provider never disappointed, the colour theme was on point," she says.
Her saddest moment was when it started raining immediately after arriving at the reception venue and the rain lasted more than one hour.
Equally, the groom says he was about to collapse in the car because of rain.
"When our convoy was approaching the reception, the skies opened and we had to remain inside the car until it subsided," he says.
His favourite moment was the Holy Mass at the church because they found all his friends and relatives waiting for them.
"We were late by 30 minutes but everyone waited patiently for us. It showed that people love us more than we thought," he says.
The couple says some people stood with them for a successful wedding. "Special thanks to my mother Kishanyu, Bikwatsizehi family and organising committee and Ruhooko Elites."
Quick notes
Date: November 20, 2021
Groom: Felix Tugume
Bride: Rhonous Niwampeire
Priest: Rev Fr Anthony Tumwebaze
Reception: Mpaama village
Budget: Shs20m