By Perez Rumanzi
On May 25, 2019, twins from Rugando Village in Rwampara District were given away to another set of twins from different families. The twins; Priscilla Babirye and Pereth Nakato, daughters of the Late Kaddu Ssalongo, were given away to Edward Asiimwe, a businessman in Kakyeka- Mbarara Municipality) who hails from Ibanda District, and Amos Besigye, a fisheries officer in Ntungamo District, respectively.
Amos and Edward are twins from their respective families. Amos is older than Edward. The female twins who are nieces of Emeritus Rt Rev Dr George Tibesigwa, Bishop of Ankole Diocese were expected to wed, a few days after their giveaway. However, Edward wed Priscilla on December 11, 2021 At All Saints Church in Mbarara. Amos and Pereth were best man and maid of honour respectively. They treated their guests to a reception at New Mwengura Suites in Mbarara Town.
Attraction
What attracted Edward to Priscilla?
"Our love story began at Trinity College Kabale," Edward recalls. "There were two lovely twins that everyone admired at school even then, they would not be differentiated by many. I had never cared about them but I secretly admired them. I later met Priscilla in 2017 and we fell in love. However, one condition kept us apart; she wanted to get married on the same day as her twin," he says.
Edward was in a higher class but never imagined marrying a twin.
"I never treated marriage as a big deal but when I met Priscilla again, I thought this was the right time and she, the right person," he says.
On the same day Edward met Priscilla again in 2018, at a taxi stage in Mbarara Town where he runs a business, Pereth too met her love Amos, also a twin from a family in Rwampara District. It was at a burial in Ibanda near Edward's home. Amos and Pereth took the same taxi, exchanged contacts and that was the beginning of a new journey.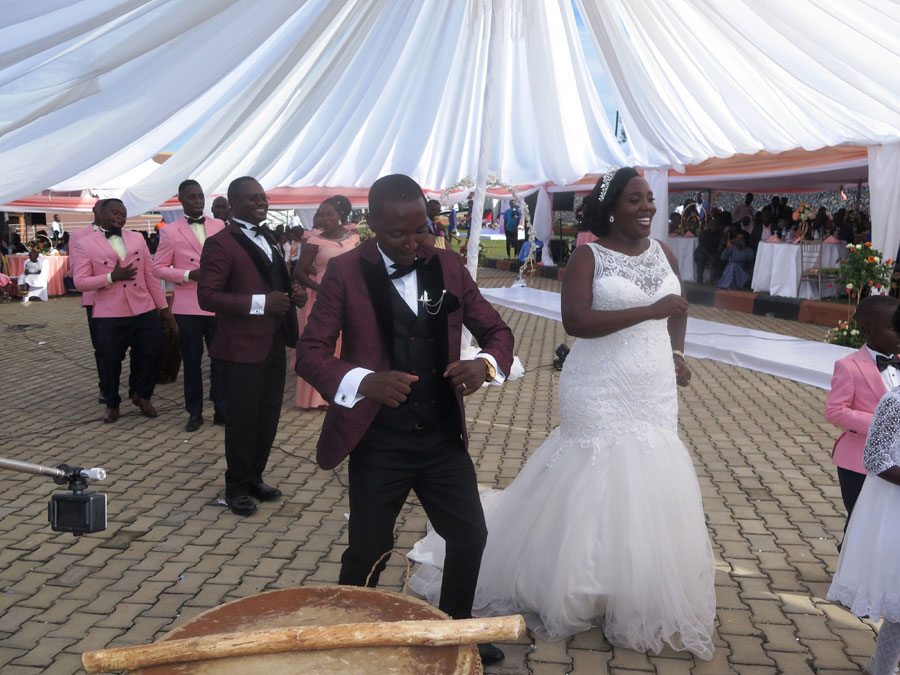 "I had spent a while without seeing Priscilla. We met at Post Office in Mbarara and she told me she had been to a burial near our home. We then exchanged contacts and communicated often. Our relationship was born."
The first interaction between the families was on a date the young women set. Each called her boyfriend to a coffee shop in Mbarara. That was the first date.
"The boys seemed confused, they found us seated waiting for them, they could not distinguish us. Luckily, they came in almost at the same time. We are fortunate, the guys are same in character, they are like brothers from different mothers," Priscilla says.
From that day, the twins chose the dates for their parties and the men would just adjust their programmes.
Edward was ready to get married anyway.
The ceremonies
Meanwhile, Amos and Edward agreed to have the giveaway and wedding on the same day, because the girls had put that as a condition. They had the kwanjura ( introduction) and kuhingira (giveaway) accordingly. Then, Covid-19 struck before planning for their wedding.
"We agreed to separate our weddings but asked each party to play a role at the other's wedding," Edward notes.
Edward had set his wedding date for November 2019, however, the couples adjusted to April 2020 but the Covid-19 lockdown could not let plans flow smoothly. Many things changed and Edward chose to have his wedding first since he is the elder of the twins.
"We agreed that since we have different friends who all must appear at our party we must separate them. Had it not been for Covid-19, this would not have come up," he says.
Preparations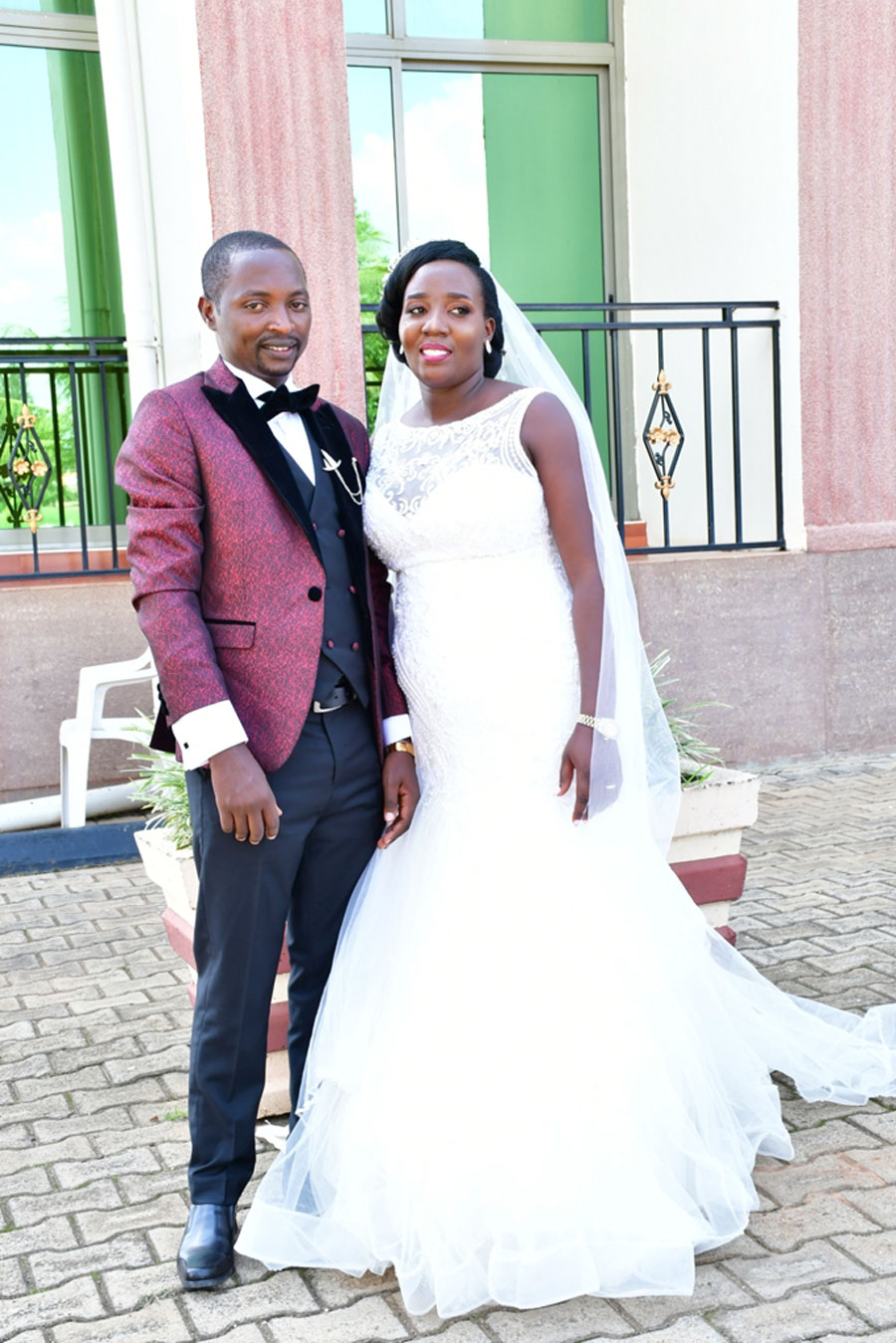 He says he realised his dream of wedding his only love, his best friend and wife with whom he was already staying. Taking long to wed, also gave him a better opportunity to know his wife more.
"I had wanted to wed before living with my wife, but I realised it was even better to live with her and other things fall in place. We managed to make mutual friends too."
Born in Kabale while his wife hails from Rwampara District and working in different districts, striking a balance between friends, relatives and colleagues for all to attend the wedding, they settled for New Mwengura Suites which offered the public address system, tents and chairs and ushering services.
Choosing Amos as best man and Pereth as matron , Priscilla says, was the only thing they could do to make them feel like they had lived their wish of wedding the same day.
"This is the only thing we could together and feel united. Amos and Pereth understand us and we understand them, but this was also a moment we could be a family. At least they supported us," Priscilla says.
Edward and his wife prepared a Shs55m budget without any services of a wedding planner and, Edward says they had surplus. A few wedding meetings in Mbarara and Kampala realised the budget but Edward had also saved enough to arrange a comfortable wedding.
"The only thing I regret is having the party in the middle of the Covid-19 pandemic because my people could not enjoy the way I wanted. I saw people hurry to beat curfew yet I wanted us to enjoy until morning. However, I remain thankful to God that the day happened." Edward says.
Advice
"It is important to have friends, you cannot do much without their support. Even if you can afford a party by yourself, the best moment at a party is seeing those people that you cherish, the people who have touched your life, those you have touched enjoy," Priscilla says.
Also, it is important if you stay with your wife and make friends together before that day. When she is your friend, a party is just a meeting of friends and the host is the centre of friendship," Edward concludes.
Key shots
Date: December 11, 2021
Groom: Edward Asiimwe
Bride: Priscilla Babirye
Bestman: Amos Besigye
Matron: Pereth Nakato
Page boy: Ethan Ampaire
Flower Girls: Pervin Atamba, Payton Kanyesigye, Blessing Amanya, Merina Ayinebyona
Church: All Saints Church Mbarara
Main celebrant: Rev Can Emmanuel Munyaneza
Reception: New Mwengura Suites, Mbarara
Food: Didas Catering Services
Photography: Elgon Studios
Decoration & Cake: Vima Events
Salon: Sheila Face Beats and Clean Point