A man that has been identified singularly as Luwizo from Kalehe, South Kivu in the Democratic Republic of Congo has married three triplet sisters. According to Afrimax English, the 32-year-old man, tied the knot with the three sisters late last month in a colorful ceremony.
 Luwizo narrated the story of how he met the sisters saying he fell in love with Natalie (one of the triplets) after meeting her on Facebook and chatting with her for a while.
The pair then decided to arrange for a physical meeting at Natalie's home where he met her sisters, Nadege and Natasha. The duo reportedly soon fell in love with him, too.
Without his knowledge, Luwizo would be welcomed by one of the triplets whenever he visited Natalie's home from thereon.
During the final meeting at Natalie's to formalize their union, Luwizo said he was shocked to meet three identical women.
"I almost fainted. I asked them amongst all of you, who is Natalie? They told me I had met all of them on different days I visited," he said.
"I became confused as I had planned to marry Natalie but what confused me was that I couldn't marry one of the girls and leave the two behind!"
The sisters said they were at peace with marrying him because they have been close-knit since childhood.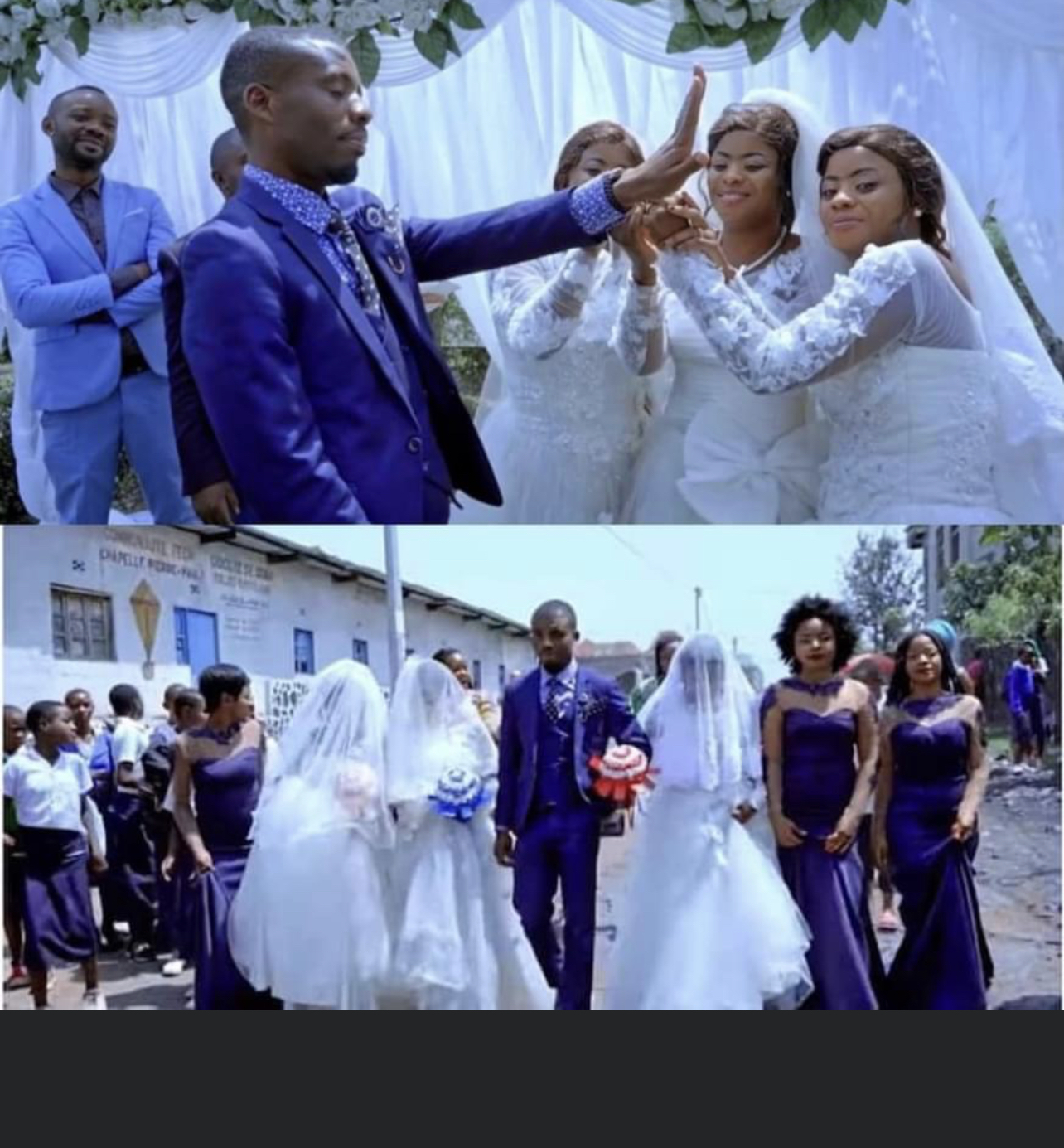 "At first, when we told him he had to marry all of us he was shocked. But because he had already fallen in love with all of us, nothing couldn't stop our plans since we were also in love with him," Natalie said.
"Even though people consider it impossible for three women to share one husband, to us, sharing everything has been our life since childhood."
Luwizo's parents, however, disapproved of his decision and opted out of the wedding celebrations.
"You have to lose something in order to gain another," he Luwizo commented about his parent's refusal to be part of his big day.  "In addition, one has their preferences and their own way of doing things."
He added: "I'm happy to marry the triplets no matter what others think…. Love has no limits."
The sisters, on their part, said they thought their future husbands would make them drift apart, terming the turn of events as 'a dream come true'.
"Our dream came through. We thought we would be separated by marriage, but God heard prayers,"  Natalie commented.