By Beatrice Nakibuuka
Because of the scientific arrangement, Willington Baluku and Joeline Biira suffered losses of double pay due to the lockdown. Among the service providers they had booked, only the camera crew made it to the wedding. Only 20 people were allowed to witness their wedding. We had a conversation with the couple.
Willington says he first time saw Joeline when he had gone to visit a friend at Makerere University. He shares their story.
My friend who was pursuing a Bachelor of computer engineering in September 2017. While we talked, she passed by and I liked her. That friend told me that she was from the Faculty of education, from Kasese like me but that she was very hard and principled.
I wanted to dare her because I loved her at first sight so I insisted that he gives me her contact. When I got the contact, it took me three weeks of rehearsal of what I wanted to tell her. I wrote scripts and many times would dial the number and abort the call. I did not know how best to approach her.
Finally, I mustered the courage and when she answered, I only introduced myself as a friend. I mentioned the name of our mutual friend who had given me her number and a couple of other colleagues known to her. She did not buy the idea of friendship.
Unfortunately, all the time I asked to meet her, she would turn down the dates claiming to be very busy since that was her final year. I would send her text messages, WhatsApp but she would not reply to them, sounded so rude and always busy. I was saddened about her traveling to Kasese because I feared that we were going to lose contact. She was teaching in a school here.
The actual meeting
I did not give up my daily calls and text messages. In December, I learnt that she was about to graduate so she would be in Kampala for clearance. I then begged that we meet which she agreed to.
I had saved almost all her WhatsApp display photos and also collected some from her Facebook page. It was easy to recognise her when she came. I did not make mention of my intentions for the date. I just wanted her to see me. I waited even when she came two hours late. I did not speak much. I Googled how to behave on the first date before I met her. I did not want to make any mistakes. However, she seemed rude and uncooperative but her cousin kept on telling her to relax.
I did not tell her about my feelings on the first date. She is a principled woman. I had to take some time to prove to her that I was the right person for her. After a few weeks, I told her about my feelings. On her graduation day, January 16, she agreed for us to start a serious relationship.
I took leave from work and headed to Kasese. On that day October 19, 2019, she was meant to go with her mother for an event. I pleaded with her so she chose to join me for a date at Nyamwamba Hot Spring where I asked friends to be part of the proposal.
At this point, I was uncertain she was going to say yes but I had already started preparing what I would give her parents as dowry. Fortunately, she said yes and in December, I told my parents that I was getting married in months. I asked her to engage her parents as well so that they prepare for the traditional functions but she blatantly refused to have a give-away ceremony.
We then set a date for the wedding and we started depositing money for the service providers as the days closed in. As fate would have it, the president declared that the country was going to be in a lockdown due to the Coronavirus disease.
Our budget was about Shs27m and we had saved about 50 percent of this. By the time the lockdown started, we had held only two meetings and the rest of the fundraising was done through WhatsApp groups. We had deposited about 80 per cent of the money with service providers since our wedding was scheduled for April 11.
We agreed to postpone the wedding. However, I sought her opinion about a scientific wedding since many other people were wedding during the lockdown. When she gave me a go ahead, we resumed the preparations.
Many of our friends especially those from Kampala were left out. I and the best man moved after some relaxation of the transport system and we were charged Shs 100,000 per head to go to Kasese. We had booked most service providers from Kampala and they could not travel to the border district. We had to pay again for the services and the reception had to be changed.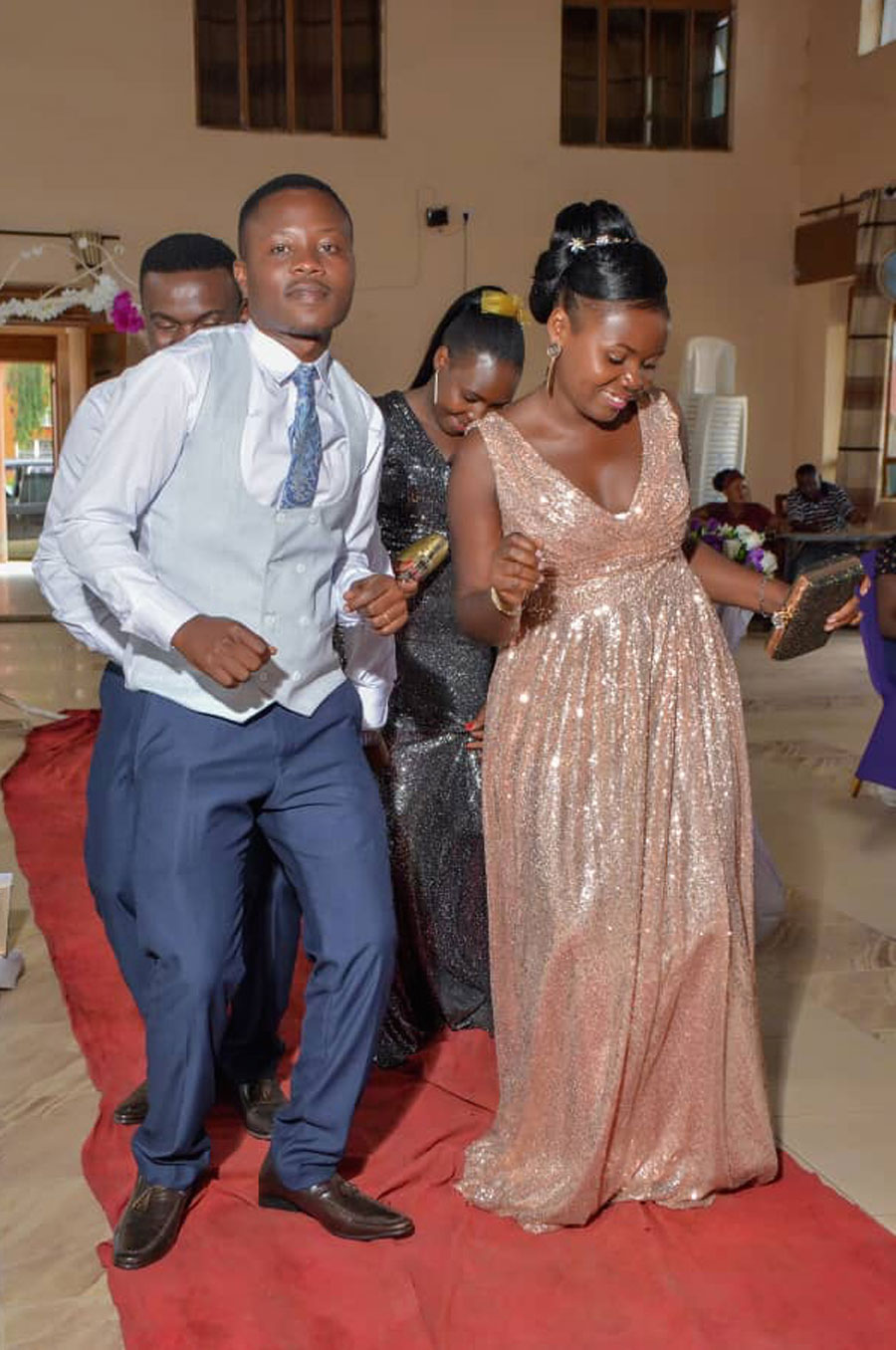 Her story
Willington's call insisting that he was my friend because we had mutual friends did not augur well with me. Even then, I could not bend my principles but he thought I was rude.
When he persisted to meet me, I agreed but I asked to have someone tag along. I had known his intention and we made it for the date.
After meeting him, I realised that he was not that bad. Even before the actual meeting, he proved to be a good communicator who is down to earth and asked for a chance. He had a sense of maturity compared to others I had previously met. From the day I accepted him, I did not look back.
The events
I refused to have a give-away ceremony at my parents' as is in my culture because the wedding was more important to me. It combines people from the traditional and religious sides. This was also a way of cutting costs because we would later merge the expenses and invite all the friends and relatives to be at the wedding. Thankfully my parents were fine with it.
We postponed the wedding date but I realised that the lockdown was not about to end.
We had already paid someone in Kampala to make the attire for the bridal team but the shops were closed before she had finished. Also, Kasese being a border district, people were not allowed to travel there. My bridesmaids were from Kampala and they missed out. I only had the matron and the flower girl for the church service. Only 20 people were allowed in church and each sat on their own pew.
My theme colours were supposed to be peach and maroon but the alternative décor person had only purple. This was a turn off but they did a good job on cake. I did not like my changing dress but I had no option.
About the counselling sessions, we had one before the lockdown but the priest promised to create time even after we are married for more sessions. I am glad however, that we are happily married.
Tit bits
Date: June 20, 2020
Groom: Willington Baluku
Bride: Joeline Biira
Priest: Rtd Rev Yongeza Mukonzo
Church: St Paul's Cathedral, South Rwenzori
Reception: Rwenzori International Hotel
Guests: 50