By Noelyn Nassuuna
It was a mixture of admiration, anger and bitterness when photos of the daughter of South Sudanese business mogul, philanthropist, and politician Bibi Ali who got married in a glamorous wedding in Kenya were shared on social media.
Hot in Juba posted photos on their Facebook page showing a chopper that was pouring rose petals all over the wedding venue.
Many girls who commented, said this was their dream wedding and wished such beauty and class could happen to them too.
"This is stunning


  congrats darling

 yala Nas juba girls, if your wedding is not like this, no helicopter dropping roses 
,I beg please don't post it because we won't comment, as 4 me this the lastest stunning wedding, the rest are traditional period!" Grace Bismarck posted.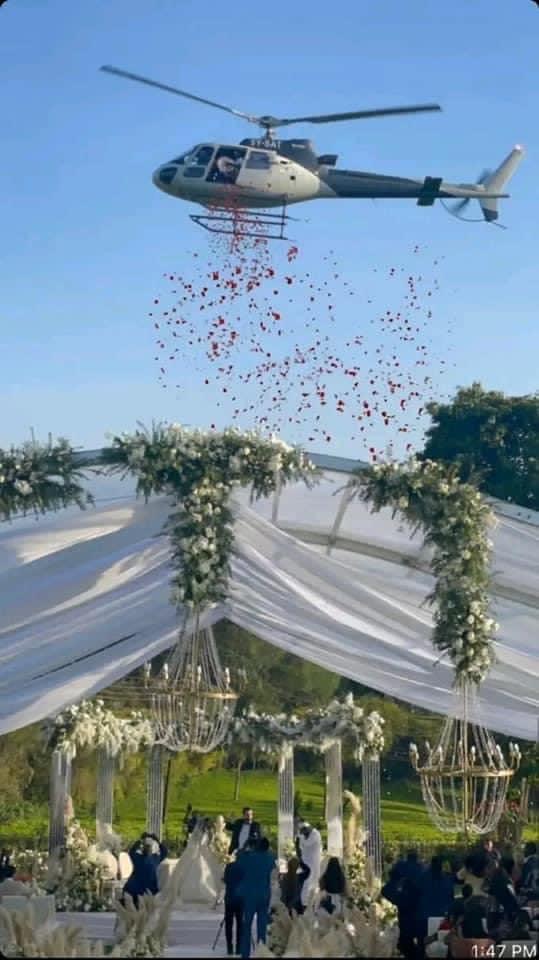 However, others condemned the politician for throwing such a glamorous wedding when there is instability in the country.
"So what should we do. Tell him street kids are dying in Juba coz of hunger," Alazi Brenda commented.
"He is an MP representative of his Constituency as People's voice yet his voters are starving to death because of hungry. He could have bought 2000 bags of Sorghum to distribute to vulnerable Communities in his village would have made a great change in their lives than such a costly wedding," Nyanabun Mawien Kok commented. 
"Wasting of recourse as if she will not cheat on him,"
Governor Gemenze said.
"May the spirit of children and women who starved to death in South Sudan make that marriage a big headache to that man so that they break up,"
Ustaz Wol
posted.
Chol Gumnok argues that  the daughter shouldnt be criticized for having  hardworking  parents.
"I think the message is clear"the daughter of a business man", why victimizing her for the sweat of her dad. She deserves to enjoy since her dad struggled for that wealth," he said.
However, some people on social media argued that he should have brought his daughter's wedding to Juba instead of taking it to another country.
"Let's wait to witness a wedding by helicopter soon in Juba, Us south Sudanese don't need to be shown something like this… it's a temptation to our Tycoons," Lico Showman.