By Joan Salmon
It has only been a writing on the wall but we had never put a face to the name, at least not in a public gathering.  That ended on Sunday when Vice President, Jessica Alupo introduced her husband Peter Abeine. That was during the mass organised by the Archdiocese of Mbarara Development Association held at Kitante Primary School in Kampala. Arriving from her tour of the Karamoja region, Alupo asked Abeine to closely walk with her as her way of ensuring he gets acquainted with the officials she would meet while there.
The mass was led by Rev Fr Sabastian Muthukattii, the parish priest of Nyabwina Parish, Sheema District where Abeine hails from.
Before she could deliver her address, Alupo who graciously identifies with the people of Nyabwina spoke a bit of Runyankole saying she is also a parishioner of Nyabwina. She then praised fellow members for beautifully animating the mass. Thereafter, Alupo posed to introduce her husband, a gesture that was met with cheers.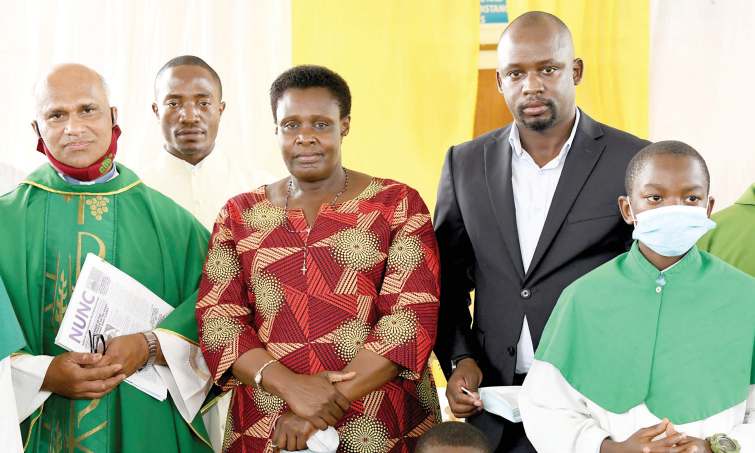 Speaking to the congregants, Abeine reminded them of the greatest commandment Jesus gave his followers of loving God with all their heart, soul and mind. He also asked them to love their neighbours and themselves. Abeine commended AMDA for the several initiatives and contributed Shs2m which was an addition to the Shs10m pledge from Alupo and Shs30m from the President toward the construction of the association's multipurpose complex in Rubaga.
Alupo, in her address, pledged to return to Nyabwina to complete the project at Nyabwina Primary School for which she planted a tree when she was still Minister of Education and Sports. She commended the AMDA leadership which she said aims at achieving total community transformation which is in lie with the NRM manifesto. Alupo further applauded their efforts in being a catalyst of transformation of rural areas where most hail from.
AMDA is an umbrella association for Catholics from Mbarara, spanning Hoima, Kabale, Kasese and Fort Portal dioceses.