By Esther Byoona
You might have seen the couple's photo trending on social media. When Edmond and Lavinia first met at university, they did not know that years later they would be husband and wife, writes Esther Byoona.
Edmond Agaba met Lavinia Tuhimbise at Makerere University in 2016. Lavinia was a guild clerk while Edmond was an NRM sympathiser. The two met during the sessions of the guild and became close friends.
In 2017, the two went into a relationship after Edmond had completed studies at Law Development Centre. They kept it private.
"We did not want people to know but we loved each other so much," says Edmond. He proposed to Lavinia in May 2021.
The functions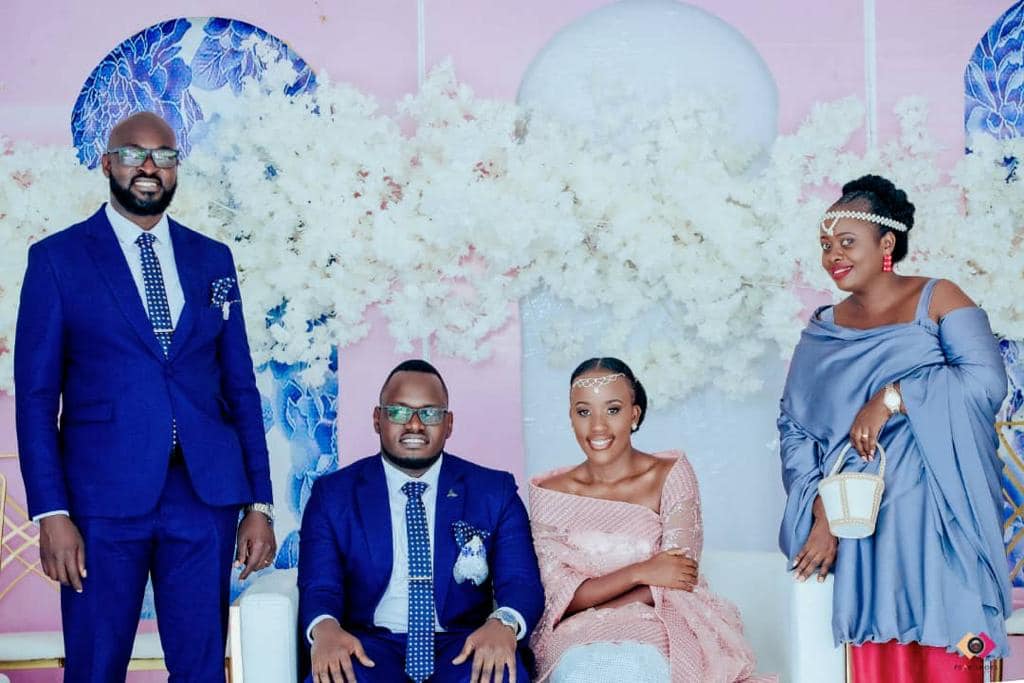 In August 2021, they held a kweranga in Kampala. Agaba's parents visited Lavinia's home to meet her parents. "They came with everything the parents asked for and dates were set for kuhingira and wedding."
The two families agreed on December 27, 2021 for kuhingira and the wedding two days later.
"I own a fashion house and I knew what I wanted from the word go making it easier. I also researched about different service providers and Edmond bought my suggestions. "
Lavinia considered family and close friends and all together, she had 18 people for her entourage.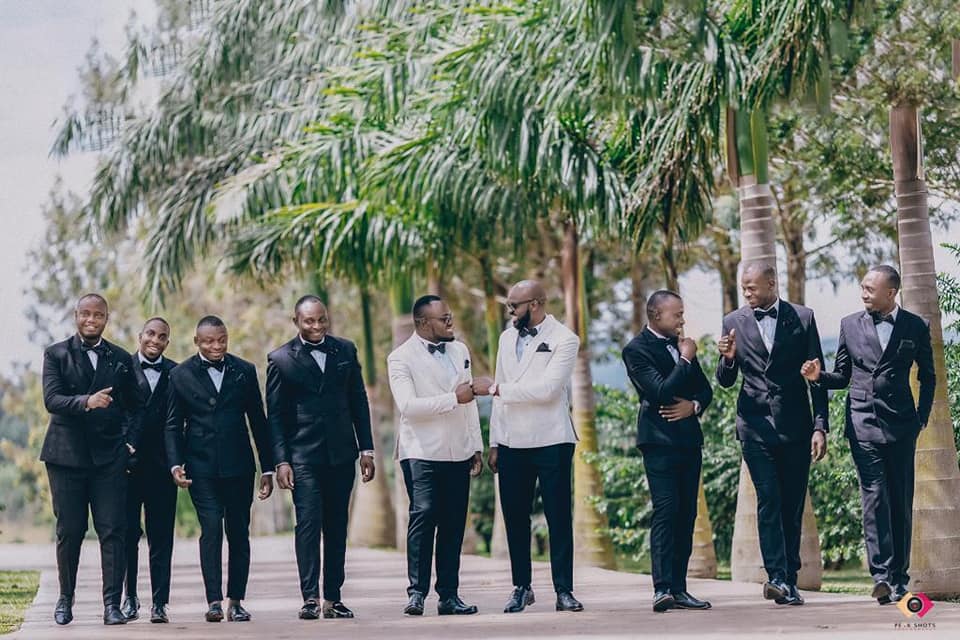 "Initially, I had been told to go with four people. However, to make my two young sisters, cousins and friends feel more loved, I ensured they all fitted in the entourage," says Lavinia.
Even then, she says the big group made the photos appealing and Edmond adds they intended to set a trend.
"There was a photo with our whole entourage and it was trending everywhere. I do not regret it," she adds.
Lavinia's Culture World fashion house custom-made the outfits for the bridal entourage from kuhingira to the wedding. She admits that it was a bit hectic because at that time she had a client who was celebrating her silver jubilee and her attention was a bit stretched. Meanwhile, Edmond imported his wedding suit from Italy.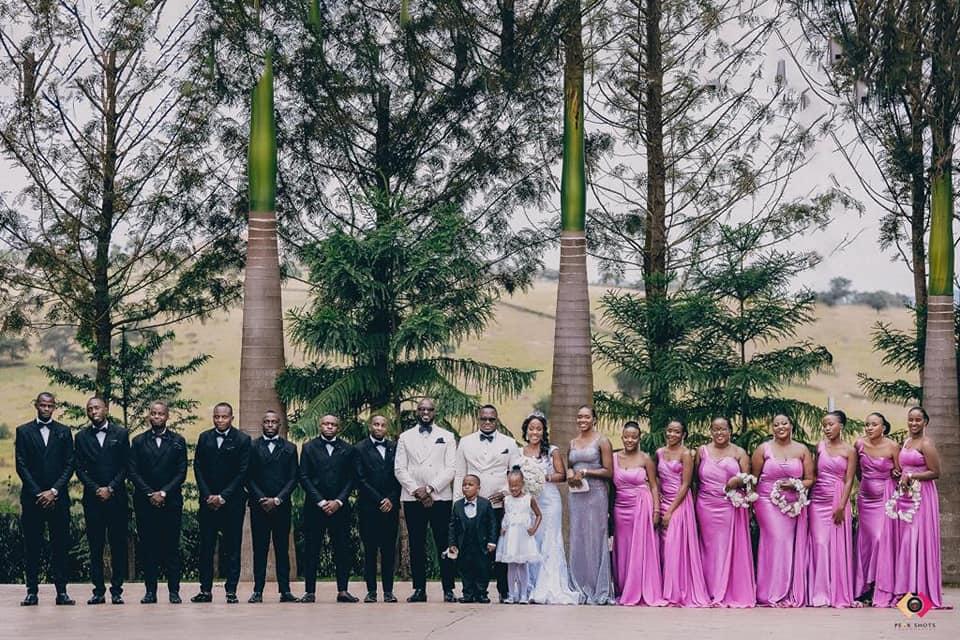 Drawing a guest list did not come easy and Edmond's family was responsible for organising the wedding.
His family gave the couple 50 invitations cards.
"My parents were at the centre of it all. I invited my friends but the biggest number of guests was invited by my parents," he remarks,  adding: "I believe this is a function where parents have to be happy, express their joy so you give them the centre stage to play a role; your job is to fit in."
He continues saying friends who had stood with them and supported them spiritually and financially made the guest list.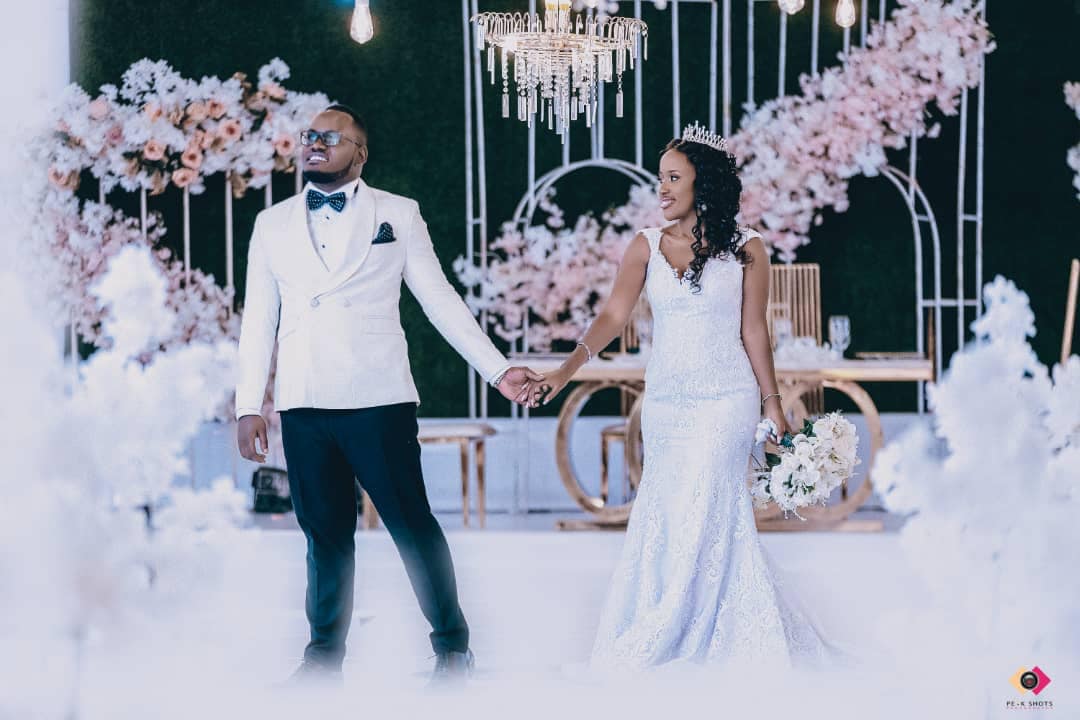 Preparation
The organising committee for the wedding consisted of Edmond's friends. He says they had a team in Mbarara too.
"For us it was mainly about mobilsing resources and seeing how we can pull off a wedding my wife deserves," he says. On the bride's end her kuhingira was done by family and her parents' friends.
Both functions lived up to her expectations.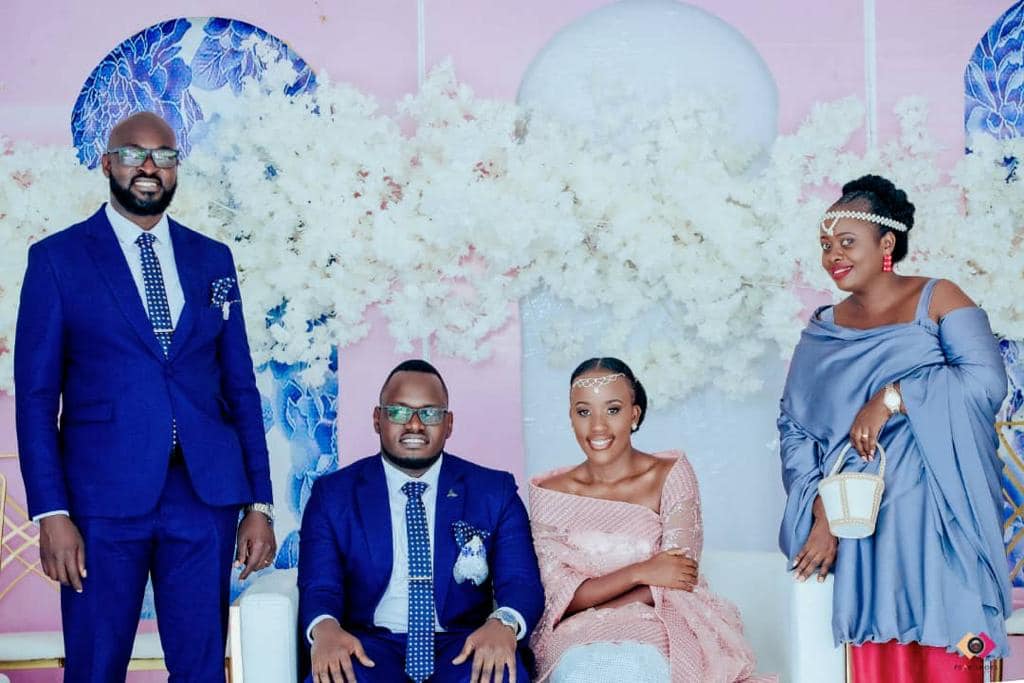 Edmond notes that the organising committee did a perfect job and after their wedding they had to host them in appreciation for everything they did.
To settle for service providers, Lavinia says they considered quality.
"I love simple but quality things. I do not want to outdo myself. At the back of my mind I wanted simple but beautiful things," she says.
She came up with colours that she wanted for the wedding and giveaway. The colour theme of the giveaway colours were navy blue, pink and white. For the wedding it was green, white and some gold.
The giveaway was in Rukungiri and the wedding in Mbarara districts. Lavinia explains that she checked out some places upcountry but they did not have what she wanted.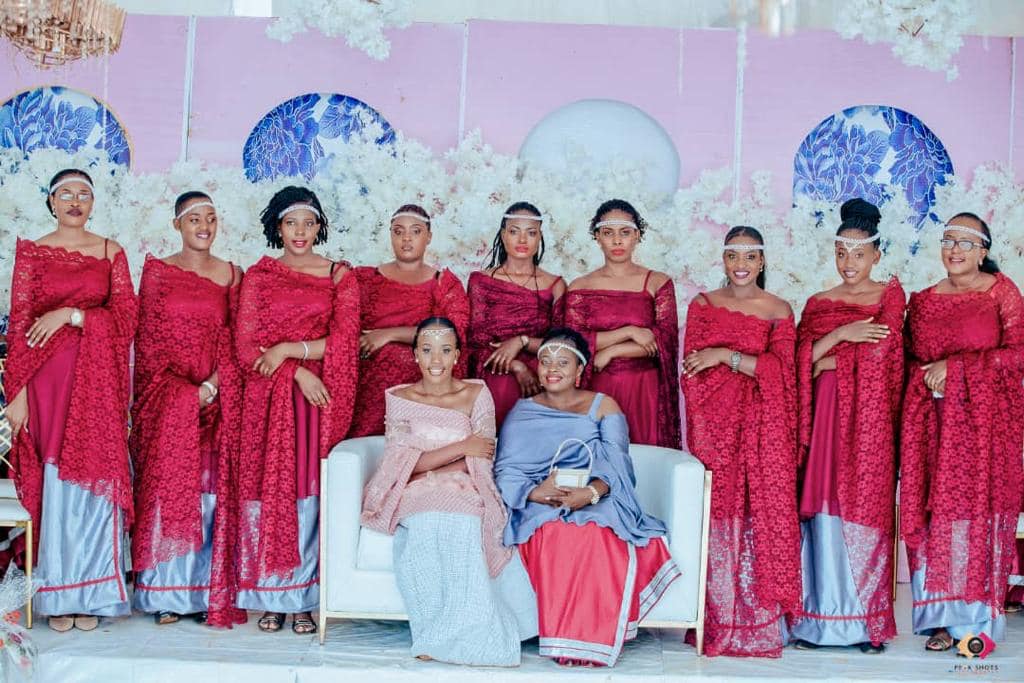 "All our service providers were from Kampala. Everyone carried their things because they had what we wanted. We wanted to have our dream wedding," she notes.
They explain that no service provider disappointed them.
"Everything was on point and I think it was God at the centre of everything," she says.
"The make-up artist and hairstylist worked on us for the kuhingira and wedding. He left Kampala on December 26, 2021, then stayed around for my wedding. I was so happy," she recalls.
The wedding reception was in one of the halls at Hotel Triangle because, Edmond says, "I like good things. So when I was looking for a place to host my wedding reception, I moved around during festive season and I wanted the wedding in my home district [Mbarara] and the hotel was best suited for my dream wedding."
He goes on to say the hotel staff were cooperative and had great food.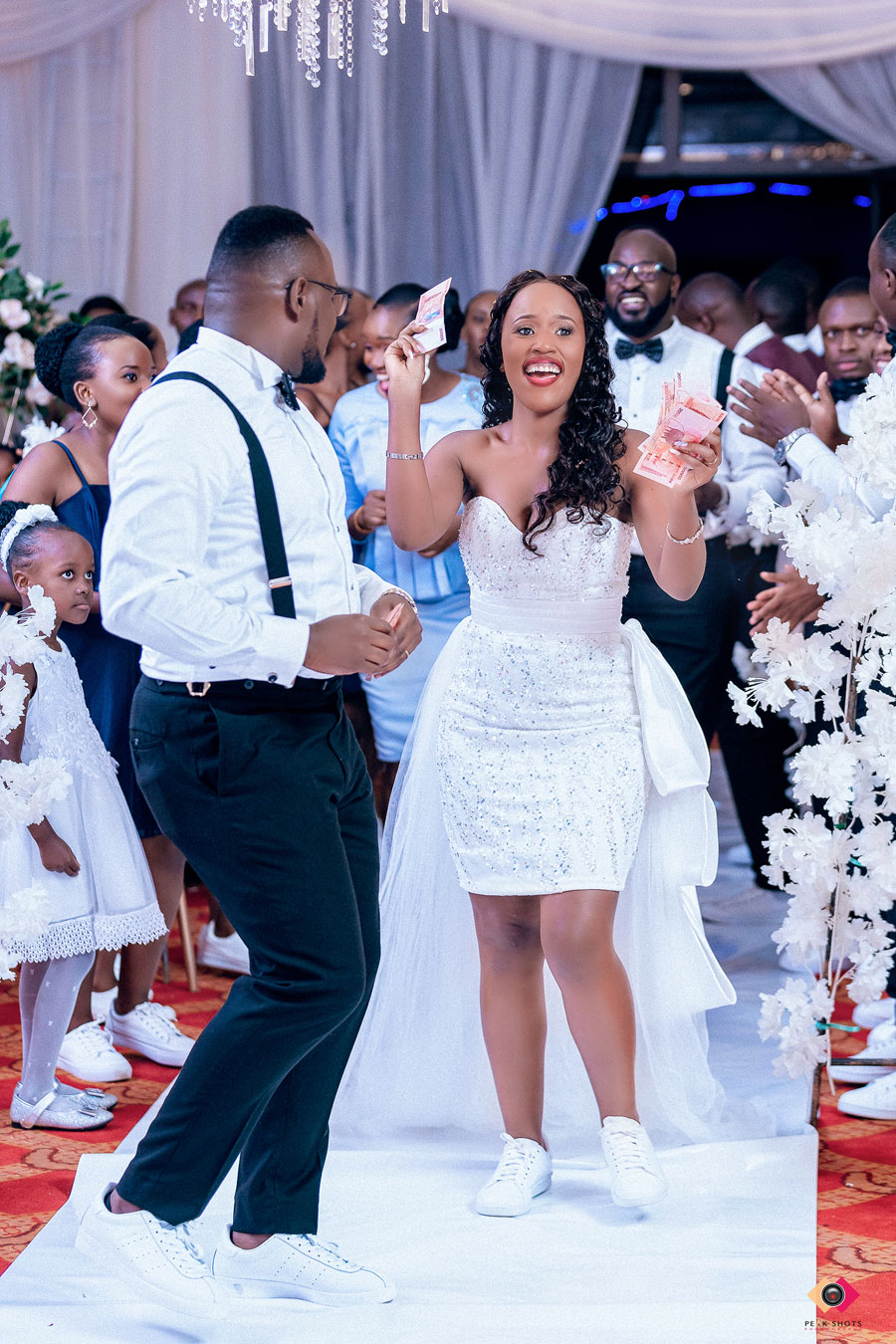 The couple stayed away from an outdoor venue because of unpredictable weather such as a heavy downpour or too much sunshine.
The newlyweds spent their five-day honeymoon in Dubai. This is because of Lavinia's love for shopping for the fashion house and their home as well.
Advice
Those planning to wed ought to compromise and set aside time to connect as often as possible. Also, treat each other with respect.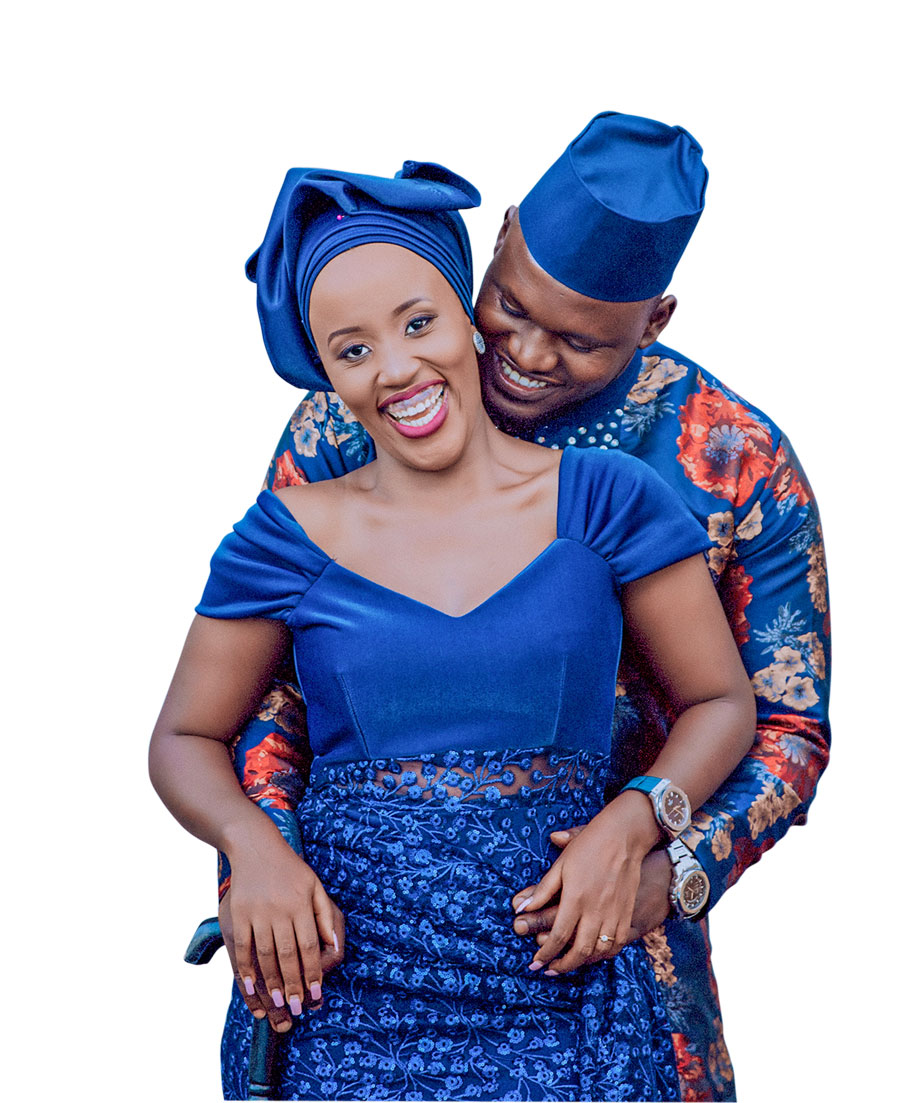 Quick bio
Date: December 29, 2021
Groom: Edmond Agaba
Bride: Lavinia Tuhimbise
Reception: Hotel Triangle
Honeymoon: Dubai