By Maria Immaculate Owechi
When choosing your maid of honor, it's likely that you have someone in mind perhaps a childhood friend, best friend from high school or university, sibling or a sister-in-law.
What most brides want is that the maid of honor should not outshine or be referred to as awesome-looking compared to the bride which is understandable as the bride wants to be the lady of the day. However, in looking to achieve this, many times the matron is not given the deserved attention for the role they play, when it comes to dressing them up.
Brides should understand that a maid of honour is not your competition. If you feel that way, then maybe you ought to rethink about who you have chosen for the role. Otherwise the maid of honour is there to attend to your every whim.
Mercy Birungi, a dressmaker at Glamorous Bridal Store, Mukono says that much as the matron should not outshine the bride, it is still important for her to dress differently from the other maids for easy identification of her role. True to her statement, many brides choose different dresses from the matron however, they make sure what they choose is unnoticeable. This is not how it should be. You can be the star at your wedding without necessarily making your matron almost unrecognisable.
Carol Beyanga, a Managing Editor at Monitor Publications Limited, shares with us her experience as a maid of honour and how she worked it out with the bride in order to appear unique.
"The bride chose the fabrics and theme colour, but gave me the option of choosing my own design for the dress," she says.
The bride also advised Beyanga to wear a larger fascinator on her head instead of the small one she had picked so that she could easily be noticed.
"Very many people commented that I looked nice with the fascinator. That is what made me stand out as a maid of honor and up to date, I have still kept it," she flashes a smile as she narrates.
Mercy Birungi, a dressmaker shares with us the following tips on how a maid of honour can look fabulously different without outshining the bride.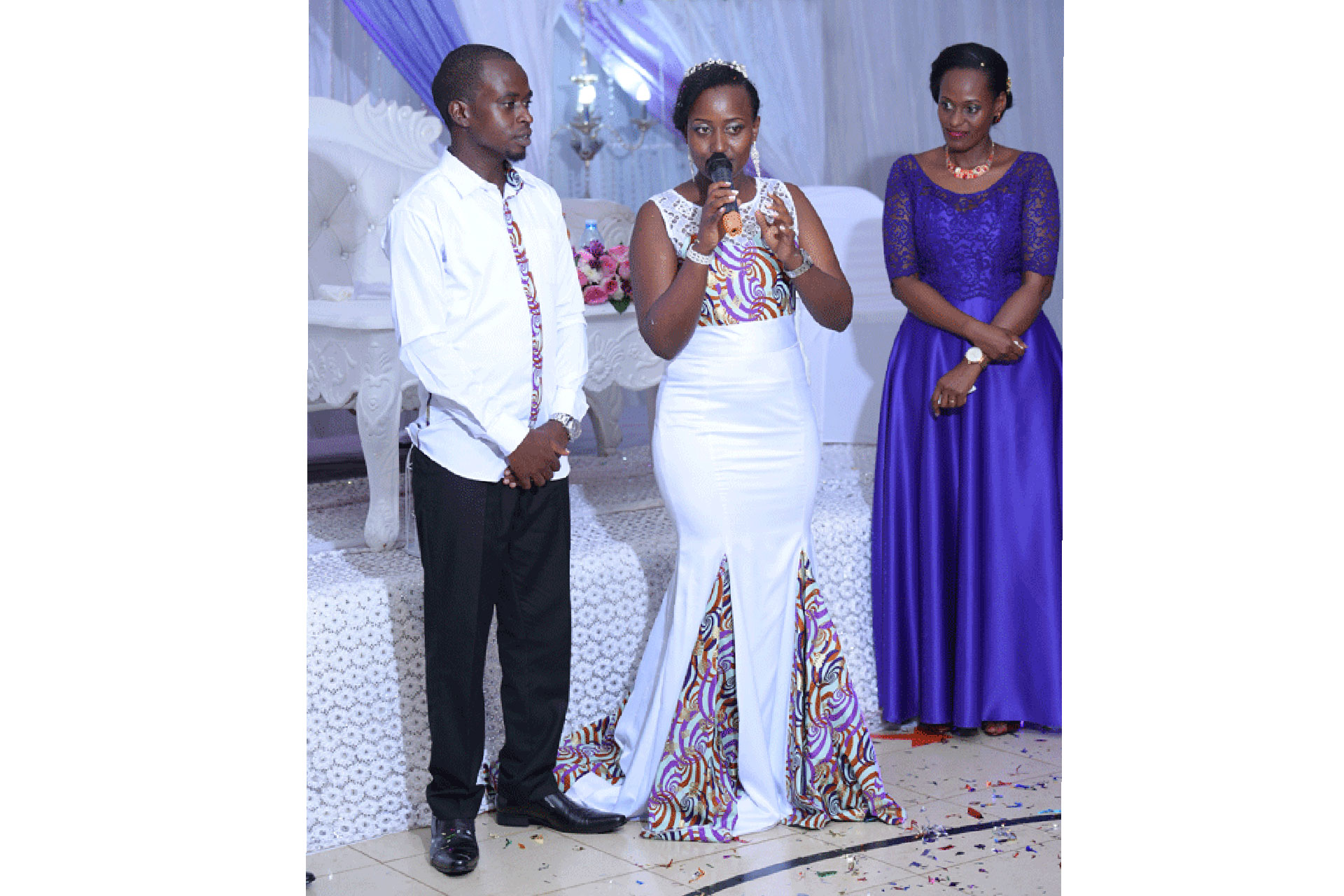 Let the dress be uniquely different from that of the bride
The bride can give the matron a choice of picking the design for her dress. This shows that you took into account her tastes and preferences rather than imposing your own sense of style.
For the changing dresses, the bride usually wears a different colour and a more glittery dress to stand out. A maid of honour, also can wear a different colour with lace to appear equally smart.
A matron doesn't need a bouquet
"I do not personally encourage matrons to carry a bouquet because of the numerous responsibilities while attending to the bride like holding her dress and bouquet at some moments, dusting and touching up her makeup.  This may give her difficulty," Mercy Birungi states.
"Instead I recommend her to carry a classy glitter clutch bag where she can keep make-up, hankies and other small necessities for the bride," she advises.
It's an added advantage since as the bride carries a bouquet, you can look your part but still remain classy.
Opt for a unique hairstyle
Jessica Nyanzi of Amazing Grace Beauty Salon, Mukono, states that a distinction in the hairstyle for maids of honour is a common practice.
"For instance if the bride opts to wear up-dos, the maid of honor is usually allowed to wear her hair down or have some side hair down," she advises.
"She can even style her already plaited braids, pencil and dreadlocks while the bride styles her treated hair or adds extensions to stand out, "she adds.
Beyanga narrates that on one of the weddings as a matron, she was allowed to maintain her short hair which she had curled, while the bride had longer, treated hair.
Opting for bolder accessories
These bolder accessories can be a necklace, ear rings, bangles or a hair accessory to give her that signature look and appear beautiful in her role.
Wearing different types of shoe
The maid of honour can add a distinction to her shoes with a different pattern, or design in comparison to that of the bride. If the bride wears gold glitter shoes, she can opt for silver glitter shoes.
If you are soon going to be a maid of honour, you just have to tweak a few things, here and there to achieve that stunning look. For the brides, remember that your matron will have an impact on your whole entourage. So instead of choosing attire that makes her look like the mistake in your bridal party, choose an appropriate outfit that will make all of you shine.