By Joan Salmon
Dressed in a white and black suit, Malmo football club star Mohamed Buya Turay looked every bit exquisite. Beside him was his bride in an embellished white Cinderella dress, Suad Baydoun and she looked spectacular. But who would have imagined that these were wedding shots taken a day before the wedding?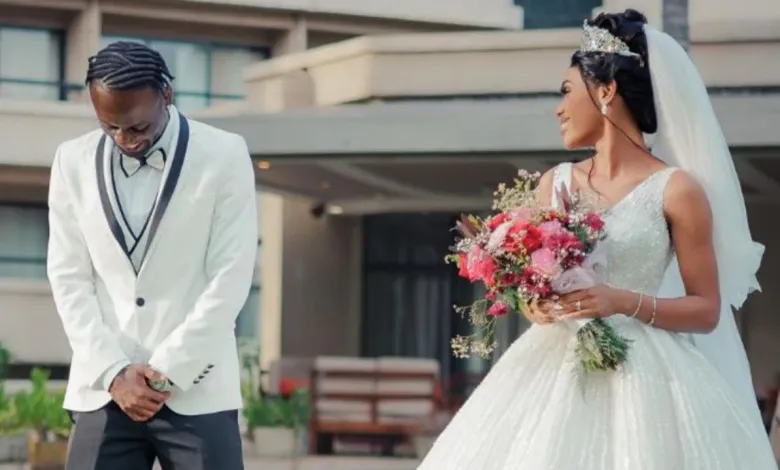 Mohamed Buya Turayplanned his wedding for the end of July 2022, but he did not count on being signed by Malmo FF of Sweden from Henan Songshan Longmen of China, and the team did not allow him to travel to celebrate his marriage.
He decided to send him to represent him at the marriage ceremony in his place.
We were getting married on July 21 in Sierra Leone. But I couldn't be there because Malmo asked me to arrive earlier," the striker told Swedish newspaper Aftonbladet.
"We took the photos beforehand, so it looks like I was there, but I was not. My brother represented me at the royal wedding," the footballer revealed.
Turay celebrated the news on his Twitter handle;
🌟🐐🦁🇸🇱 I married my sweetheart, wife and my Best friend today!!! What an amazing human being!!! And What a blessing!!! Mrs SBT💞💍 Suad Baydoun

I can't wait to enjoy life with you together soboti 😃🤦🏾‍♂️. pic.twitter.com/nEw4siV0QF

— Mohamed Buya Turay 🇸🇱 (@turay_buya) July 31, 2022
The footballer also posted photos of his brother and wife at the ceremony,
🌟🐐🦁🇸🇱The whole social media trending on my marriage situation,which i said my brother to represents me,that him on the pictures on that day,do to my job to come to Sweden.I presenting you the whole misconception of the wedding (Nikkah marriage) in Sierra Leone,that i didn't … pic.twitter.com/vGo0WxCduW

— Mohamed Buya Turay 🇸🇱 (@turay_buya) August 6, 2022
Turau says his dream is to ensure his wife joins him in Sweden so that they can live together.
He is now working hard to ensure a league win before he can go for his honeymoon.
Turay made his debut appearance for Malmo in a Europa League match against Dudelange which ended in a 3-0 win for the Swedish side.