Stephen Kapere is the founder and president of Youth for Charity Missions International (YOFOCHM) skills training and childcare centre. He is passionate about Godly and community–based initiatives. Teddy Nazziwa, a social worker at Yofochm Centre in Kamuli shares these same interests.
How they met
One day, Teddy called into a programme that Stephen hosts on his online radio station. Stephen was charmed by Teddy's soft voice.
"I followed her up through a colleague, assigned her to lead prayers and intercession on radio, which she did perfectly," he recounts of their first meeting adding that through the radio programme, the duo got close.
It is there that Stephen discovered her potential, shared values and when he started the church ministry with a vision for the community vision she was a great pick.
"As a youth mentor on responsible living, it was also time for me not to look at the many young girls, or preach fidelity without evidence. So, Teddy became the perfect match for my ideals, because she is a community social worker with a passion for youth," explains Stephen.
For Teddy, Stephen was pleasant, simple and caring (he cared for his colleagues and played team mentor) and a great communicator.
"Stephen always got the best out of others and when you fell short he would capitalise on your strengths and guide, not reprimand. He has a large heart and soft spot for the less privileged; I could not resist his charm," Teddy admits.
Fondest memory
During a phone-in radio programme where they were reviewing a pastor's sermon on patience, faith and commitment. He said many youths spend more time trying to find themselves. A one Johnson asked Teddy, 'where is your sweetheart?' and spontaneously she replied, 'he is here'. Stephen cast a mischievous look at her and answered, 'what is it darling?' From then on they fondly called each other by endearments, 'Sweetheart and Darling'.
Preparations
In the course of work, Teddy and Stephen opened a church in the rural Kamuli communities to cater to the youth. Meanwhile, the relationship was progressing.
"We held an introduction ceremony in Kampala but our parents could not make it there. We were disappointed by this, so we decided to have our wedding in the village," they explain the choice of their wedding venue.
They opted for a one-stop wedding, venue, church, reception in their office gardens.
The wedding also served as the launch of Katwalo Catering Services, a community catering service to help rural women and youth generate income, improve their welfare and unite.
Each member contributed Shs10,000 (mutwalo) as start-up capital and because it had catering experts in local dishes, they prepared matooke, and luwombo . For the wedding, instead of hiring outside catering services the couple bought utensils enough for their 600 guests.
"Teddy through her social work had developed a bond with the local communities and family which lured me back to start a youth ministry and we agreed that the wedding would be an appropriate launchpad to have a wedding at the lowest cost," Stephen discloses.
To Stephen, the rural wedding was a perfect gift to Teddy whose heart beats for the less privileged.
"Jesus always had interactions with the community and spent what was available locally through sharing and giving hope and by borrowing fish and bread from within. I insisted on having our marriage in the community at the lowest cost to show them they too can make it," Teddy adds.
To keep time, they ensured all they needed to use was at office. They dressed up, one hour to the wedding.
Celebrants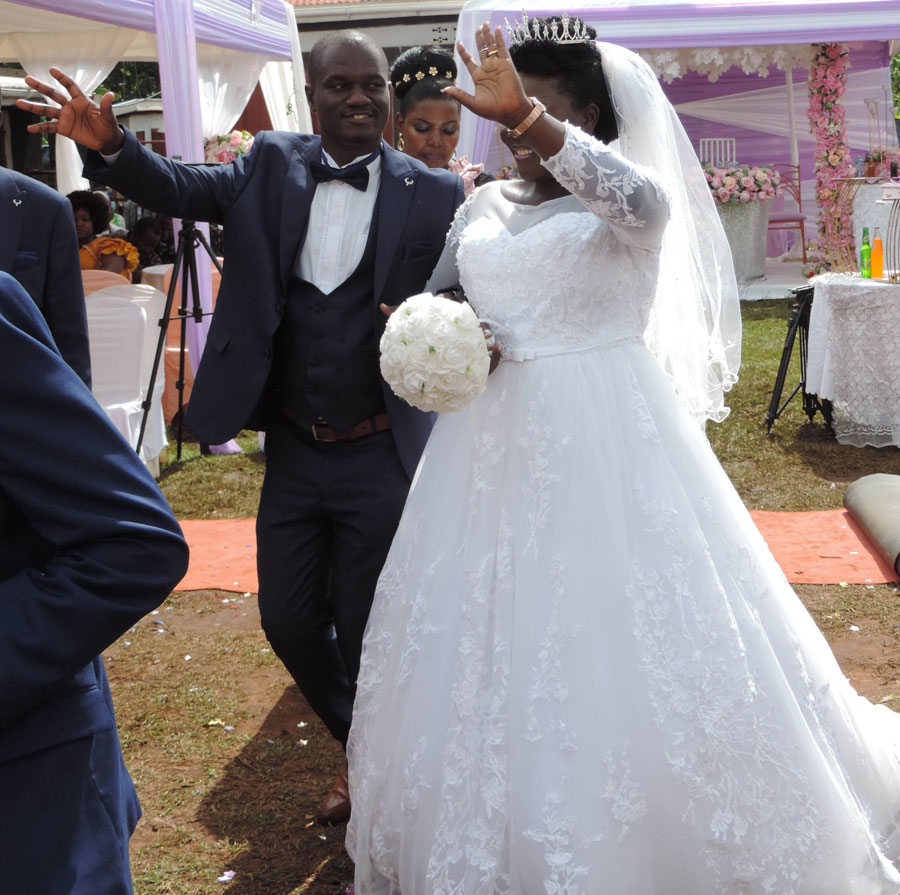 The main celebrant was Evangelist Steven Ssebyala director of Africa harvest Mission and Family Radio Uganda.
Bishop Edie Munene, the overseer of Born Again Christian Fellowship Churches in Busoga Region Pentecostal Churches stressed to the couple that marriage as an institution ordained and willed by God and is based on shared values of understanding each other, reflection and forgiving.
"Marriages should focus on evangelism, discipleship and serve to teach the world and other couples out there hope to make their marriages stable and better," Munene preached.
Lows
Balancing urban and rural expectations, mindsets and family members was tricky yet they had contributed generously. Their friends from urban settings were reluctant to attend a village wedding.
"We wanted a beautiful function in the village but for example, when my spouse suggested that we buy our own food and find some locals to prepare for the guests instead of hiring caterers, the suggestion was not popular because as some members reasoned that there could be foul play such as poisoning or half-cooked food if we let the villagers take over the kitchen…"
"But we needed our people to own the function which came to pass…" Teddy recounts, adding that after the function, they formed up a catering services group from which village women generate income.
They spent Shs11m on the ceremony.
About
Date: April 16, 2022
Groom: Steven Kapere
Bride: Teddy Nazziwa
Venue: Yofochm Centre, Buwaiswa Kamuli
Food: Katwalo Catering Services, Kamuli
Cake: Destiny Bakery and Confectionary
Decoration: Challen Decorators Events Kamuli
Sound: Leon Sounds
Photography: Yofochm Media
Celebrant: Evangelist Steven Sebyala, and Bishop Eddie Munene