By Joan Salmon
Clad in a round, off-white long-sleeved gown with a long trail Noeline Nambi, in the company of her father walked to Adolf Arinaitwe who stood regal in a blue suit, white shirt with a floral bow tie and a matching pocket square at the altar. The Arinaitwes had their wedding on May 22, 2021, and share their courting and wedding experience with us.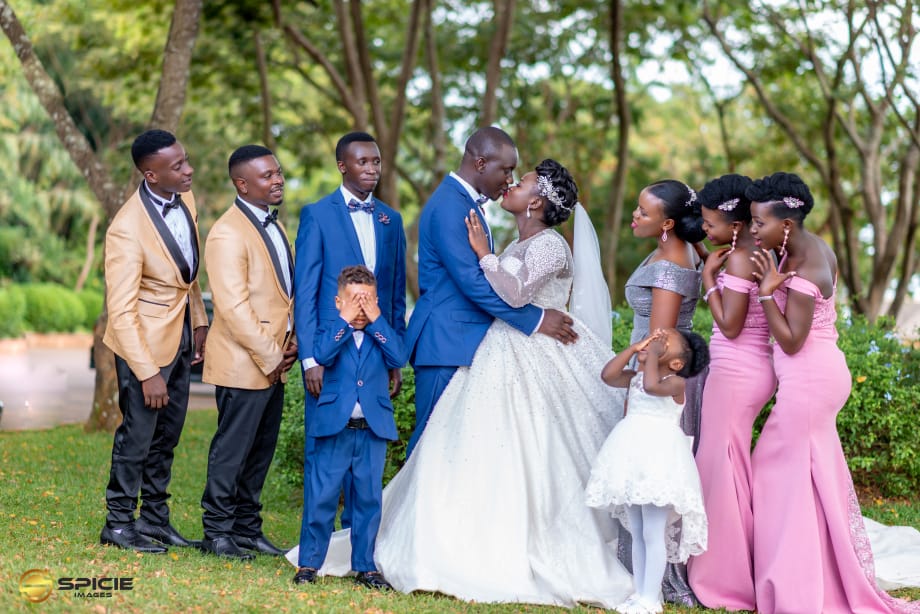 When did you meet?
We met in 2012, during the first semester of our medical course in Mulago during a prayer meeting.
Adolf: She came to our hostel looking for the room where the prayers were to be conducted. I met her and took her for the prayers and then we shared contacts. Thereafter, the conversation started and it has never stopped.
When did you decide to take the relationship to another level?
That was in December 2017
Adolf: We dated throughout campus and when we went to the field, it was time to think about starting a family. When she accepted to meet my parents, I did not know what to expect since we are from different tribes. (She is a Muganda while I am a Mukiga). However, it all worked out well because my parents liked her a lot. One year later, (2018), I went to her home for the pre-introduction ceremony (kukyala).
What drew you to each other?
Adolf: She is bold, intelligent, God-fearing and beautiful. These qualities were enough. The tooth-gap predominant when her smiles was just irresistible.
Noeline: He was gentle, calm, humble and God-fearing. His height and body also swept me off my feet.
What was the proposal like? How did you make it happen?
Noeline: He proposed at a green golf course, somewhere at Makanga Hill in Kabale Town with no ring! He surprisingly knelt down and asked me for marriage. My heart skipped a beat and I cried as I accepted the proposal even when there was no ring.
What was your wedding budget?
Adolf: We had a small budget but kept on shifting goal posts regarding what to go with. At last, we settled for Shs35m.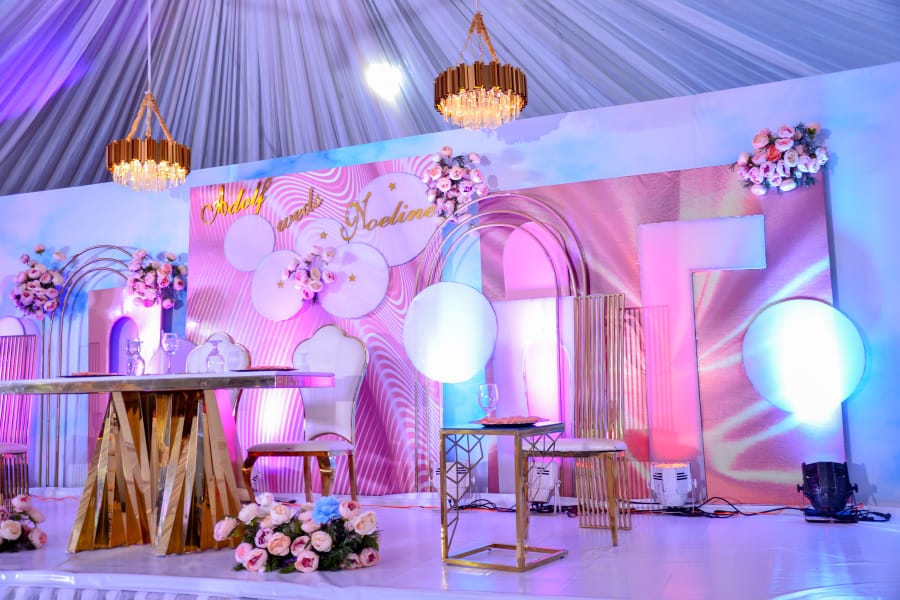 How did you raise the money?
We planned for this wedding for many years so we were prepared. Our friends and family too were so gracious to us in the three wedding meetings that we held.
What item took up the biggest part of the budget?
Noeline: Decoration. The decorator took two days and two nights to complete his decoration. He carefully decorated each table with flowers, draped the entire venue, and concentrated on the stage where the entourage was to sit to give it a touch of elegance.
Where did you get your attire from?
Noeline: Tender Bridals dressed me in a round, off-white long-sleeved gown with a long trail. My changing dress was a round off shoulder champagne dress. However, my entourage was dressed by Angel's bridals.
Adolf: FB fashions dressed me in a blue suit, white shirt with a floral bow tie and a matching pocket square. On the other hand, my entourage was dressed by Kushona fashion designs in golden yellow tuxedo suits.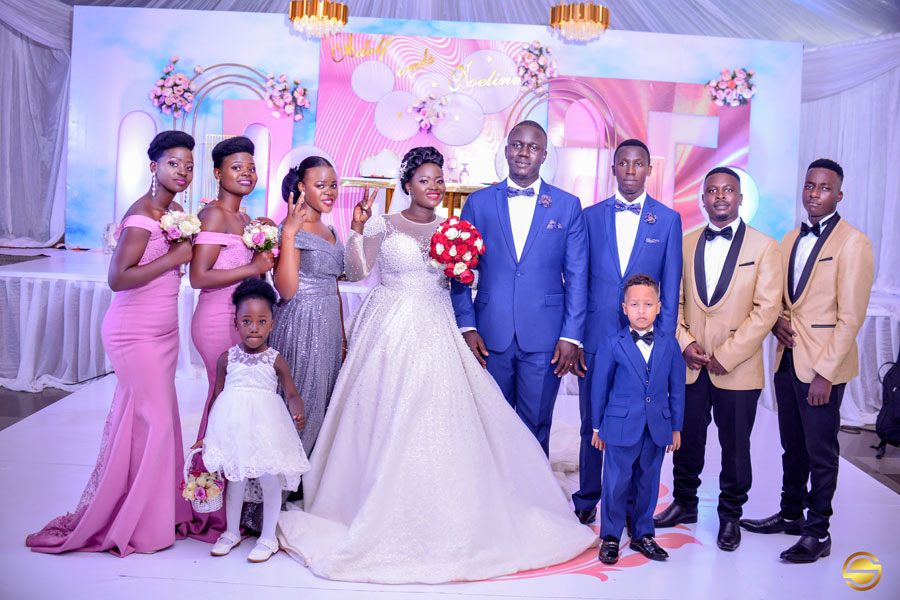 Who helped you with the wedding arrangements?
Couple: We chose a committee of about five people. But generally, we identified all our service providers and the committee helped us in organising and implementing our dream wedding plan.
What was your wedding like?
Noeline: I loved everything from the start. It all began at Serene Beauty for the salon while the groom's team went to Mystique beauty and all were on time. We then converged at Mulago Hospital Chapel at 10 am.  I also loved the live band as well as the entertainment by Sunrise Empologoma Group which left our guests wanting more.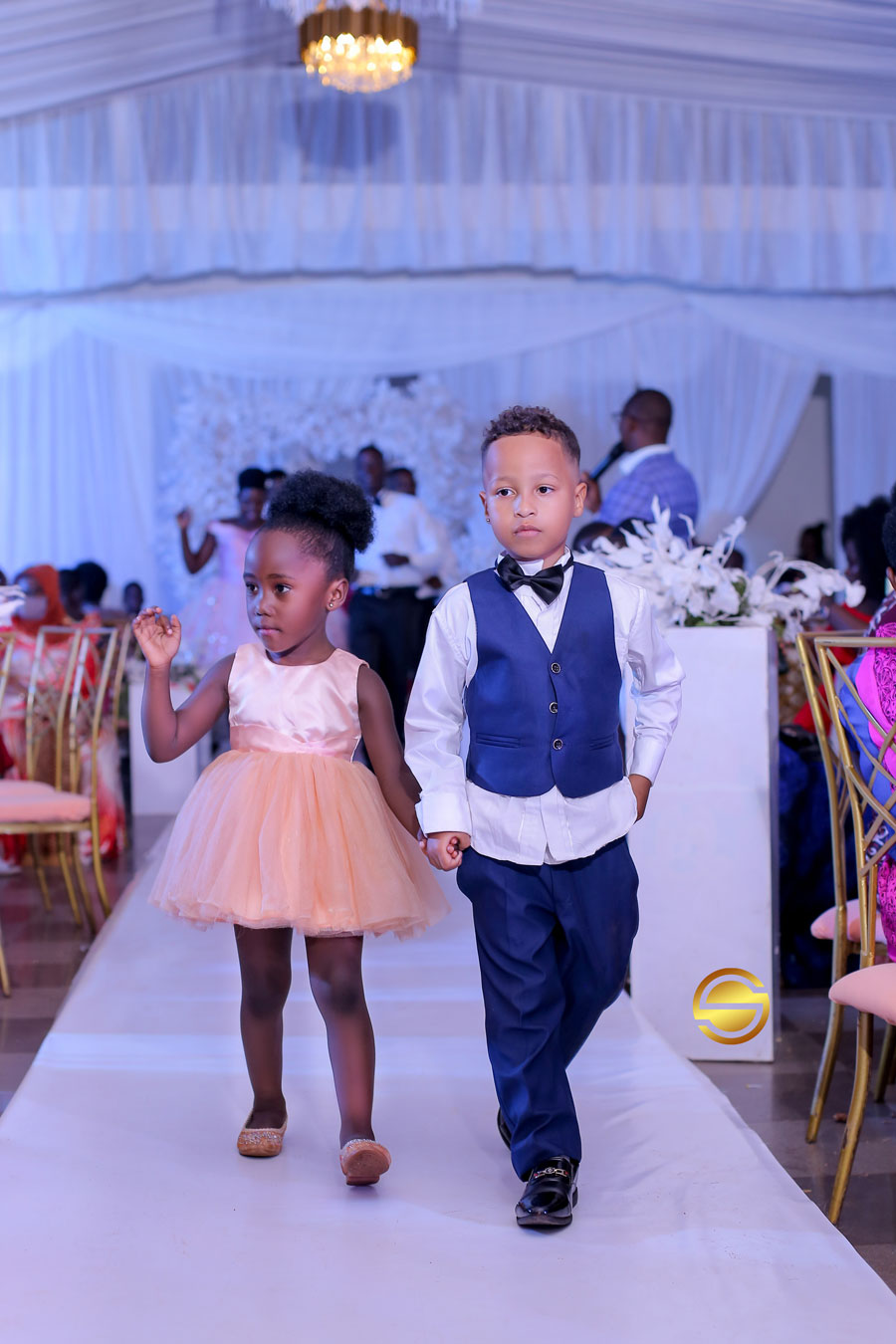 Adolf: The singing by St Cecilia Kitebi choir was angelic. We then went to Speke Resort, Munyonyo for photography which was handled by the Spicie images before joining our guests at Mengo Teacher's Hall. Sema cocktail juice was also amazing. It was surely a simple yet elegant wedding that was well crowned by cake by Slice of life bakers did us good. We ensured that all our guests tasted this cake.
What was your colour theme?
Noeline: Peach with a touch of white and gold. Stuart events perfected this.
How did you pick your entourage?
Noeline: We wanted a simple entourage. I had two bridesmaids, a matron and a flower girl. On the other hand, my husband had two groomsmen, a best man and a pageboy. Picking these was so easy for us. Save for the matron and best man who were friends, the rest of the entourage was made of young close family members.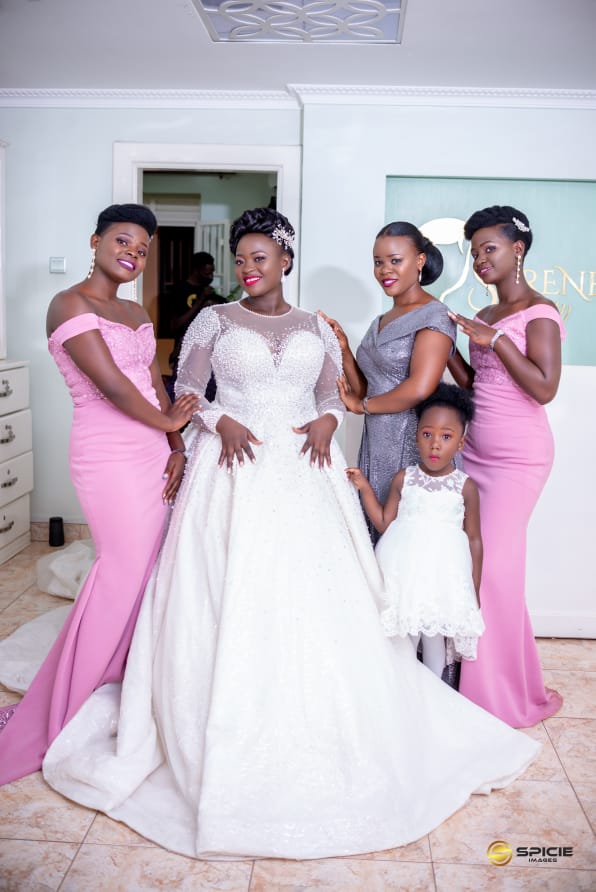 What advice from your premarital counseling struck a code for you?
Adolf: Marriage is between two people, three is already a crowd. This was a statement by our marriage mentor Fr Valentine Amuneke, a priest of Nigerian origin trying to emphasise that marriage is between two people and any third party such as family and friends is secondary.
What was the most exciting bit about your wedding?
Adolf: Everything went as planned. Our guests attended in huge numbers; we could see all of them from our raised stage. The attendance of our immediate top employers from both of our workplaces was too exciting.  Additionally, the arrangement of the guests with the bride's guests on one side and the groom's guests on the other side was also so good.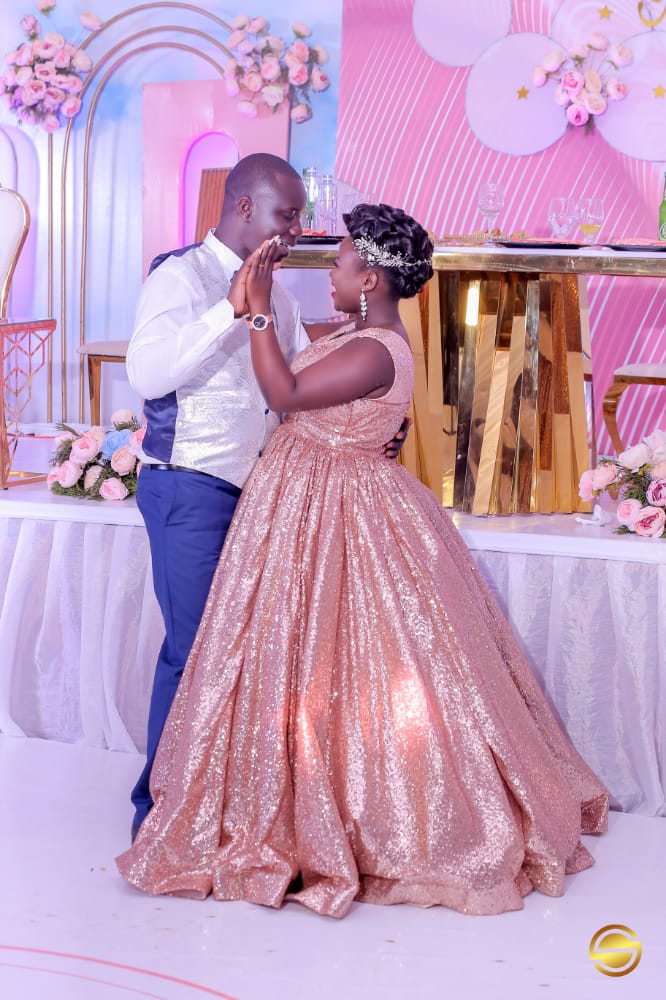 What went wrong? How did you deal with it?
Noeline: It rained cats and dogs towards the end of church service. We were so worried and thought our program had been ruined. We sat still in church in silent prayers. Surprisingly, we were informed it had not rained at the reception so the programme went ahead as planned.
What would you change about your day? Why?
Having our photography at Speke Resort after a wedding in Mulago and then returning to Mengo for the venue was extreme and made our guests wait a bit longer. We should have got a nearer photography place.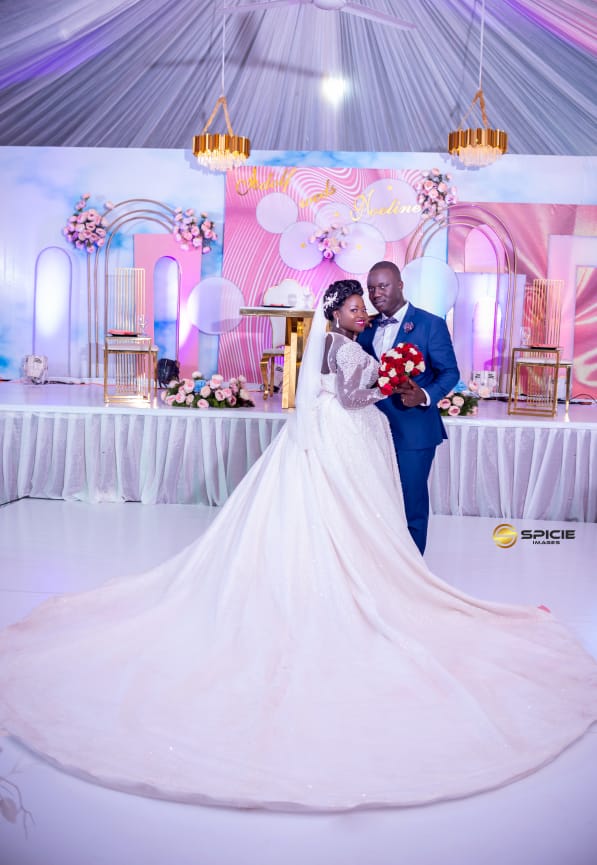 Where did you go for your honeymoon? What did you enjoy the most?
Adolf: We headed to Jinja. Waking up to the relaxing days at the banks of River Nile with my better half will forever be on our minds. We were however, almost caught up by lockdown since it was declared on our transit back to Kampala.
My Wedding congratulates you and wishes you a blissful marriage.