By Mercy Geno Apachi       
It is that time of the year when different kinds of children – willing and unwilling, prodigal and repentant, family loving or avoiding, wealthy but stingy, unreasonably unsuccessful, etcetera return to their various homes in different villages.
For the newly wed daughters-in-law a begrudging sense of anxiety sits in the pit of their stomachs for it's a tradition in many homes that their sons show up with their belles. We know that marriage is meant to unite two families, but how does a fresh bride go about uniting with a completely different family? What expectations do they have to fulfill? What sacrifices are they going to have to make?
Here are some of the reasons why many women would rather curl themselves up at some soft spot and hibernate till the frustrating festive days are done.
The unbearable mother-in-law
The diary of a tired daughter-in-law always has a thousand shenanigans of the mothers-in-law who make it their key responsibility to frustrate their entire existence in the short time they are together.
This is the mother-in-law's time to judge whether her son is being taken care of the traditional way she takes care of her husband.
For the Acholi daughter-in-law, the cock crowing at break of dawn might find you at the grinding stone putting to paste the groundnuts (odii) that will accompany the boiled cassava for breakfast.
"And for some reason whenever I am around, the water from the tap mysteriously disappears and I have to balance 20 litre jerry cans of water from the borehole many metres away on my head," laughs Sharon Abalo, from Lamwo district in Northern Uganda.
This is not always the case, some mother's in law would wither first before seeing their precious new daughters scramble with work. For them, this is a time to bond and share kitchen duties instead of instilling irritation and aching spines in the young women.
However, if in your case you have to do the hard work, you have two options;
1. Talk to your husband about celebrating Christmas from home as a newlywed couple.
2. Give your in-laws a chance. Sometimes the pressure stems from what we think is expected of us rather than what our in-laws will demand of us. But in case the hard work is unavoidable, hang on in there.
Girls of marriageable age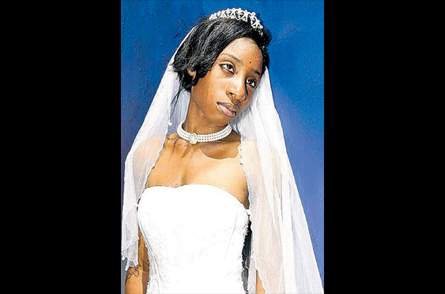 Unmarried ladies have suffered with those relatives in the village we see once a year. Aunts have become the living loud thoughts of parents that try not to mention their daughter's single statuses: "So Agnes, you have graduated but when shall you add a man to your certificate?" Agnes Nalwoga, a business lady in Nakivubo echoes what is asked of her when she goes to the village.
Because of the constant jabs you know better than to pry into why your cousins are not yet married, so you  respectfully engage them in other topics like why Ugandans go from telling Rwandese to be humble to noticing the few flaws of the "Queen" Abenakyo in an instant.
Dear Aunts, patience will allow us refrain from trying to give you a lesson in why not to keep asking such questions, like marrying ourselves as that other celebrated Ugandan Oxford student, Lulu Jemimah did.
The unhelpful male husbands and relatives
It is that time of the year when you cannot dare flirt with anyone for fear that he will be introduced to you later at the family gathering as your distant cousin from Egypt. Usually the entire family gathers in one place and it is automatic that the dish-washing, utensils scouring, babysitting, laundry doing, falls on the unmarried and newly married ladies "to-do" list.
It is worldly views that ladies are to exhibit their wifely attributes during family gatherings where as men sip beer or marua (millet fermented beverage) under cool shades of aging trees catching up on leisure talk as food settles down in their bellies.
Children are also supposed to change clothes thrice a day, for church, for day time showing-off and photo-shoots as well as evening Christmas parties with cotton-bearded African Santas.
"The day, I repeat, the day I have a normal Christmas where I celebrate away from the kitchen and leave its activities to my husband and our son, I shall sponsor the new year party," cries Agnes, a woman who has had more than her fair share of slaving in the kitchen whenever the festive season arrives.
What if we all shared duties amongst ourselves and made work lighter and faster for our wives so that they too get time to adorn those expensive Christmas clothes, and sip a glass of wine or two? Would not Christmas be fair for all?
The non-paying audience
As a new wife, once in a while your duties will be to host your husband's friends and relatives over at your humble abode on Christmas. You are expected to be the top chef, angelic nanny, the part-timing maid as well as the professional comedian who makes sure the guests have had a pleasant day without complaints.
All this happens as Mr Honey-boo-pie laughs and chats away without a care that his cupcake is withering away in kitchen affairs. Husbands, this is your time to share kitchen space with your wife, choke on the smoke together, steal a piece of meat as she attends to the baby, lightly peck her on the cheek when she makes to slap you. Be romantic!
Sleeping arrangements
In some homes it is an abomination to share the same bed with your husband under your parents' roof! Whether the bed is double king size (whatever there is these days), you will be allocated to either share with your children, sisters or even in the sitting room.
"I felt awkward just thinking about the fact that my parents may have imaginations of what I and my husband do. See to my mother, I will always be that little innocent girl despite marriage," explains Sharon. Well, put a pause to the cuddles and the team buildings if you are headed to your village home this Christmas.
Merry Christmas!