By Christine Katende
Moses Semondo and Juliet Biira are medical missionaries. Although the lovebirds have been working together for a while, they showed interest in each other not so long ago and decided to sanctify their marriage early this year. They share their story.
Why did you post the invitation card on social media?
Moses: To invite many people to my wedding. Unfortunately, about 70 turned up but I gave out 50 invitation cards and also posted on Facebook. I however think that the few numbers were because it was a work day, Wednesday. Many including Hon Frank Tumwebaze failed to turn up. I needed many to witness the simplicity because, even the few who turned up are still asking of how I managed to pull it off.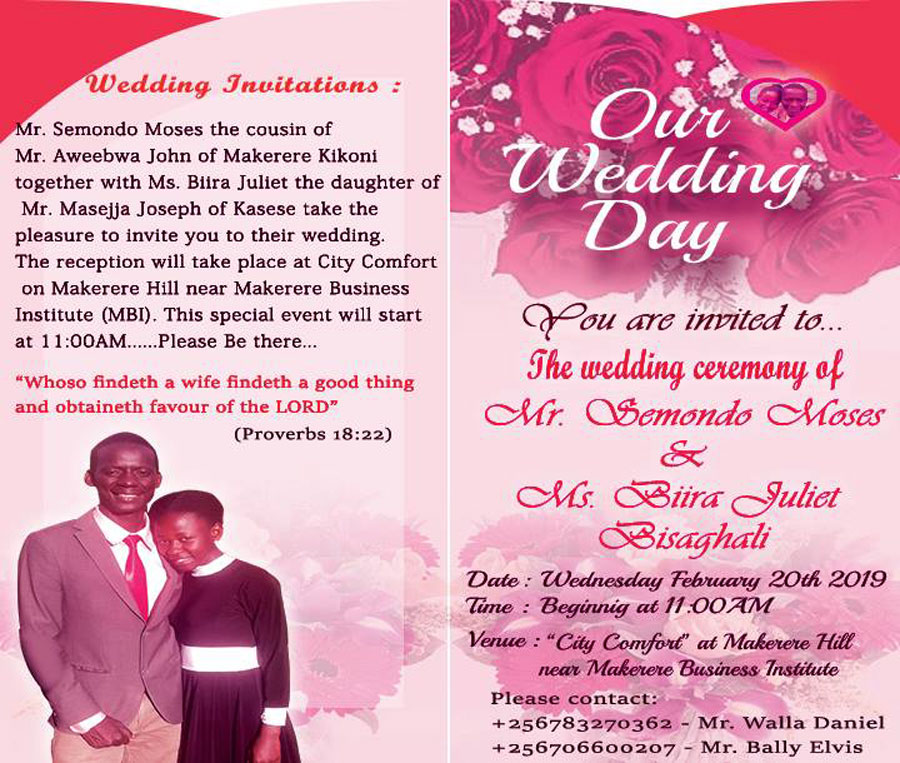 Tell us more about the wording on the invitation card?
Moses: No, I printed two cards but the one where I invited people through my cousin was because the people of Makerere Kikoni knew my cousin more than I yet I wanted them to be part of the ceremony.
Was approaching Juliet that easy?
Moses: No, I had to seek counsel before taking a final decision. Before that, I got to know Biira in the late 2016 through her cousin who used work with us but still treated her like any other female colleagues. In 2018, I started realising she had a unique character, humility and, I saw Jesus in her. The people I consulted seconded her name, saying she was a perfect match for me. We shared a lot about ourselves and telling her about my intentions wasn't hard, I openly told her why I was interested in her not any other woman.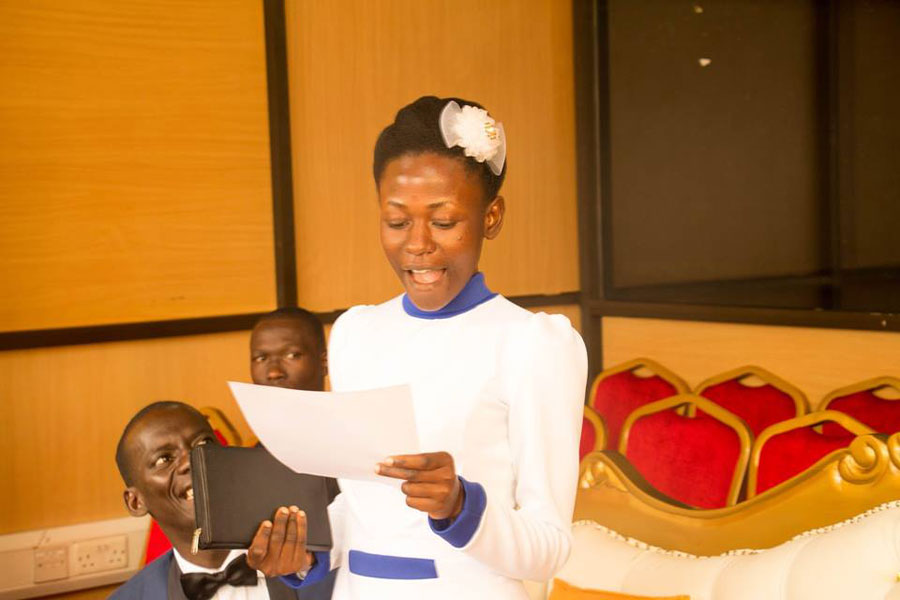 How was your reaction to his proposal?
Juliet: Although I had worked with him, I could not just accept. I asked him to give me time as I prayed about it, I needed an answer from God as I also consulted my friends, who gave me a go ahead to take him on as my husband. I responded to his proposal after a week.
It is your character that drew him close to you?
Juliet: He has great love for Jesus Christ. I did not base my acceptance on physical looks and riches or any material things, I wanted his inner person and strongly believe that by us coming together, God's work will be accomplished.
Did you have a wedding soon after the proposal?
Moses: No, we dated for about six months and after realizing that we were both compatible, we started the introduction and wedding preparations. The preparatory meetings were done by the organization and church members, simply because calling in other people would mean, moving by their decisions, basing on their contribution. I however contacted my friends who I knew would support me.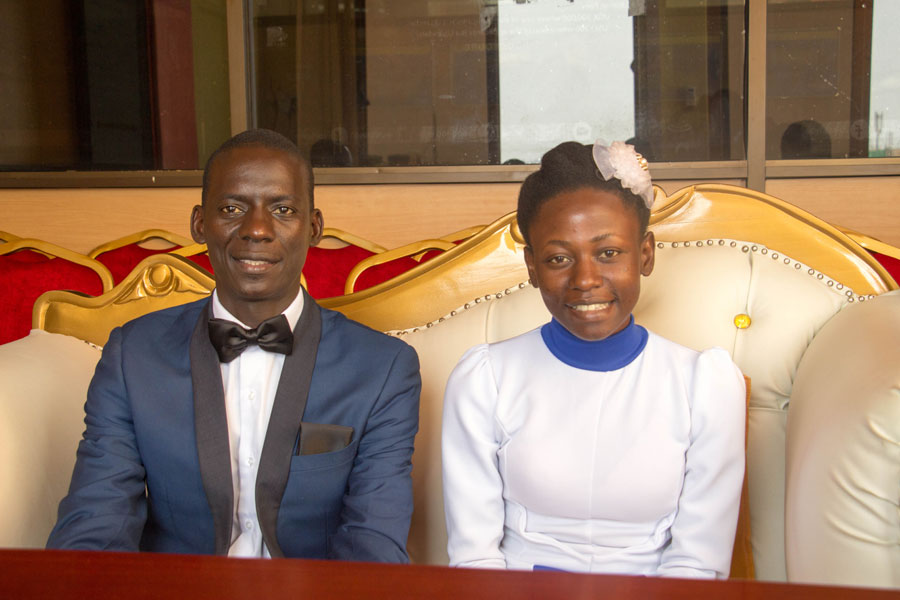 Did you run your preparatory meetings?
Moses: We had a committee headed by Elvis Daniel Wala, one of the organization members and everything went on successfully.
When and from where did you say I Do?
Moses: We exchanged the vows on February 20 2019 at URSB, a week after our introduction in Kasese (Biira's parents' home). We also did not take much at the introduction, her parents received. After taking the vows, we proceeded to City Comfort Hall in Makerere Hill Mukubira zone (kikumi-kikumi) for a blessing service at and it is where we had the reception. We hired this place at Shs750,000.
How much did you pay to have the URSB marriage certificate?
Moses:  Shs320,000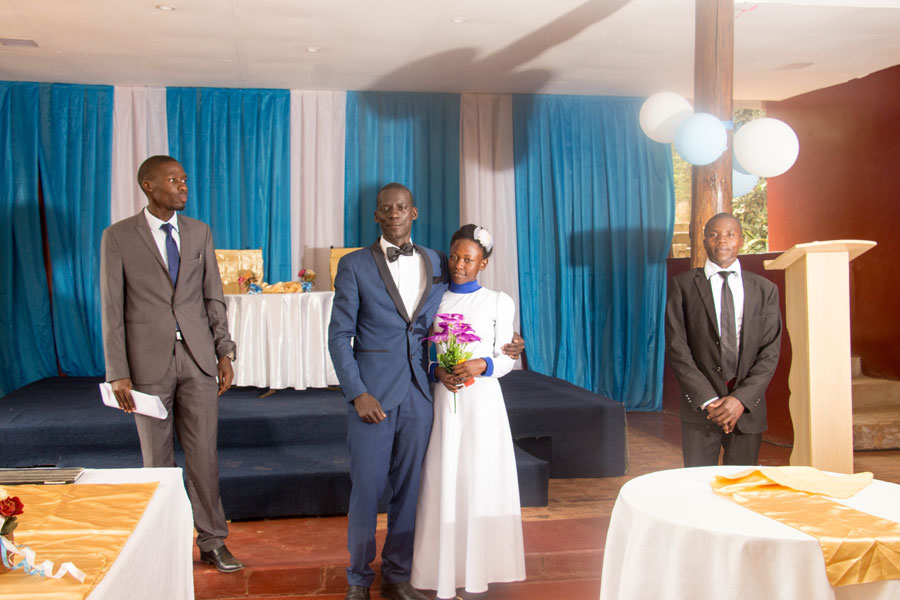 How much did the wedding cost?
Moses: Our wedding did not exceed Shs3m. We worked within our means and managed to save Shs200,000.
Meaning you did not encounter any challenges?
Moses: We did mostly finances, I expected good money from my well-off friends including those I have ever treated but many of them turned me down. Those who managed to fulfill their pledges sent in less than what they had initially promised. Can you imagine someone promises to give you say, Shs500,000 but  they send Shs10,000. There are those who even sent Shs5,000.
How much did you contribute?
Moses: About Shs300,000 which I would contribute in installments during the meetings.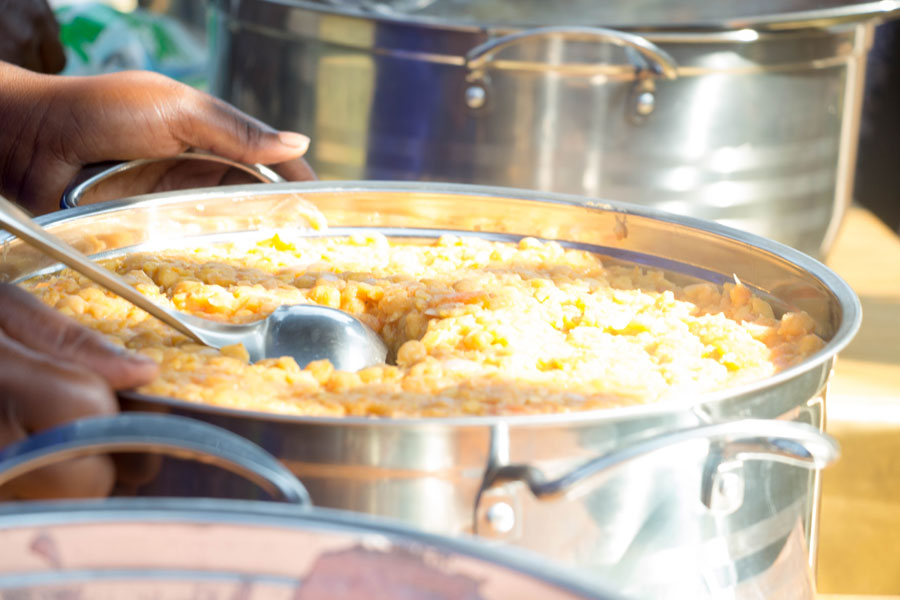 How then did you cater for the invited guests?
Moses:  We served a plant based diet (vegan diet) and cocktail juice. It comprised matooke, peas, beans, g.nuts, and vegetables. We wanted to provide our guests the food that would be good for their health.
How much did you spend on food?
Moses: The food was quite expensive, it cost Shs1.2m. This is because we expected many people to turn up.  We however did not pay for the plates or warmers since they were readily available at church.
Did you have anyone else on the entourage?
Moses: No, that was to going to cost us a lot which we did not have, apart from the witnesses.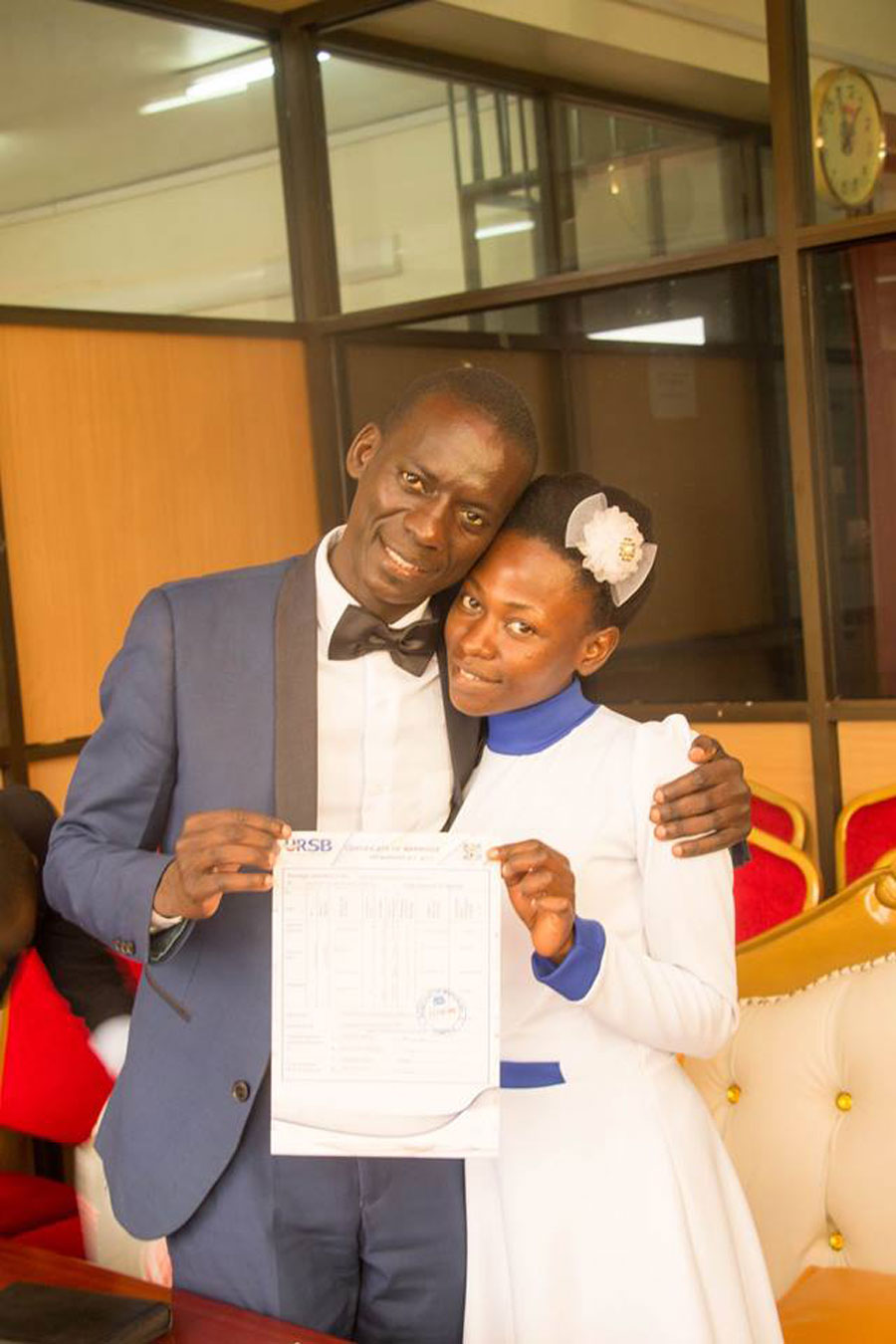 You looked so simple, how much did your attire cost?
Juliet: My white dress with blue ribbons cost Shs47,000 with a blue pair of shoes at Shs40,000. I never had a changing dress and jewellery, those things were expensive yet we did not have all the money at hand.
Moses: My blue suit cost Shs120,000, the bow tie at Shs20,000, the white cotton shirt at Shs40,000 and a pair of black shoes at Shs35,000.
What about makeup, how much did you invest?
Juliet: I had no makeup, I love being natural.
Was this your dream wedding?
Juliet: Yes, and even if I was to re-wed, I would love to wear the same dress. This dress is simple and comfortable that I can use it at any other function. Having this dress in the house will remind me of my wedding day compared to someone who hires.
Moses: Yes, I love simplicity, that's why it got people talking. I received 600 likes the day I posted my wedding picture on social media. People call me to consult on how they can make it, for they have never seen such a wedding.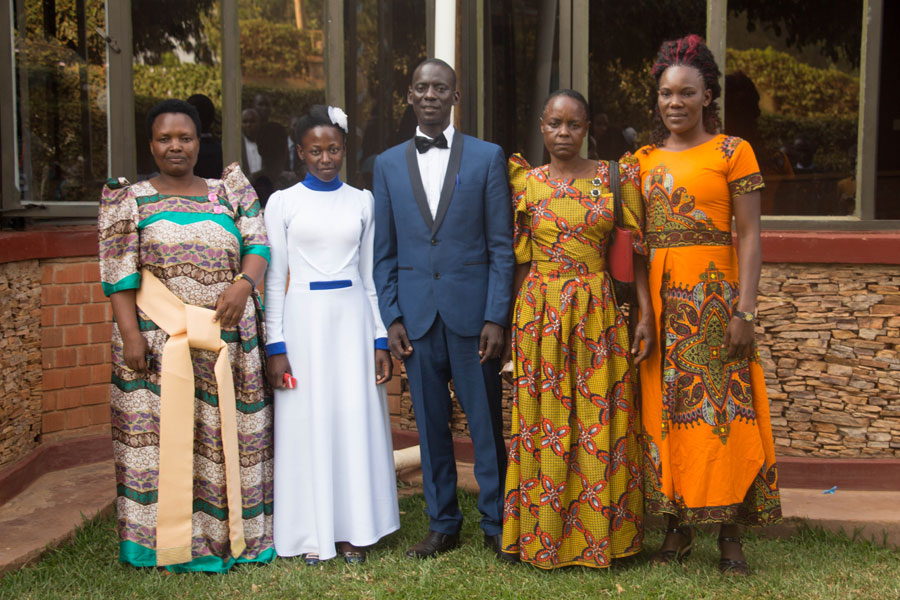 Did you even have a car(s)?
Moses: (laughs)…yes, a friend offered his Rav4,  which he fuelled. I however hired boda boda from URSB to the reception venue for I wanted to receive my bride so that we head for the blessing service which was at the same reception hall. Her brother handed her over before the invited guests.
How did you decorate the venue?
Moses: The hall was partly decorated, we only accessorised the pillars  with white and blue balloons plus ribbons with our theme colour costing us Shs26,000. I bought her an artificial flower bouquet of Shs12,000.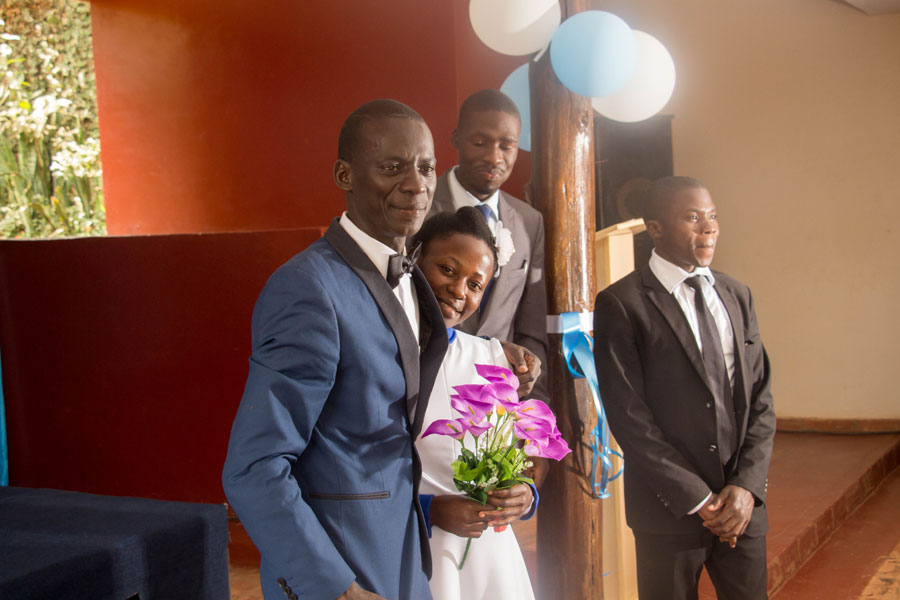 What do you have to say about other wedding ceremonies?
Moses: People are extravagant. What is the importance of having processions yet you're even going to end up in debts. That much money people spend can be used to feed those who sleep hungry on the streets.
What can you change if given a chance to re-wed?
Moses:  I would may be invest more in the invitation and buy a public address system. We managed to hire a music system at Shs100,000.
Juliet: Everything was cool.
What was your initial budget?
Moses:  Shs19m for both functions but we cut it as time drew closer because people weren't responding. We raised and spent Shs5m for both the wedding and introduction. There are also other things we never spent on like the car, plates and sodas, we instead made juice that was served to the guests.
One word to a woman getting married soon?
Juliet: Consider the spiritual strength and morals of your man, the appearance, the name and riches are nothing if the person has no fear for the Lord.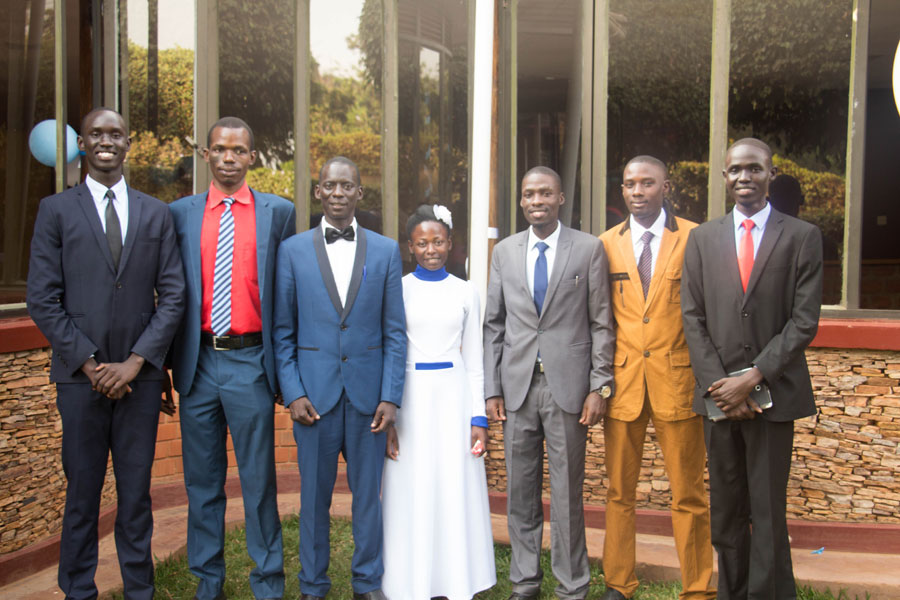 Did you manage to go for honeymoon?
Moses: No, we had inadequate funds. After the wedding, we went back to the place where I was staying, we only shifted to our new home a week after the wedding.
Juliet: I was okay with it because I knew he had no money.
How is life after marriage?
Moses: It is not easy since I have to adjust in many things. I have to learn to be patient among others things. I am however, happy that my work has been simplified ever since she became part of me, she does the house chores thus giving me time to concentrate on my work as well as studying the bible. I love her some much and with patience, perseverance and faith in God we will live to enjoy our marriage.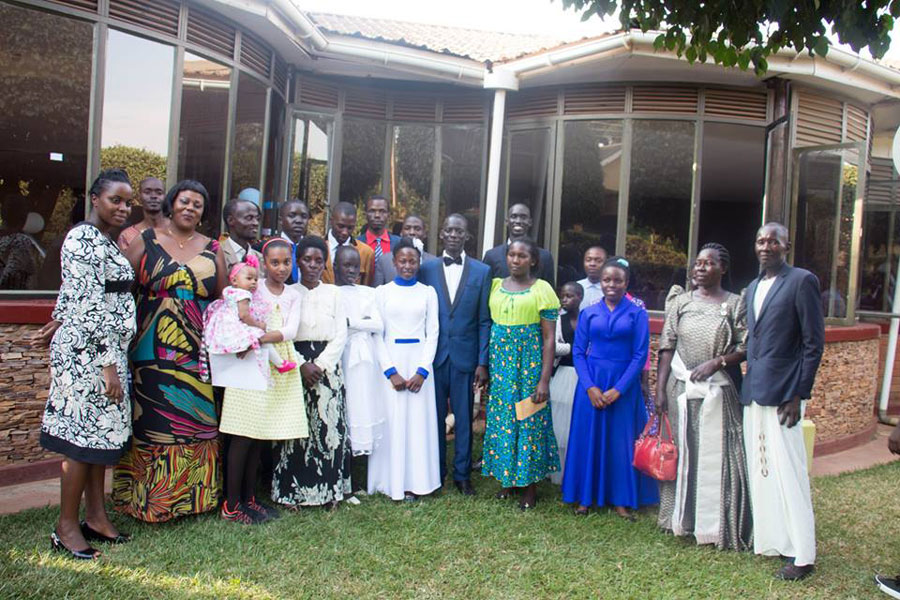 Juliet: I am enjoying my new life, with different experiences, I am learning and unlearning many things but with God, patience, and good communication.
Groom: Moses Semondo
Bride: Juliet Biira
Wedding Venue: URSB
Budget:
Cake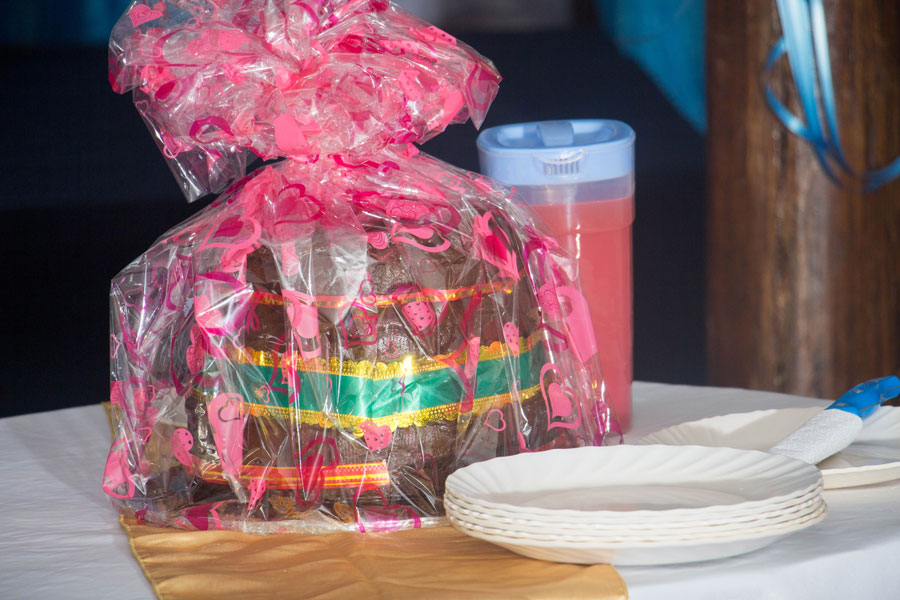 A vegetarian cake, baked it used brown sugar, brown wheat flour among other plant based ingredients at Shs100,000.
Bride's hair
I did hot comb and styling at Shs5,000. I accessorised my natural hair with a white flower that cost Shs2,000.
Photography
We hired a photographer who charged us Shs180,000 for both video and photography.