LOVE DOES NOT ASK WHY. Derrick Issa Sekitto, 28, a banker at Bank of Africa Masaka held Nikkah with Nashibah Nabatanzi Sekitto, 24, a businesswoman in Masaka Town on June 30, 2018. The couple shared their love journey with Shamim J. Nakawooya.
When did you meet?
Issa: I met Nashibah in October 2014 at a supermarket where she was an attendant. I was looking for clients to open accounts with our bank.
Nashibah: Issa came asking if I could open an account in their bank, I remember my reply was zenkolawo zendya (I survive hand to mouth). We exchanged contacts and became friends.
When did you get so close?
Issa: I used to live by myself and she always to visit and help out with house chores. In March 2015, we started dating. We used to hang out for coffee, lunch, travel to different places, among other things.
Nashibah: Many things brought us close. He would invite me for lunch. He also gave me a copy of his house keys and I would go there at my convenience. This made me feel safe and secure because I never found any woman at his house. Our frequent visits and engagements made us close.
Issa, what was the proposal like?
Issa: I do not remember the exact details. Before that, her mother called me to their home in 2016 and asked what plans I had. I was on a hot seat. I was open to her and told her my plans with their daughter.
How did you react to the proposal?
Nashibah: He met my mother in April 2016 and told her his intention to marry me.
At first, I did not believe that he would convert to become Issa because of me. There was a time I lost hope as I asked myself if he could convert because my parents and I had asked him. It was a surprise, exciting and I am proud of him.
How does it feel converting to Islam?
Issa: It is challenging but life is about commitment. You commit to something to achieve good results. I did not find reason to pretend about it. I converted from Derrick to Issa.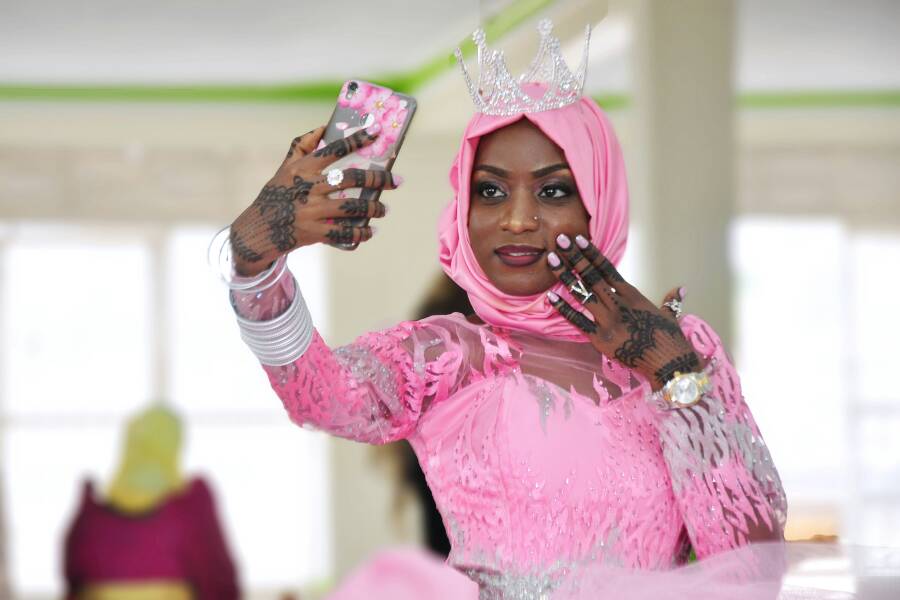 So, have you dropped your Christian name?
Issa: For religious purposes, I use Issa but legally I am Derrick since I have not sworn an affidavit. However, I intend to use both names because everyone is used to Derrick including my wife.
For how long did you date?
Nashibah: Two and a half years.
What attracted you to each other?
Issa: She is hardworking, and disciplined. She is clean and smart.
Nashibah: He is hardworking, reliable, responsible, and fulfills his promises. He is handsome and jovial.
What was your budget?
Issa: It was Shs8m, I contributed 70 per cent from my savings, 30 per cent was raised by close friends and relatives. However, we did not hold any fundraising meetings.
Nashibah: I did not put him under pressure and I contributed to a few things such as cake and decor.
What was the most expensive item at your nikkah?
Issa: My suit and kanzu cost Shs700,000.
Nashibah: My attire including gomesi, jewellery, shoes, gown and the changing dress cost Shs800,000.
How did you plan for the function?
Issa: I worked with my wife in conjunction with my sister Irene Nakalema and paternal aunt Christine Meemetebikulwa. We sought advice from them.
What were you doing on the eve of your function?
Issa: I was home with my workmates helping to pack and decorate the gifts.
Nashibah: I was relaxing and doing final touches.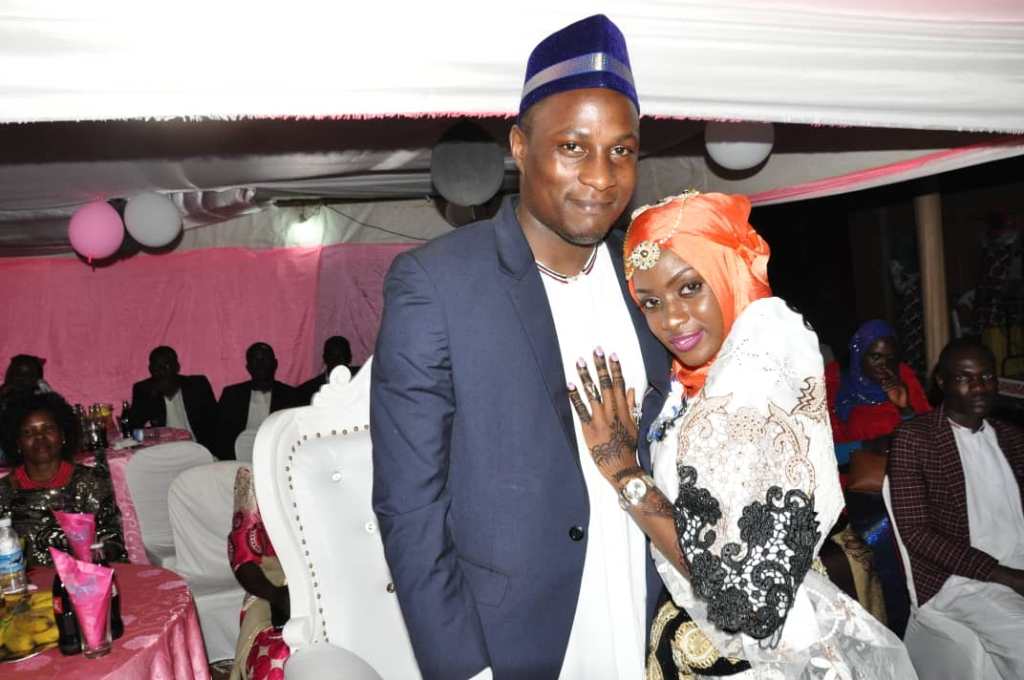 What was your colour theme?
Issa: Baby pink, black and white.
They looked good on me and she is the one who chose them.
Nashibah: Baby pink, black and white.
Pink looks nice on me and since it was a Nikkah ceremony, I wanted to look special and different.
For the decor, I used black and white to pull out the theme in the gomesi.
What was your most exciting moment?
Issa: When they called the bride I felt relieved and excited.
Nashibah: The mosque session was like a dream to me.
Were you disappointed in any way at your function?
Issa: The only worry was about my three friends whom I invited but did not turn up and never communicated to say if all was well. They kept me worried the whole day but I later called them at night and they explained why they did not come. I thought that maybe they got an accident on the way to my function.
Nashibah: The decorator did not meet my expectations.
Who comprised your entourage?
Nashibah: I had a matron called Hadijah Namulindwa. She is a good friend, our skin complexion matches and she helped me with many things during preparations. I had no bridesmaids.
Issa: I had two best men; Patrick Muwawu who I grew up with. We had a lot in common and I wanted to inspire him. Joshua Muwanguzi my long-time friend was supportive and understands me. I did not have groomsmen.
Did you have any debts after the function?
Issa: No, I tried as much as I could to do things within my means.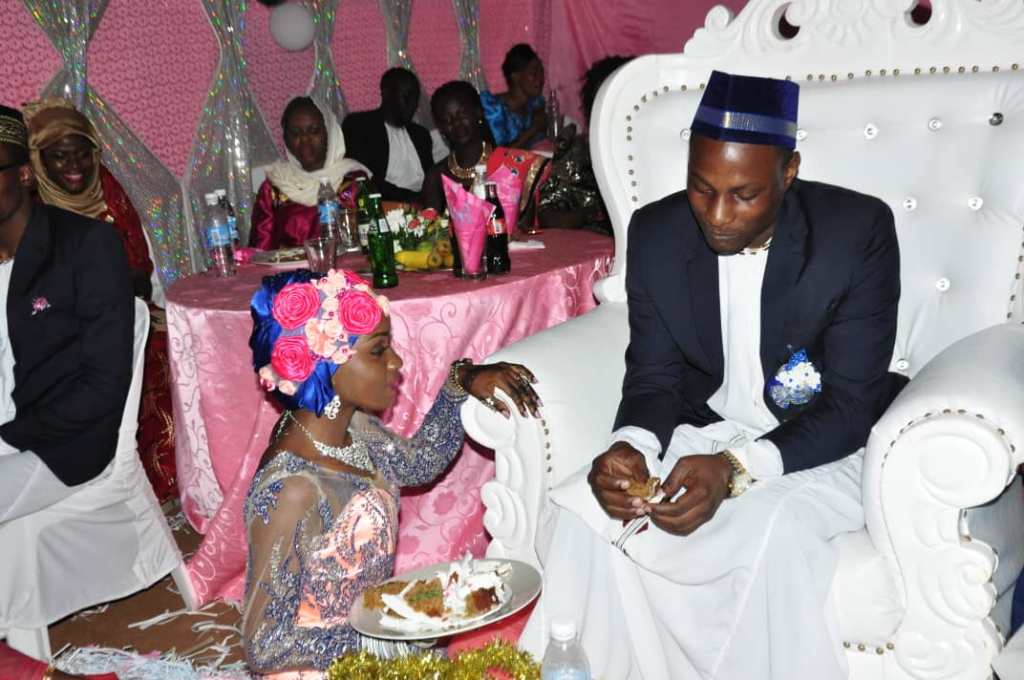 Did you think of going for honeymoon as vital?
Issa: Yes, but it was not a top priority. We should always be realistic and weigh. Honeymoon is all about spending and therefore we did not have that much to spend since it was never included on our budget.
What is your advice to those planning to marry?
Issa: You do not need to spend a lot of money on a wedding. It is all about the quality of the marriage that you are going into, not the quality of the wedding. In Islam, marriage requires knowledge of the faith. They should also know that a wedding or Nikkah is just an event while marriage is a life-time commitment. Keep it simple.
Nashibah: Do what you can afford, do not rely on pledges, be patient and trust Allah.
Gomesi
You can look classic without outdoing yourself on your wedding day. No one ever goes wrong with black and white and so, Nashibah's gomesi blended with the decor and her skin complexion. Sarah Bridals on Mukwano Arcade hired it to the bride.
Gown
Look stylish and trendy on your day. Nashibah went for a pink long sleeved lace gown with a matching veil. This made her elegant without looking out of place. She hired the gown from Sylivia Bridals, in Masaka Town at Shs 200,000.
Henna
Some brides apply henna to their arms in preparation for their wedding. Depending on the layers, henna can last one to four weeks, but usually it looks fresh for about a week and fades after that. Hajat Naziirah in in Masaka Town decorated Nashibah at Shs50,000.