Olivia Nabacwa, a businesswoman, and Solomon Sserunyaze, an accountant got married on 8th, July this year. The two met through a friend in October 2015. When love took over their beings, she composed a song for him. In her song Olivia compared marriage to preparing a meal. If you do not invest enough time, it would be half cooked or get burnt. She pledged to be there for him always because he is the love of her life. Writes Beatrice Nakibuuka.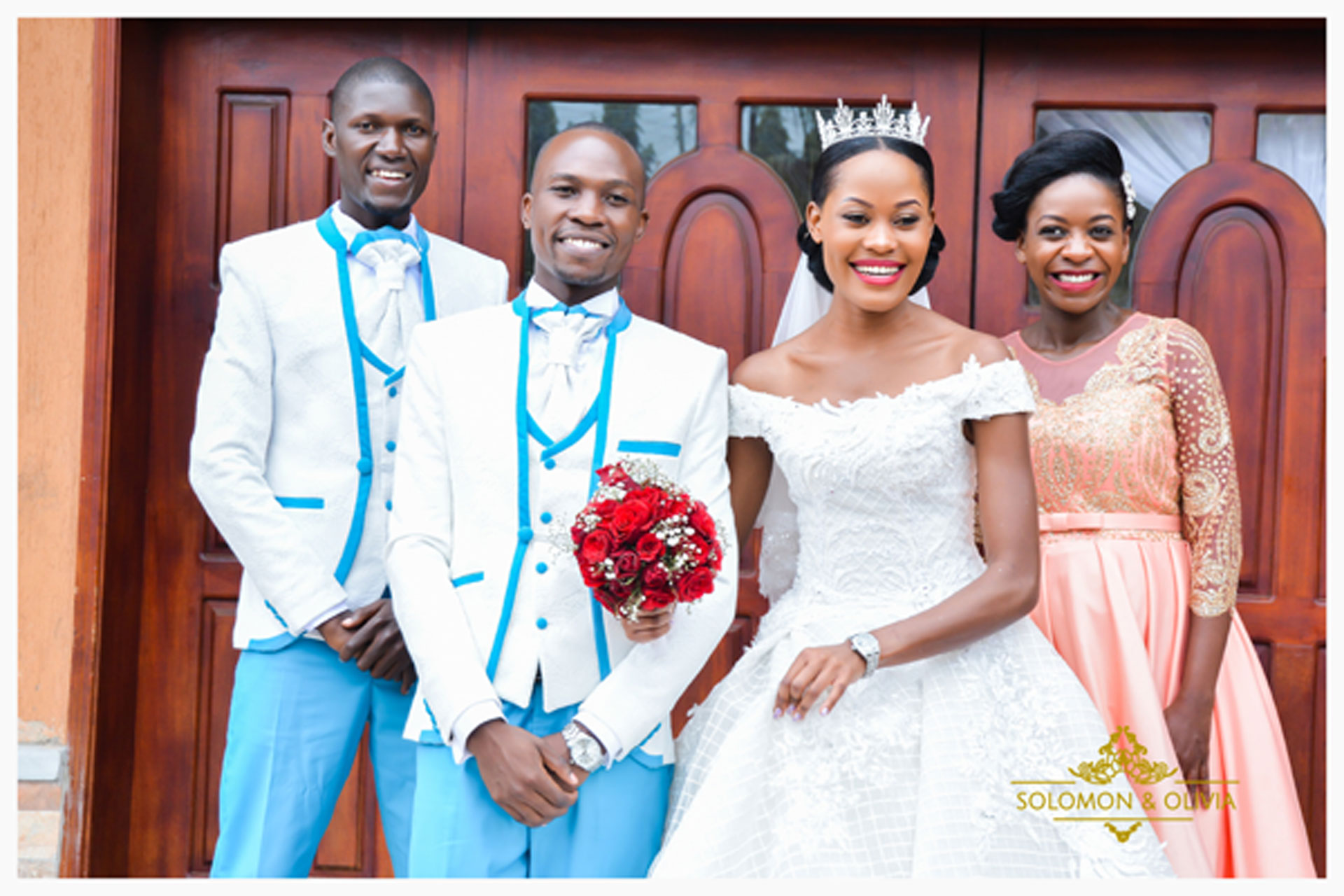 How did you meet?
Solomon: I met her through Maria, a friend. I had asked to be friends with all her friends and Olivia was among them. She looked young, innocent and she was a student at the time. When I saw her, I knew she would be my wife.
What attracted you to each other?
Solomon: When Maria introduced Olivia to me, we started talking and as I made myself familiar to her, I discovered many values in her. She is God-fearing, friendly, charming, disciplined, and developmental; she looks at long term plans.
Olivia: Solomon is God-fearing. When we met, he was the assistant church treasurer. He gave me time to make my decision. He was hardworking, focused, respectful and loved my friends and relatives. He was determined and on our first date, he told me that he wanted us to be together until marriage.
So when did you become close?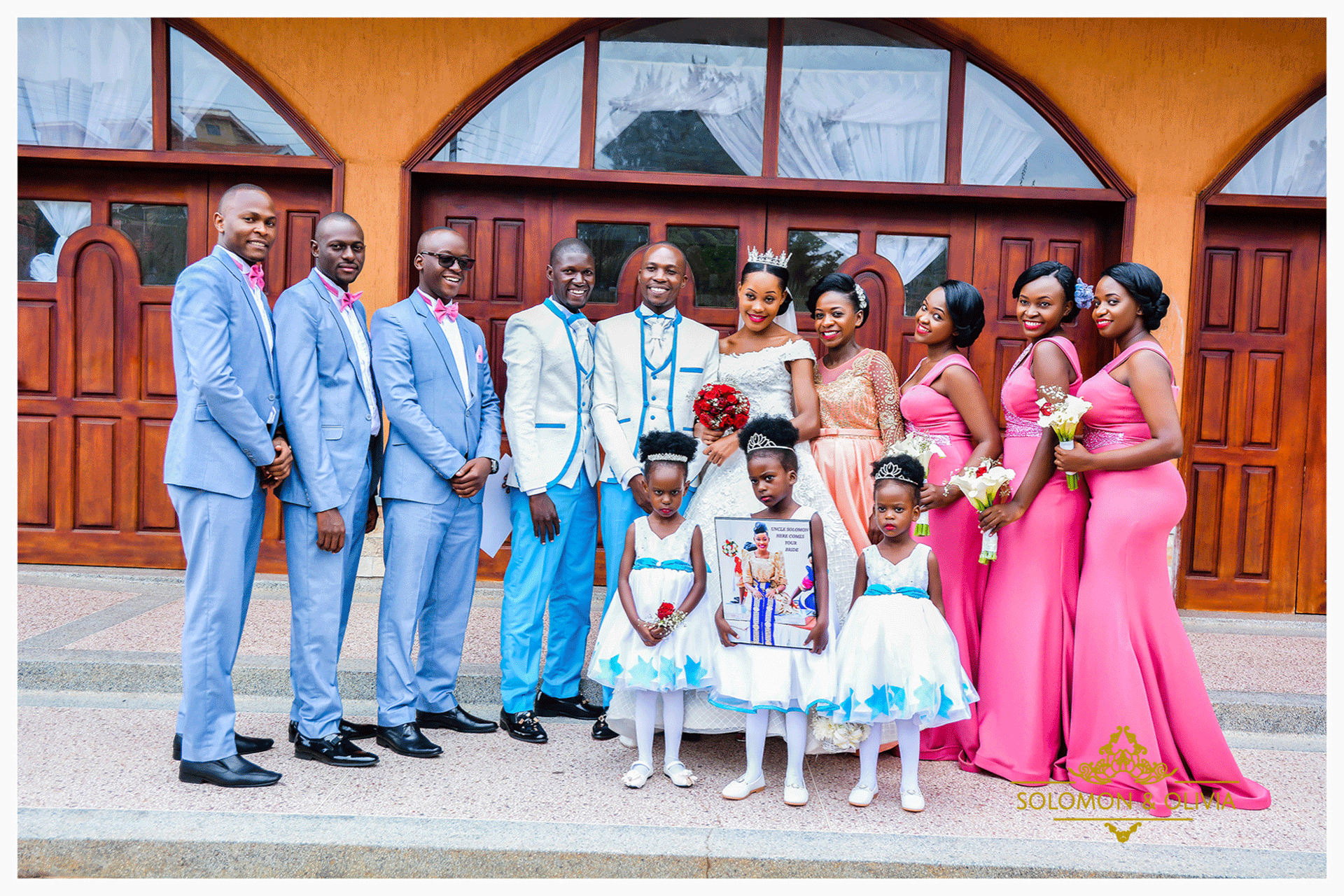 Solomon: Six months after our meeting, we went for dates but our relationship was focused on marriage. We did not have any pressure. I was sure I wanted her to be my wife.
Olivia, what prompted you to compose a song for him? 
Olivia: When you fall in love, things just happen. The song Ggwe taala was inspired by the love we share.
How long did it take to compose and rehearse till you were ready to sing the song?
Olivia: A month to my introduction, I was in  a lecture room then I thought of something sweet I could do for Solomon because he loves me. I then began writing whatever I felt in my notebook. That is how I came up with the lyrics of the song. It was more of a poem at first then I thought a song would be better.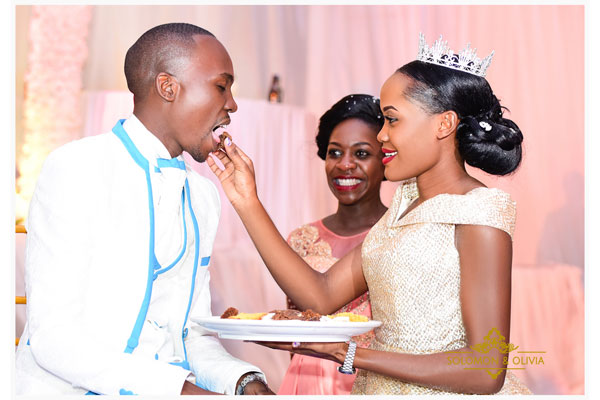 Is there a recorded version of the song?
Olivia: Yes. I recorded the song with James K who guided me with the rhythms. I rehearsed for two weeks. I first sung it at our introduction.
What was his reaction to it?
Olivia: Solomon was very happy and he felt so special because it was a surprise to him. All the people that attended were moved by the song. I was supposed to sing the same song at the reception but because I had lost my voice to a cough and flu, we only played it because it was already recorded. Solomon keeps listening to it all the time.
Would you say you generally have a beautiful voice?
Olivia: I think my voice is just okay but it works for him.[Giggles]
When did Solomon propose to you?
Olivia: On my birthday May 20, 2017. It was awesome because we had prayed about it almost all the time. On December 8, 2017, we paid a visit to my parents (kukyala), and had the introduction on May 20, 2018.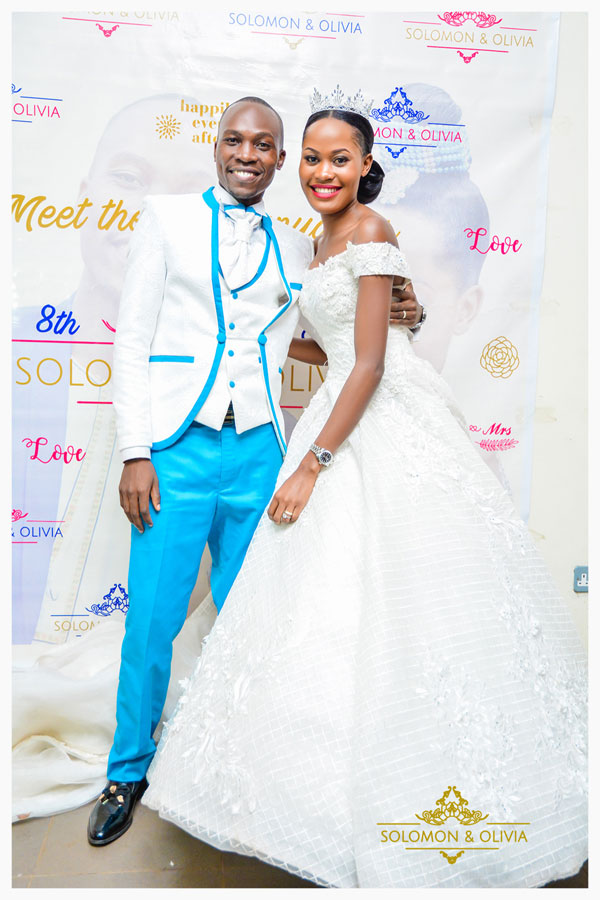 Where did you get the attire?
Olivia: I ordered my gown online through Penny Bold Bridals. I wanted something unique, so I got a checkered ivory gown. Not white, not cream but in between there.
Solomon: My suit was tailor-made by Clavis and I chose blue because it is my favourite colour.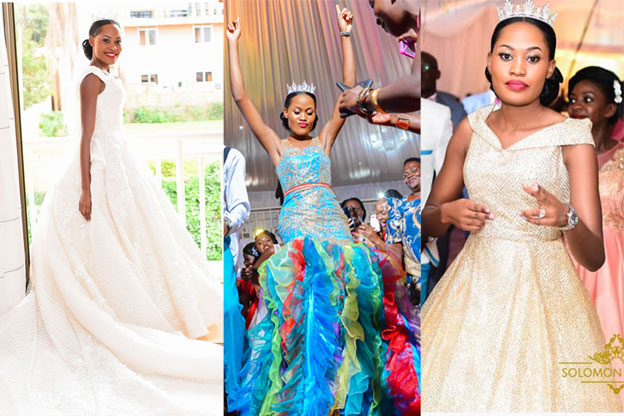 Olivia, I can see that you wore three dresses at your wedding, tell me about them. 
Olivia: My church dress was the Ivory one. I wore the golden dress at the reception for cake cutting and the colorful one for the bridal dance.  Aunt Rhoda, of  RJ fashion house in down-town Kampala tailored them. She charged Shs500,00 for the golden dress and 700,000 for the multi-coloured one.
Tell me about your cake?
Olivia: Oh My God, It was so beautiful. It was a marble cake and tasted great. NHK at equatorial mall made it. It looked exactly like the picture we had downloaded from the internet. I still can't believe I had it.
What was your budget?
Solomon: I did not have a particular amount set for the wedding. All I knew was that I had to save money to buy a suit and her gown. I did not care so much about the other things. We did not want to strain people so we tried to do things within our means.
Olivia: The service providers cost us about Shs25m. The family and a few friends contributed to our introduction. As for the wedding, we have many friends, so he mobilised our 800 friends and his father contributed a great deal. We had surplus.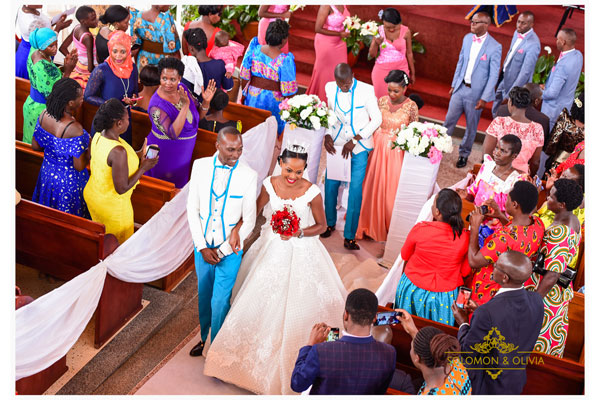 How were you able to control the number of guests?
Olivia: We did not limit the number of people who wanted to come for our functions. We had enough food for 500 people at the introduction as well as the wedding reception. At the reception, we had provision for a 100-extra in case more people turned up.
Weddings are hectic. Did you involve a planner?
Solomon: No, we did it ourselves and it was another way of cutting costs. We only asked a few people to constitute the organising committee. These included the treasurer and chairperson and those who would be our bridesmaids and groomsmen. Our families, friends and the church did an amazing job. I am grateful to them.
How did you choose your entourage?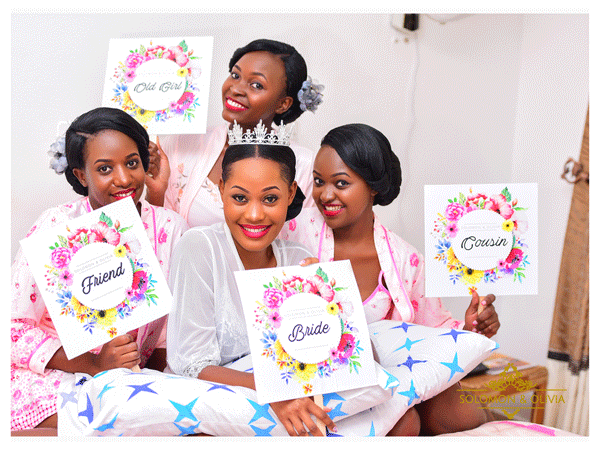 Olivia: We chose friends and relatives. It was about the people we felt would be comfortable around us and would pray with us.
What was your happiest moment?
Solomon: When she was walking down the aisle to meet me. She looked stunning, like I had never seen her before.
Olivia: I was happy throughout because it was my day. The happiest moment, however was when we were pronounced husband and wife.
Were you disappointed in any way?
Solomon: Yes, some service providers did not do what we wanted but the biggest blow was that we both suffered flu and cough and Olivia almost lost her voice.
This did not stop us from smiling though because many people came to celebrate our love.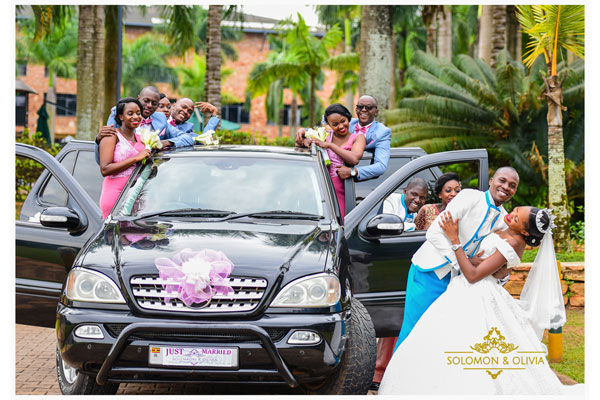 How did you manage to make your event simple?
Olivia: There are no awards for the best wedding. People have seen it all. It was about celebrating our love and planning for a successful marriage.
We tried to do everything within our means and did not want to copy what other people had previously done.
How did you cut costs?
Solomon: We got service providers that would give us the service within our means.
We also did not hire bridal cars. Our friends brought us theirs for the entourage. We also did not hire musicians.
What were you doing on the eve of your wedding?
Olivia: We hired a place where we would dress up from on the D-day. I chatted with my bridesmaids. I was bidding farewell to single life.
Solomon: I was making sure everything was going to be perfect since we had no wedding planner. I first watched the World Cup final matches.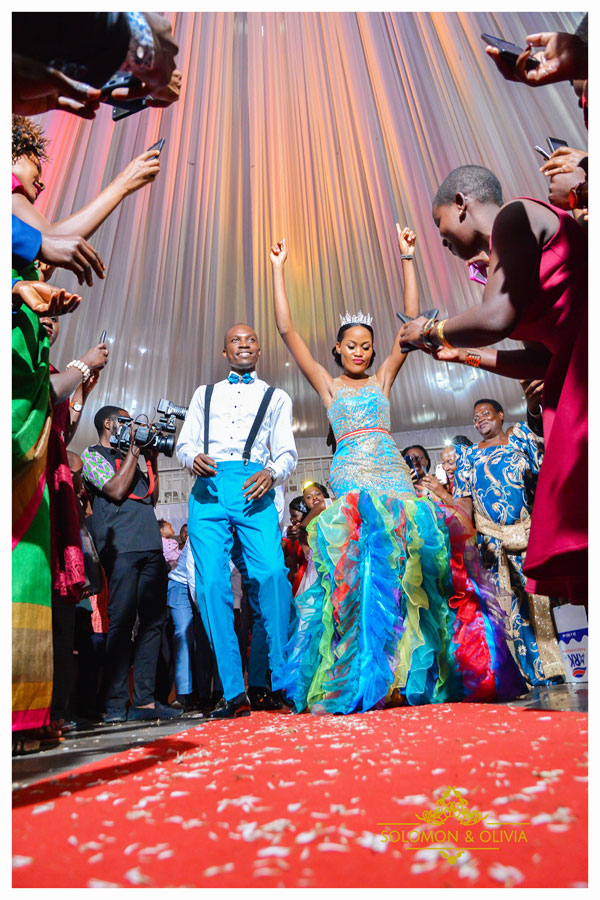 What advice do you give to those intending to wed?
Olivia: Do not be so excited about the entire event. Know what you can handle and keep within your means. It makes no sense to spend on other people when you are going to incur debts after the wedding. They will not be there to help you settle the debts.
Solomon: you only need to make a decision, prioritise on what is important. Know the kind of service providers you need.
You can have a list of many then choose one that can provide what you need at a friendly cost. It is not about the wedding but the marriage thereafter.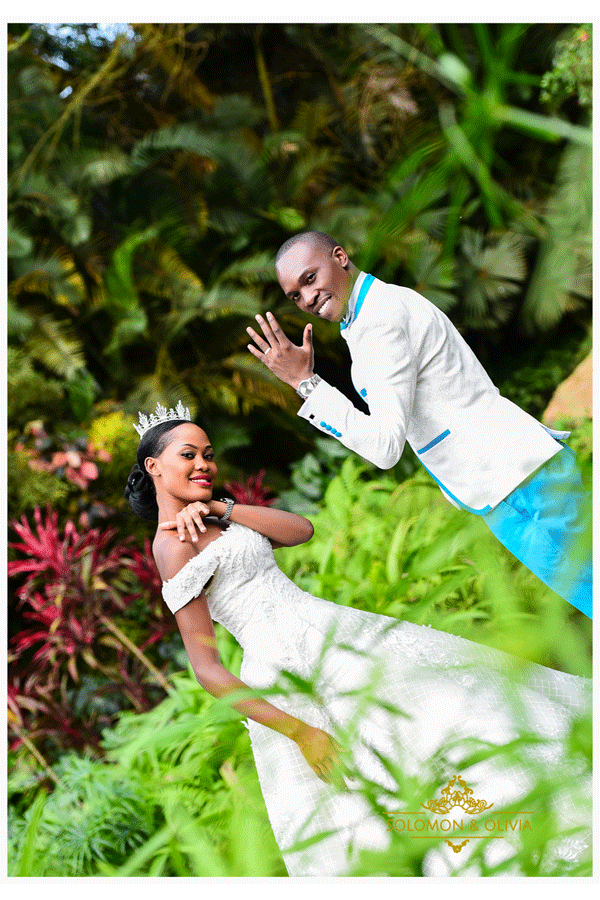 My Wedding wishes the Sserunyaze's a beautiful marriage