By Esther Nantambi
Bonny Kibuuka met Emily Nicole Merrifield two years ago when he travelled to America to study at the Great Lakes Christian College in Lansing, Michigan. The two had a class together and sat right by each other on their first day at school. As if fate was conspiring, they also lived in the same town, Ionia Michigan where Bonny also attended The School of Missionary Aviation Technology. Nothing more was needful to spark conversation between the two.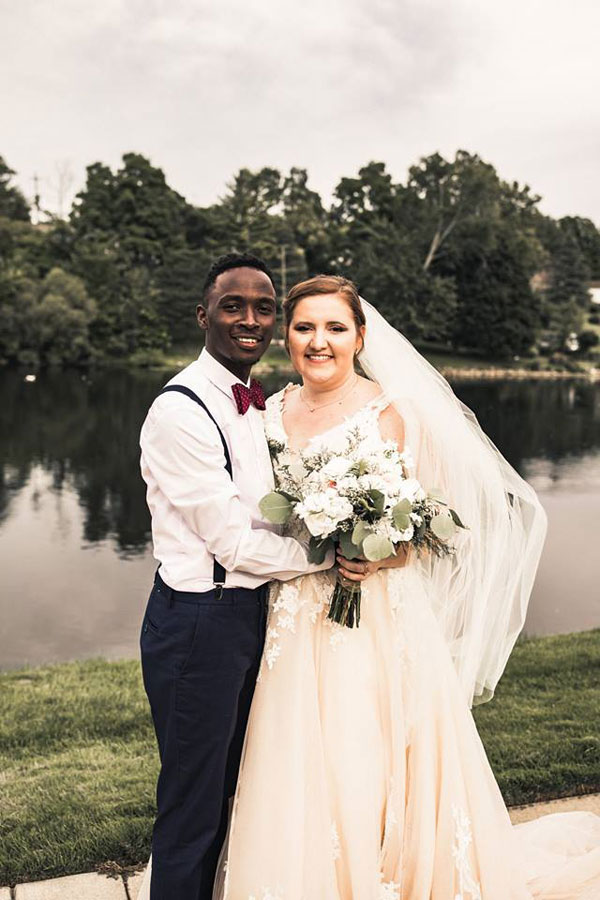 Emily confesses to having been fascinated by Bonny from the start, "I knew he was the one I think practically when I first saw him. There was a friend that I met with on a weekly basis at the time for Bible study and I remember telling her about this boy I met that was from Uganda. I was so excited about Bonny!" Emily reveals.
However, the boy from Uganda was oblivious to this at first; "I didn't right away think she was the one much as we were hanging out. One day she surprised me with tickets to go see my favourite NBA team, Golden State Warriors. I got to see KD aka Kevin Durant." Bonny tells adding, "The fact that she had thought about me and what I love hit me hard. It was like recognising a force that had been around me this whole time. I couldn't get her off my mind. And then she has all these qualities. I knew this is the woman I need."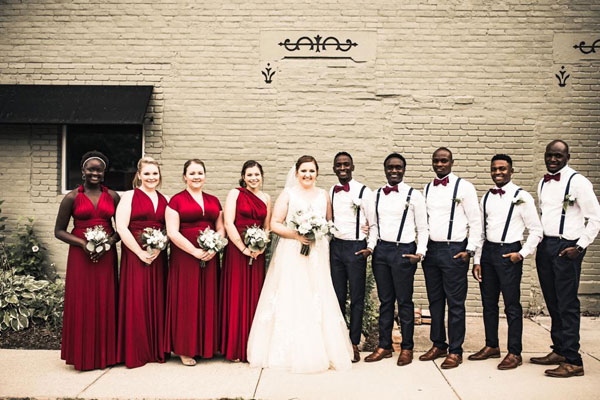 Bonny and Emily said "I do" at The Opera House in Grand ledge, Michigan on the September 7th, 2018. Unlike many weddings, the ceremony was outdoors and the reception was inside. We got more details about their choices for their wedding.
What qualities are those that you liked about Emily?
Bonny: She would love to do things that I love and she would do everything with love. She is smart, hardworking and loves God. She has passion to help women and the girls in third world countries and those are the things that I had been praying for, for a long time.
What move did you make to let her know you are interested?
Bonny: I can't point out a specific thing. We continued to be friends. We did everything together and things happened on their own.
You are now married to a woman from a different culture. How did you handle the hurdles that come with that?
Emily: I don't think we've had to compromise our cultures. We each accept each other and its fun to learn new things.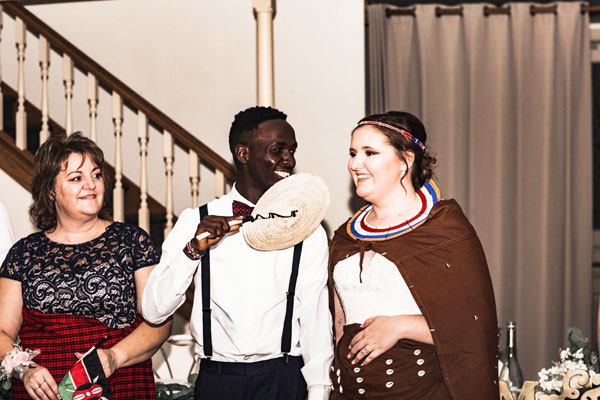 Bonny: For me biggest issue was communication. Sometimes I would say something to mean a different thing but it's interpreted differently in her culture. Nonetheless, we haven't had a lot of other problems because we share a greater thing in common. And that is Christ. That has helped us learn to treat each other according to how the Lord would want us to.
 What thing would a Ugandan say in English that an American could interpret differently?
Bonny: When you say "You are fat" in Uganda, its mostly a compliment. It means you look attractive, adorable, gorgeous and so on but in America, that's an insult.
You and your groomsmen did not wear suits as is the norm. Why did you choose to do this?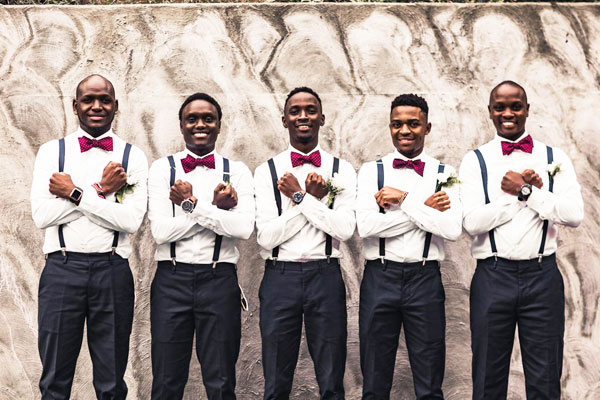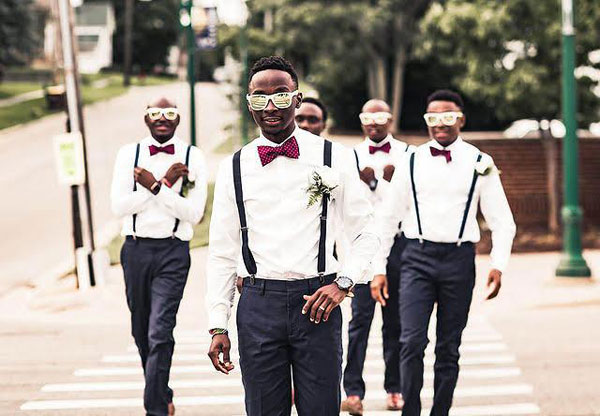 Bonny: I decided not to wear suits because most of the people where I grew up (Wakiso, Uganda) think that on the wedding the groom and groomsmen are supposed to wear suits. I wanted to be different.
Most Ugandans also feel that the wedding must take place inside a church. Is that the reason you had yours outdoors, to break free from that trend?
Bonny: Not really. We chose an outdoor ceremony because it had a beautiful background. We understand the importance of having the ceremony in church but what is even more important is that our ceremony was centered on Christ.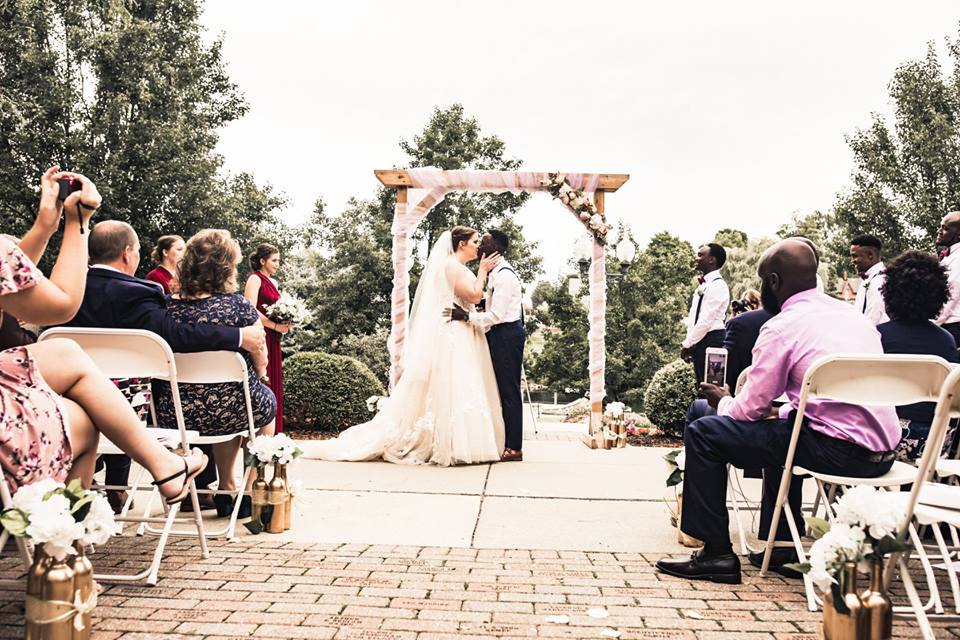 Why did you decide to get married in America?
Bonny: Because it is the most convenient for us! I am in America. The woman I love is in America. We want to get married. So we get married in America! [laughs]
Are there any norms surrounding a wedding that you found different from those in Uganda?
Bonny:
First, there is no cultural introduction ceremony. No muko to give a chicken. You just do the wedding.
The father of the bride gets to dance with her plus the groom actually dances with the mother of the bride! That's totally abominable in my tribe back in Uganda.
The wedding officiating takes about 35 minutes. In Uganda its like two hours.
There are no speeches from the groom or bride's side of the family like in Uganda.
In Uganda kissing in public is frowned upon but here the wedding guests hit silver ware on the ground to signal the groom and bride to kiss.
I've seen the bride throw her bouquet to unmarried girls in Uganda but never a groom throwing a garter.
Did you have family attend your wedding?
Bonny: There was plenty of family and friends for me. Actually we had about 200 guests and 70 were mine, 40 of which were family and 30 friends. My father and brother travelled for the wedding. My mother is Kenyan. I had about 25 people from her side. We shall make another celebration when we come to Uganda for the people at home.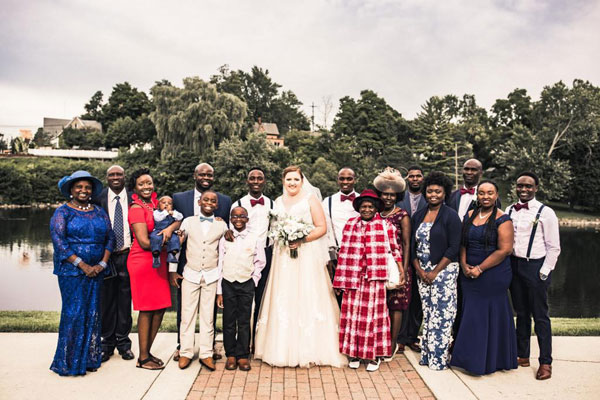 Emily, your dress is not the usual snow white colour.  What made you choose it?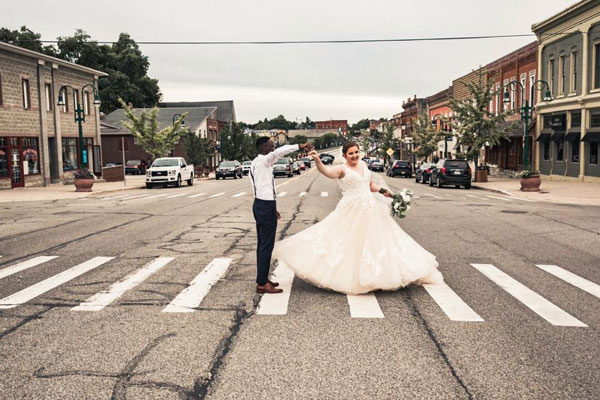 Emily: I chose my dress at a local bridal shop called Becker's Bridal. My mom and oldest sister had also bought their wedding dresses from there so it was sort of sentimental. My dress was the fourth dress I tried on and I cried when I saw myself in it. I pictured our wedding day and I just knew that it was so special. I tried on a few more dresses just to be sure and I saved the good one for last to try on again. When I put it on again, I couldn't help but cry a second time. I knew for sure it was the one.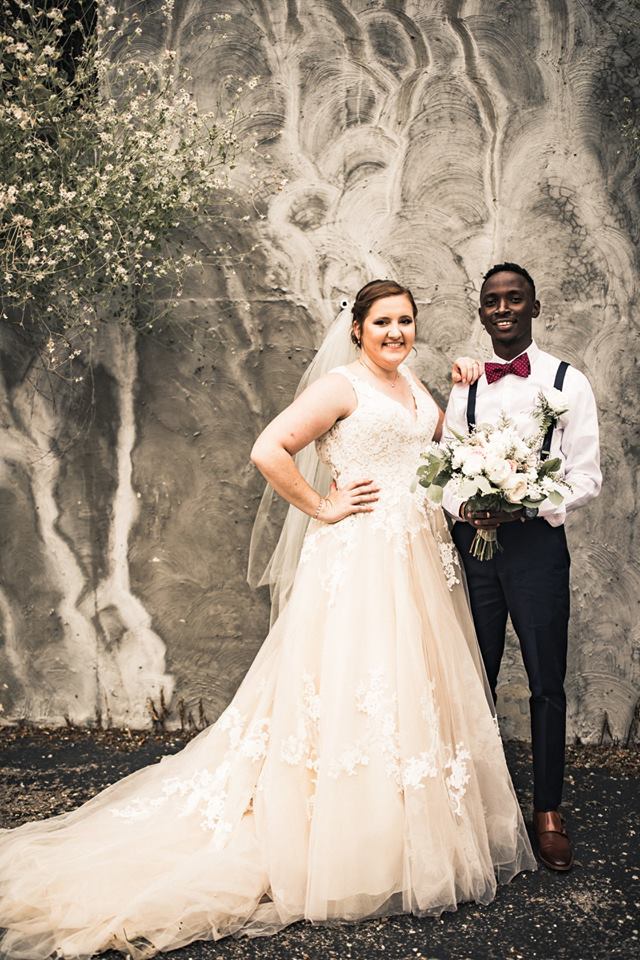 I chose the champagne colour because really went well with my skin. And because I am pale, a plain white dress would have made me look even paler.
How about for your maids?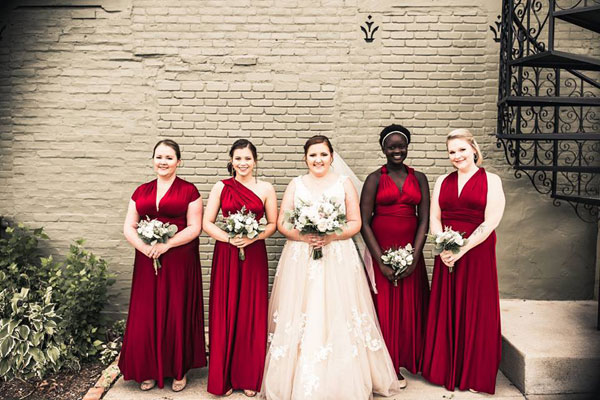 Emily: My bridesmaids wore maroon. I chose their dresses because they are versatile. They have long straps that could be tied in many different ways. That way, they would be in the same colour but still have the choice of tying their dresses in different styles and stand out in their own subtle way.
Why did you choose to get married quite young, at 26 and 22?
Emily: I knew he was the one. He is an amazing man. The earlier we started our life together, the more we could get ahead. If we are committed to one another, we could support one another's dreams unconditionally and achieve as a team.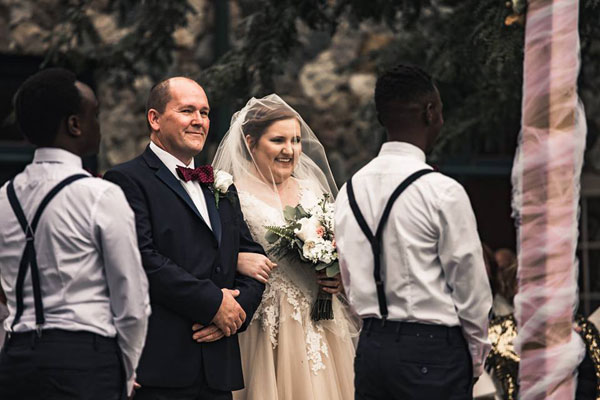 Bonny: Many people are scared of commitment but there is a saying that great things are always on the other side of fear. I think me and Emily knew what we wanted and when we wanted it so we didn't depend on our ages to make decisions. I've learned that fear limits you and your vision. It serves as a blinder to what may be just a few steps down the road for you. Plus there are many good things that come with settling. It makes you achieve other goals but now with support from your partner.
Could it be that you had the money and that's why you chose marriage as the next step in your life?  
Bonny: We didn't need to be rich to get married. We knew that together we shall work and save even more money.
What advice would you give other young people that fear to get married early?
Bonny: Get their s**t together. Just kidding! [Laughs]. The most important thing is to ask yourself why you are doing what you are doing. Set goals and never give up. Believe in yourself and never forget to sum everything to prayer.
Emily: My advice would be to stop searching for "the one". When I stopped looking that's when God put Bonny in my life. I truly believe that if you are going through a hard time in relationships, you need to focus on yourself and when it's time, God will put that person in your life.
What message would you give each other as you start a new life?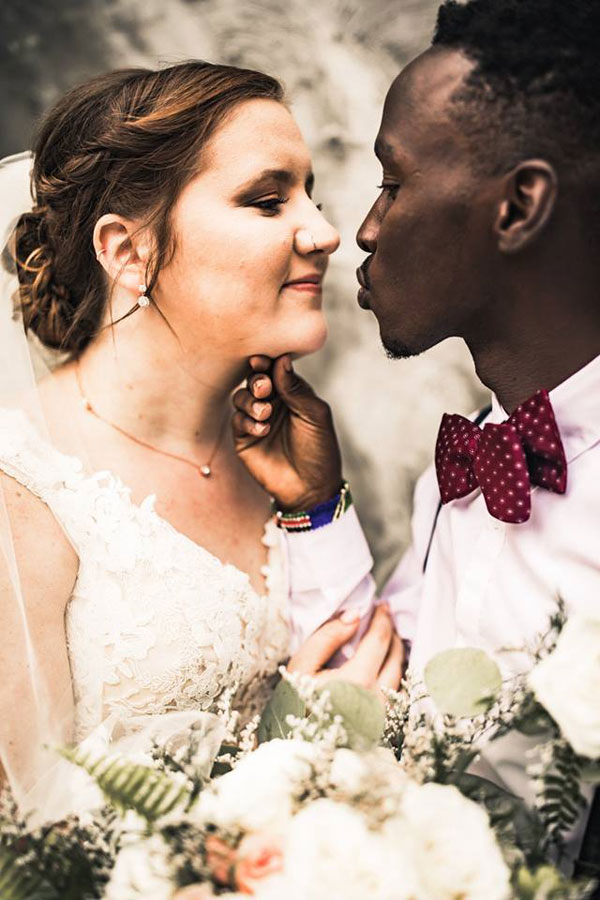 Bonny: This is the start of something new and adventures awaits. We are gonna do great things.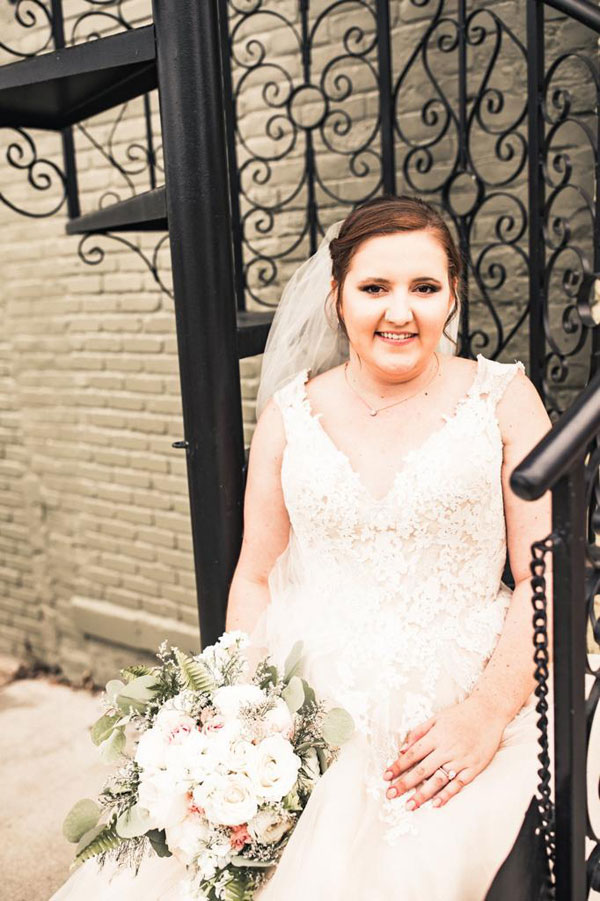 Emily: My message for him is that I love him through the good and bad times. Things might get hard but we just have to stay focused on God and on one another and to always keep laughing with one another.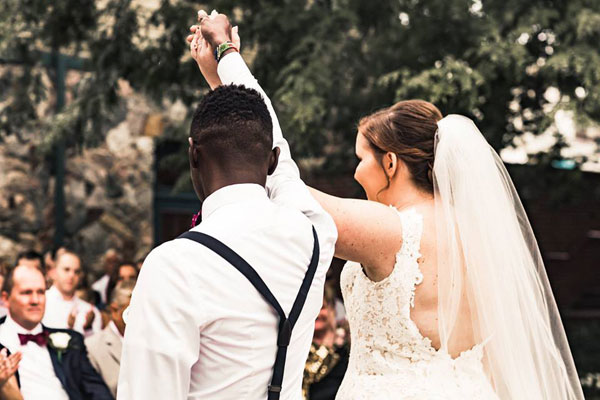 My Wedding team wishes the Kibuuka's a beautiful marriage