By Noelyn Nassuuna
Kenyan woman Lynder Cherono and Brian Kigen got married this month on June 4th after starting their relationship that blossomed from a Facebook message.
"We became Facebook friends with Brian Kigen on February 14, 2017. For the next five months, I followed and enjoyed what he used to post on his timeline," Racheal Nyaguthie told Kenyan website TUKO.
The woman said she loved Kigen's posts as they all touched on her interests and these shared commonalities served as the force that would drive Kigen to one day decide to break the ice with a "happy sabbath" message.
"One Saturday, I found this 'happy Sabbath' message from him sent at 10:03 am. I replied late but he kept the conversation interesting," she said.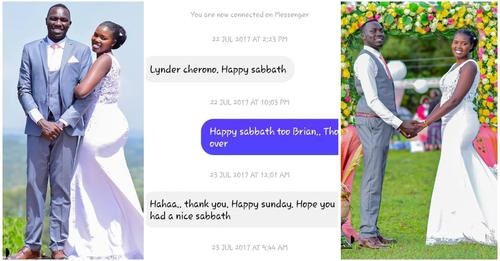 In the days that would follow, Kigen kept Cherono engaged with his messages on Messenger. So engaged was Cherono that she even gave him her number without him asking. "He could call me for three hours just vibing me. Having been single for some time, this was a whole revolution for me," Cherono said.
They later agreed to meet in person after falling in love virtually. On their first date, they enjoyed some music together.  During the date, they shared their dreams and Kingen became her number one supporter and motivator. She adds that, when she told him that she wants to be an accountant, he pushed her to pursue her CPA courses and start a business.
"All through, he supported and motivated me to go for greatness. I am happy to say I am a Certified Public Accountant!" she noted.
The newly-married woman said it was clear that 2022 was their year to get married and that was why they wedded; she advised Kenyans not to shy away from finding love online.