By Maria Immaculate Owechi
It is months to her big-day when she buys a nice pair of high heels to lift her gown and add glamour to her style. Anitah has never been the person to put on high heels but it's the long awaited wedding day and surely, she has to make that exception. It is the big day guys! The day before the wedding day, she practices how to walk in them and cat walk, she does. The finery of the day to come becomes easier to picture, the added height giving more vision to the sweet promises of the future.
The next morning, she comfortably walks in her heels to the bridal car. The futuristic heels feel a little funny but just a little, not a thing she can't manage. When she finally gets to walk the aisle, the feet feel hot, she has been in them long. She limps, ever so slightly. Her guests should not know. However in her being, she is fitting a giant; "the shoes keep sliding backwards, getting stuck on some spots and literally attempting to slip off my feet." Control Jesus, control, she prays.  She looks at the man ahead awaiting for her hand and sees nothing; not the smile in his eyes, or the tenseness in his stature. All her concentration is in putting balance, trying not to limp as the heels edges cut into her sore skin. Sadly, some of her guest have noticed…
Heels definitely help to improve posture and stature, but there are some cases where they prove to be difficult for some brides to embrace them. These are some of the reasons why a flat show would beat a high heel on a wedding:
Height difference
There are cases where the bride is taller than the groom and she may not want to add more height which will make them appear awkward.
Maurice Ochol, an NTV Uganda reporter, in an interview with a Daily Monitor reporter in 2013, said that he insisted that his bride should put on flat shoes because they did not want to appear awkward, especially while taking photos.
"The only time I noticed that my height bothered him was the days before the wedding, no wonder he suggested I wear completely flat shoes," his wife, Patricia Ochol commented.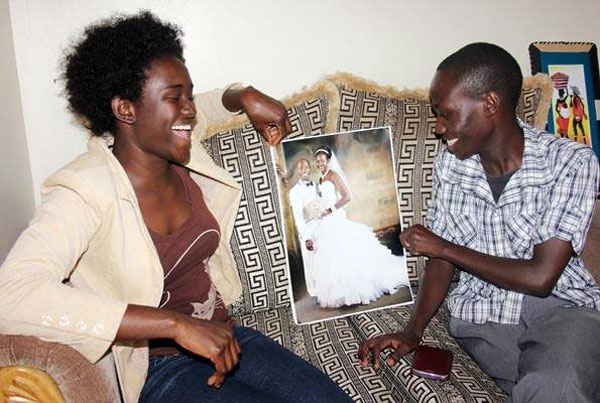 Comfort
It's good to remember that comfort will make you more confident and amazingly beautiful on your wedding day. A day spent in sky-high shoes might cause unwanted aches and blisters, making flats a pretty attractive alternative.
Gloria Uwamahoro, a bride-to-be says, "Heels are not my thing. I cannot wear them even at the wedding. I am always seriously in pain after like, 5 minutes in them. But I will definitely rock ballerina flats on my day and be comfortable."
A pregnant bride
It is no secret that wearing high heeled shoes as a pregnant woman is risky for both the mother and child. Besides, the wedding is a pretty long event with lots of dancing and movement between venues, which can be tasking for an expectant mother in heels.
Dr Ignatius Ssembuya, a medical personnel at Mulago hospital, strongly discourages brides, especially those in last semesters to risk wearing heels in the name of fashion.
"It is a bad idea because it causes back pain, aggravates the common problem of swelling of legs, ankles and feet among pregnant mothers and increases the risk of a miscarriage in case of trip and fall," Dr Ignatius cautions.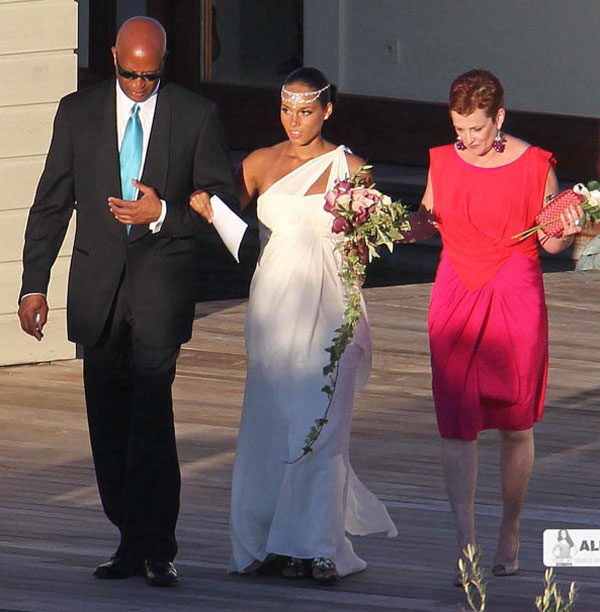 Heels not your type
Sometimes you simply are not the stiletto kind of girl. You have never liked the idea of spending your entire day in heels and do not mind breaking any common norm just to express your personal style. In this case, the flats are your thing girl. Your wedding day is stressful and busy enough and you do not want to also get upset because your feet are aching.
Wedding jittery
Towards the big day, there are those fears that cloud up your mind and one of them can be about missteps and clumsy twists which may lead to trips and falls while walking down the aisle. You wonder how one can recover from such a shame before her guests.  With a stable pair of flats, you have a lower risk of tripping.
However, not every flat shoe can be worn on a grand day like a wedding.
Jessica Nyanzi, a tailor from Hosanna bridal store in Mukono says any type of wedding gown can work well with flat pumps provided the bride takes care to select the shoes before picking the gown.
"It is a terrible mistake to start your fittings before selecting your shoes. This helps to prevent any mismatch with the gown because not all flat shoes should be worn on grand day like a wedding," she advises.
Jessica gives a few examples of flat shoes with additional touches that can still make your feet elegant and glamorous on a wedding:
Ballerina pumps
Ballerina pumps are round toed shoes, thin and light and made of single cloth or leather. They are similar to those worn by ballet dancers. These pumps are the most preferred flat shoes for weddings let it be for the flower girls, bridesmaids or the bride herself.  For the bride to stand out, she can go for heavily glittered silver or gold laced ballerina pumps.
Beaded embellishments
These can be open or closed flat shoes but heavily jeweled with pearls or embroidery of different designs that can complement your wedding dress.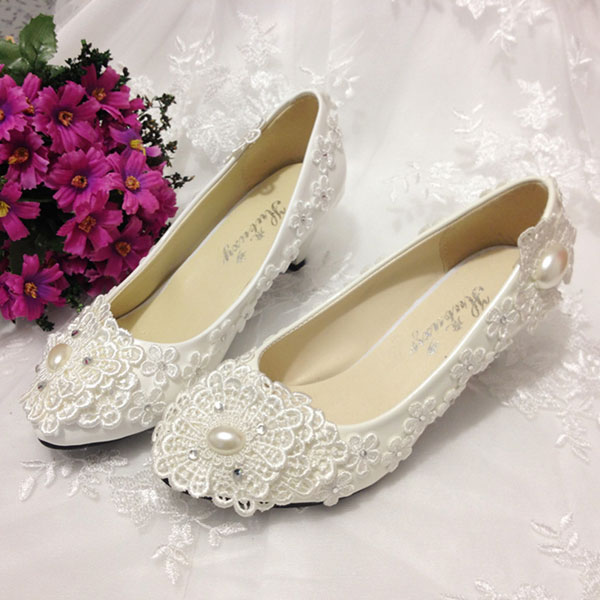 Dreamy diamante
You can select flat pumps or peep toes that are designed with a dreamy diamante which can be in silver, gold or ocean mirrored to make your feet elegant.
Butterfly Peep toe
A butterfly design on your flat-closed pumps or peep toes is a unique design to add color and artistic design to your bridal shoe.
Art deco adornment
These are usually oval shape flat- closed shoes designed with ancient jewelry, antique jewelry or turquoise peacock that can give your shoes an artistic impression.
Bows of bling
Flat shoes designed with bows gives it that classic look. For bride you need to go ahead and aim for those with designed with silver or diamond bling to have that spark on your feet.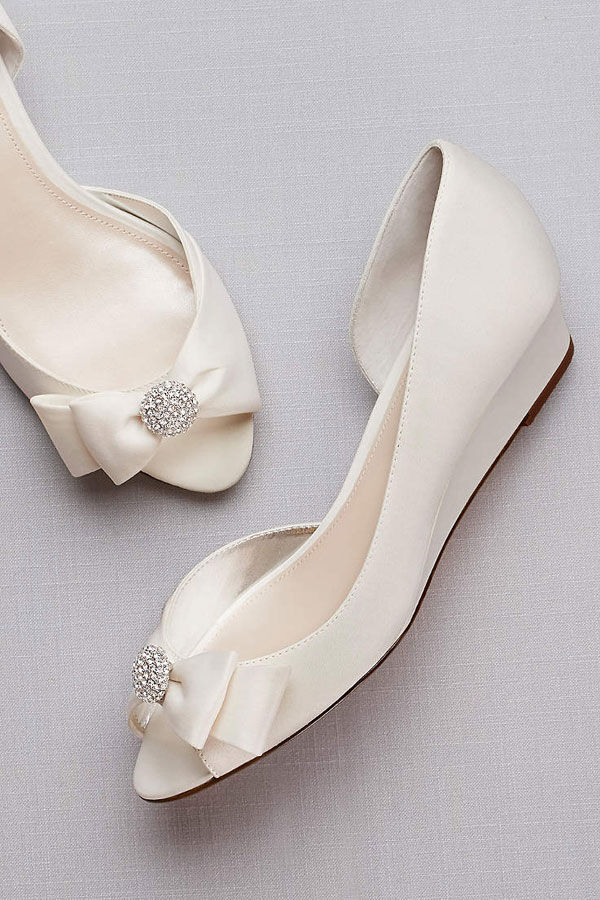 A spot of polka
For a polka dotted shoes, open flat shoes may just give you an ordinary look yet you are a bride for crying out loud. Closed polka flat shoes can still add that elegancy beneath your wedding gown.
Better yet, rock a sneaker under that gown or let it be seen. If left out, a sneaker will give you a look of style, uniqueness and fashion forwardness.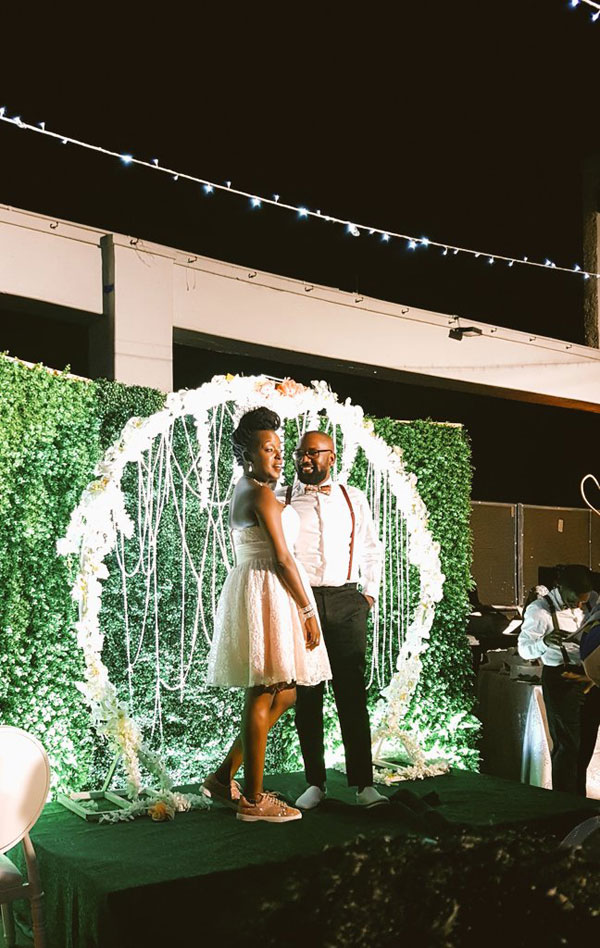 Choose to be stylish and gorgeous in your flat shoes because they are usually hidden under the layers of your gown. Your guests also need never know you skipped wearing the stilettos,unless you stylishly did it with a shorter dress.