By Maria Immaculate Owechi
"Wearing a wedding gown with a sweetheart neckline has always been my dream," reveals Ruth Musisi, a teller with Bankclays Bank who has been married for five years.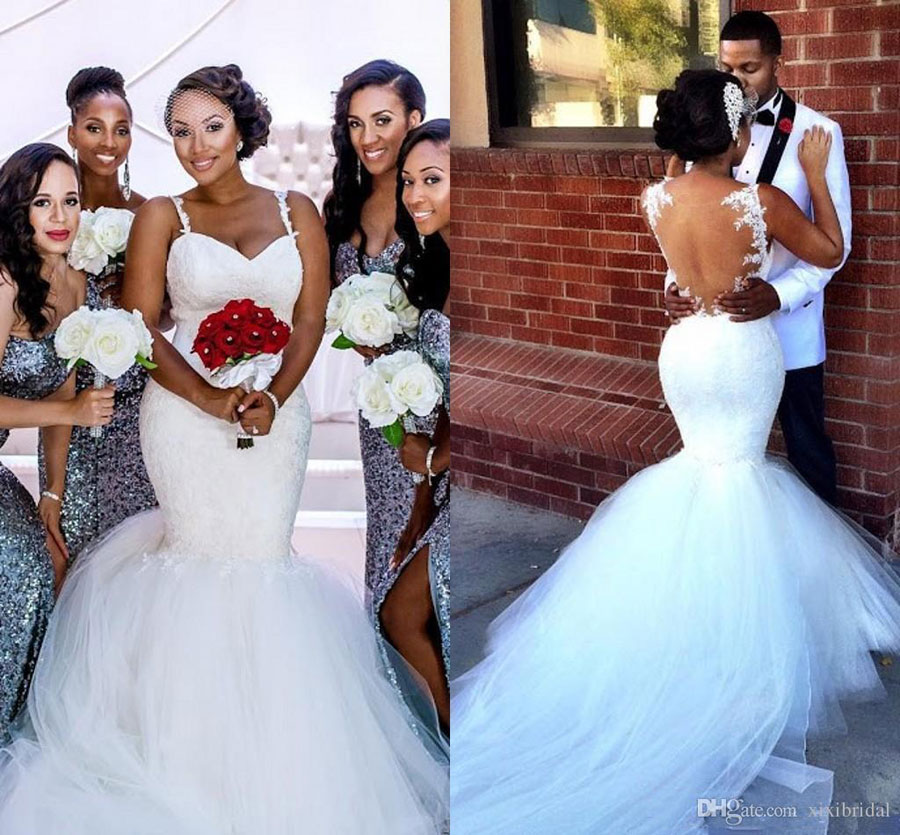 "But my sister-in-law who escorted me to choose the gown said that her family is conservative and will not be okay seeing me wearing a strapless gown," she explains.
Musisi had to settle with wearing a bolero coat over her gown which she says was also stylish.
In most cases, brides often have an idea of the design of their gowns and fitting. But after trying it on, they realize that the neckline may not be suitable for their big day because of some factors.
According to Renzioni Hill, a Ghanaian stylist, beautician and a wedding planner based in Kampala, it is important to carefully determine the neckline of your gown because you do not want to appear awkward or too regular but rather amazing. That is why you should take your time to choose something that works for you.
Brenda Mutamba, a designer with Destiny Bridals in Entebbe also adds that the neckline of your wedding gown should be able to accentuate your shoulders and chest while still able to flatter your figure and balance it with the rest of your body parts.
Mutamba adds that aside from your body type, the style of your hairstyle and choice of jewellery should be able to complement the design of the neckline.
The following are the different bridal necklines these style experts discussed with My Wedding magazine and how to complement with the right hairstyle and jewellery;
The Sweetheart neckline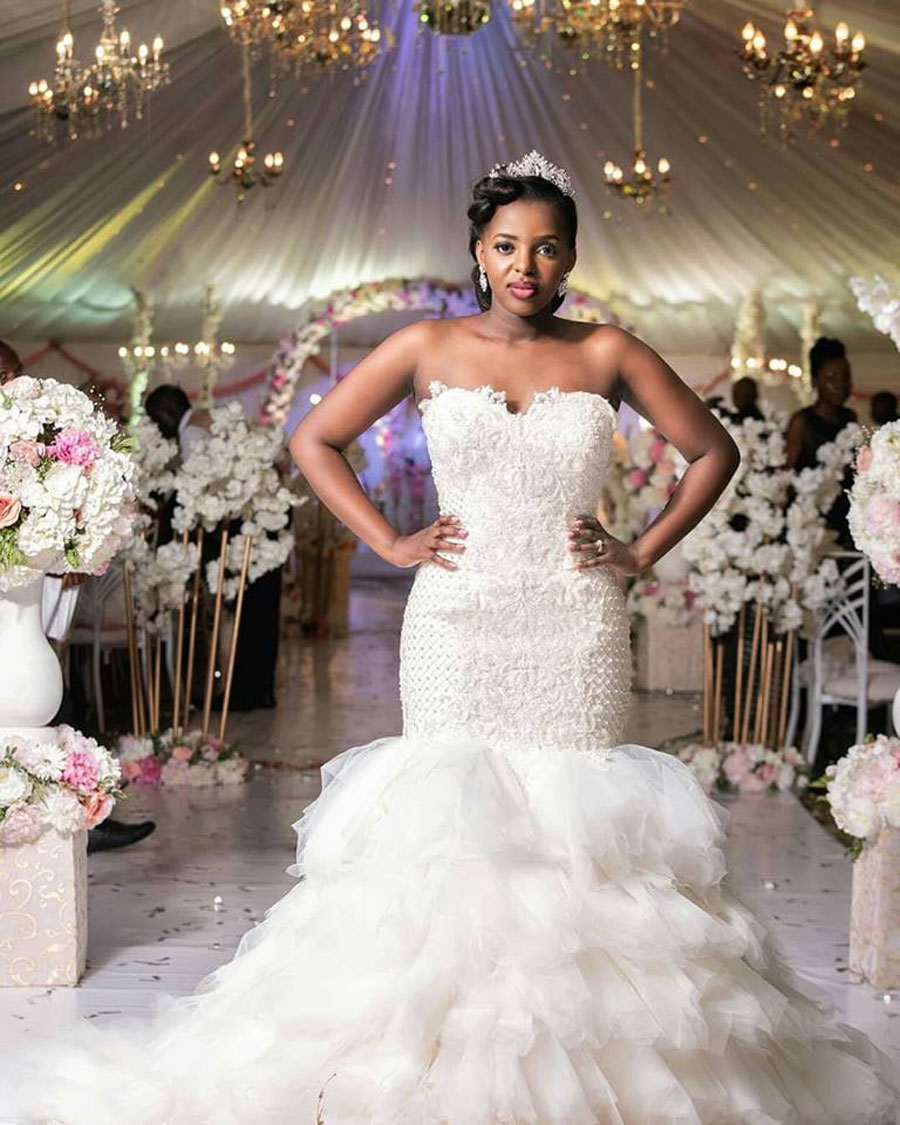 This is one of the most popular neckline shaped like the top half of a heart around the chest area.
According, to Mutamba a sweetheart necklines flatters all body types. For a bride with big busts, it enhances them while for those with smaller ones, it creates an illusion of a larger bust.
For the jewellery, she advises that even though the choices are open, brides should not over accessorize but try to keep it minimal.
Collar and statement necklaces plus drop and statement earrings are recommended for a dashing look.
"In regards to the hairstyle, this neckline is flexible and works well with both updo and free-flowing hairstyles," says the gown designer.
She adds that for an updo hairstyle they usually want to show some skin and also show off the statement necklace.
The straight across neckline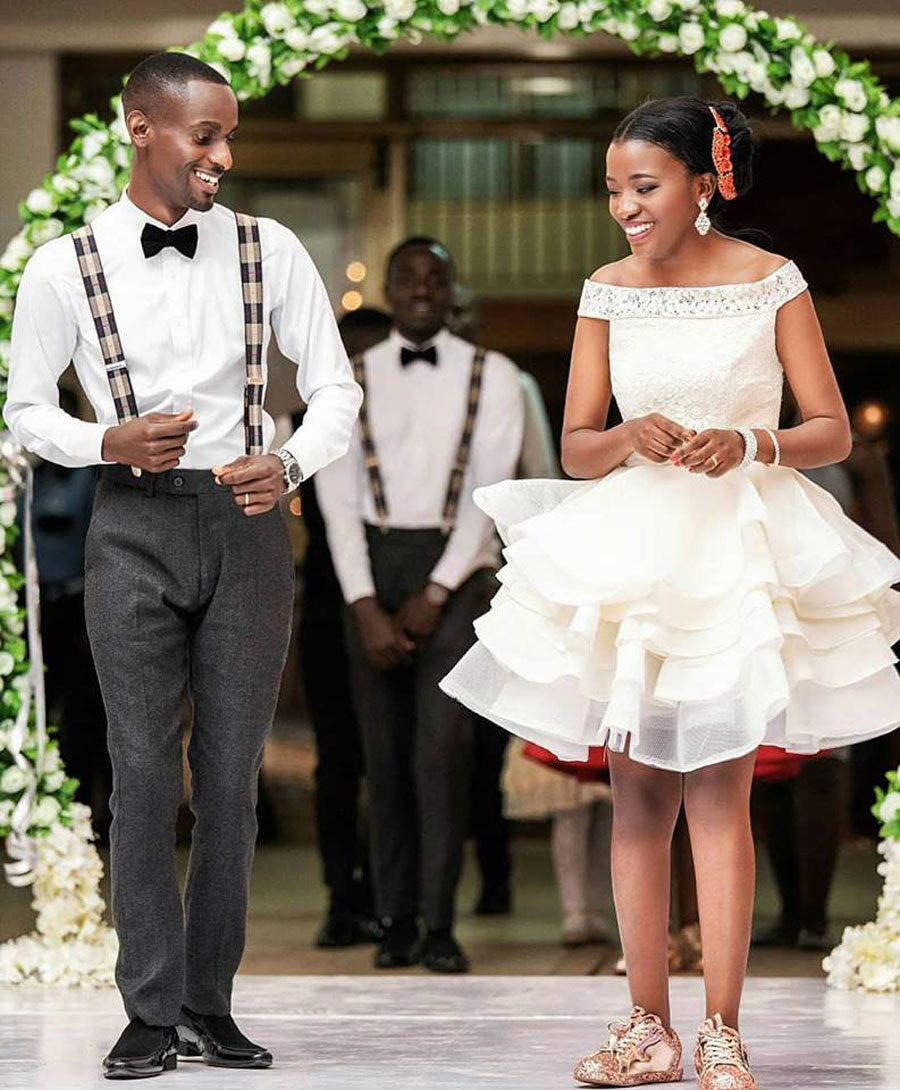 This is a neckline that is cut across the chest.
It flatters most women with broader shoulders and may not be suitable for those with smaller chests because it can easily slip down later in the day if the fitting was not done right.
Mutamba says that the same hairstyle and accessories that work for a sweetheart neckline also works for a straight across since they both cut across the chest.
The V-Neck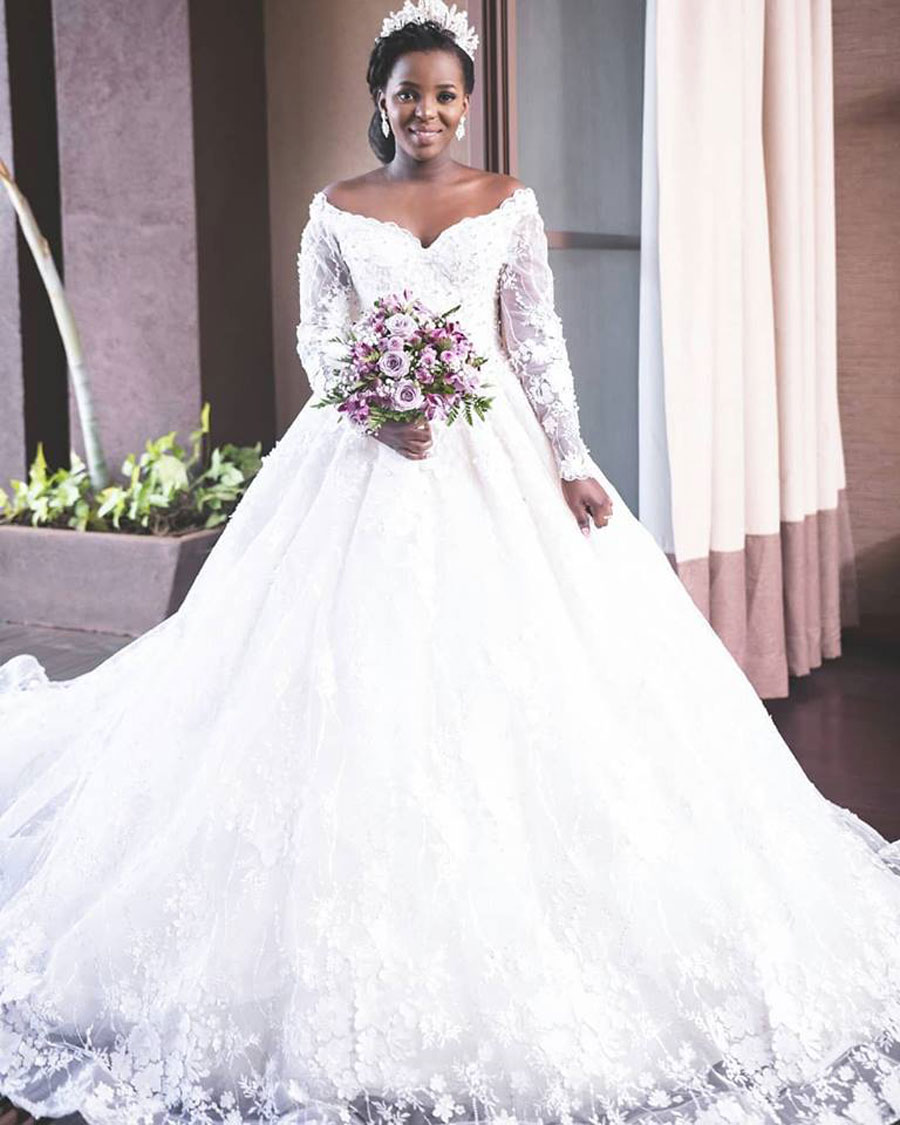 It is a V-shaped feature that drops from the neck to the chest area. For a much deeper version, there is the plunging V-neck for the bold and daring bride.
"The V-neck works well especially with smaller cleavage, but it will definitely make the small bust look even smaller," explains Mutamba.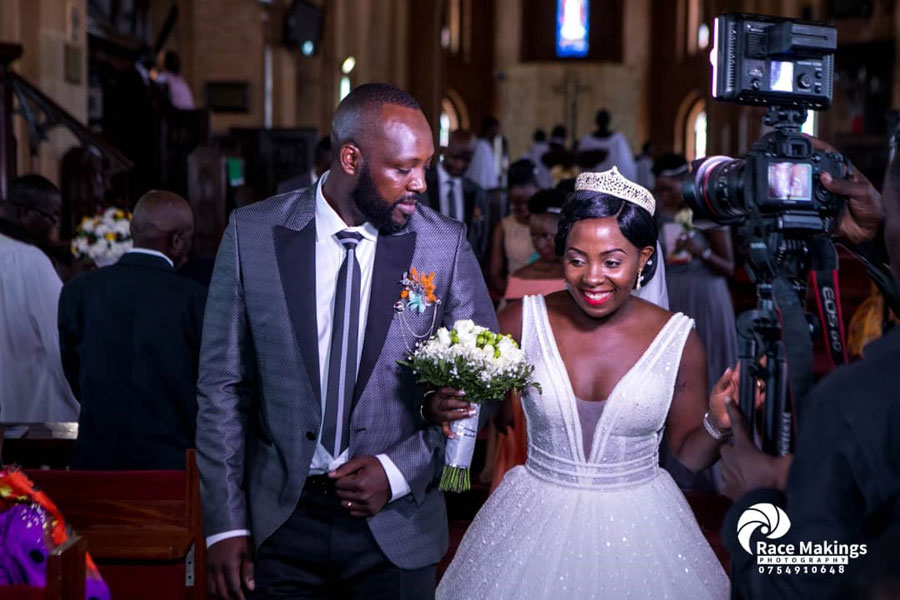 She adds that this style is perfect for showing off statement necklaces and earrings and the hair should be held back to show off the gorgeous V-neck on that special day.
The Asymmetric neckline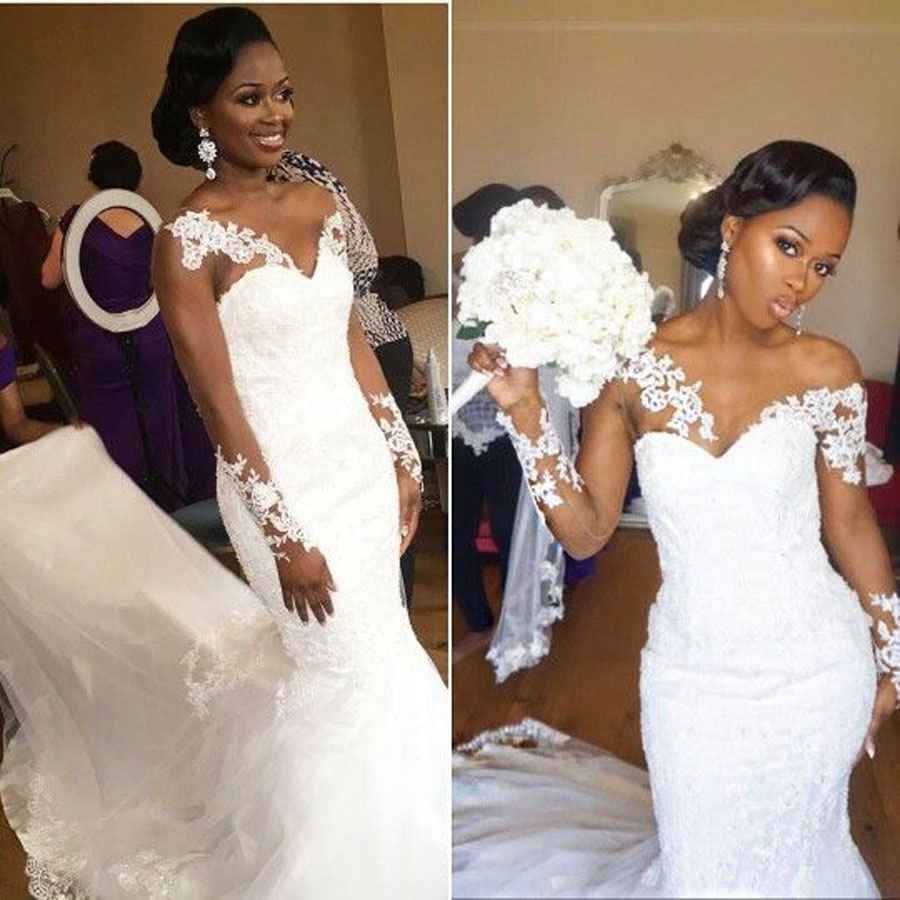 This neckline is also known as a one-shoulder neckline which is a single strap coming across the front either from the left or right shoulder.
According to experts, this style accentuates your collarbone and works well with pear shapes or larger busts.
Brides with broad shoulders or full arms are advised to avoid this style because it will only serve to accentuate them further.
This is another option that works well for showing off a statement necklace or earring and an updo hairstyle will be the perfect combination. Also, a side swept hairstyle is a thumbs up.
Barbie Kyagulanyi, the wife to Kyandodo East Member Of Parliament, Robert Kyagulanyi known as Bobi Wine rocked this look well on her wedding day in.
For her ceremony, Barbie held her hair in a pigtail so that the floral design of the one shoulder is showcased and she paired it with a statement necklace.
Off-shoulder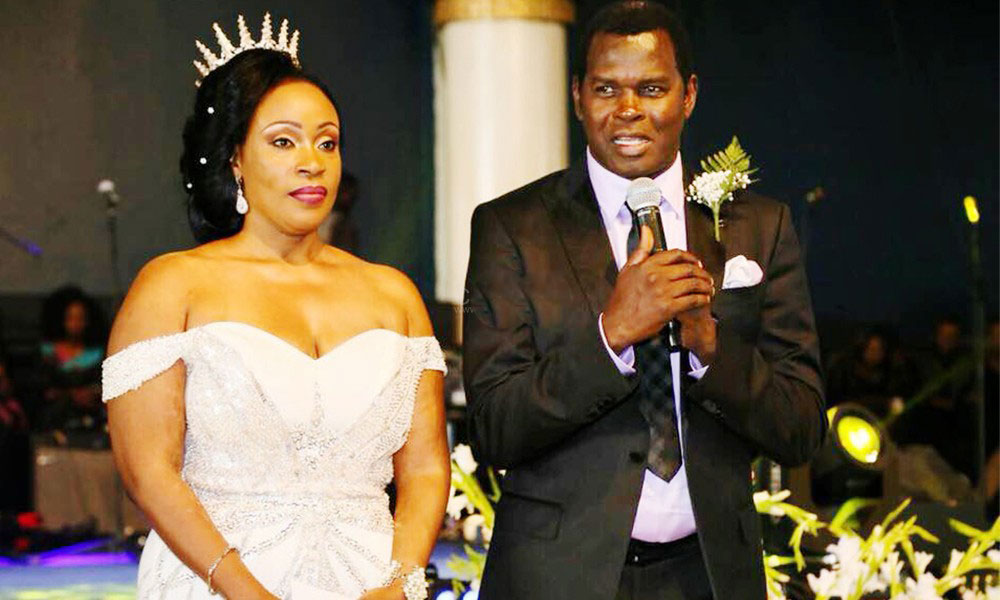 This neckline sits below the shoulders to showcase a bride's collarbone and shoulders, with sleeves that cover part of the upper arm.
Mutamba says that the off-the-shoulder neckline will look good on almost all figures.
But she adds that they are brides with fuller arms who may be uncomfortable with showing their shoulders, so they may want to avoid this neckline.
In order to fill the bare chest, you can adorn it with Chokers, collar necklaces and statement earrings.
"A pulled back hair is advised so that the jewellery is properly displayed," explains Mutamba.
High neck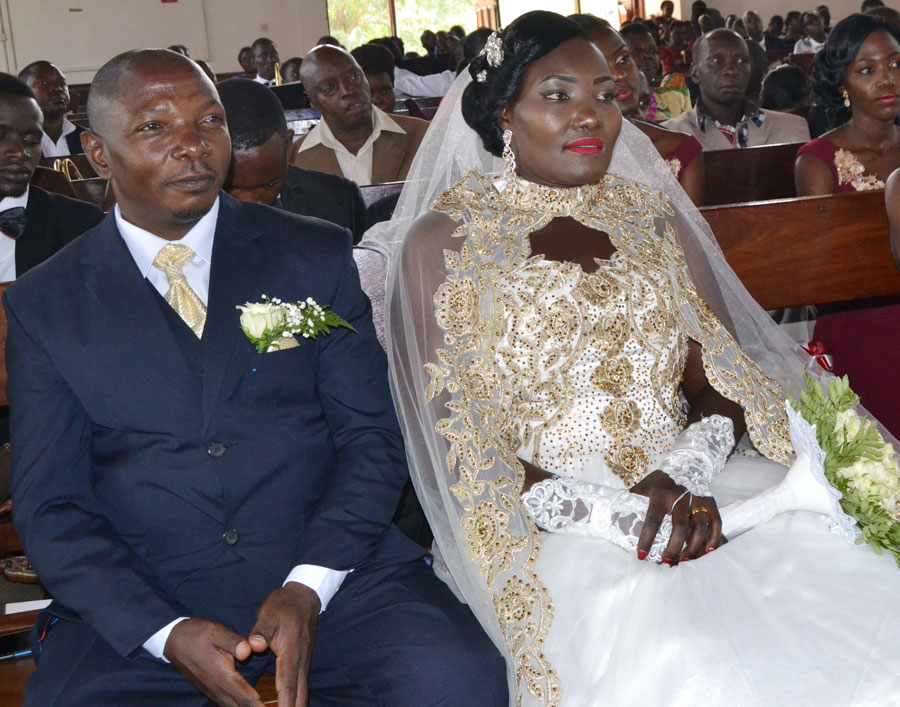 According, to Monica Najjuma, a designer with Nalu Courture at Garden City, the turtle necks are among the popular necklines considered to be decent and suitable for those who are not comfortable revealing some skin.
Najjuma says that it is suitable for brides of all body shapes. And to avoid having a boring look it is spiced up with embellishments and minimal jewellery like only statement earrings or stud necklaces will complete the look.
"A high neck is always complemented with a pulled back hair to show off the neckline," says Najjuma. "By pairing it with an updo the fabric embellishments will easily be displayed."
Last year Pippa Middleton, a sister to Kate Middleton looked elegant in her turtle neck with short sleeves. This was on her wedding day to James Mathews. Pippa neatly took held her hair in a stylish braided look and paired the look with pearl and diamond earrings.
Halter neck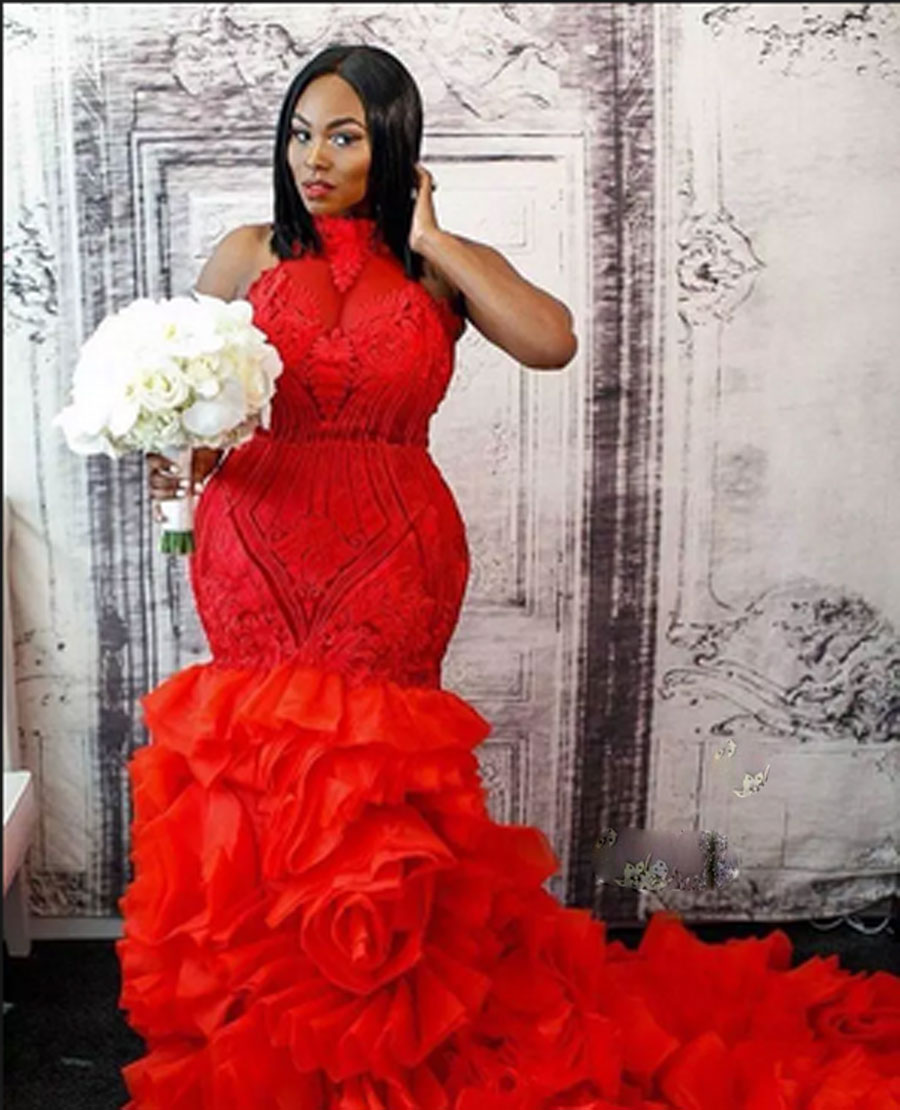 The Halter neckline features wide straps that wrap around the back of the neck or a high neck with deep armholes.
Najjuma says that it works well for brides with broad shoulders and those with longer necks.
And as far as accessorising, she says that sparkly necklaces or earrings work for this neckline. Also, an updo works well for a halter neck.
Bateau/ Boat neck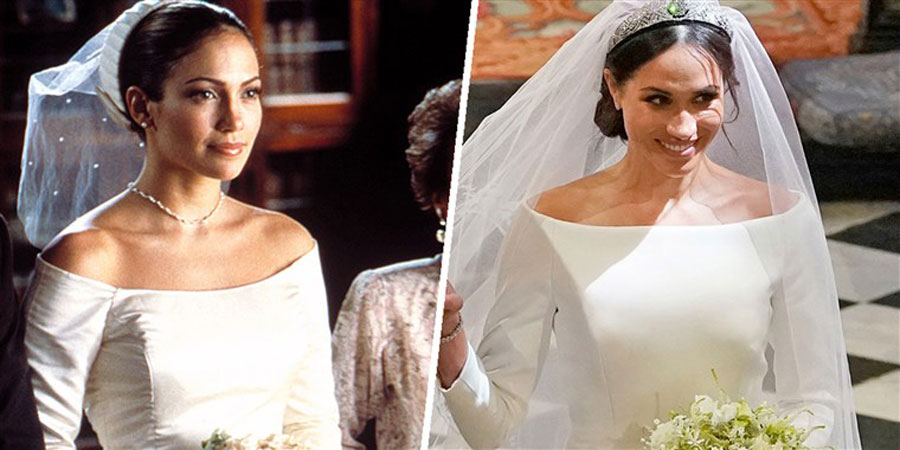 The wide top follows the natural curve of your collarbone and works to enhance the chest area. Therefore designers advise women that are well endowed to avoid this style.
For the accessories, it is advised to keep it simple with just a pair of statement or stud earrings.
The boat neck, is best paired with an updo because wearing hair down is considered unflattering, says Najjuma.
Jewel
This neckline also known as the T-Shirt neckline is round and sits at the base of the throat above the collarbone.
"The Jewel neckline is perfect for a Small-chested woman as it also create the illusion that they are bustier while for the large-chested woman it just adds more volume," says Najjuma.
An updo, side sweep or flowing hair still can complement this look.
Illusion Necklines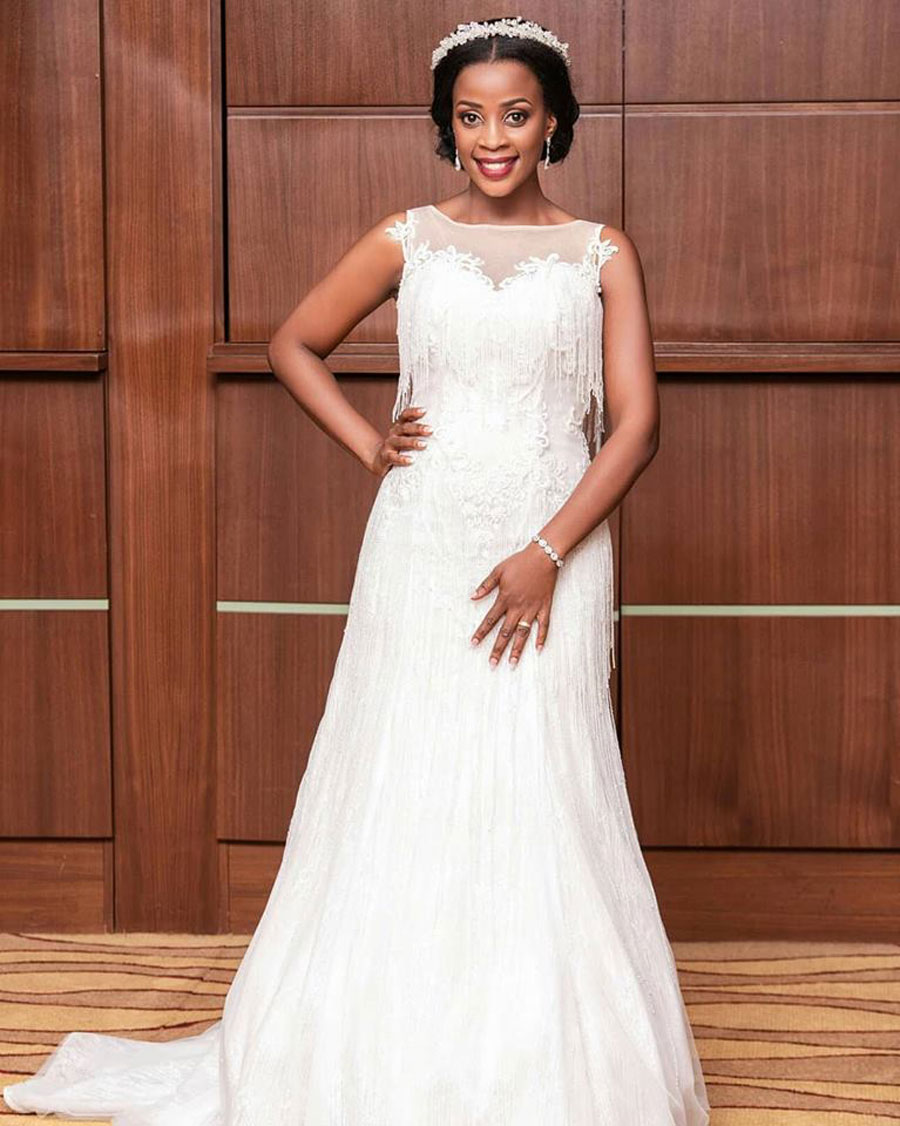 Illusion necklines which have become a popular trend feature sheer fabric or lace along the top of the bodice that extends to fit near the neck. This neckline is said to work for everyone.
Jessica Nnyanzi from Amazing Grace hair salon, Mukono says that in most cases for an Illusion design she advises her brides to hold their hair in an updo to showcase the detailed design and minimal jewellery like earrings works for this look.
Square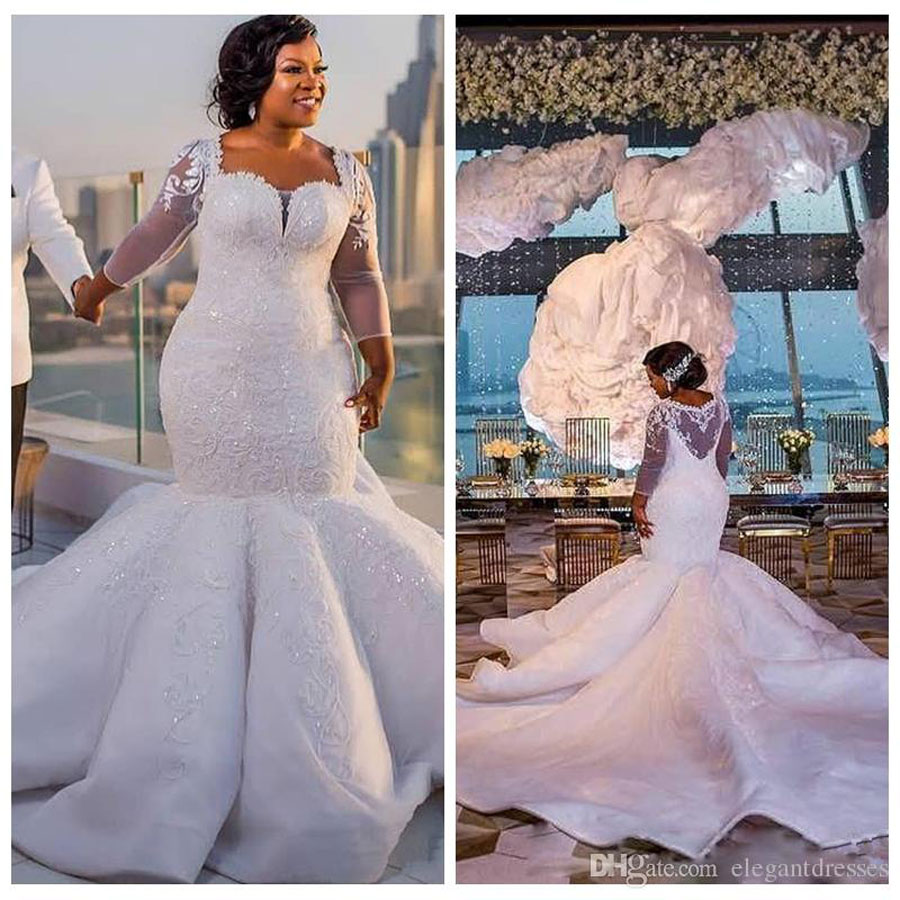 This neckline features a simple curve that typically hits just below the collarbone.
This also works for all body types and any hairstyle can complement it. For the jewellery, it is also an open choice where minimal or chunky still makes anyone look divine.
Make sure to pick out a neckline that is uniquely suitable for you.