By Shabibah Nakirigya
Elvis Kintu Nsonyi, a personal assistant to Kampala Lord mayor Erias Lukwago and Esther Kintu Nanfuka, a councillor, exchanged their vows at St Augustine Makerere University on December 3, 2016, writes Shabibah Nakirigya.
How did you meet?
Elvis: We met during a Democratic Party (DP) youth wing, national Uganda Young Democrats workshop in Nansana. I admired her but I was shy to approach her.
Esther: It was in 2012 at Nexus Hotel in Nansana. He showed interest but I did not give him a chance then. However, he waited for me to give him a chance, so we got another opportunity to represent DP at a Dua Summer School in Namibia and by the time we returned, we were good to go.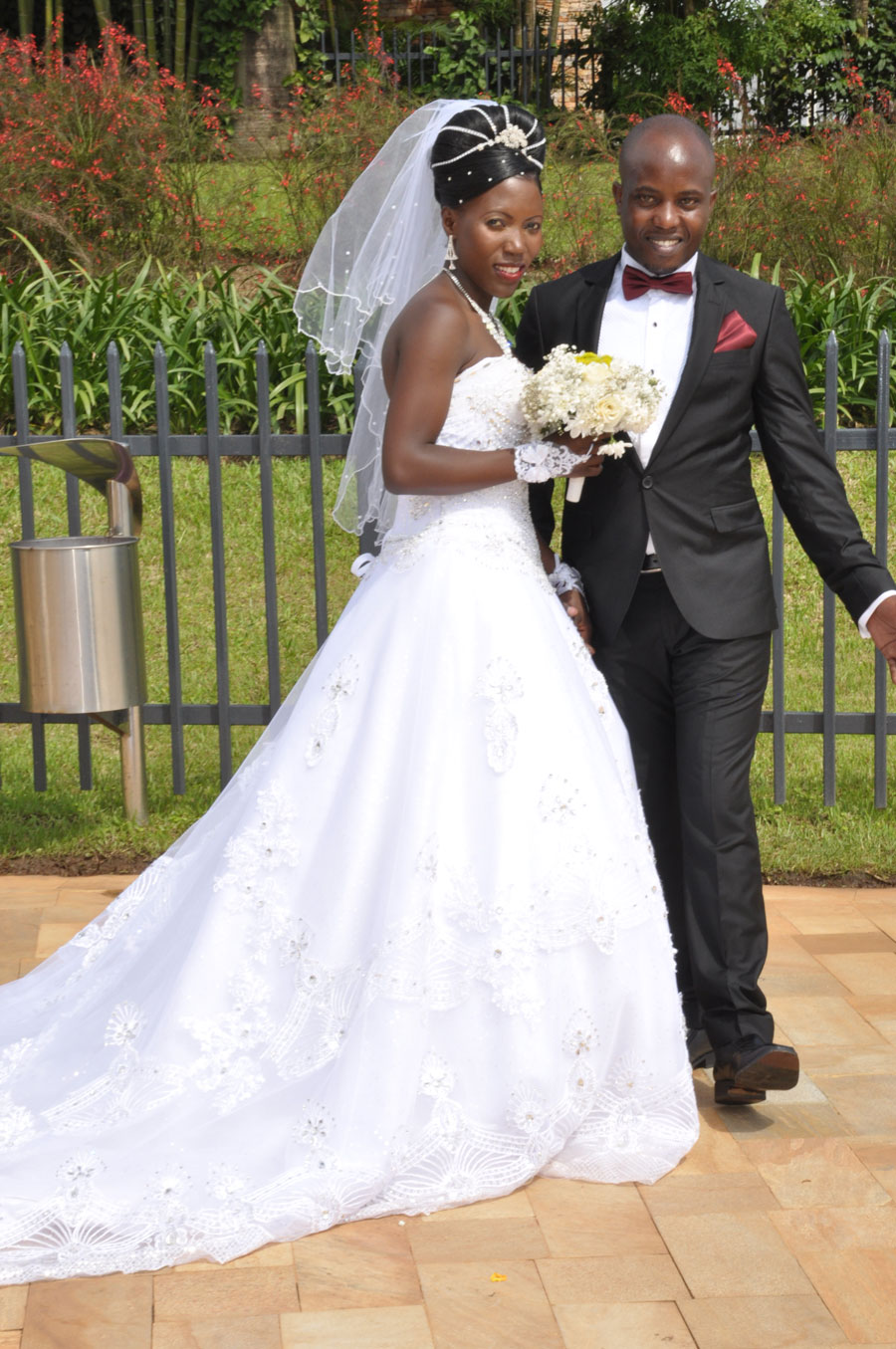 What followed?
Elvis: We met at Mama Ashanti in Nakasero and we kept whispering to each other sweet nothings, especially about our future plans.
What attracted you to each other?
Elvis: I set four conditions; I wanted to marry a Catholic, Muganda, educated and a DP supporter. I found and married an educated DP supporter who is a Muganda. That was 75 per cent for me and a distinction. Our children are Catholics and we go to the Catholic Church.
Esther: I saw an intelligent young man making a presentation. Then, we met when we were eating kudu (lean game meat from a kudu- an antelope species in Eastern and Southern Africa) in Namibia. I always prayed for a God-fearing, smart, understanding, and loving man from DP. That was Elvis.
How was your proposal?
Elvis: I promised her marriage, but I also eagerly wanted a child because my youngest brother had his child before me. Somehow, he was assuming a certain status in the family.
Esther: There was no particular time but when we got our first born Kintu, Elvis promised to marry me.
When did you set a wedding date?
Elvis: I initially proposed the last Saturday of July 2015, but I later found out that I had to attend a retreat in Masaka. Then we opted for the first week of December.
Esther: He proposed the wedding a year after our introduction but his busy schedule made it impossible. He then proposed the first Saturday of December the following year. He travelled abroad and returned a day to the wedding.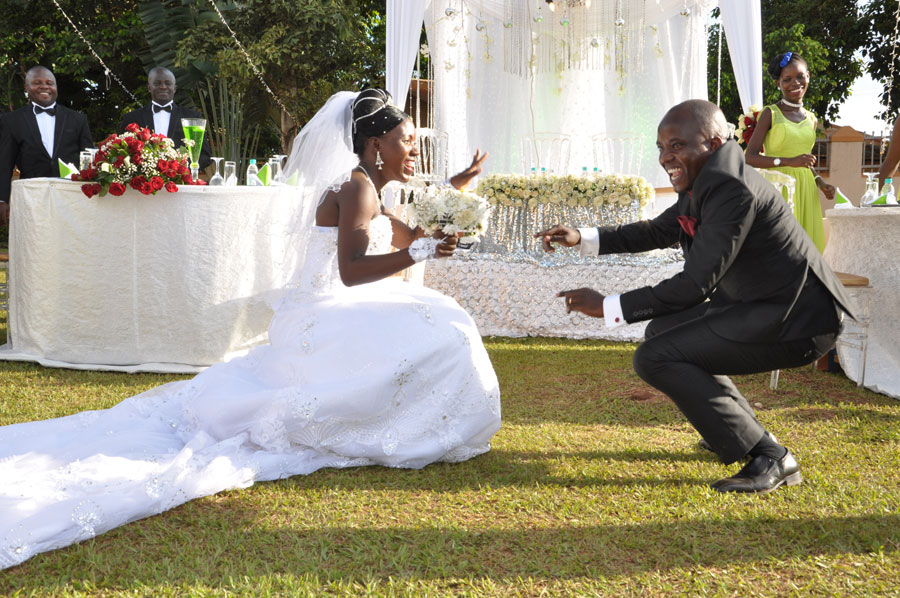 What was your budget?
Elvis: I had initially planned for Shs45m, but with the help of Robert Mugambwa, our chairman organising committee, we revised it and struck off the unnecessary things. We did not want debts after the wedding and we bought the drinks on D- day.
Esther: Elvis and Robert chased me away from the meetings.
How long did you take to buy your wedding clothing?
Elvis: We ordered a tuxedo from abroad and they got back to us later for further specifications. We then opted for outfits from my stylist because he pays attention to detail. It took us about two weeks to find what we wanted and it cost my bestman and I Shs3.6m.
Esther: The bride's entourage placed the order three months to the wedding but it arrived a month to the wedding.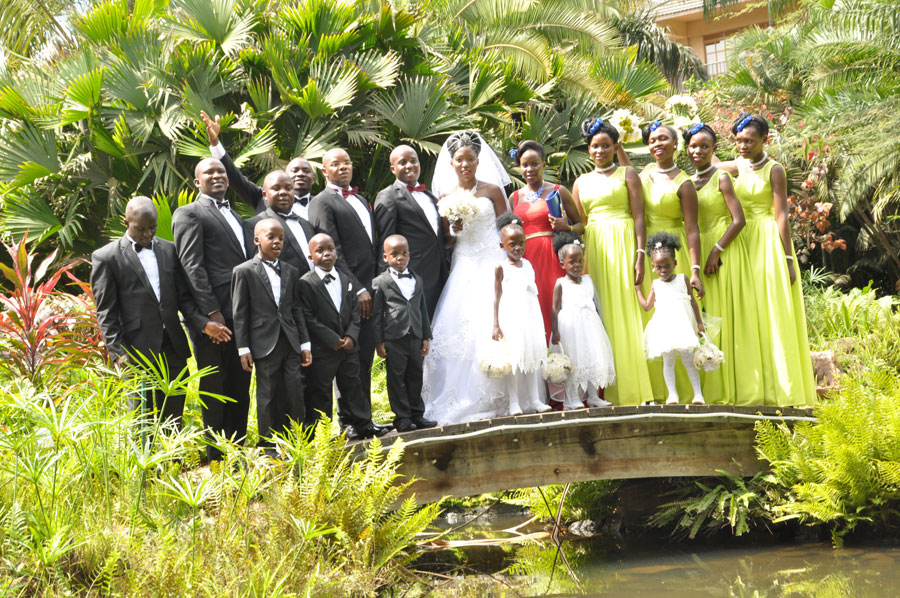 What did you enjoy the most on that day?
Elvis: The Apostolic Blessing from His Holiness Pope Francis. My classmates from Bukalasa Seminary, Fr Remmie Kayiira and Fr Paul Makoboza helped me realise that it was a blessed day.
Everything went as planned. Majority of our guests such as politicians and, the artistes, Ghetto kids and comedian Jjajja Bruce turned up. This was a surprise and I wondered who had paid for the entertainment. One month later, I learnt that it was councillor Moses Kataabu. However, a service provider delivered outdated tents.
Esther: Exchanging vows because my marriage dream came true.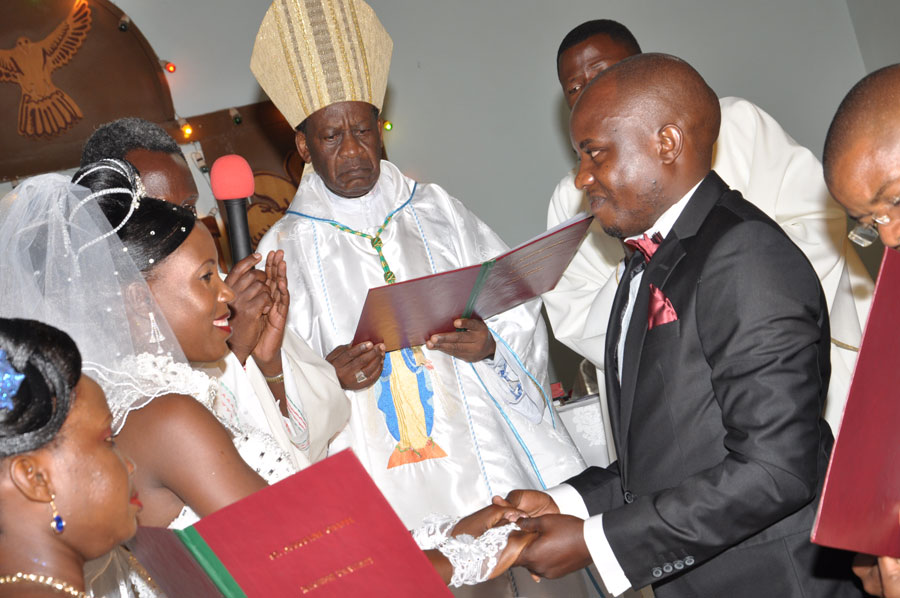 Which church did you go to?
Elvis: At first I wanted Kitovu Cathedral, my home parish in Masaka but later I chose Rubaga Cathedral Kampala because of time and costs. However, the day was booked. Then I ended up at St Augustine, Makerere where I have been a member of the St Augustine Catholic Community since 2007.
Esther: We took our marriage vows from St Augustine Makerere University because my husband is Catholic and I had a thanksgiving service at St Andrew's Church of Uganda Kabowa because I am Anglican.
Who officiated at your wedding?
Elvis: Bishop Emeritus of Moroto; Bishop Henry Ssentongo.
What was exceptional at your wedding?
Elvis: It was simple and I wanted to attract fellow youth to legalise their relationships.
Esther: Having Kyadondo East MP Robert Kyagulanyi Ssentamu entertain us and comedian MC Mariachi made my day. The way he joked with the Lord Mayor and other DP leaders was a surprise.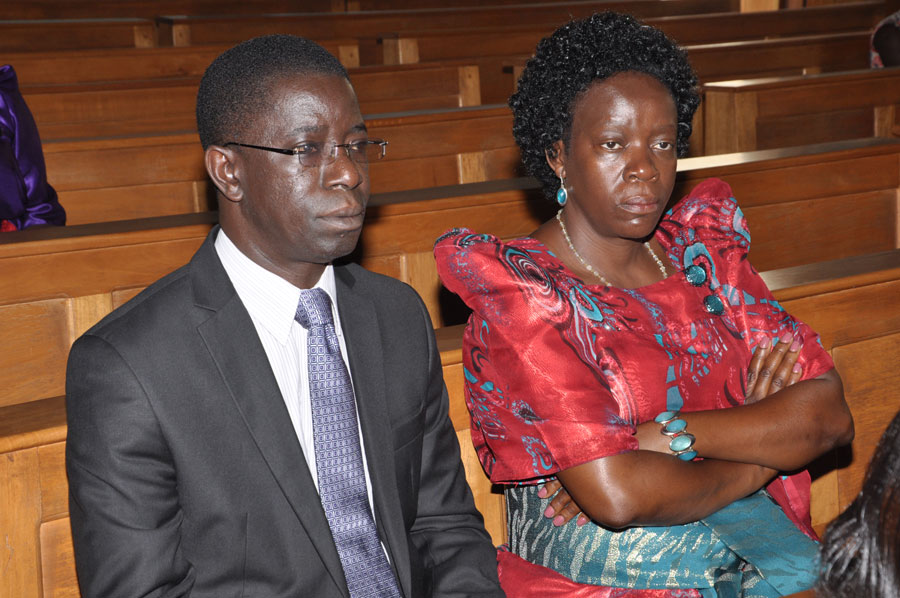 How many guests did you invite?
Elvis: 1,000 but I think about 700 turned up.
Esther: My husband gave us 200 cards, but he budgeted for 1,000 guests.
Where did you go for honeymoon?
Elvis: I prefer to skip this.
Esther: It is our secret.
What was your colour theme and why?
Elvis: Green because of my political party but my stylist Charles Wasswa opted for maroon.
Esther: Green because we are both Democrats.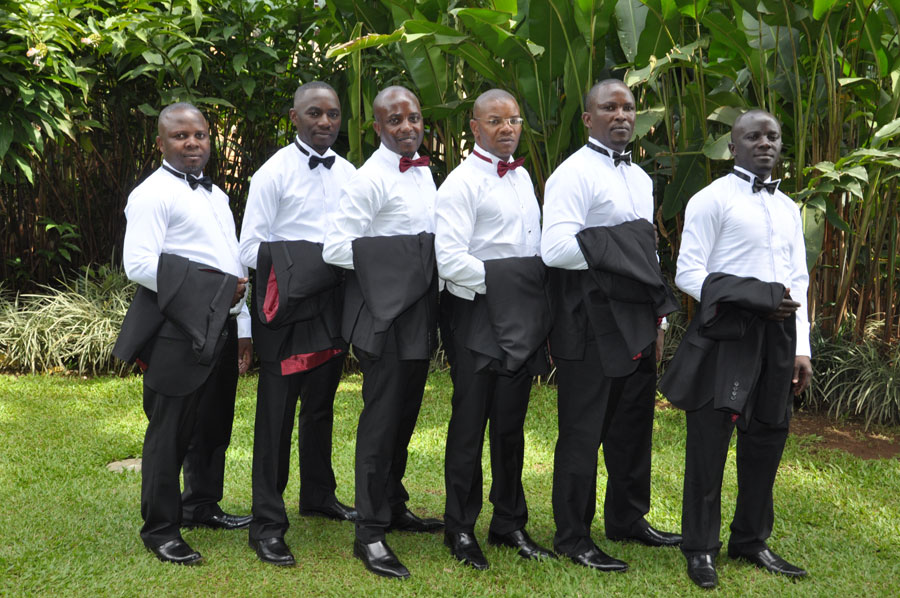 How did you pick your entourage?
Elvis: I chose my secondary school peers from Masaka who are close to me.
Esther: I considered relatives who are still single and could foot bills for their clothes. We had four bridesmaids and stewards, three pageboys and three flower girls, including our firstborn.
Was it easy for you to manage time?
Elvis: No, the traffic police at Lubowa held my vehicle at 4am when they were transporting kaasuze katya (the items taken to the bride's home early morning). Then, it rained heavily that morning. I ended up arriving in the salon late.
Esther: Yes, I left salon in Nsambya and waited for the groom for about 30 minutes at the church.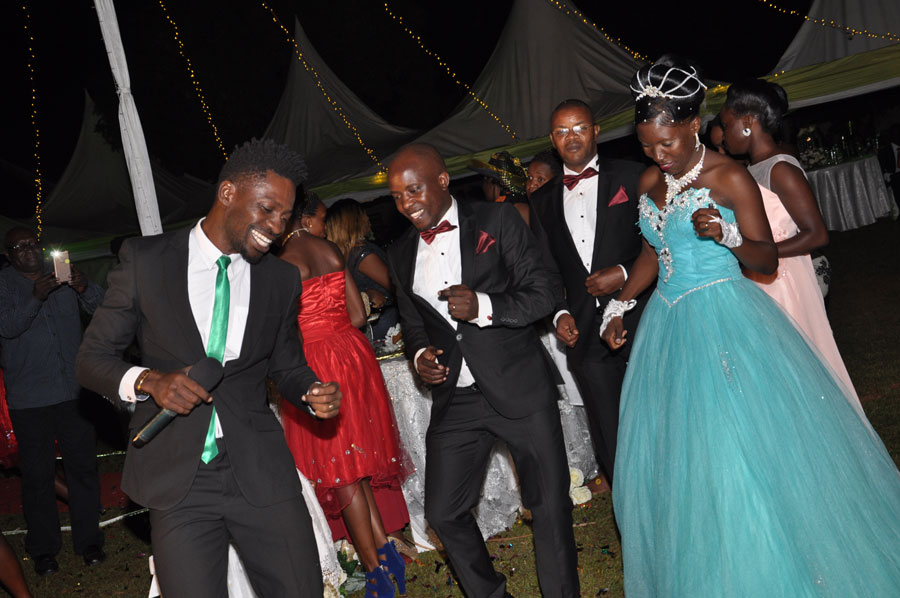 Who was your best man/ matron?
Elvis: Chrysostom Katumba, a lawyer at my boss' law firm, Lukwago & Company Advocates.
Esther: My matron was my cousin Mary Nasrallah Babirye.
How long did it take you to plan for your wedding?
Elvis: We held nine meetings and a fortnight to the wedding, all was set. I travelled to attend the Elbridge Conference under the sponsorship of KAS Media Africa in South Africa and returned a day to the wedding.
My organising committee who comprised UYD comrades and Bukalasa Seminary OBs was dedicated. I thank them for making my day colourful.
Esther: The planning lasted about three months.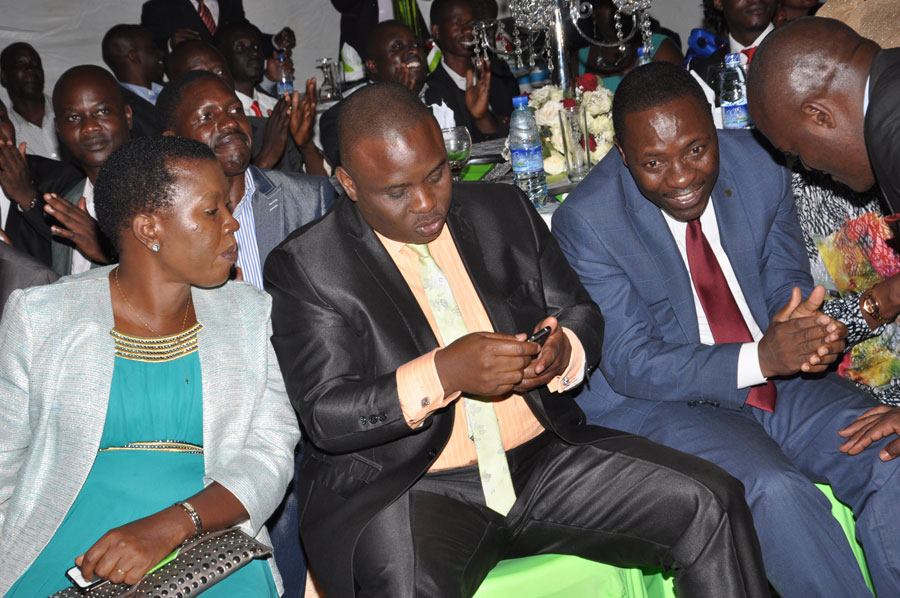 Most memorable moment in your journey?
Elvis: Esther, one time came to my place in Nakulabye and she realised that I was living an extravagant life, she suggested that I needed to buy some utensils to help me fix some meals such as breakfast. I remember telling her that she was laying a strategy of camping at my house. But later I followed her advice and stopped going to restaurants daily.
On the wedding day
Elvis: It was the last time for majority of Democratic Party members to interact with our former secretary general, Mathias Nsubuga. He gave us a memorable message, that I should love my wife and give her money without asking for any change from her.
Esther: I gave birth to our first born on May 26, 2013 during my final exams and graduation was in October the same year. I had six papers to do but got into labour while doing my third paper on a Saturday. I had three to go and thankfully, I gave birth on a Sunday.
Just like a true African woman, by 8am, I sat my fourth paper. My husband was supportive and proposed that we legalise our relationship. I excelled.