In 2019, Robert Kyamanywa reported for a certificate in Early Child Development (ECD) at Gate of Hope Education Centre in Kyenjojo and same year Harriet Kobugabe also reported for the same course. In a class of more than 40 female students, he was the only male student who was pursuing a female-dominated ECD course and class coordinator.
Robert says he used the opportunity to talk to Harriet who has his secret crush.
"As a class coordinator our focus was to read and pass. Later, as I interacted with her, I fell for traits I desired in a dream wife. Harriet is obedient, respectful and God-fearing. However, I was hesitant to profess my feelings for her," he says, adding: "On December 18, 2019, we were on holiday, I called her and I told her that I love her. She instead told me to wait and I was confused."
Robert says it took him long to convince her. Later, she accepted after he keenly engaged her on relationship matters.
Confessions
Harriet says after Robert disclosed his love for her, she treated it as a joke because they were just friends.
"We started out as friends in class, we used to share class work, but one day, he confessed his love for me. I was shocked and believed it was a joke but he insisted. I could not accept on the first day because I wanted to first study his personality. I dreamt of a God-fearing man. Robert was an ardent reader of the Bible and hardworking," Harriet explains.
Later, she accepted his proposal and says even during their holidays and at school they kept in touch but focused on passing to graduate.
Upon completing the course, Robert was retained at school while Harriet went to teach at St Mary's Nursery Primary School, and later Little Angel's Primary School.
Robert says by the time they completed the course in 2021, they were in a serious relationship saying before introduction, they sat together and made a five-year development plan which had a component of introduction and wedding.
"In our plans we included an introduction and wedding, but we never set dates for them because we had no money, our earlier plan was to do an introduction only, but later our friends told us to combine them which we agreed to," he says.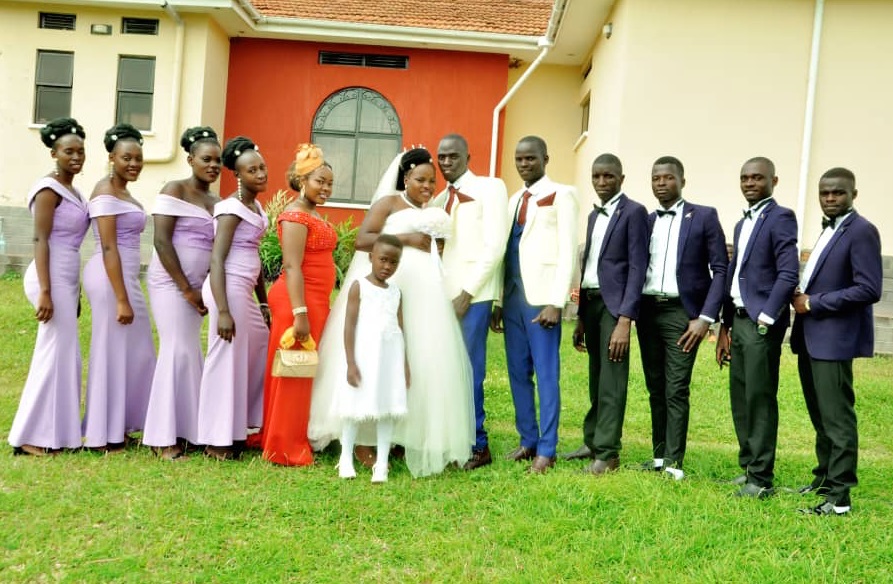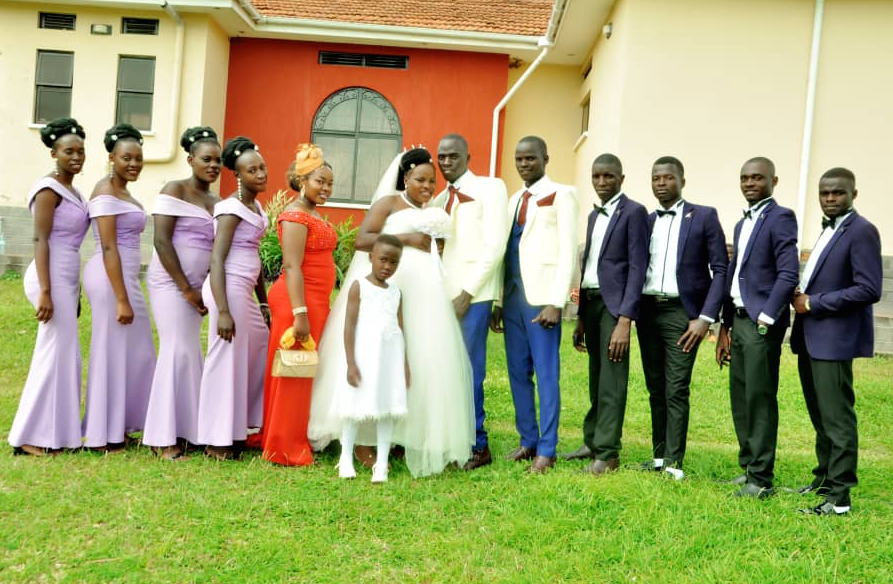 Introduction
On December 7, she introduced him.
"My parents and I were scared because we never had money. But my husband told me that he would handle it because it was just Shs8m," she says.
Robert says introduction and wedding cost Shs15m and their primary source of finances for the party was from their employers (Gate of Hope Education Centre) and savings.
"I had many friends, especially my workmates Peter and Honorata. I had friends from Poland who sponsored my education, and we held several meetings since November," she adds.
The couple wedded at St Peter's Church of Uganda in Kyenjojo on December 10 and had their reception.
Happy times
The couple says they were overjoyed when they arrived at reception and they found their invited guests.
"The turn-up was good with people ranging from workmates, friends and relatives. It was amazing to express our gratitude to our guests. My party was historical in our village because I was among the first people to hold such a big function," he says.
Harriet says her best moment was when they were exchanging vows in church, saying she had become part of Robert's family.
"I was happy to see that our parents attended our function, all invited guests attended," she says.
She says the weird moment was when they were going to church and their bridal cars got stuck on the road on that wedding morning because it rained heavily for three hours.
"Some of the people who had escorted us to church had to walk more than a kilometre because the road became impassable, but my husband and I remained in the car. I was getting agitated but our driver made some stops for us to pray," she recalls.
Advice
Harriet says, all those intending to get married should not fear and listen to people with negative criticism about weddings because some people are good at discouraging others.
"People told us that weddings are hard, but one ought to get good friends and plan early enough," she cautions.
Robert says people need to change their perception that people can only wed when they are as old as 50 years.
"One can wed at any age provided he or she is ready for it."
Briefly
Date: December 10, 2022
Groom: Robert Kyamanywa
Bride: Harriet Kobugabe
Church: St Peter's Church of Uganda
Main celebrant: Rev Wilber Mbareba
Reception: Kiburara Village, Kisojo Town Council, Kyenjojo District.
Guests: 400
Budget: Shs15m