Rebecca Kadaga flew in on a chopper just for us, imagine!
Major Allan Tom Kitanda, a liaison officer at East Africa Joint Fusion Cell, Entebbe, declared his lasting commitment to Harriet Busingye Ateenyi, a marketing officer at National Insurance Corporation on 24th November 2018. The wedding took place at St. Paul Pro- cathedral in Kamuli. Later, the couple hosted their guests at Mpongo Country Inn in Kamuli. The wedding was graced by almost 2,000 guests including Rebecca A. Kadaga, Speaker of the Parliament of Uganda and Maj Gen Musanyufu, the Joint Chief of Staff of the Uganda Defence Forces (UPDF).
Sam Caleb Opio spoke to the couple and brings you their story.
When and how did you meet?
Kitanda: We met at university when I was a Movement activist for security, and student activist with Odongo Otto, [Richard] Todwong, [Medard] Segona, and [Sarah] Kagingo.  Harriet was an exceptionally bright lady, loving and steadfast. We often met as a study group and my first mission was to recruit her into the group of the Movement activists against the Odongo Ottos. There was chemistry between us.
 What attracted you to each other?
Harriet: I loved his kindness, patience and brilliance. He has shown me many times that he is a caring, responsive and responsible man.
Kitanda: To me, she was an African queen, not like these usual campus babes. She helped me in group discussions, she was always caring, giving me compliments with a killer smile. Her disarming beauty was killing me softly till I surrendered my heart, love and life to her.
There was a time I had an accident, around the time the late General Aronda Nyakairima was handing over to Katumba Wamala. I fell off a motorcycle and was taken for treatment but after some time I developed a blood clot. I was then told to go for chemotherapy, but Harriet refused. She insisted I was not suffering from cancer. Four days after that, the cancer machine died. We were then referred to a doctor who helped me. He told me my issue did not need me to go for chemotherapy and he worked on me and after some time I got well. Harriet saved my life by refusing me to go for chemotherapy thereby forcing me to look for help elsewhere which worked.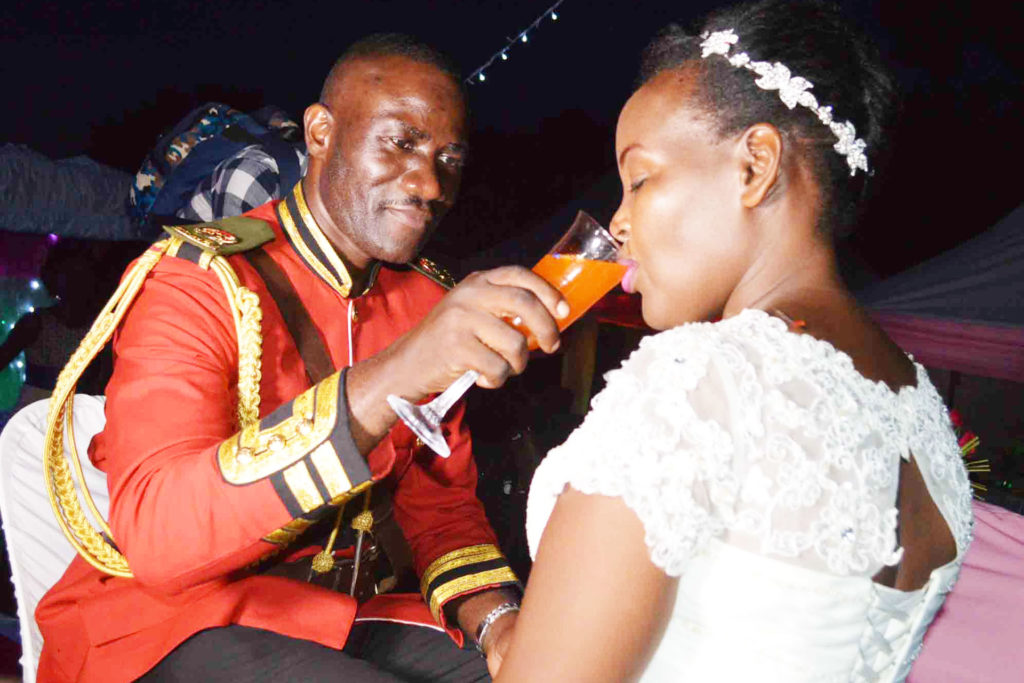 What was your budget and how did you raise the funds?
Kitanda: Our budget was modest and it was mostly friends who funded it. I am in a group called The Fitness Group in Entebbe which helps people keep fit. They provided the cake at Shs3 million. The Generals and army fraternity offered tents and décor at over Shs50 million. My childhood friend, Lt Col Naluswa gave us the sauce for over 2,000 guests, and food came from friends and relatives. But more importantly, the people gave us their precious time, honouring us with their physical attendance. It is the people who made the party lively because they showed a lot of commitment and sacrifice. We are indebted to them. To say thank you to everybody for their contribution to our wedding's success is an understatement. We cannot thank, appreciate, recognise or reward them enough and the least we can say is we are humbled.
Did you involve a wedding planner?
Kitanda: At first we had the intention to involve a wedding planner but decided to have wedding meetings both in Kampala and Kamuli. In those meetings, good ideas were generated. One of the biggest lessons we learnt was involvement of everyone right from the waterman, firewood collector and grandparents to all service providers. You know if you ignore the lowest service provider, he can cause a mess in service. If all food is brought and there is plenty, but the firewood or water is nowhere to be seen, then things won't work or will delay. Actually everybody matters and must be involved from onset.
 Why did you choose the rural location instead of the city?
Kitanda: The driving force was social and economic. If my history and career was built from Kamuli, a rural setting why should I transfer happiness to Kampala? Actually we agreed that we respect the parents who are more important than us and let them be perfect witnesses to our lasting commitment to stay together. Harriet asked me from onset where I was born, baptised and went to school and when I said Kamuli, she wanted us to have our wedding sacrament in the very church I was baptised and confirmed. Plus home is home. Also, it was cheaper for me to collect all those folks of ours in Buwaiswa, Kamuli to attend the wedding. They even walked to the event. This is better than hiring a coaster for only 25 guests to Kampala and yet, Kampala people have transport and travelled to have fun away from the hustle and bustle of the city.
 What the theme colour for the wedding?
Harriet: Pink, white and blue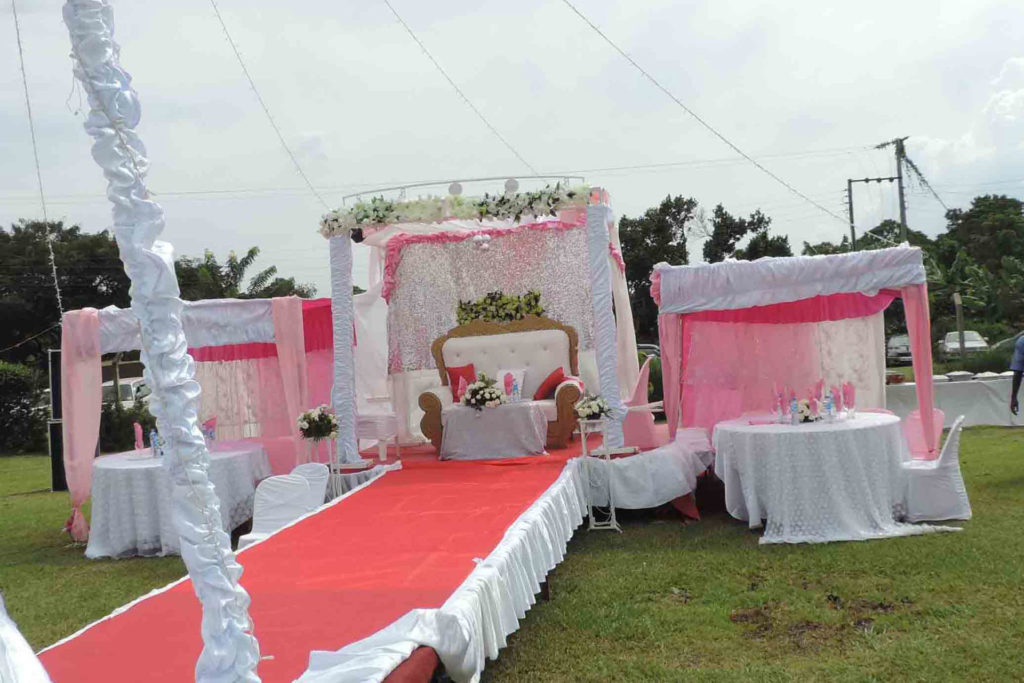 What did you enjoy mostly during the wedding?
Harriet: That glorious moment after we said I do and the wedding march to the reception that was complemented with the arrival of the Speaker of Parliament, Rebecca Kadaga in a chopper just for us, imagine!  When the MC announced she was leaving shortly for other commitments, she waved to us with a broad smile and said, "I am here for them. It is their day." I am from the western part of Uganda so having all this recognition from the people here gave me so much joy and a sense of belonging and acceptance in Busoga. I said to myself that I made the right choice for life.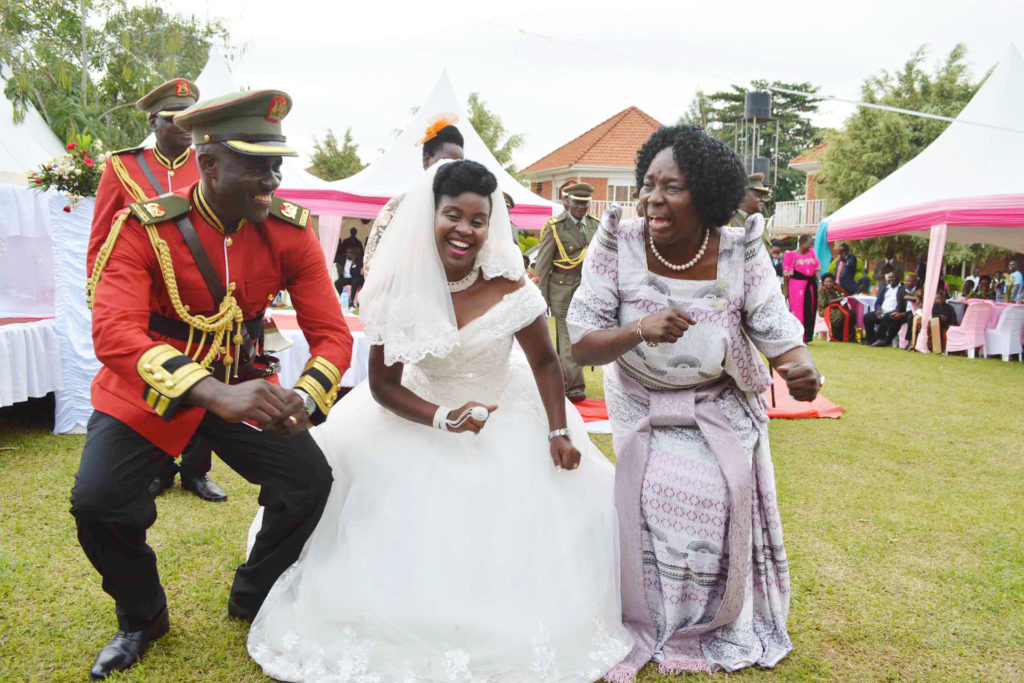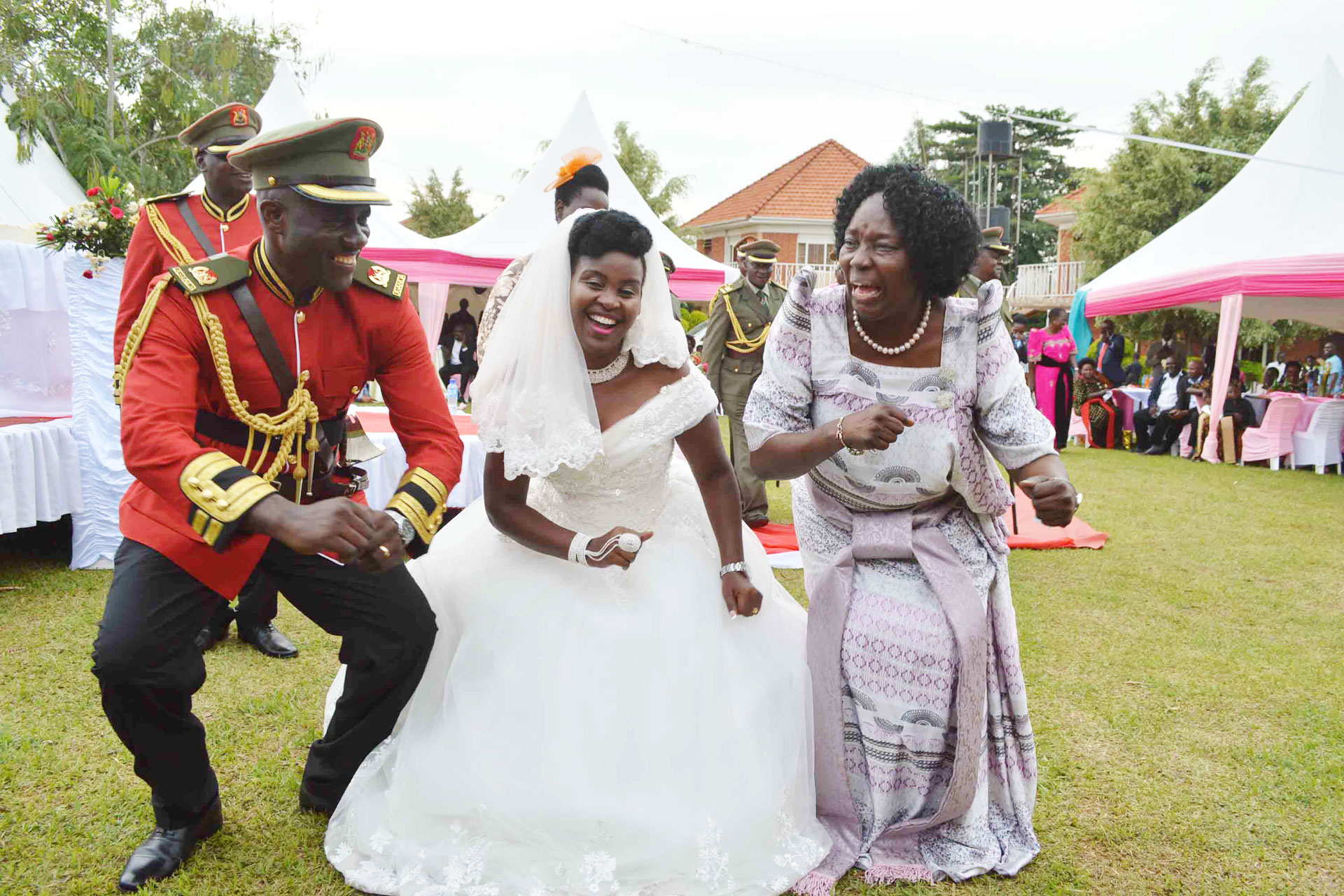 What was going through your mind during the wedding ceremony?
Harriet: I was often times humbled by the guests around, and seeing high ranking army officers especially my sweetheart's bosses, the Generals giving him a standing ovation. The whole Bishop was patient and all smiles, and was happy for us.
There was also one moment of reflection which almost spoiled my day when I remembered almost losing him to the accident. I got emotional and my matron had to encourage me to be strong. When my husband saw me looking sad at the memory, he touched my hand and whispered "Darling you are my first medication and I will treasure your love even in heaven." A tear rolled down my face. I looked at him and his broad smile calmed me down and I romantically leaned on him. The congregation clapped with wild applause thinking we were so in love but they did not know what had been going through my mind.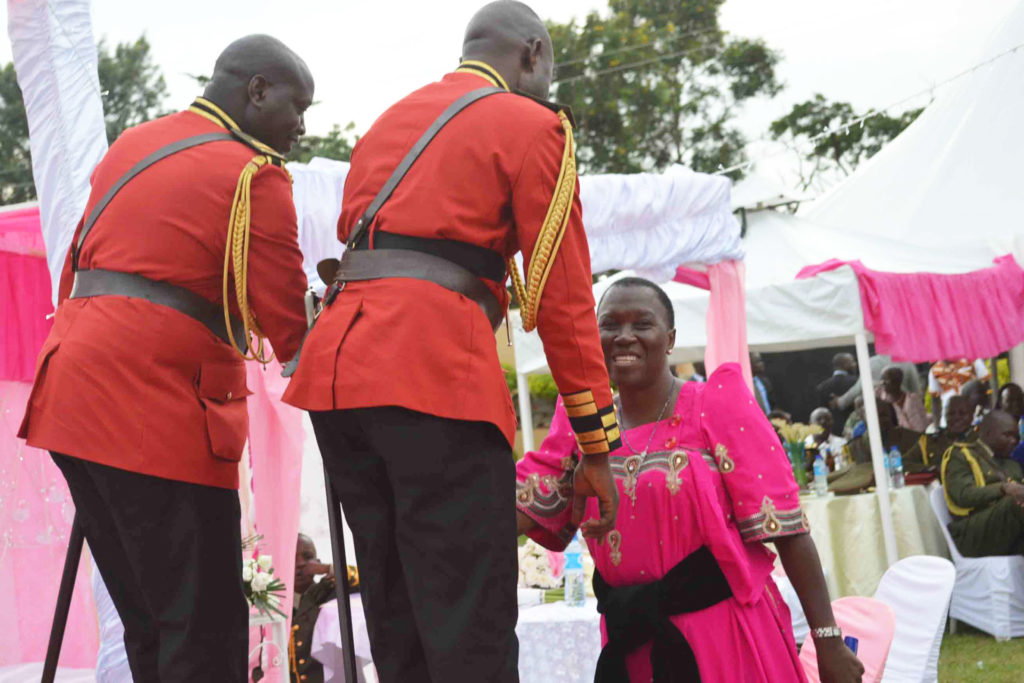 Did you go for premarital counselling? If yes, what did you learn from it?
Kitanda: Premarital counselling is a must and really beneficial. There are certain things we overlook and can cost us a lot in our marriage relations. With the absence of real committed traditional sengas, premarital counselling is crucial.
The important lesson given was to love and respect each other, spiced with availability.
 Did you think of going for honeymoon as vital?
Kitanda: Honeymoon is vital for reflection on what went well, wrong and wrap ups. We planned to go to UK however, being a serving officer, there are procedures and clearances to be made so when all is done and cleared, we shall go. In the meantime, what we have been having is more than a honeymoon. We have enjoyed ourselves at Mpongo Country Inn, Mbale and many other places. 
Where did you shop for your attire?
Aunt Monica shop in Pioneer Mall in Kampala.
Who did the decor?
The décor and tents were from Kambe Honest Events managed by Mayanja, Majid opposite Equatorial Hotel.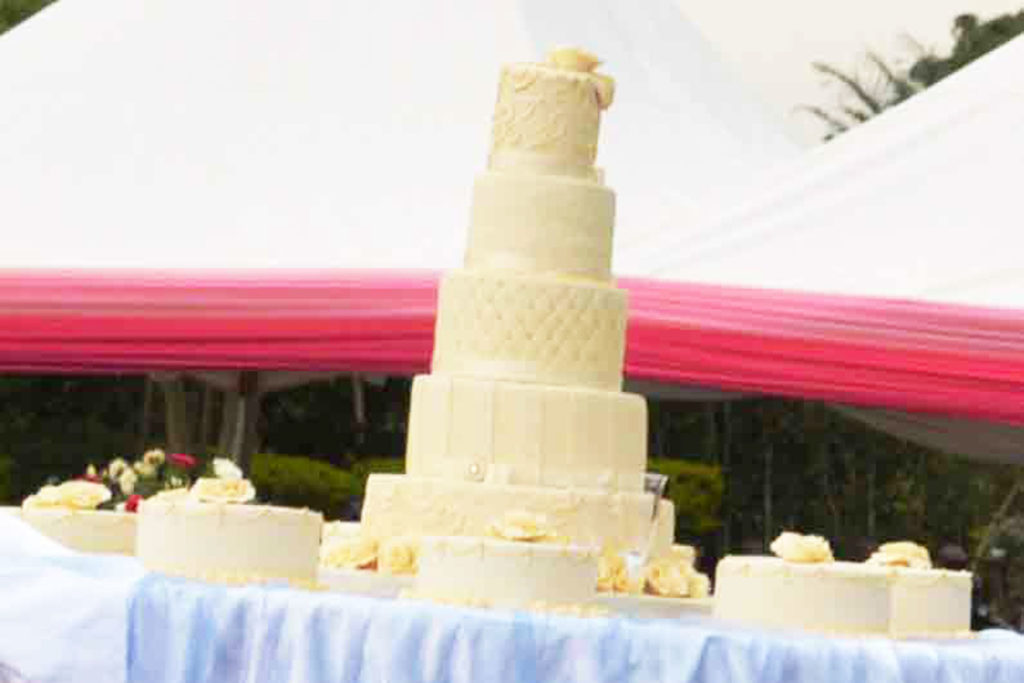 Who made your wedding cake?
It was made by Suzzie Home Bakery at Kirinya, Bweyogerere
 How many guests did you invite?
We invited about 600 guests but ended up hosting over 2,000, since it was in a rural setting and we had to host many friends and relatives.
Did you have any debts after the wedding?
Kitanda: Hmmm. It was less than Shs500,000. There were some last minute things we did not have time to pay off. Plus the fact that we had more guests than planned, mainly children, raised the budget. In fact Salaam Musumba took charge of children telling them to learn from this, enrol in school, complete it and work hard. By the way more gifts continue coming even after the wedding.
 What is your advice to the intending couples?
When organising functions, time management and synchronising is important because people no longer want to stay at a wedding reception beyond 6pm. The synchronisation of rural-urban interests is important in arrangements. Don't take planning from an academic point of view but be realistic, and identify all stakeholders. Lastly make friends who will be there for you in times of need.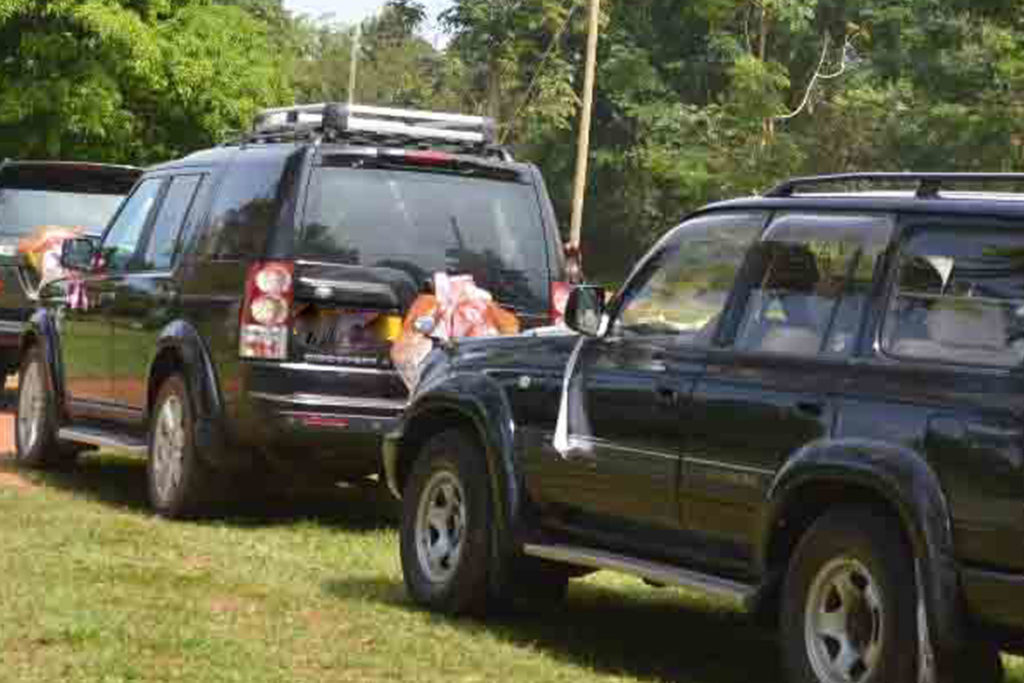 Quotes by some of the guests:
Chief of staff of the Defence forces, Major General Joseph Musanyufu.
"Women are stabilisers, they are partners in crime who should be handled and given the final marriage commitment of a wedding so that they become commissioned marriage officers. Marriage is like the gears in a gearbox that constantly need servicing and replacement. You need to engage a heavy gear number one, when starting. Gear number one is love. Then you change to gear two, which is communication, then to gear three which is availability. You also need the running gear of hard work and reverse gear of forgiveness. All these gears serve under the gearbox which is God so couples should understand each other, and put God first in their marriage.
Speaker of Parliament, Rebecca Kadaga who gave a pressure cooker as a gift
"Keep pressure, stress, and third parties as pressure steam to be let off, and "cook" your love. Make it simmering, fresh and served hot every day, by being available, listening and comforting each other. I am proud that you have married in church and kept in touch with the home bases."
My Wedding wishes the Kitandas a happy marriage.