By Maria Immaculate Owechi
On Valentine, we celebrate love. However, there is no love without commitment. Marriage is many times seen as the ultimate goal, a way to start a family. The fact is marriage is not an end in itself. Life continues and people grow, achieve, share happiness, sorrows and reach new realms together. We looked at these different couples to see how their lives have taken turns since they found each other and how they've remained going strong.
Ragga Dee (Daniel Kazibwe) and Mariam Kazibwe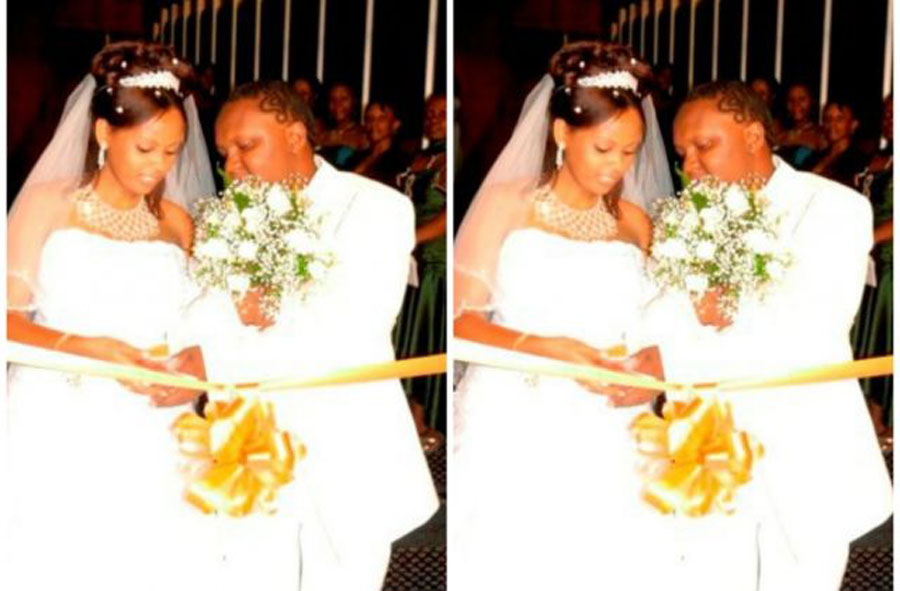 After living together for many years, on January 19, 2008, Raga Dee and Mariam decided to formalise their marriage at Namirembe Cathedral and later hosted their guests at Serena Hotel. His reception was the first to be held at the hotel when they changed its name from the then Nile Hotel.
It also believed that Ragga Dee set the precedent for Ugandan celebrities throwing lavish wedding ceremonies.
In an interview in January this year with Sanyu FM's Crystal Newman, Ragga Dee revealed that he spent an estimate of over Shs.1bn on his wedding and every table had its own cake. For the bridal cars, he brought  three Escalades and two limousine cars instead of hiring like the rest.
Ragga Dee looked elegant in a white suit with perfectly knitted cornrows and his wife looked lovely in a simple strapless gown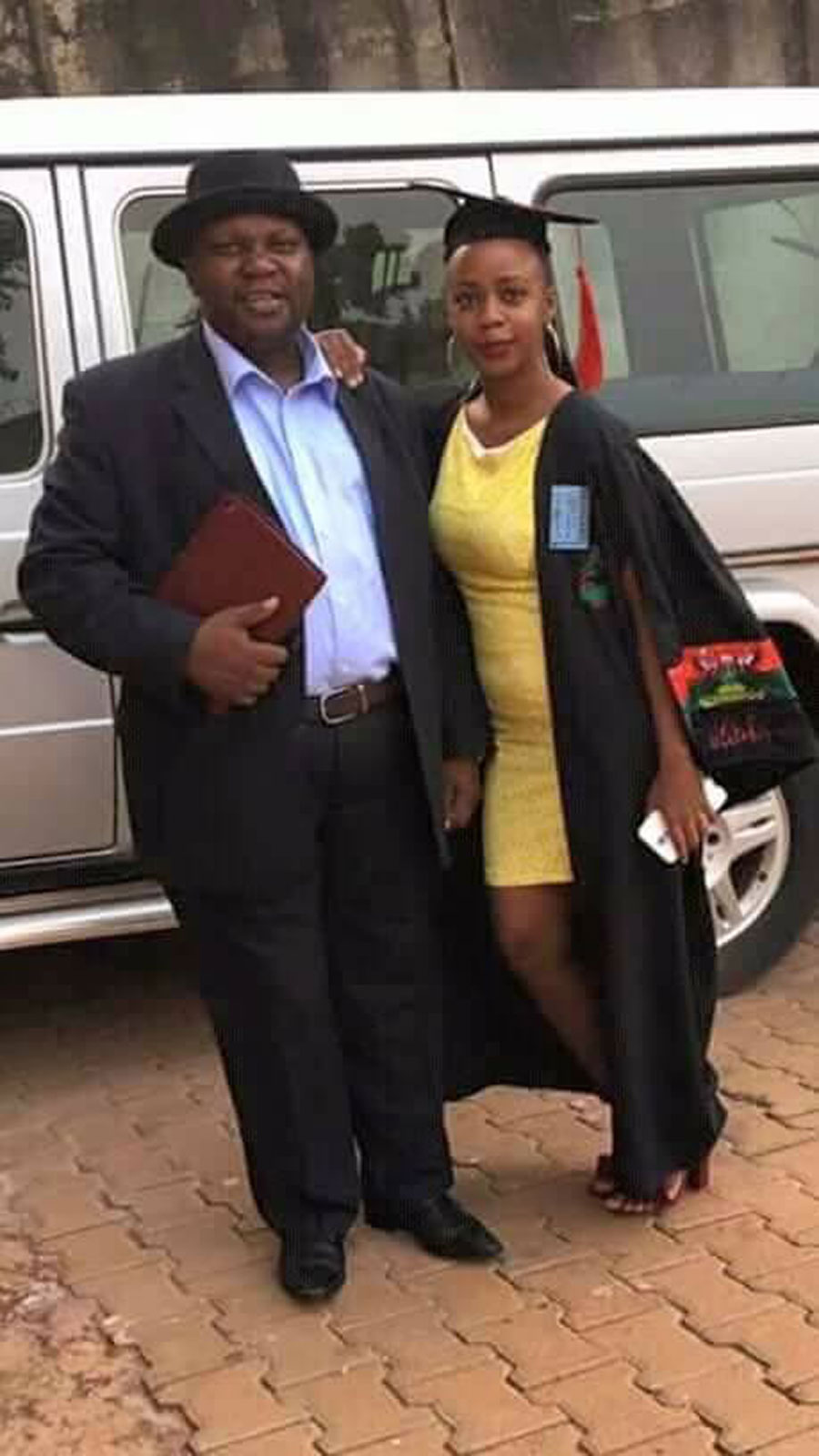 Since then, we have seen this respected legendary artiste try out for positions like Lord Mayor, Kampala in the last elections.His wife, Mariam keeps a low profile and you  will hardly find her in tabloids or news. The couple is blessed with four children, two girls and two boys.
Jose Chameleon and Daniella Atim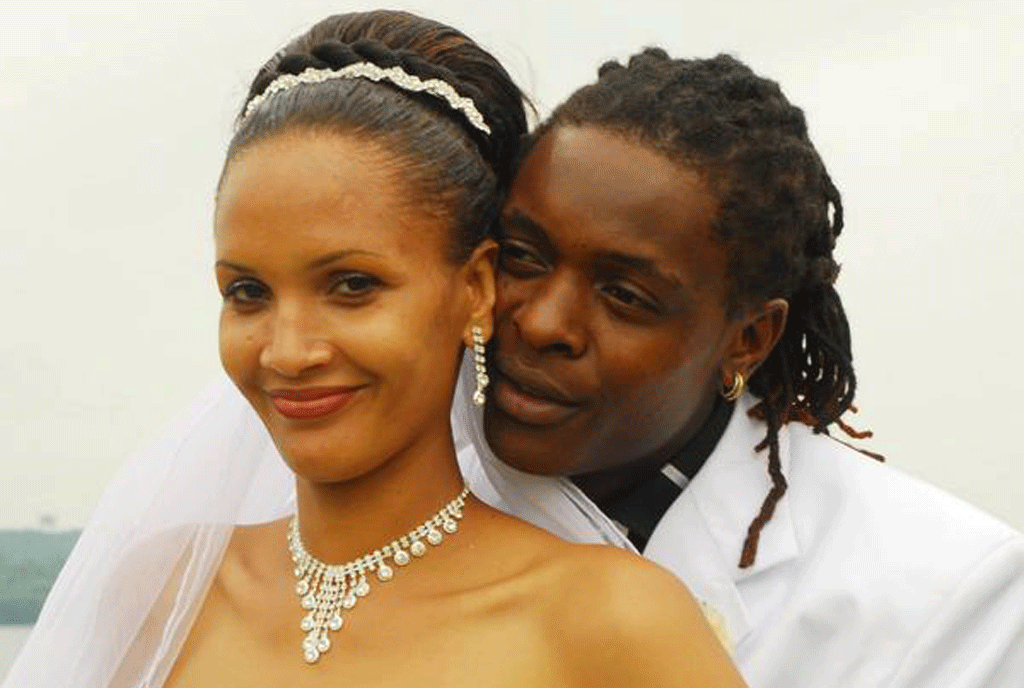 In the same year on 7th June, Joseph Mayanja known by his stage name, Jose Chameleon held a similar glamorous wedding ceremony with his long-time girlfriend, Daniella Atim to beat the record Ragga Dee had set.
Chameleon used a chopper to go to St James Catholic Church, Biina while Daniella was in a convoy of seven Mercedes Benz cars.
After the exchanging of vows, the couple used the chopper to take them to Kampala Serena Hotel which was the venue for the reception.
The music legend looked elegant in a black shirt, with a white tie and suit while his wife looked glamorous in her ball room gown.
The couple has been blessed with 5 children, three sons and two daughters.
But in September last year Chameleon went on his Facebook page announcing his separation from his wife due to irreconcilable differences.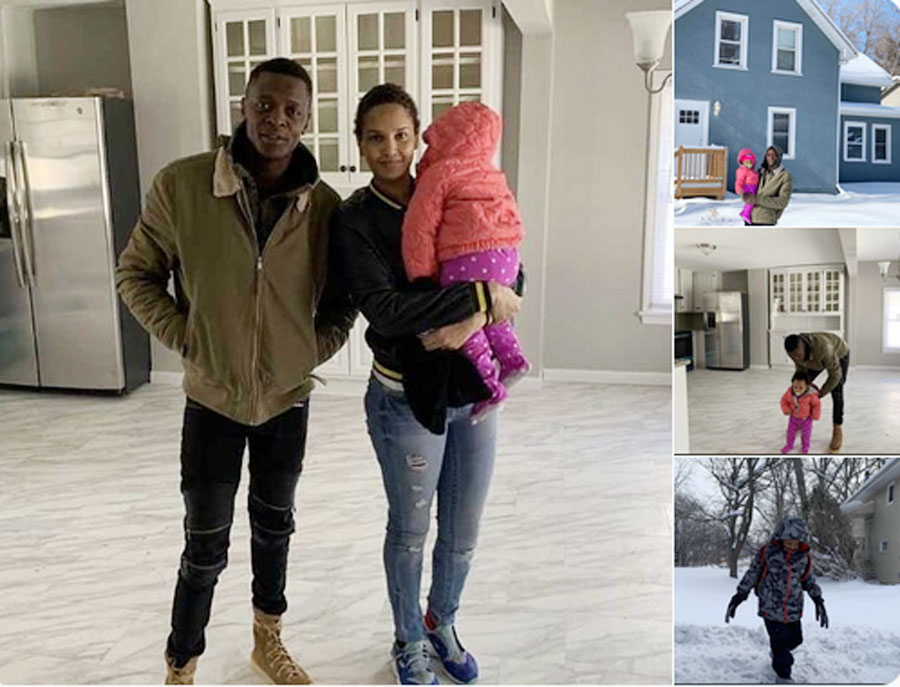 While we all thought our power couple was no more, pictures of Chameleon buying a house for Daniella in USA as a valentine present emerged.  Isn't that what love is about? Finding a way back to each other amidst storms?
Solomon Serwanjja and Vivian Nakaliika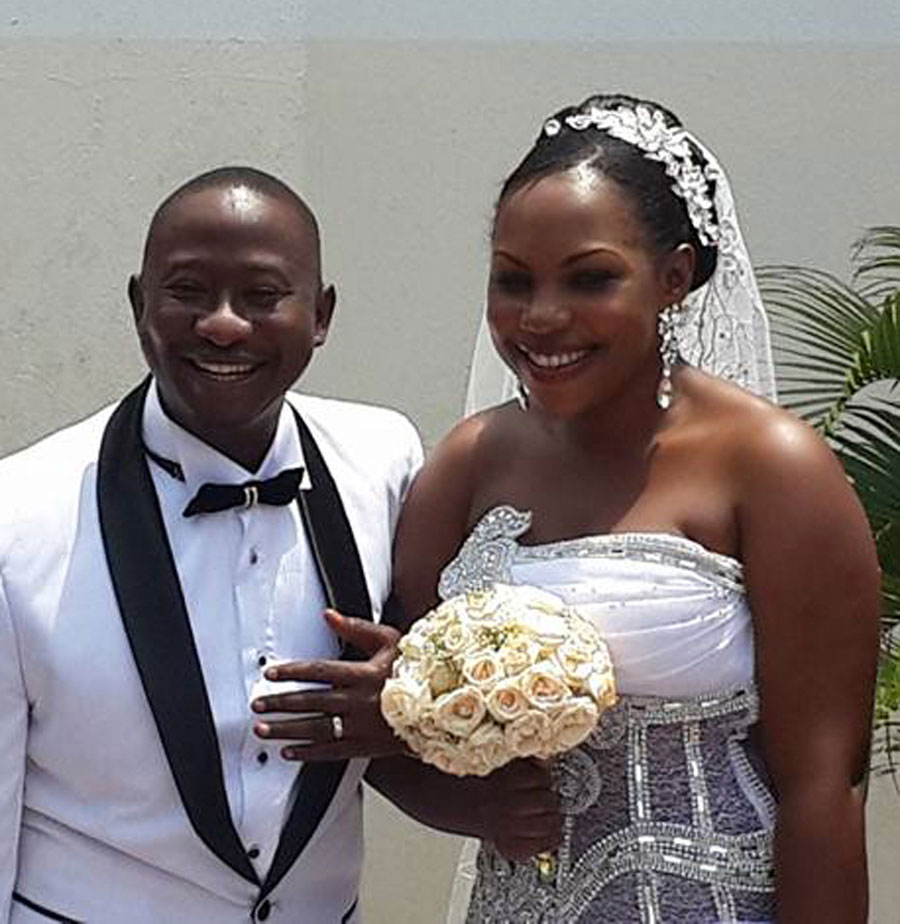 In recent news, when the police raided their home in Mukono to arrest Solomom Serwanja over allegedly having illegal drugs, Vivian ended up being detained when the security operatives failed to trace Solomon. They got through it and were released.
The two lovebirds met in 2009 while working as news reporters at UBC TV. But according to an interview with the Daily Monitor in May 2014, Solomon revealed that he had to do more than necessary to convince Vivian that he was the companion for her.
Vivian kept on rejecting his advances because she was already a senior reporter and Solomon was her junior.
"Even if he had interest in me, I looked at him as a baby," Vivian revealed to the reporter.
But because of his relentless pursuit, Vivian's heart started to soften until she eventually accepted to date him in 2010.
To the woman who has loved me for the last 10 years, given me beautiful babies and still counting, taken bullets for me, went to the police cells for me, accommodated my weakness and changed them into strengths, I celebrate you @VivianSerwanjja this #Valentines day. THANK YOU pic.twitter.com/MP8IVeI2kB

— Solomon Serwanjja (@SolomonSerwanjj) February 14, 2019

They had two children and on August 22, 2015, the couple tied the knot at All Saints Cathedral in Nakasero and had, a great reception at J&M Hotel on Entebbe Road.
Solomon wore a white suit with a black bow tie and collars on the coat while Vivian looked lovely in a uniquely designed ball room grown that had a see through material at the waist.
Currently, Solomon Serwanjja is a Journalist with NBS TV while Vivian Nakaliika is the current public relations officer at Ministry of Health.
His Majesty Ronald Muwenda Mutebi and Her Royal Highness Sylvia Nagginda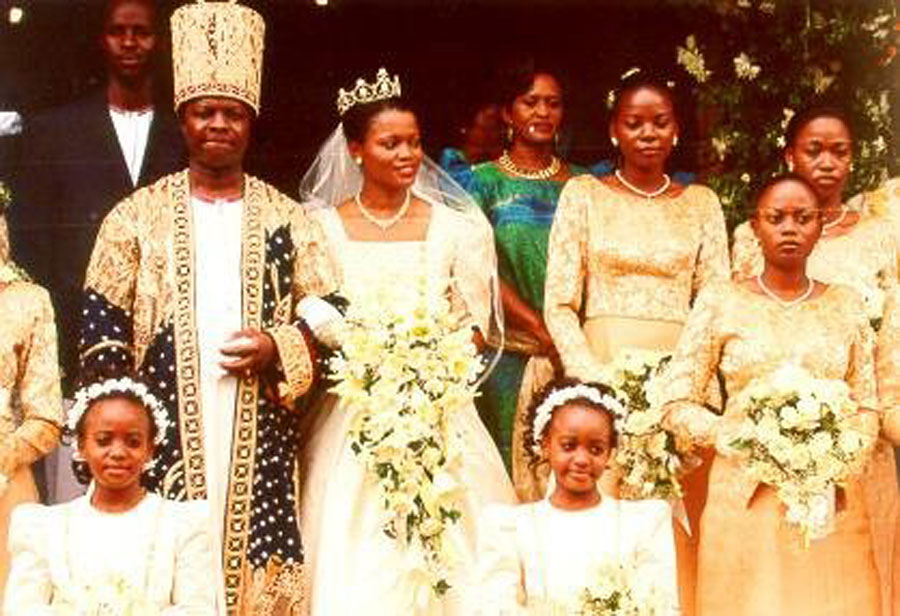 According, to press reports the royal couple met in the USA in 1993 where the Kabaka had gone to shop for his upcoming coronation, while the Queen was already working and a resident there. It was later that year when Nnabagereka had returned to work in the country that the relationship was sealed.
This became the first royal wedding Ugandans were witnessing in 50 years and it excited not only Baganda subjects but other tribes across the country.
On 27 August, 1999, thousands flocked Namirembe Cathedral to witness the reunion. And for those who could not make it, they followed keenly on a live broadcast on UTV (now UBC TV).
The main celebrant was the then Archbishop Samuel Livingstone Mpalanyi Nkoyoyo assisted by the then Bishop of Namirembe Diocese, Rt Rev Samuel Balagadde Sekadde.
The Church was full people;  women dressed in traditional gomesis of different fabrics and colors, while the men wore Kanzus and stylish coats.
The Kabaka who had no best man was elegant in his kanzu and wore on it a long dark colored royal coat with uniquely designed gold embroidery. The designs on the coat matched what was on his royal crown bringing out its elegance.
The Nnabagereka looked stunning in her custom-made ivory gown which was designed by Beatrice Iga, a Ugandan living in the diaspora. It was designed to imitate a traditional busuuti at the bust and sleeves, it then flowed out like a normal wedding gown below her waist. She accessorised the look with classic pearls and her hair was held back and puffed around the royal crown. This left all the attention to her big eyes and full lips.
At the reception, the invited guests included King Makhosetive Dlamini Mswati III of Swaziland and Zwellthin of South African Zulu and President Yoweri Museveni.
The two have an 18 year old Princess, Katrina Ssangalyambogo and have continued to build the Kingdom of Buganda together over the years. The Kababaka also has four other children.
The anniversary of Yoweri Kaguta and Janet Museveni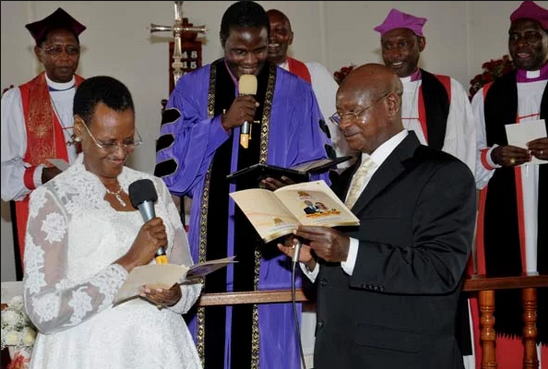 The president and his wife met and got married during the times when Museveni was in the bush under National Resistance Army (NRA) fighting against the Obote government by then.
Janet Museveni had to take up the responsibility of taking care of their four children in Nairobi while her husband was away in the struggle.
After, the war ending and her husband eventually being elected into power, Janet has stood by him for the 36 years faithfully amidst the years when he was Uganda's sweetheart and those when strong opposition hit.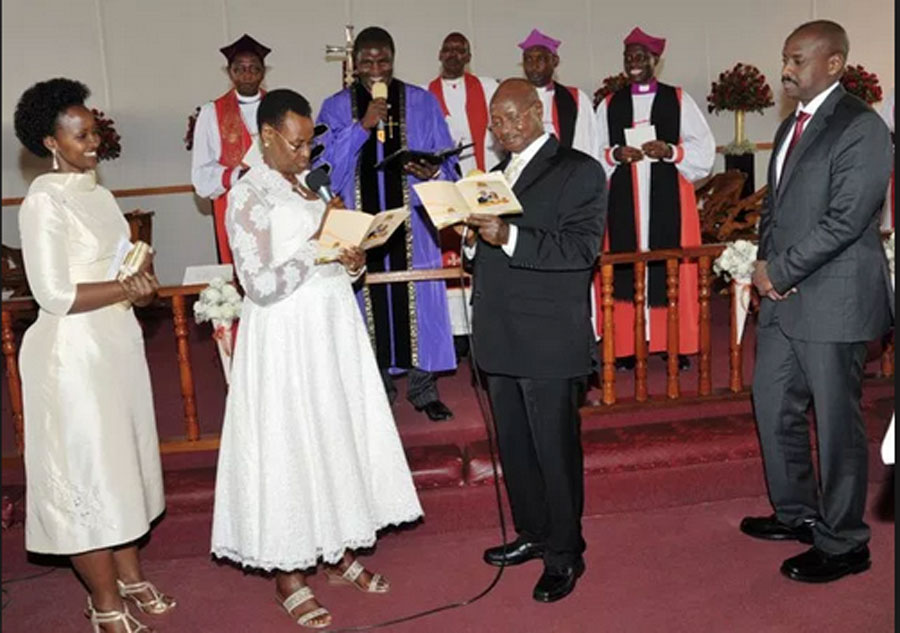 On 24 August, 2013, President Yoweri Museveni and his wife Janet renewed their marriage vows at Nshwere Church Uganda in Kiruhuura District, as they celebrated their 40 years anniversary.
The Archbishop of the Church of Uganda Stanley Ntagali, presided over the ceremony as the two thanked God for the forty years in marriage.
The first lady looked lovely in a long sleeved gown while the president was clad in a dark suit with a stylish gold tie. It was nice seeing the romantic side of the president as he tossed to love and friendship with his wife.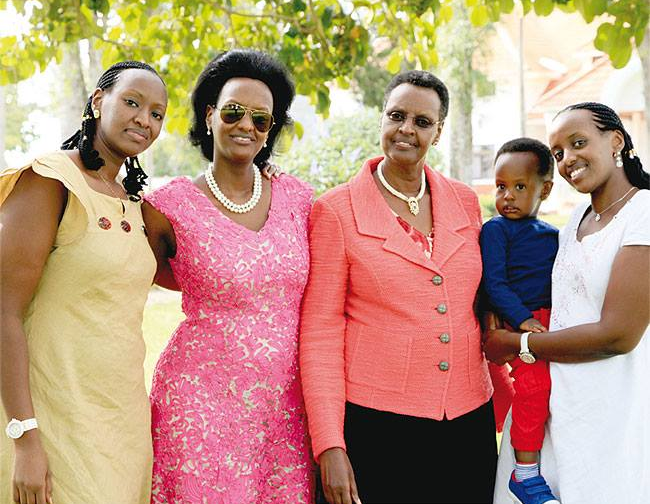 Their entourage was composed of their four children, Muhoozi Kainerugaba who was his father's best man while the other three daughters Natasha, Diana and Patience were their mother's brides' maids. During the function Museveni's grandchildren, also part of the entourage were baptized on the same day.
Bobi Wine and Barbie Kyagulanyi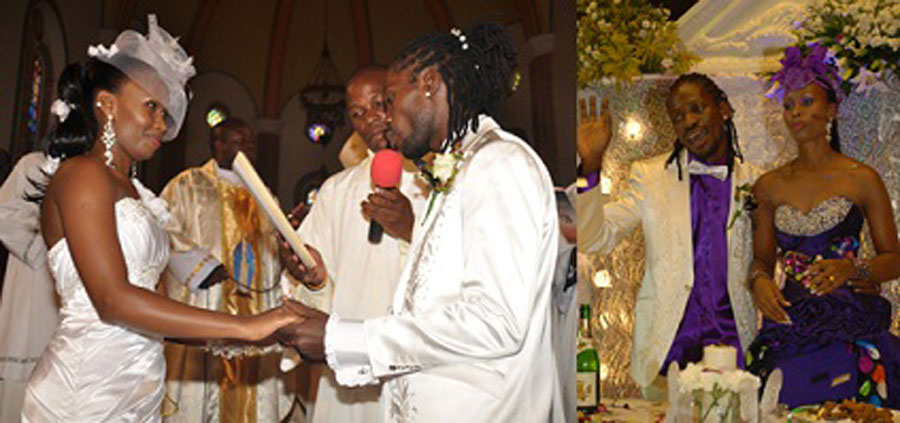 In 2000, Bobi Wine then final year student of Music, dance and drama at Makerere University met Barbie, a senior six student from Bweranyangi Girls secondary school at the National Theatre. The two met on stage play and from then their relationship blossomed.
On 27 August, 2011, Popular Singer Bobi Wine decided to tie the knot with his long-time sweetheart Barbie at Rubaga Cathedral. Their ceremony was honoured by the presence of Nnabagereka of Buganda Sylvia Nagginda at the church service.
The groom wore a white suit with a well embroidered designs on the coat, with a tie that was black at the knot and the rest in white.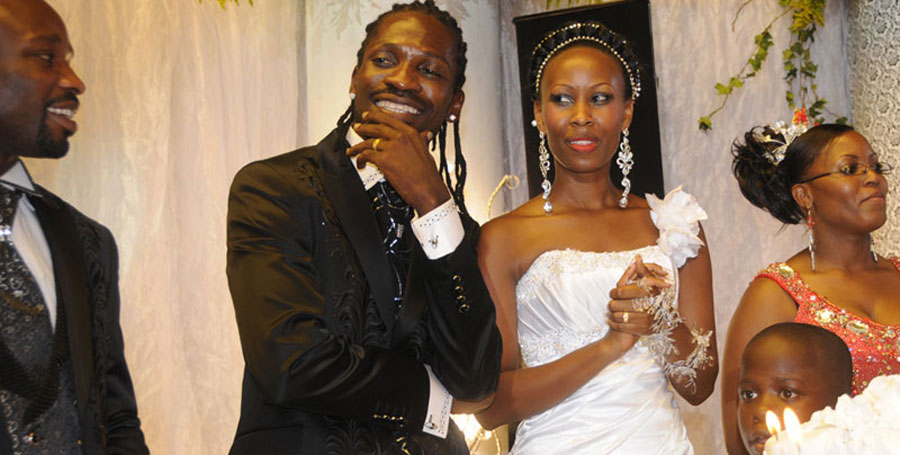 Bobi wine was able to stand out when his best man wore a black suit while the groomsmen wore white suits with black shirts. Barbie stylish as she is wore a white fascinator that was unique from the traditional ones with a lovely one arm silhouette gown.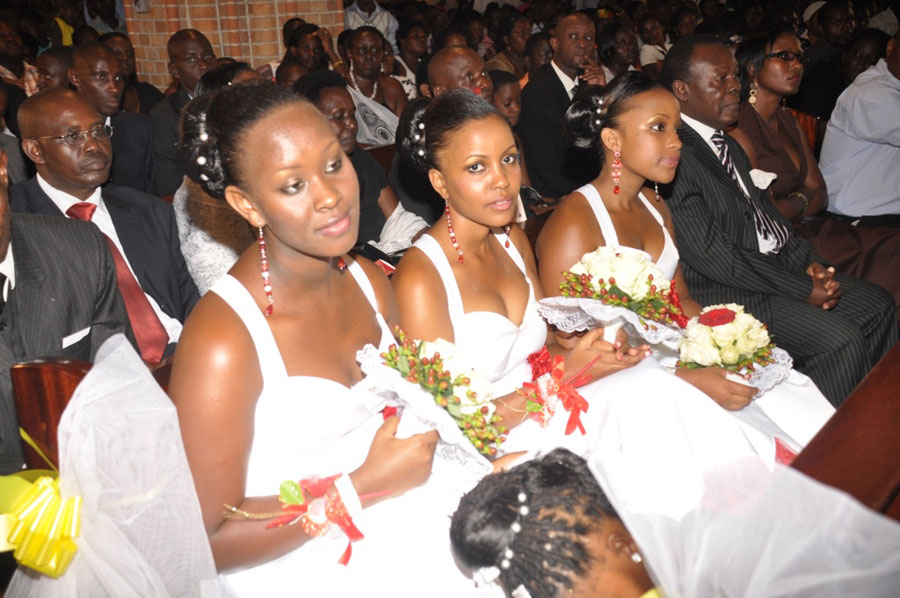 Her matron wore a red ball room dress while the brides' maids wore white dresses with red petticoats added at the bottom and a red flower at the side waist.
There reception at Serena Hotel was full of pomp and flair with many high end politicians, businessmen, celebrities and socialites in attendance.
Bobi arrived at his reception changed into a black suit for the evening event while Barbie took off the fascinator in order to clearly show her well braided hairstyle with the lines uniquely accessorised.
For the final outfits, the groom wore a purple silky shirt with a white suit while the bride wowed many with her strapless tight short dress added with a long train that had colourful pattern designs.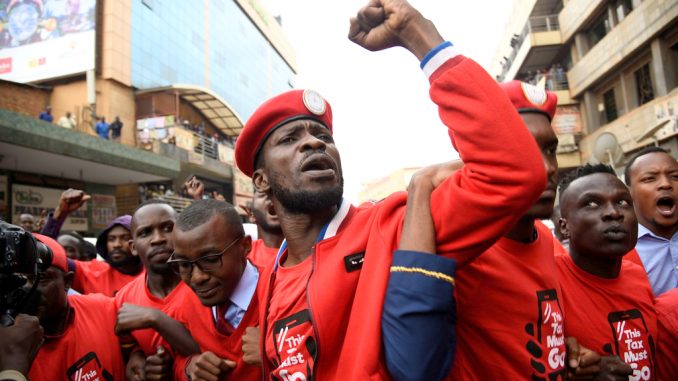 Today the musician with the support of his wife is a popular politician who is the current Member of Parliament for Kyandondo East Constituency in Wakiso District.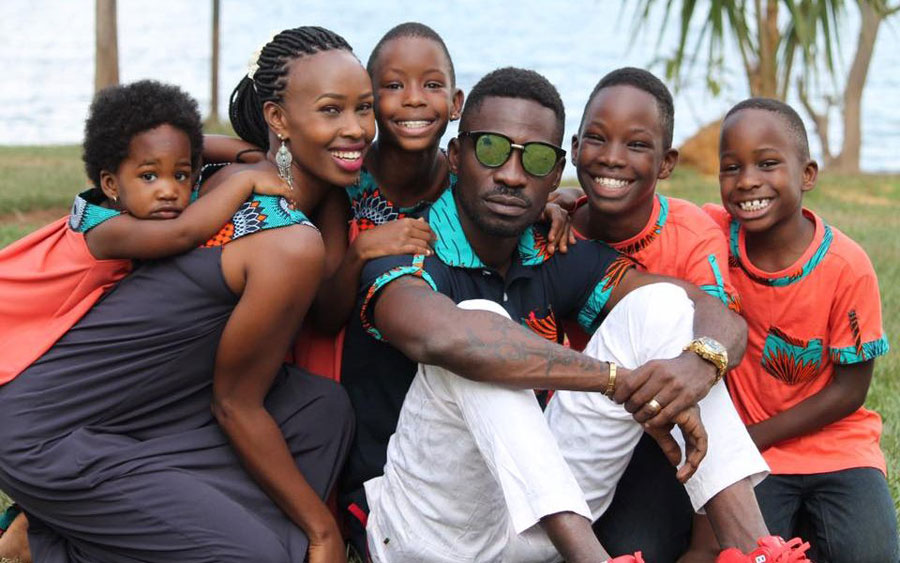 Barbie even remained strong and fought for her husband's release after his brutal arrest in Arua on August 13th last year together with 33 other people.
Bobi wine has also revealed plans of vying for the presidential elections in 2021.
The couple is blessed with four children; two boys and two girls.
 Eseza Omuto and Eng. William Lusse Kigozi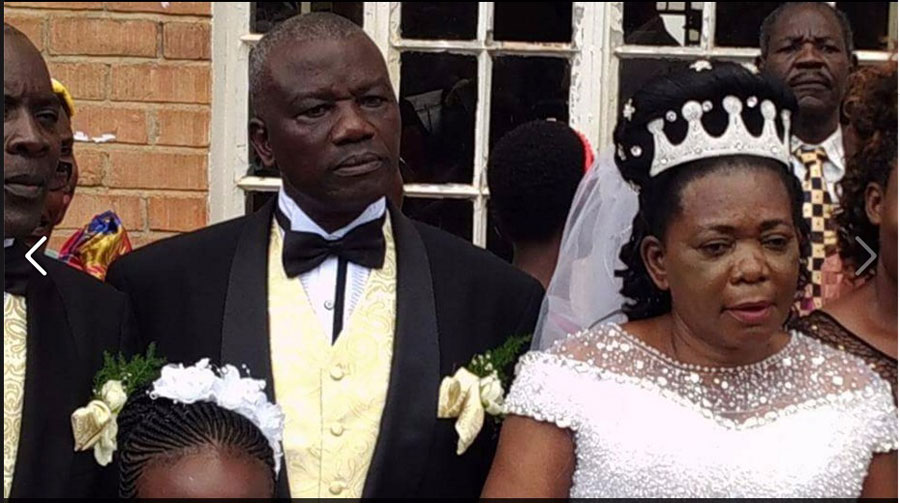 Eseza Namubiru Kazinda known as Eseza Omuto, a former WBS TV presenter of Emiti Emito, a children's program show surprised many when she formalized her relationship with long-time partner the Prime Radio Eng. William Lusse Kigozi.
The two met in the 1980s while working at Radio Uganda and they even had children in their 20s.
The Kwanjula first took place at her parent's home in Katende, Mpigi on Sunday 28th June, 2015 where she was given a Toyota Raum as one of the presents.
The couple were accompanied by 10 flower girls and 50 brides' maids, who arrived in a 14-seater van and 64-seater bus donned in assorted colours. They later hosted their guests at Homisdallen School Gardens, Gayaza.
Aly Alibhai, and Sylvia Namutebi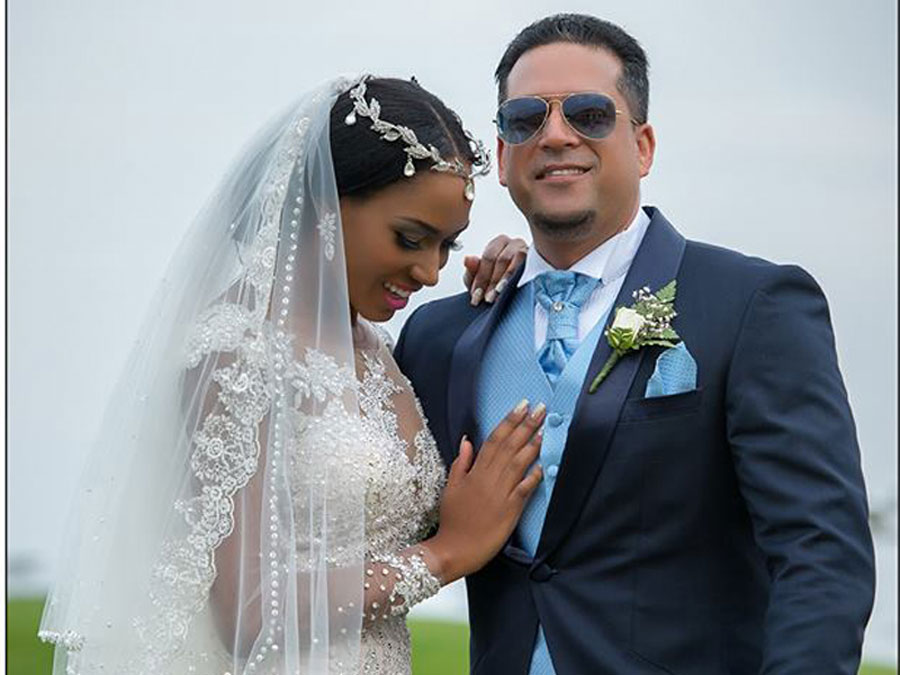 Aly Alibhai, the CEO of Talent Africa met Sylvia Namutebi, in 2011 while she was the Miss Uganda then.  The two dated for a while until on July 25, 2015 when Aly proposed by asking the Nigerian P-square duo (now separate) to record a clip singing one of her favourite song called No one like you. After the lady watching it on their TV, he popped the question which she agreed to. This was revealed in a Daily Monitor interview in May, 2018.
The couple decided to hold their wedding at Serena Lake Victoria Golf Resort.  Aly and Sylvia exchanged their vows in Kalangala hall and after hosted their guests at Coliseum Gardens.
Sylvia wore two outfits, a white custom-made wedding dress by a Canadian designer and a white and gold Indian sari while Aly also wore two outfits; a tuxedo by Hugo Boss and a cream and gold Indian outfit all bought from Canada.
The two are blessed with a son and celebrated their wedding anniversary last year in December 28th, at a luxurious ceremony held at the Sheraton Hotel Kampala.
Pastor Robert Kayanja and his wife Jessica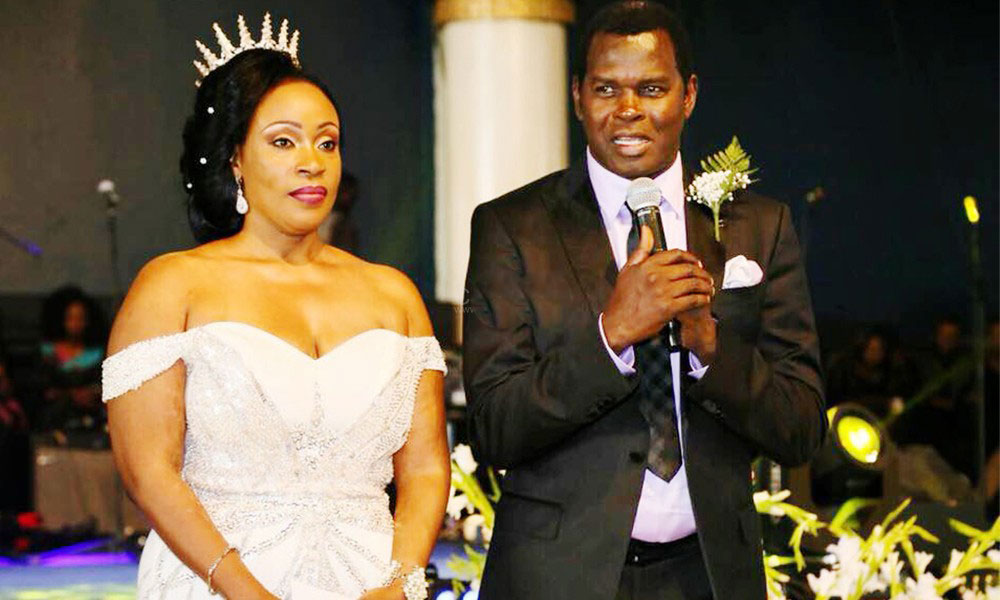 This powerful couple has pastored together Rubaga Miracle Centre and have maintained a growing congregation for the years their ministry has existed.
The couple has stood by each other even in trying times like when one of their daughters was sickly and in 2011, when allegations were brought against Pastor Kayanja for sodomising a young man.
Last year on January 6, Pastor Robert Kayanja and his wife Jessica renewed their marriage vows as they celebrated 25 years of marriage.
Pastor Robb Thompson, the founder of the International College of Excellence, conducted the couple's renewal of marriage vows at Rubaga Miracle Centre.
The most memorable part of the ceremony was when Pastor Kayanja read a love letter for his wife that he had penned thanking her for the priceless companionship they have shared over the 25 years.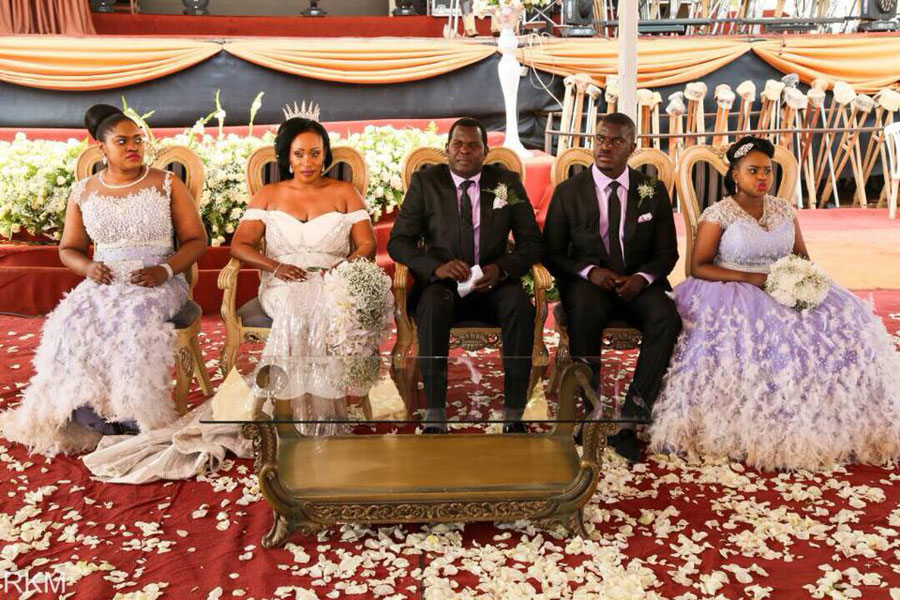 Pastor Kayanja was also on point in a purple shirt and dark suit flanked by his only son Robert Kayanja Jr, who was the best man.
Jessica looked elegant in her silver wedding dress except for the ill-fitting that caused bugles behind her back. This caused backlash from social media fans that overshadowed the other magnificent moments that transpired. The couple's daughters Kirstein and Kristiana, also sparkled in their purple gowns.
After the church ceremony, the couple went on to treat guests to a dinner at their home in Kawuku, Ggaba.