By Shamim  J Nakawooya.
John Ben Katongole, 32, who works for Mondio Tours and Travel wedded Irene Nassozi Katongole, 27, a social worker in Masaka. They told the story of their marriage journey to our reporter.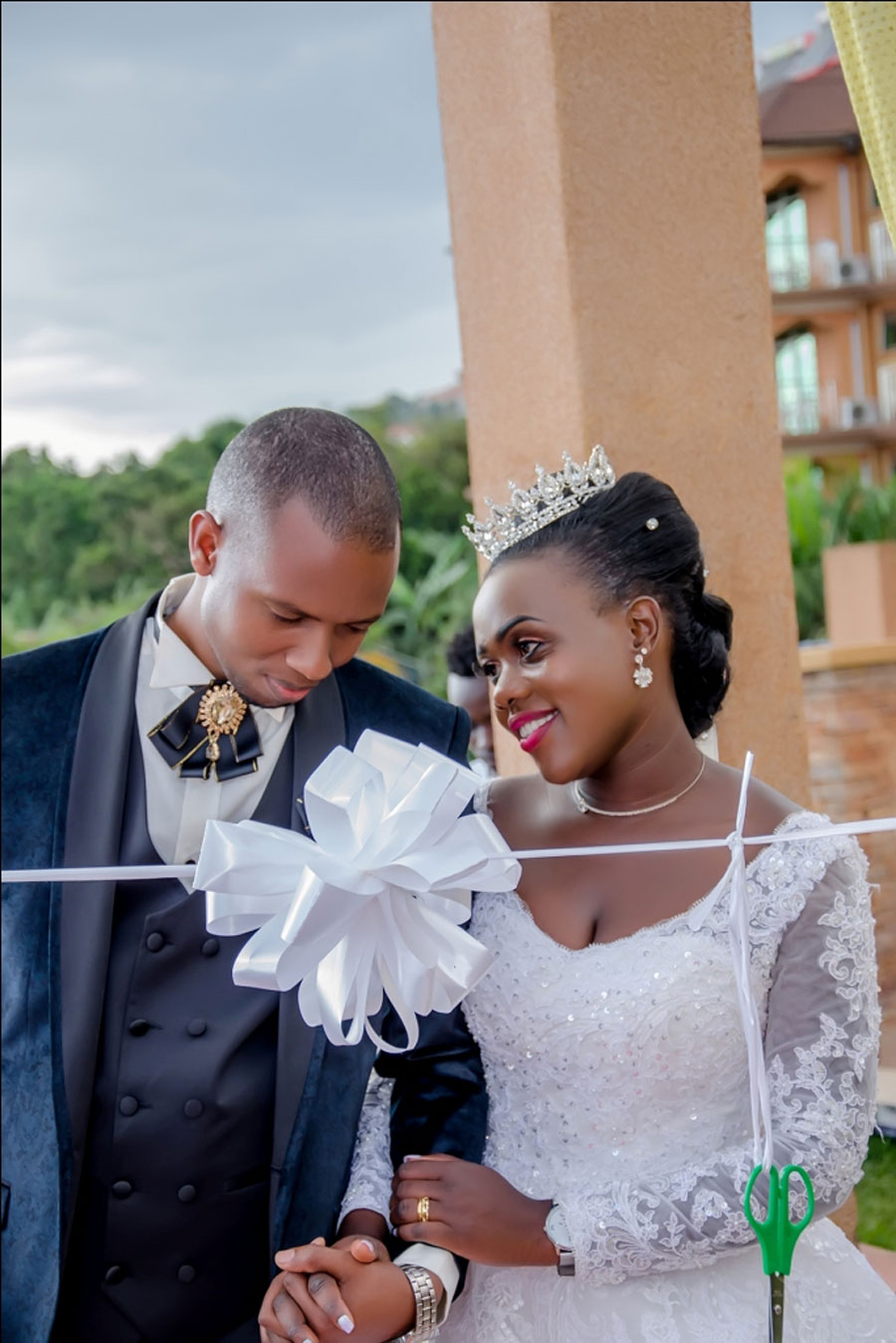 When and how did you meet?
Ben: I met her at work through a Rotary project at Villa Road Primary School in Masaka. She was working as a junior bursar in 2012 but never said anything.
We again met at Hotel Brovad in 2014, exchanged contacts and later presented my manifesto.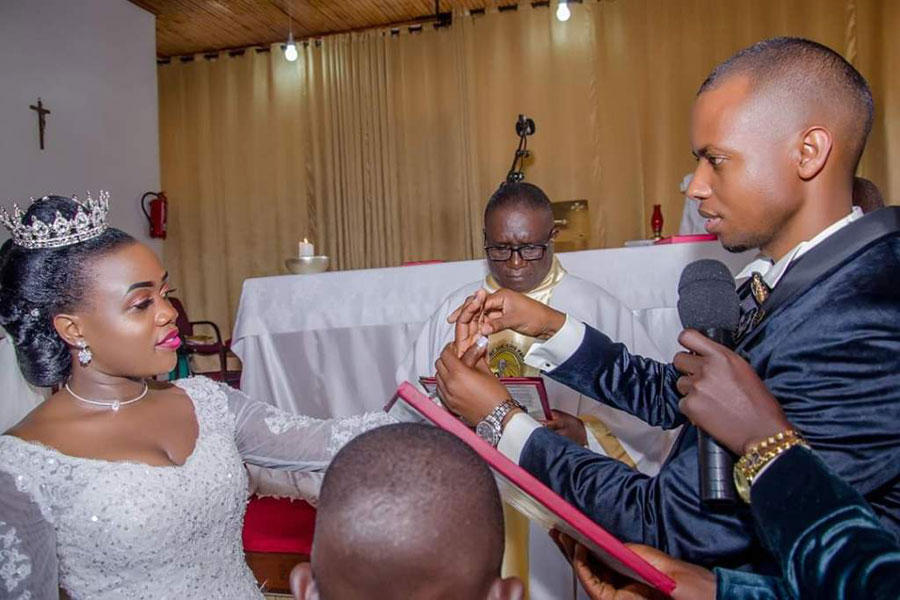 Irene: When we met at Hotel Brovad, we had different appointments. We started a friendship but I never imagined he would become my husband.
So, when did the two of you eventually become close?
Ben: It was end of 2015 when the Rotary conversation turned into intimacy or love story. I had some financial challenges with my former boss but she used to encourage me. I would seek advice from her because I had plans of getting out of the country.
She was always there for me and I honestly found love and another person in her hence getting a strong feeling that she will be my future wife.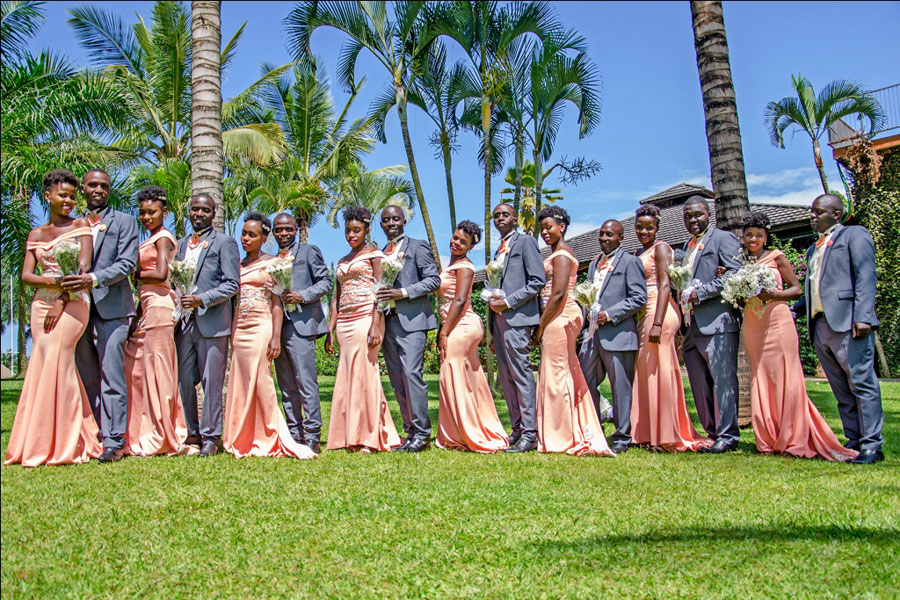 Irene: It was 2015 and I had just completed university when he told me how much love he had for me , I had no boyfriend but I was so principled and gave him  condition to meet my father[one of my mentors] Rtn Stephen Muwonge and when he met my father. I developed strong feelings for him, he left the country in 2016. He later visited my maternal grandmother who raised me and  other relatives when he returned to Uganda.  My foster parents also travelled from Canada to meet him in Dubai and liked him.
How did you propose to her?
Ben: I got a two-week holiday off from Dubai in 2017. We organised a house party and invited  a few friends.
Then I asked  Irene  if she was ready to marry me, she accepted and I placed an engagement ring on her finger as a sign of commitment.
How did you react to the proposal?
Irene: I felt good but  I was shy since we had people around. I was so happy  and he asked me to be patient as he  kicked off with  the wedding plans.
What attracted you to each other?
Ben: Irene is strong, hardworking, God-fearing, and she always encouraged me. She is a leader, caring, loves my friends and family.
Irene: Ben is brave, prayerful, jovial, determined, caring, respectful, his smartness, he loves my family, I always wanted someone who is older than me, he is responsible and a man of surprises.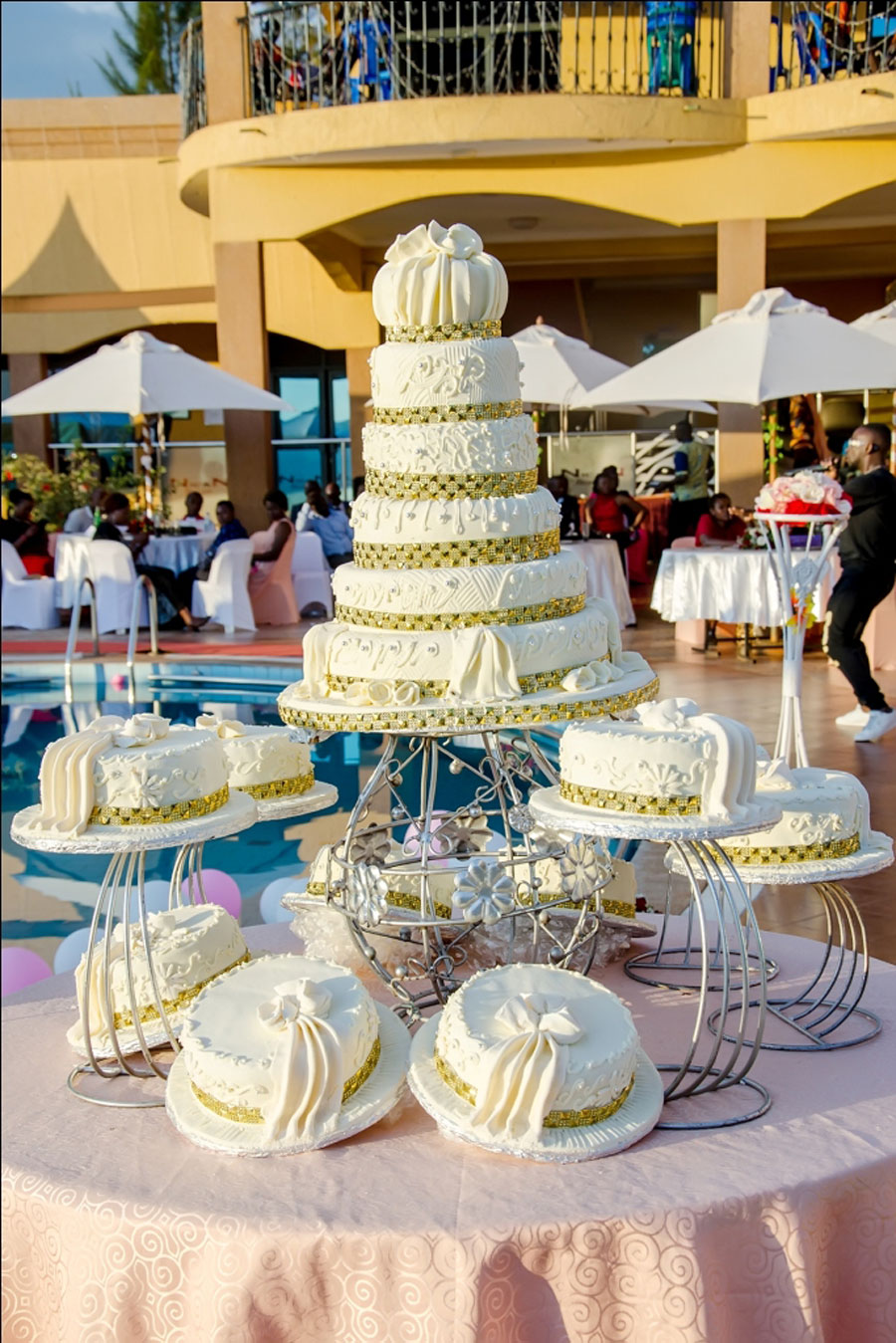 How was the budget and how did you raise funds?
Ben: We confirmed our wedding like a year ago and we wanted it to occur before end of 2018.Although we are residents of  Masaka, we organised our wedding in Kampala because  we wanted  something small and simple whereby  we  could only  accommodate  few guests  without affecting  our budget.
It was Shs35m for both wedding and introduction. We both contributed 70 per cent and the rest was raised by our family, the Rotary family, our foster parents, workmates, and friends.
What was the most expensive item?
Ben: We bought gold rings from  Kampala at Shs 2.4million.
Irene: The venue cost Shs6m. This included music, tables and chairs.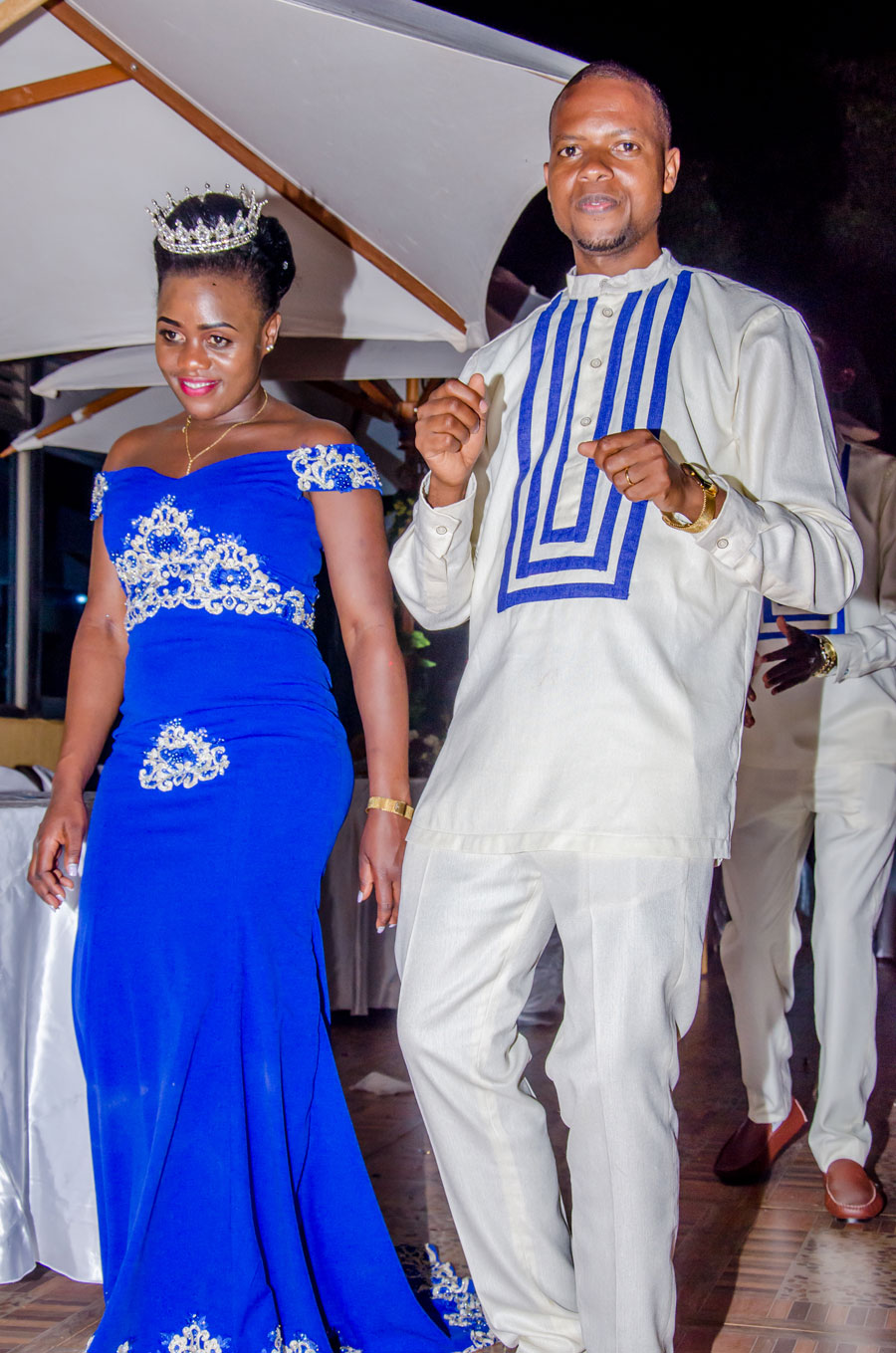 Did you involve a wedding planner?
Ben: No, my wife was the key  planner. She did great work alongside my  friends including Shaban Kasagga, Beatrice Mukazi, Raymond Mwesigwa and Charles Mugonza. They sacrificed their time and put much effort get to get  reliable service providers .
What was your wedding eve like?
Ben: I was busy putting final touches to everything.
Irene: I was in salon hair, nails and after I went to church to rehearse the readings.
What was your colour theme?
Ben: Black, cream and grey. My wife told me that I look nice in cream and my skin colour reflects better on black. Then grey was for the groomsmen.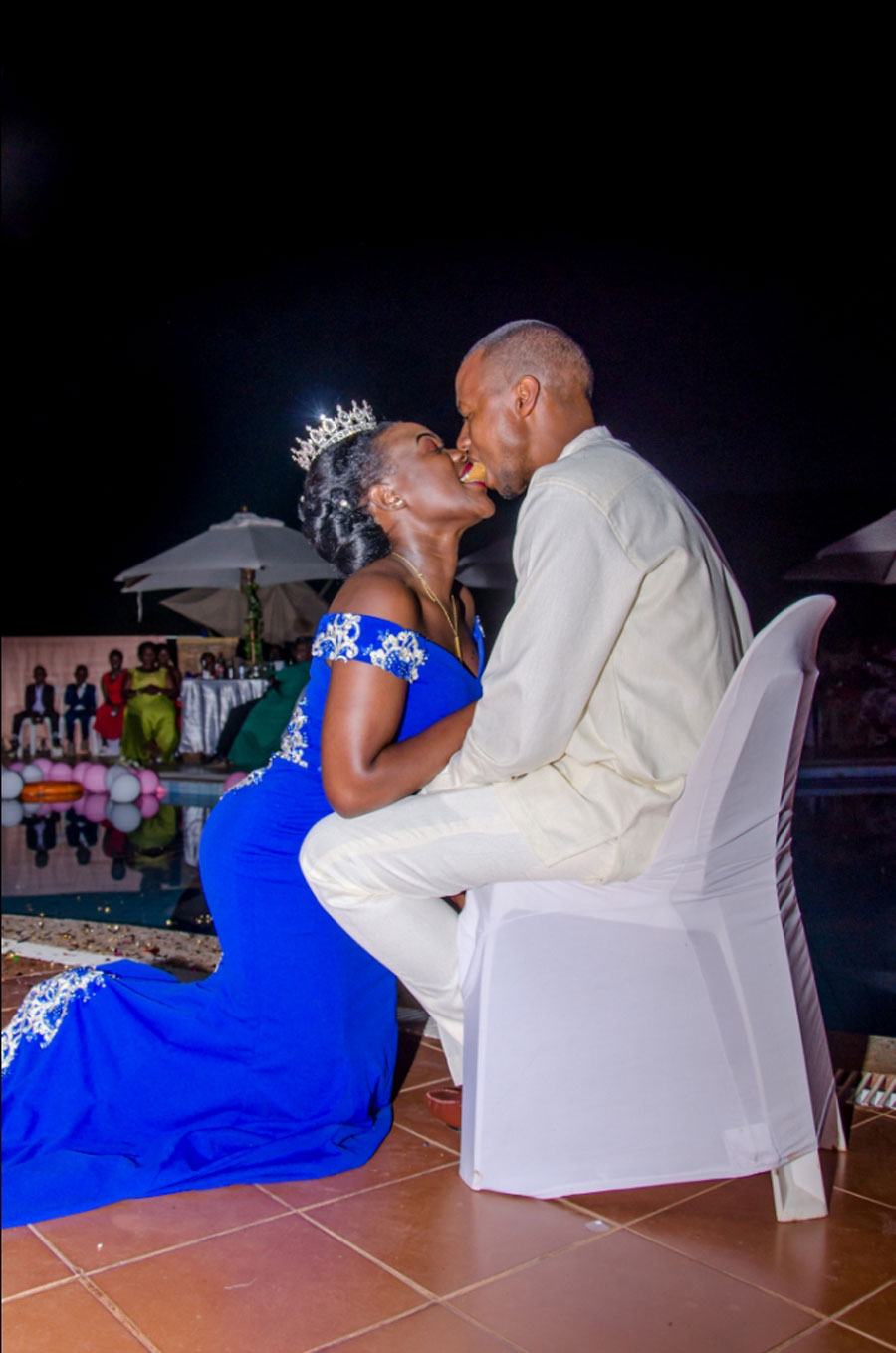 Irene: I chose peach, maroon and blue. Peach is trendy and looks nice. I look nice with maroon although I chose it for the bridesmaids. Blue is my husband's favourite colour.
Did you go for premarital counselling?
Ben: Its my wife who went for the required number of sessions.I  got few lessons from church and I learnt three priorities in marriage which state that God first,  partner  and children second and others which  include parents,job among others.They also taught us on how to handle conflicts in marriage among others
Irene: I went to Kimanya Parish church and I had over ten sessions of counselling for three months.I learnt a lot of things including priorities in home,marriage is what you make it, being prayerful and they also emphasized on effective communication since we are in long distance marriage.
Where did you shop for your attire?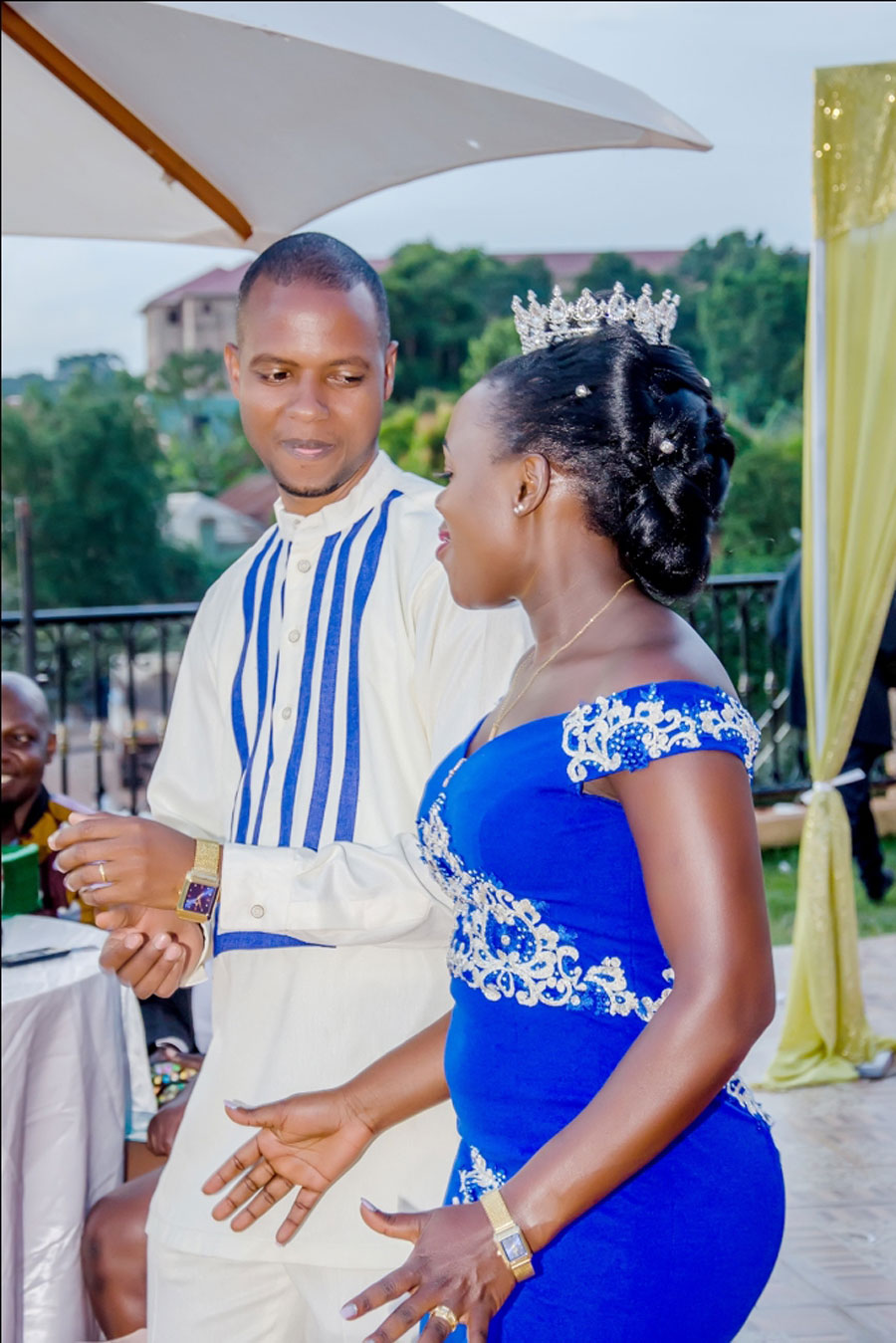 Ben: I bought my suit, shirt and shoes  from Dubai at Jolly Chic Designers. They altogether cost Shs 1.7m.
Irene: I hired my gown from Kushona designers at Shs 900,000, then  bridesmaids attire. The six pairs of shoes including those that I used for Introduction  were all bought from one of the shops in Kampala at a discount of Shs700,000.
What was the most exciting moment on your wedding?
Ben: Walking into the church and seeing my wife looking elegant in the gown were so exciting.
Irene: Seeing my husband smiling while exchanging vows, the ride[vintage] by Virgin cars was a surprise to me, having Rtn Dr Fr Francis Nnaku as the main celebrant and also seeing friends as guests who travelled from all the way Masaka to witness our function.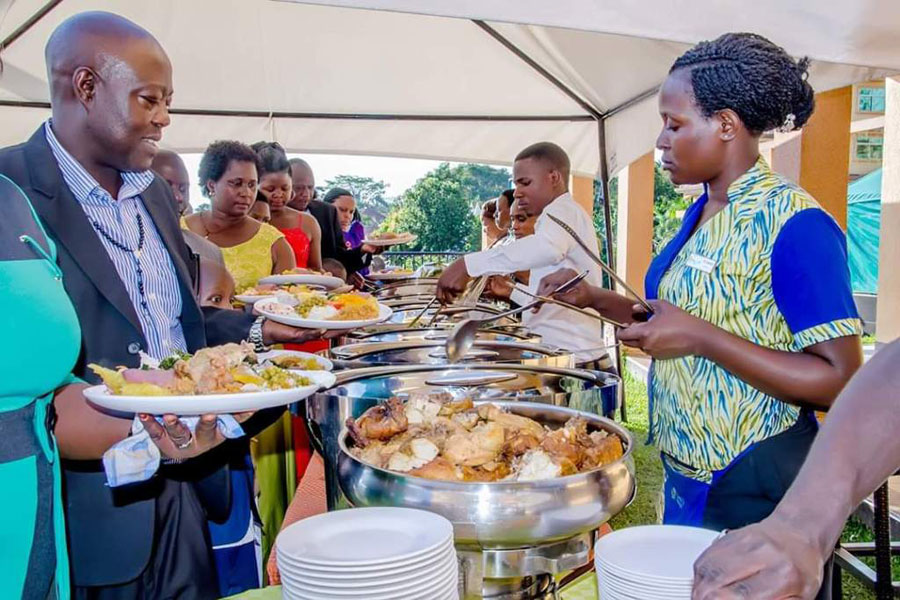 Where did you go for honeymoon?
Ben: We went to Samuka Island on Lake Victoria. We enjoyed many things including cruising on water, privacy and intimacy.
Irene: I enjoyed kissing him on the source of the Nile waters. It was our first time kiss and also receiving special treat from him. Oh, I got a lot pampering from him.
Who comprised your entourage?
Ben: I chose Brian Luwaga, a journalist as my best man. He is a good friend who understands my tastes and preferences, OB, responsible, and fellow Rotarian. He also bought his attires.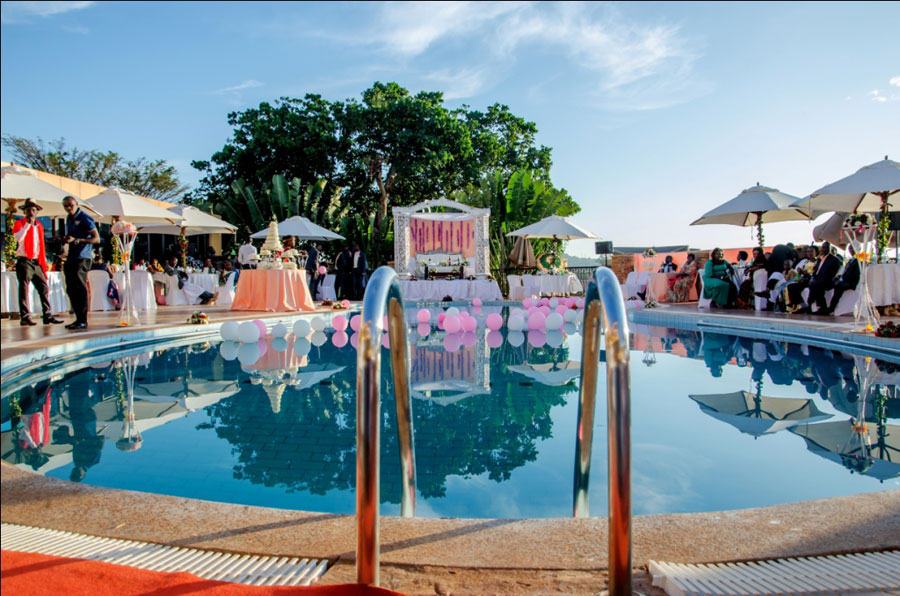 Then the groomsmen were eight of  which one was a colleague from Dubai,  my young brother and the six were fellow Rotarians including Eric Tumwiine, Raymond Mwesiigwa,  Marvin Lwanga, Martin,Bruce, Isaac  and James. The pageboy was Peter Clever Ntumwa, a son to my sister-in-law.
Irene :My matron was Caroline Namusisi Bayiga, she is a former workmate, a good friend who is reliable and we resemble in everything.
The maid of honor was Ruth Namirembe, she is a rotaractor who is hardworking and responsible.
Then bridesmaids were young fellow rotaractors and two sisters of mine including Florence, Bright , Nini, Linda, Eve, Patricia, Winnie and Sharuwa. They contributed the biggest percentage to cater for their outfits.
Irene: Did you incur any debts after the function?
Ben: No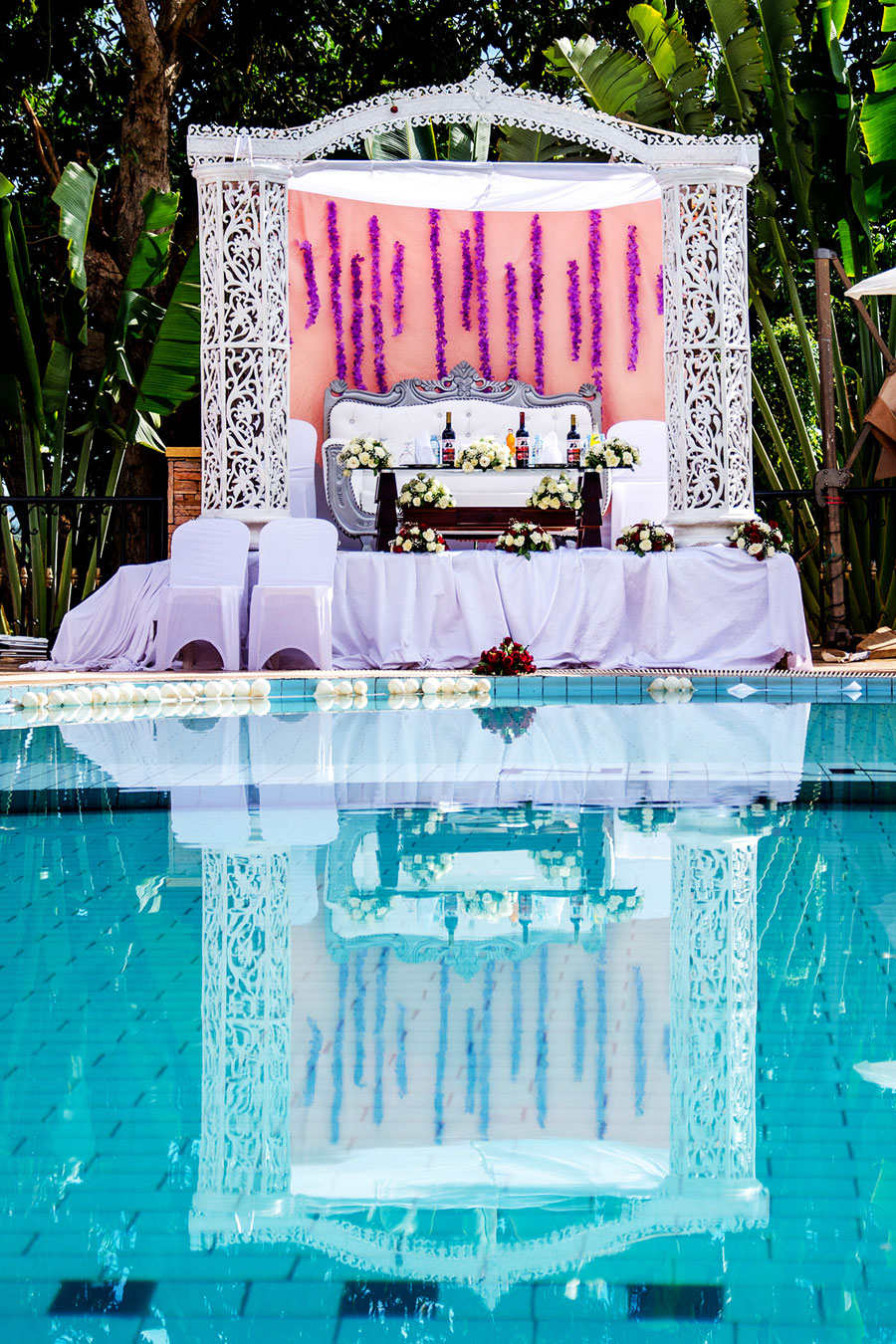 What is your advice to those planning to wed?
Ben :Those planning to go into marriage  should not cohabit for so long  and also not dream of big weddings.They should also help each other while planning and should not take long time  and over wait to wed.Also trust, support each other in marriage  and be prayerful to God.
Irene .Those planning to wed should not complicate things for themselves. They should plan for what is within their means rather than dreaming for big wedding receptions which they cannot manage. They should also decide to get married when they are still young.
The deal
Date: December 15, 2018
Groom: John Ben Katongole
Bride: Irene Nasozi
Church: Christ the King Church-Kampala
Officiants: Dr Fr Francis Nnaku and Fr John Baptist Busuulwa
Reception: Nican Resort Hotel-Lweza
Budget: Shs 35m
Guests: 215
HIGHLIGHTS
Decor: Kika Boys Decorators, Masaka did the beautifying of the venue.
Car: Virgin Cars, Kampala used vintage, which cost Shs 1.8m
Cake: The 15-tier cake vanilla, lemon and chocolate was baked by Cake Centre in Nyendo, Masaka at Shs1m.
Rings: We bought  golden rings from Jet Jewelleries in Kampala. They both cost  Shs 2.4m.
WEDDING PLANNER
Gown: Kushona Designers.
Changing dress:  Tailored by  Good Hope at shs.1.4million.