By Joseph Kato
Five couples walked down the aisle of St Stephen's Church of Uganda in Kisugu and seven in Rubaga Cathedral on February 23. The colourful ceremony was partly sponsored by Joint Medical Stores (JMS) as they marked their 40th anniversary. The grooms who are JMS employees got the offer from their seniors to have a wedding. Days after the wedding, different couples shared their stories.
Flavia paid Timothy's tuition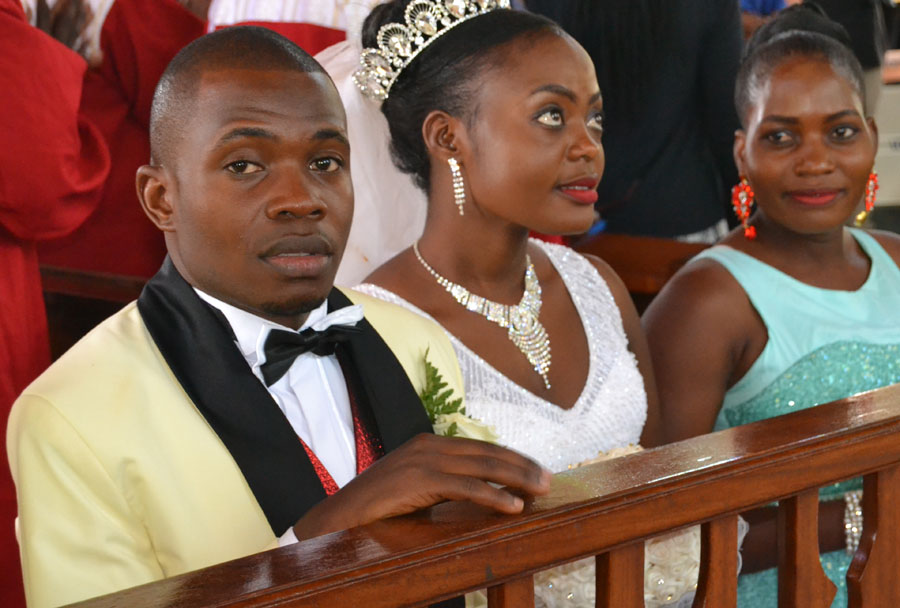 Flavia and Timothy were the youngest of the five couples. The two met in Senior One in 2005 at Vision High in Kawempe Lugoba and they became friends.
Congratulations, what is it like for you?
Timothy: It is a dream come true. We had no idea God would use JMS to make it possible for us. We were saving for this day but there were always ups and downs. I am grateful to God that it has come to pass.
Flavia: I thank God for that day because we are now in a holy marriage. We give glory and honour to Him who did our wedding faster than we thought.
Did you wait so long for this wedding?
Flavia: Once you choose to get married, you immediately think of Holy Matrimony but finances constrain you. We had no choice but to accept our situation as we prayed for wedding finances.
So, did you start dating in Senior One?
Flavia: No, we were just friends but never thought of a future as husband and wife. I think our friendship kept us in touch despite the distance.
Timothy: We were close friends at school and we separated after Senior Four exams. I stayed in same school for A-Level and she went to Buloba Teacher's College.
When did you meet again?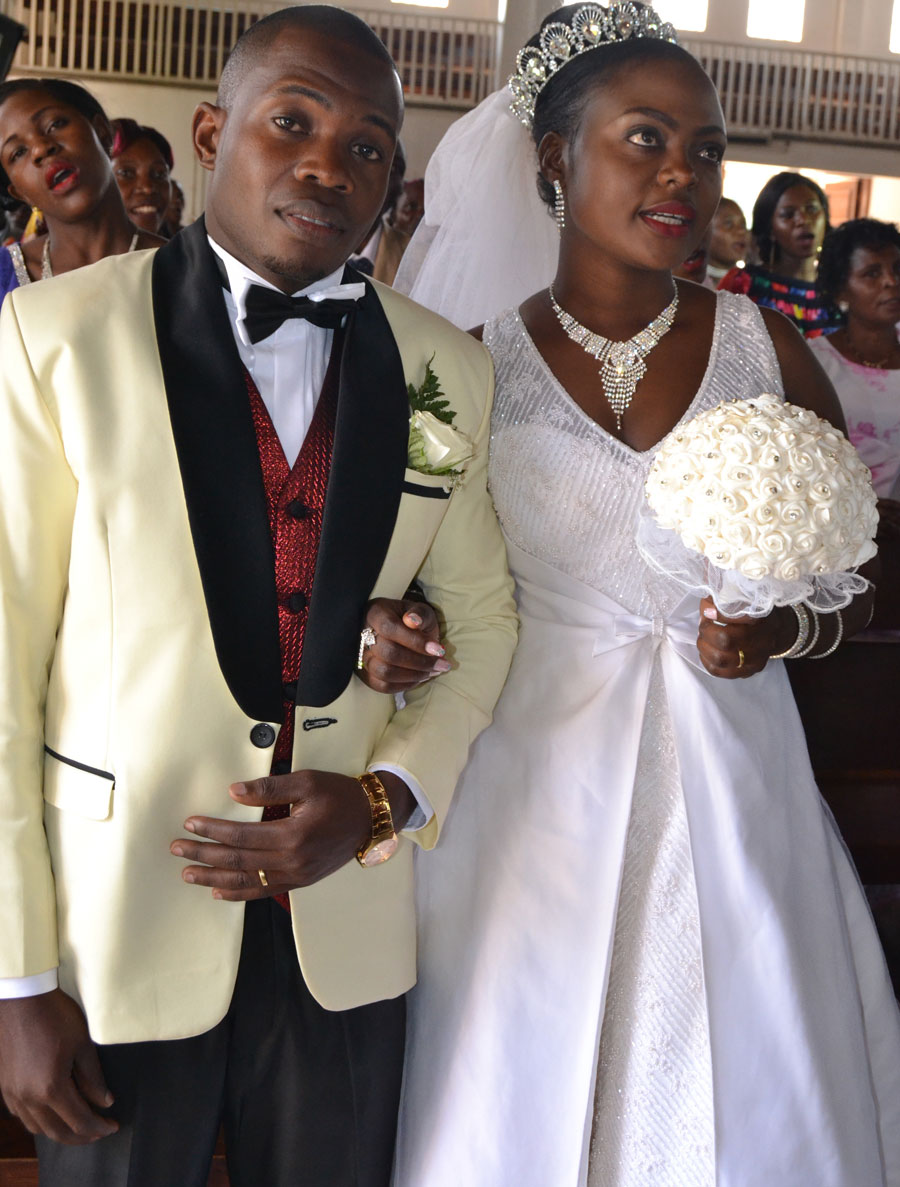 Timothy: When I completed A-Level, she had also completed her two-year teaching course. She got a job and later upgraded in the same profession but we had lost contact. However, when I was at YMCA pursuing a Diploma in Business Administration, we met. Months later, I lost my guardian who was paying my tuition and I almost dropped out. Flavia paid my tuition for two terms because she had a job. Otherwise, I would not have completed my studies.
When did you start living together?
Flavia: A year ago when we felt it was time to take our friendship to the next level.
What was interesting at church?
Flavia: I got nervous and excited when we were exchanging vows. We had been yearning for a wedding and we were blessed to have Archbishop Stanley Ntagali wed us.
Timothy: When she arrived in a Mercedes Benz at church and walked like a princess. I felt like I was atop the world.
How much did you invest?
Timothy: We always dreamt of having at least a Shs20m wedding but we could not raise the money. When JMS presented this offer, we raised about Shs5m for our attire.
Her beauty struck me in Senior One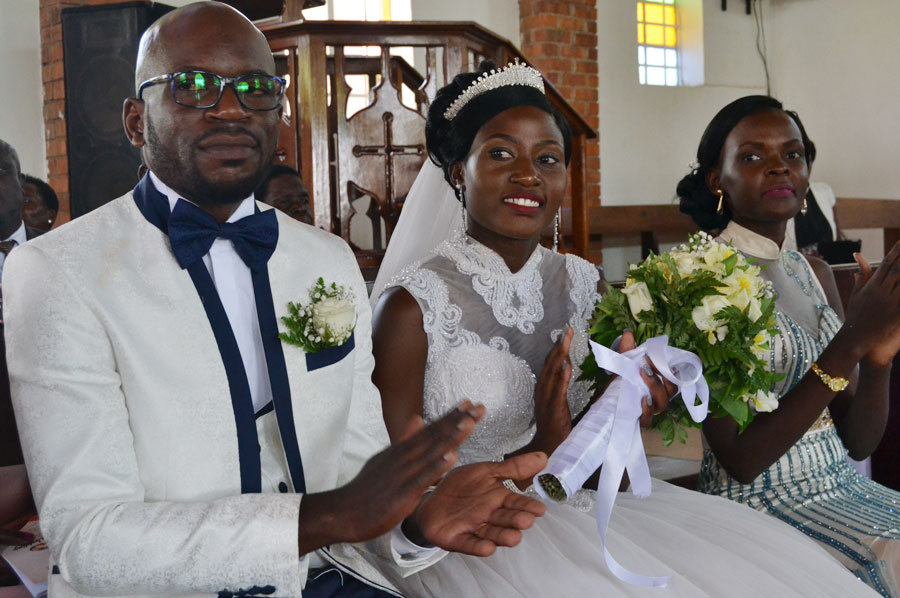 Abel Innocent Malaba and Lydia Nandera started dating at Lumino SS in Busia, and their relationship journey found them eventually wedding.
Where did you first meet? 
Abel: We met at Lumino SSS in Busia. Lydia was in Senior One and I was in Senior Two in 2005. When I first saw her, her charm struck me. I approached her asking to be her boyfriend. She accepted and I swore never to disappoint her and here we are.
Lydia: Abel was serious and a class ahead. I dated him without thinking that our relationship would grow this far but God has kept us together. We pray He continues guiding us.
What has kept your relationship strong?
Abel: Lydia is trustworthy and keeps her word. When she left Busia for Kampala to study she kept in touch.
Lydia: I have learnt to speak my mind from Abel. When something goes wrong, we discuss it.  We hope to keep together for better or worse.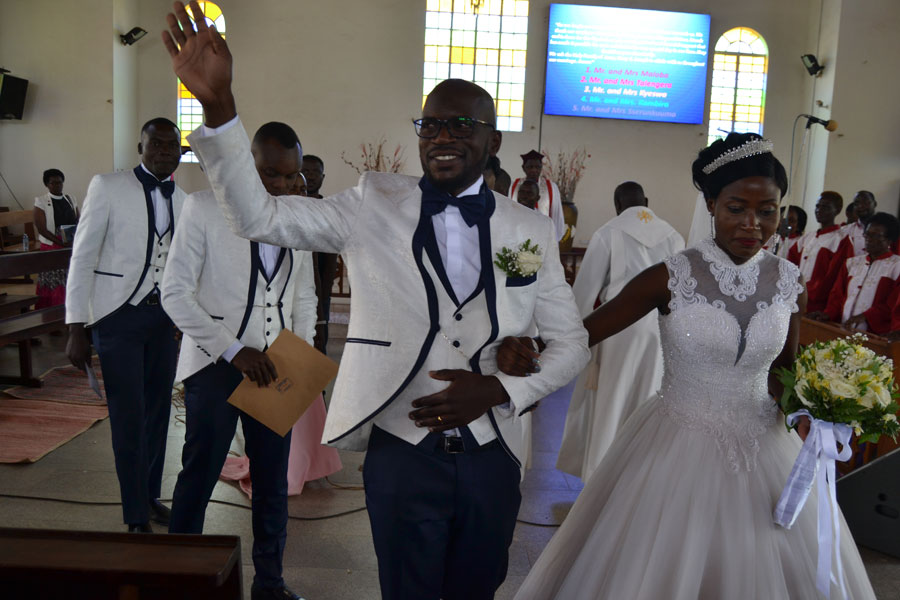 What was interesting at church?
Abel: The Archbishop called us his couple. Never in life had I ever thought that I would be wedded by the Archbishop. We will always cherish that moment.
Lydia: Imagine loving each other since Senior One to date. God has been good to us and exchanging vows was the most interesting moment. God made it for us and we thank JMS for making a dream a reality.
Did anything go wrong during preparation?
Abel: Yes, we had booked our wedding gown earlier but the bridal shop operator wanted to play us on the last minute. She tried convincing us to take another one but we stuck to our guns until she gave in.
Did you go for premarital counseling?
Lydia: Yes we did and we were counselled by Rev Balwa who emphasised the importance of communication in a home. He told us that communication should not only be verbal but even in actions. We should look into each other's eyes to show seriousness.
Our love started in Mbale market
When did it all start?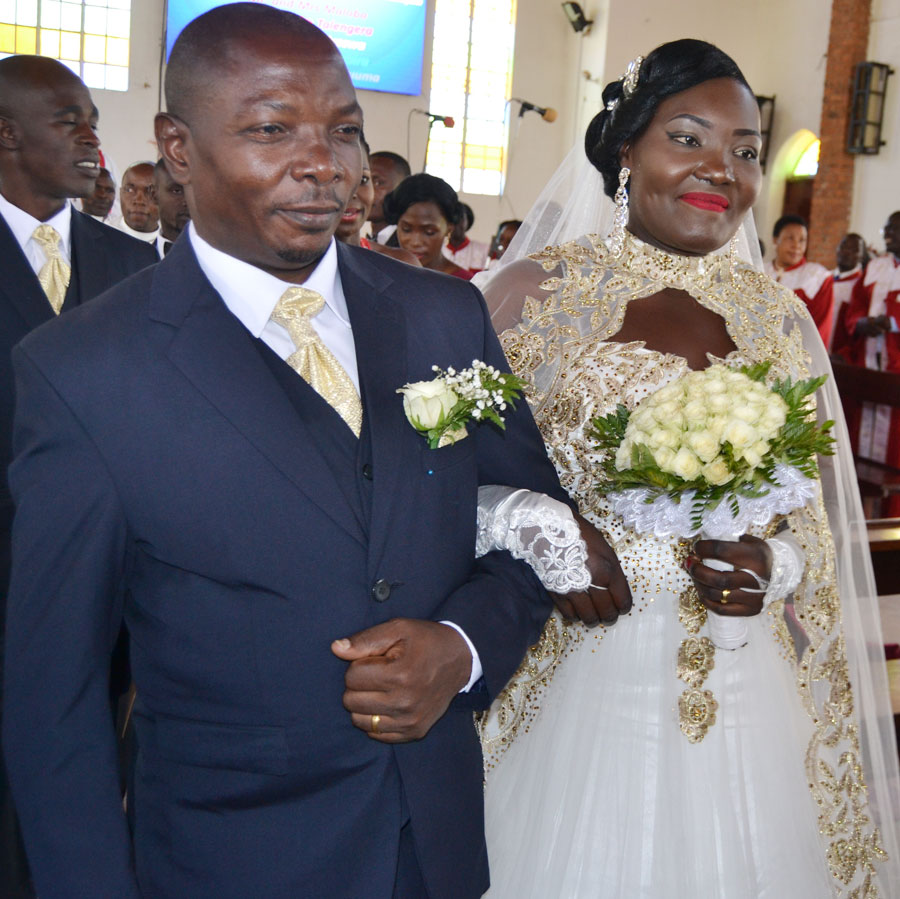 Moses: I had gone to buy some items and a beautiful girl caught my attention in Mbale Market. By luck, I saw her with someone I knew. I discovered they were cousins. I greeted her but we did not talk much. I made up my mind to follow up on her.
Sylvia: When he greeted my cousin and he looked like someone who wanted to say something but just withheld it. I was not surprised when he called my cousin for another meeting four days later.
What happened when you met the second time?
Sylvia: Moses arranged a meeting through my brother and on that day he told me how he was thinking of taking me as his wife. I told him I was still in school and I had to complete my studies.
What did you do when she told you she was in school?
Moses: I told her I was ready to wait because my heart had been convinced that she was the right person. She was in Senior Four at the time and when she completed O-Level, she joined a tertiary institute for Business Studies but she had financial constraints and dropped out. I could not help her because I was not any better.
Did you marry her then?
Moses: No, I visited her parents and declared my intentions. I promised to look after her and protect her as my wife. They consented and we moved in. However, we agreed she would go back and complete her studies when we get money. Unfortunately, we have since faced many challenges. We have resolved to educate our children but with hope she will go back as soon as we stabilise.
10 years together, had you thought of a church wedding?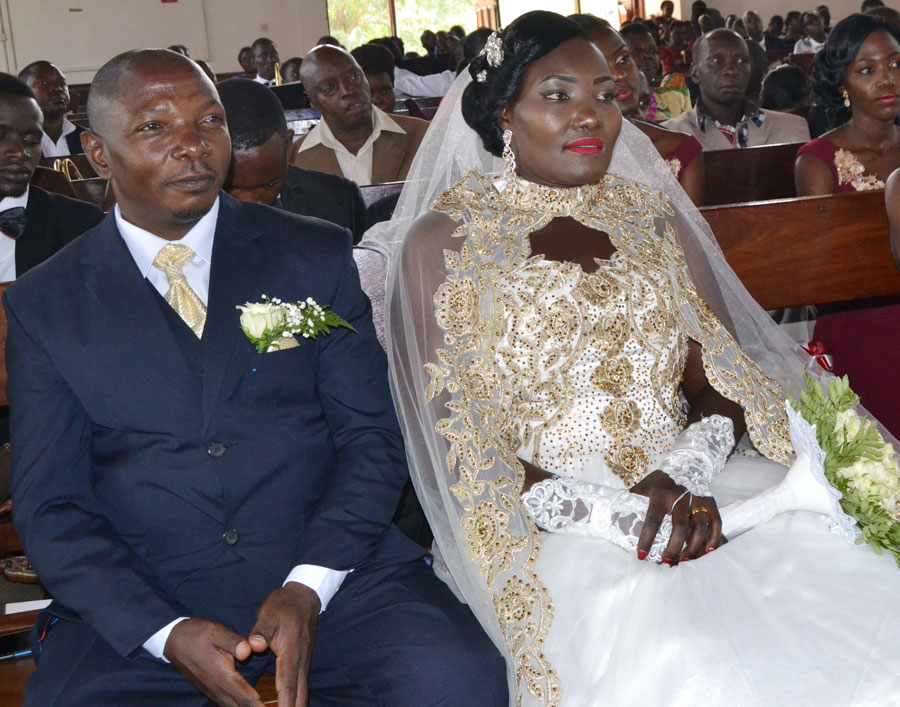 Sylvia: We often tried to raise money for the wedding but along the way we agreed to first build our house and it is still under construction as well as pay our children's fees.
What did you enjoy at church?
Moses: The way Sylvia held my hand to take vows. This was the moment we often talked about. We are glad God used JMS to make our dream a reality.
Sylvia: When you are a Christian but not married in church, you feel sinful. I was excited when the Archbishop arrived to wed us and thus ending our sin of an unholy marriage.
Key lessons from premarital counselling…?
Sylvia: We were told to put God first and never to enter the bedroom angry with each other.
Other couples included Faridah Nambo and Eric Kyeswa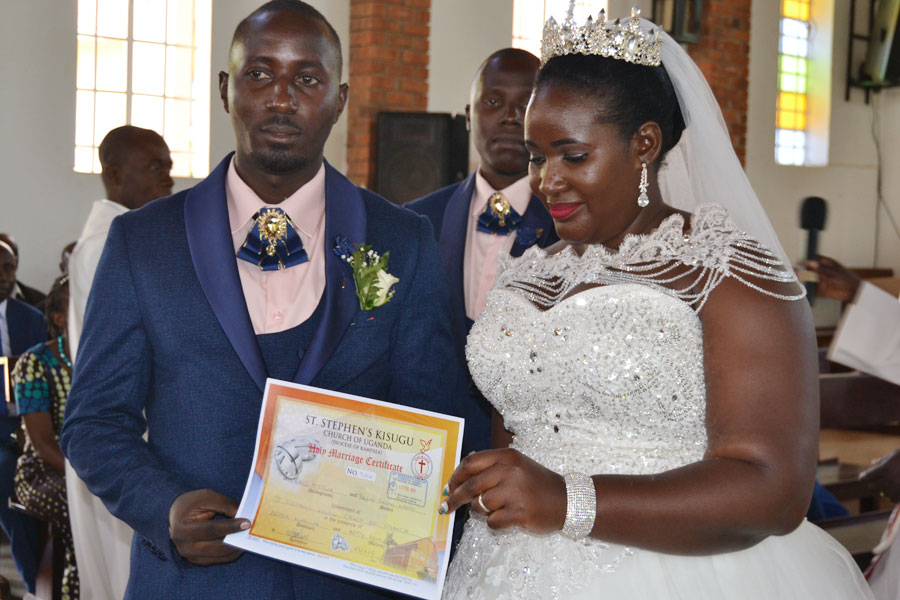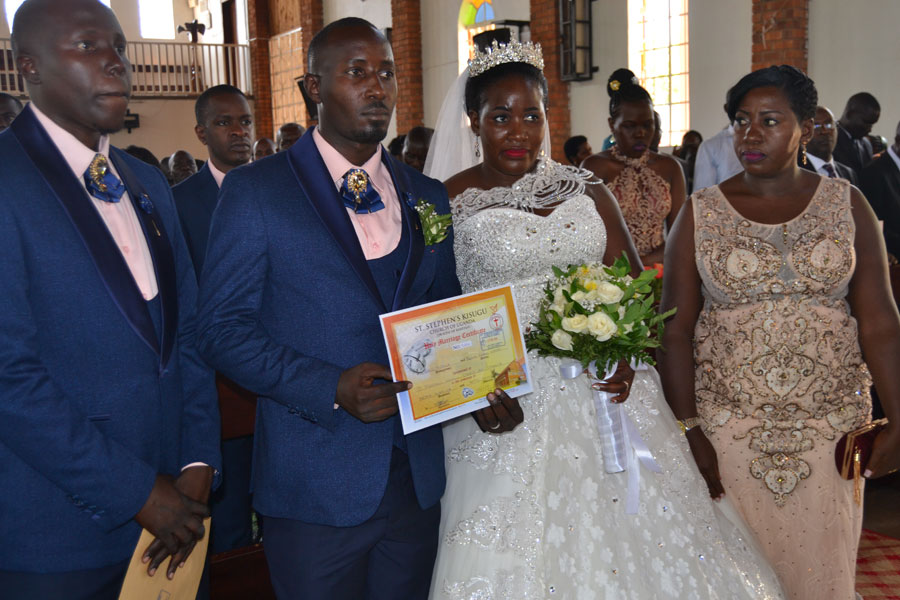 Emmanuel Talengera and Jean Owade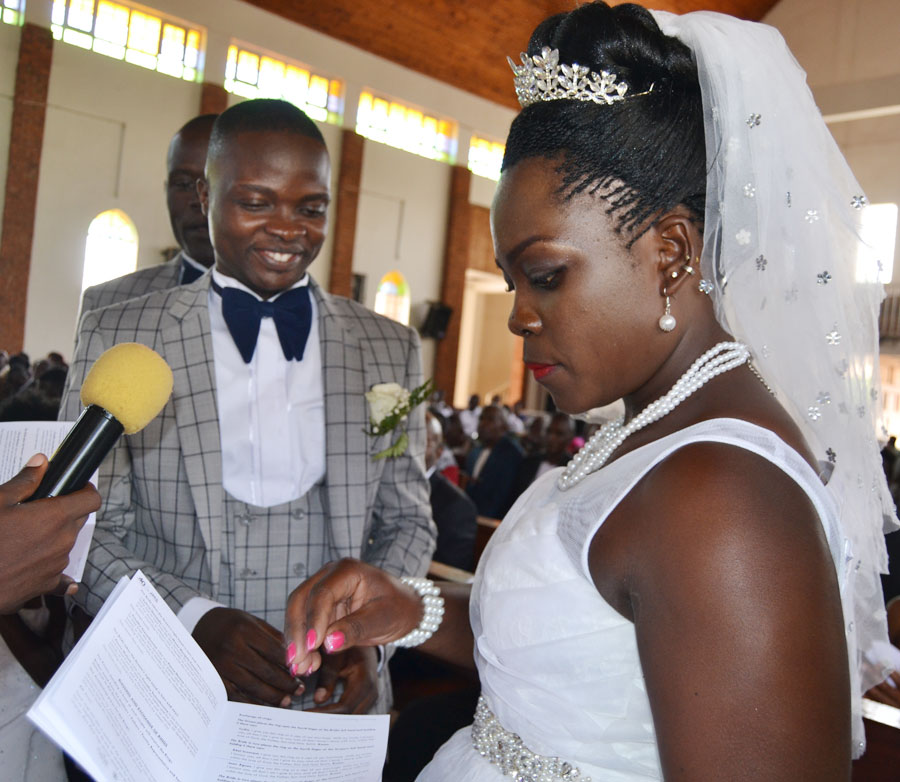 Tit bits
Date: February 23,2019
Main Celebrants:  Bishop Albert Edward Baharagate & Archbishop Stanley Ntagali
Church: Rubaga Cathedral and St Stephen's CoU Kisugu
Reception: Nsambya Gardens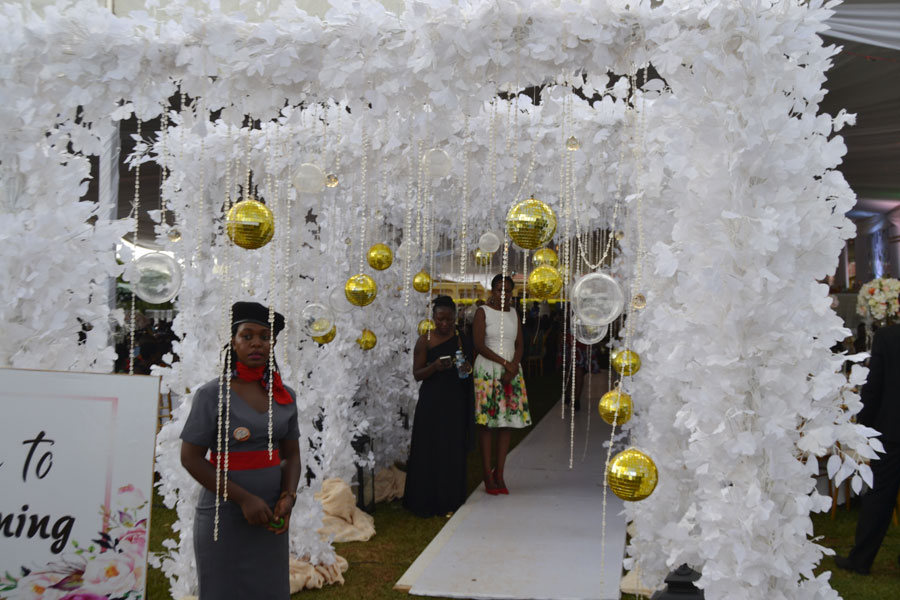 Budget: 150m
Organiser: Joint Medical Store
Cake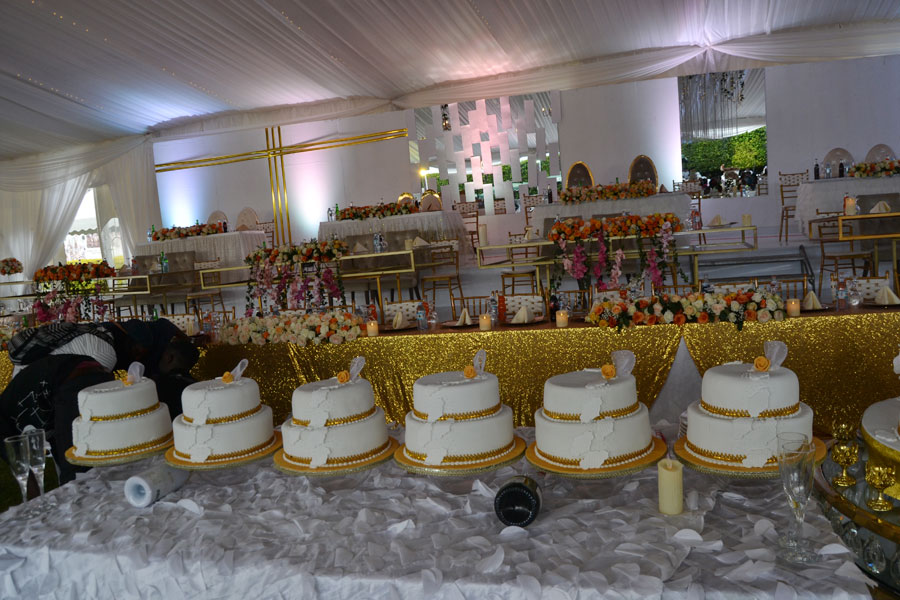 The cake was made of red velvet, fruit, coconut and vanilla
Entertainment
The day was graced with colourful performances from Ndere Troupe