By Maria Immaculate Owechi
Charles Bongomin, a chef at United Arab Emirates Embassy, says cohabiting was one of the reasons he decided to walk Prisca Kayeny, a businesswoman, down the aisle on December 8, 2018 at St Peter's Church Nsambya.
In the Catholic Church, couples cohabiting do not receive Holy Communion because their union is not sanctified. The Rev Fr Joseph Luzindana, in charge of Children and Youth in Kampala Archdiocese, says Holy Communion is a sacrament which represents the body of Christ.
"This makes them unholy, which requires first purification by undergoing the sacrament of marriage before a priest and then they can approach God's table as holy and pure," Fr Luzindana explains.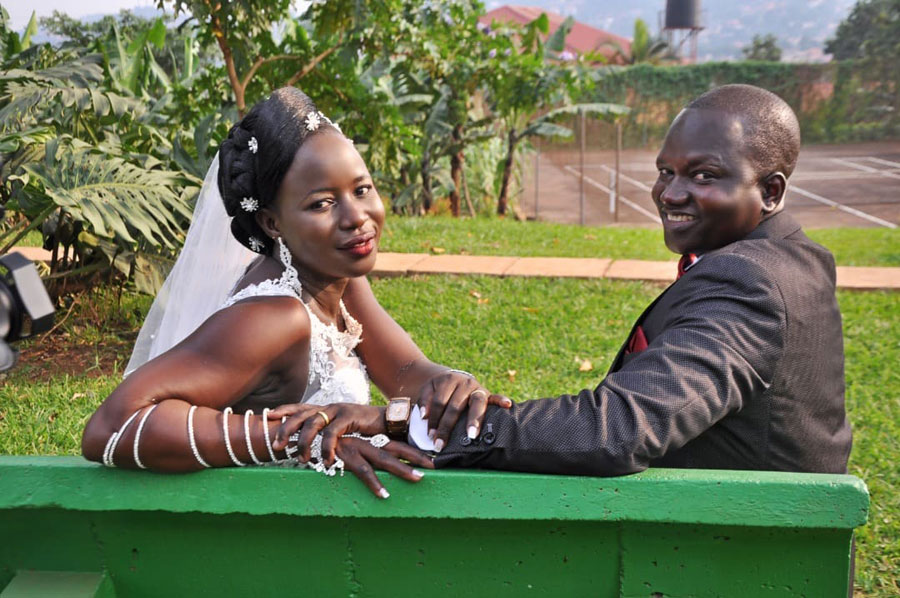 Thus Bongomin, a chef at UAE Embassy, explains that it is one of the reasons he decided to walk his partner Prisca Kayeny, a businesswoman down the aisle.
"I felt guilty as a sinner whenever I had to watch others receiving the Holy Communion because my marriage was not recognised and blessed in the church," he explains.
The two share their story.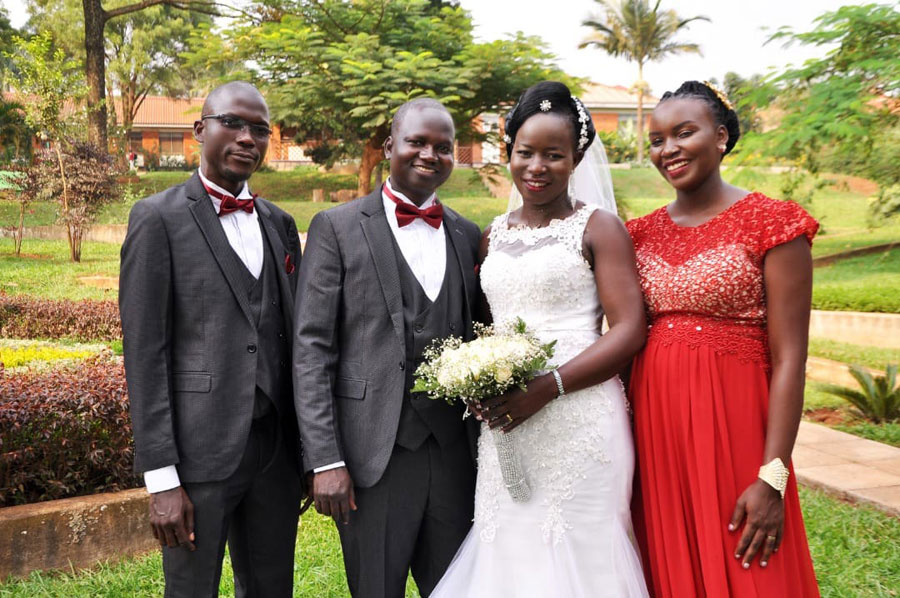 How did you meet?
Charles: We met in 2001 in Pakwach when I was in Senior Four and Prisca was in Primary Six. One of my friends was dating an older girl from Prisca's place. On that day, she had escorted her friend to meet her boyfriend as I kept her company.
Prisca: When l was 15 our relationship became serious. But in 2004, we lost contact because I came to stay in Kampala, as he went to complete his studies in Gulu.
How did you get in touch again?
Prisca: We reunited towards the end of 2005 when Charles came to live in Kampala.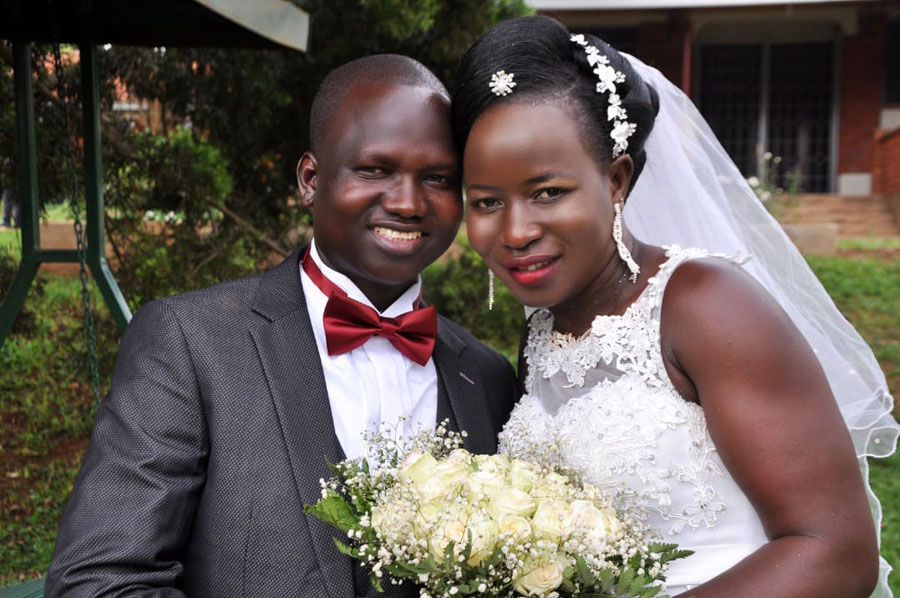 What was it like?
Charles: Prisca lived with her aunt and in 2006, I managed to convince her to start staying with me since we were expecting our first child. After conceiving our first born daughter, Prira Acayo, b because I had not paid bride price. The bride price included suits, gomesi, cows, goats and money.
Prisca had you completed school?
Prisca: No, I had financial constraints and dropped out in Senior Three. I managed to do tailoring and I am now pursuing a course in catering.
How did you manage to keep with your wife?
Charles: I had some savings and on March 12, 2010, we had a colourful introduction ceremony at her parents' home in Pakwach. Since it was trendy to have a musician performing at one's ceremony, I paid Shs1.5m to a popular singer from Gulu, Opiyo Twongweno, to compose a song about us and my wife's family. Twongweno first recorded an audio. He gave it to us for approval. Then he shot the video at the start of the ceremony. We still show the music video to our visitors.
What qualities have strengthened your bond?
Charles: She is beautiful, prayerful, handles challenges well, kindhearted and hospitable to my friends— even the female ones without suspicion.
Prisca: Charles handles me well, settles disputes calmly and does not discuss our marital problems with strangers.
How did you feel when he revealed wedding plans?
Prisca: I was happy when he proposed the wedding before the end of 2018. I started praying for the success of that day. I went to places of worship such as Mount Zion-Bukalango, St Matia Mulumba, Old Kampala and Radio Maria. I never missed any Tuesday fellowship or mid-month and overnight Mass.
Charles (interjects): I like that she maintained her hairstyle until our wedding day. She saved the money I gave her every month to do her hair and used it to cater for different items on our budget.
How did you set the date?
Charles: We had December 8, in mind and when we consulted the church, they granted it to us the same day.
How did you raise the funds?
Charles: We raised the funds from our savings, family, friends, and well-wishers. Our budget was Shs17m.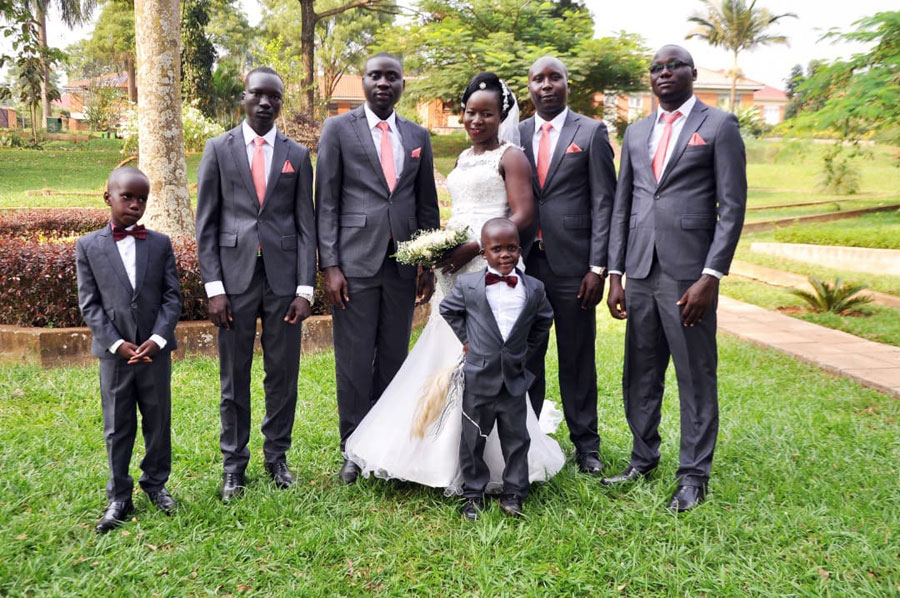 Did you involve a wedding planner?
Charles: No, the organising committee did that and each member was assigned different roles.
Prisca: My sister helped me in choosing and negotiating with the salon, bridal boutique, tailor and our colour theme. She made it less stressful for me.
What was your colour theme?
Prisca: Peach is my favourite colour.
How much was your attire?
Prisca: I hired the gown at Shs700,000 while Charles bought his suit at Shs650, 000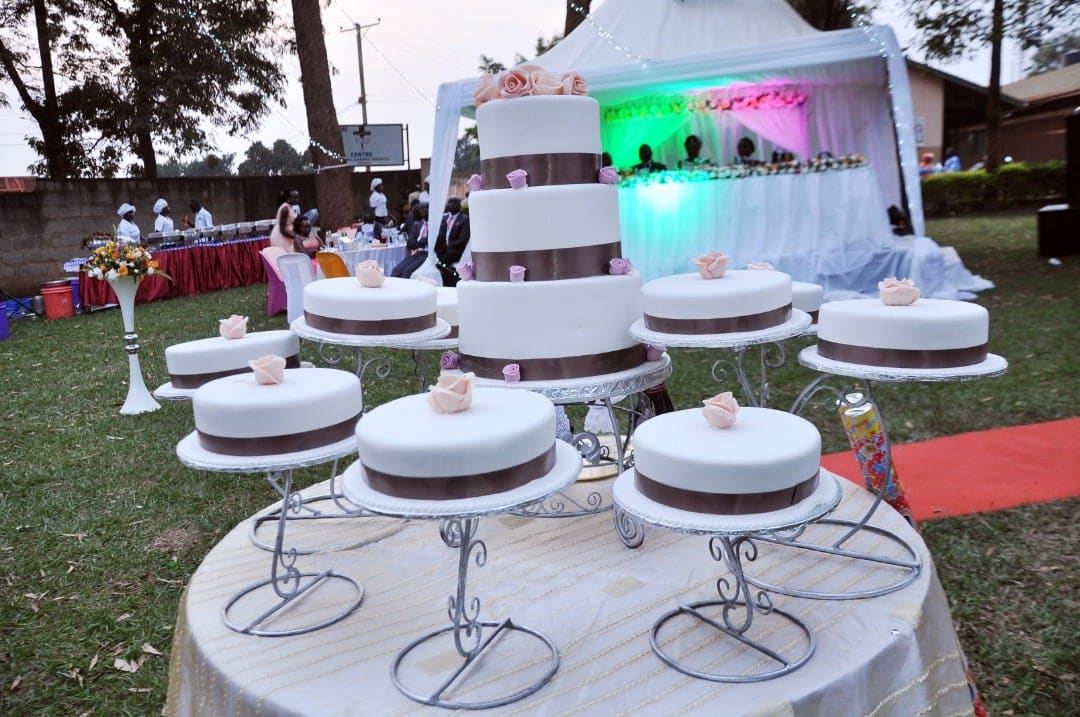 What was the most expensive Item on your budget?
Charles: Food was the most expensive at Shs4.5m.
Prisca: But we were able to cut costs on things such as cake which I baked and my colleague assisted me with the finishing. For the reception, we chose a venue that was next to the church, hence reducing on fuel costs.
How did you choose the entourage?
Charles: I chose my close friends, my brother and son, Christian.
Prisca: I chose some relatives, the best man's wife was my matron since they were married and two of my daughters were my bridesmaids.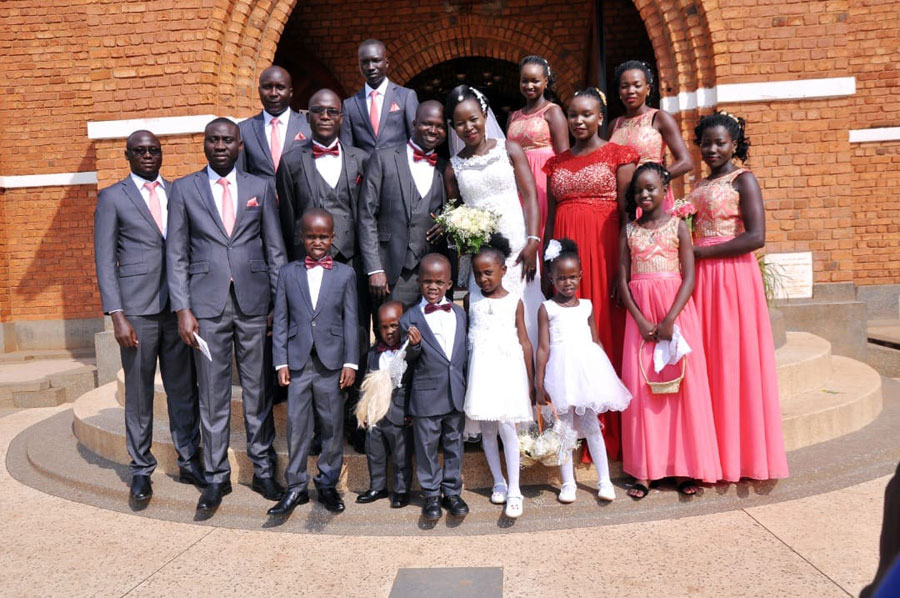 What challenges did you face during preparations?
Charles: During the wedding launch many people eagerly made pledges but failed to fulfill them and did not answer my calls. We let go and forgave them. Also, some of our children and my mother fell sick towards the wedding day, which drained us financially.
Prisca: My sister got an accident prior to the wedding and was in the hospital for more than a month. She did not attend the wedding.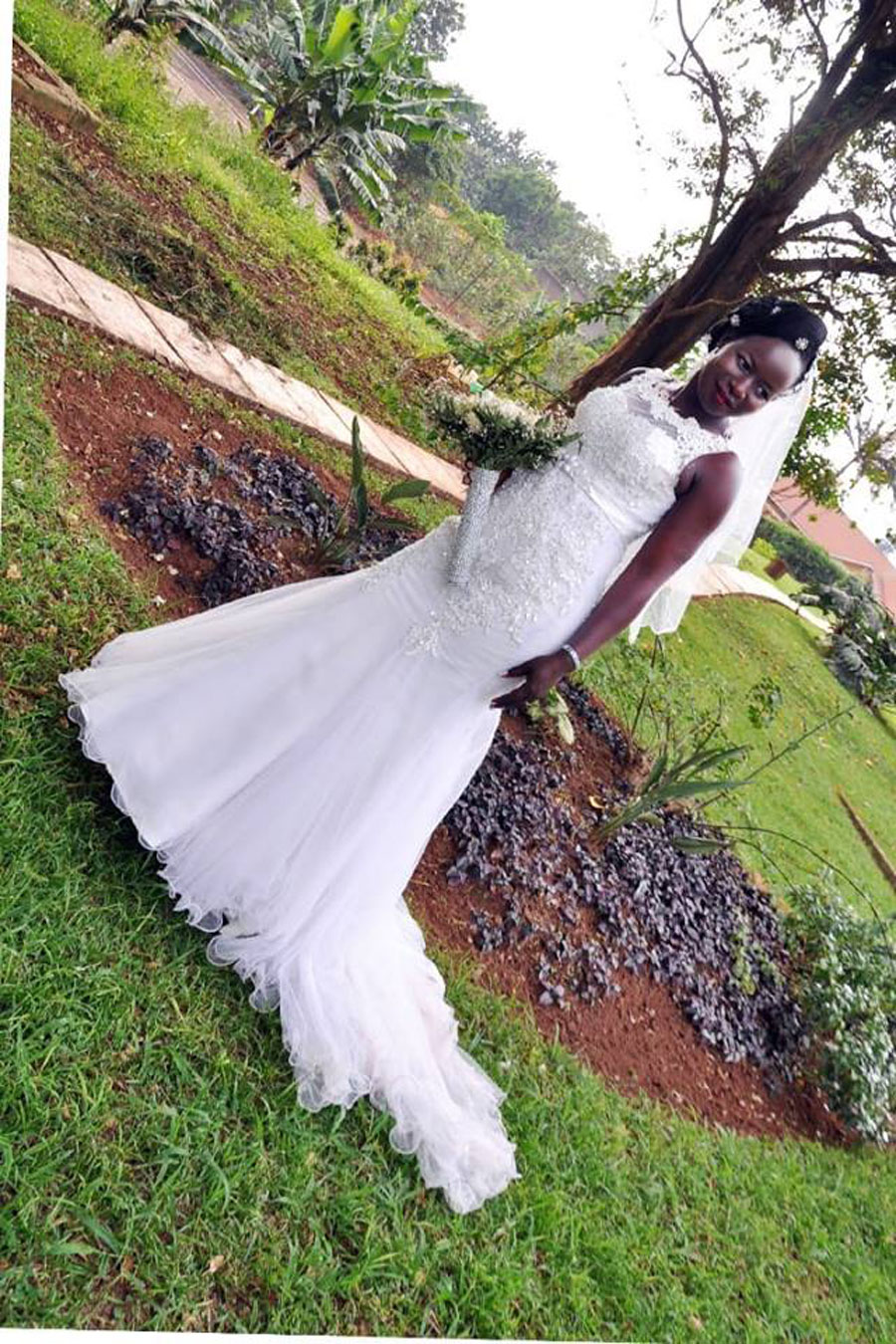 Did you have any fears on that day?
Charles: Fear is inevitable when organising such functions. For instance, I thought food would not be enough and I was worried whether all invited guests would attend because there were many wedding ceremonies on that day.
Prisca: The priest delayed to come because of a miscommunication about the time for officiating at the wedding. We were supposed to be wedded at 12pm but on the priest's appointment book it read 2pm. He was officiating at another wedding in Munyonyo. He came later.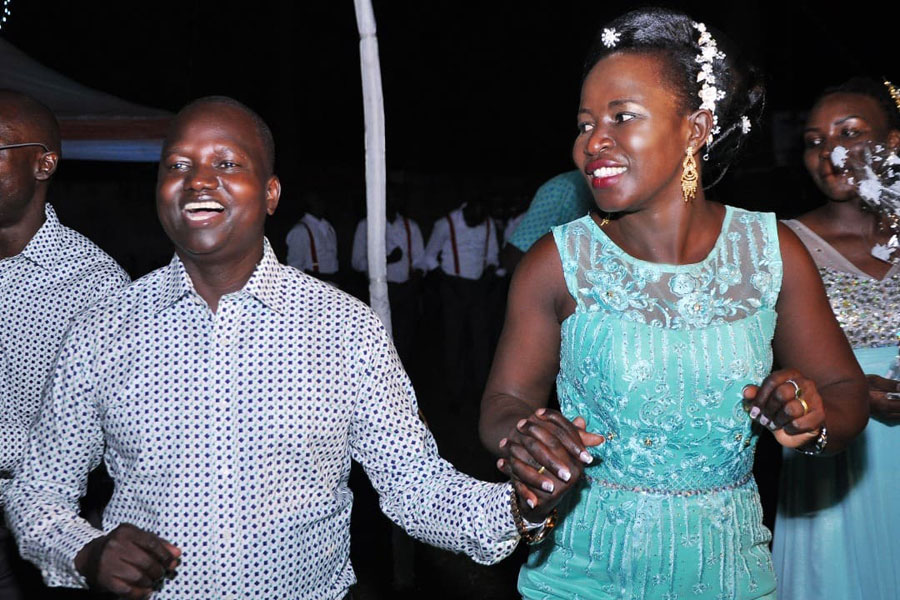 What was your best moment?
Charles: I was excited to receive Holy Communion because I had last received it 20 years ago. Also, seeing my boss and our MP of Nwoya, Simon Oyet and his wife was a privilege for our invitation to be honoured.
Prisca: I was happy to see my relatives and close friends such as Catherine and Susan.
Any disappointments during the function?
Charles: Some of my committee members failed to fulfill their responsibilities. On my way to church I kept on making phone calls and running around to put things in order.
Prisca: There was a delay to pick us up from the salon which annoyed my sister.

Where did you go for your honeymoon?
Charles: We did not go for our honeymoon because my workplace had only given me one week off.
What did you learn from the premarital counselling?
Prisca: How to relate as a couple and raising our children with Christian virtues.
What advice would you give to those intending to get married?
Charles: Do not be afraid of Holy Matrimony because with God everything is possible. Also, do not depend on pledges because some people do not fulfill them.
Prisca: Pray for your marriage.